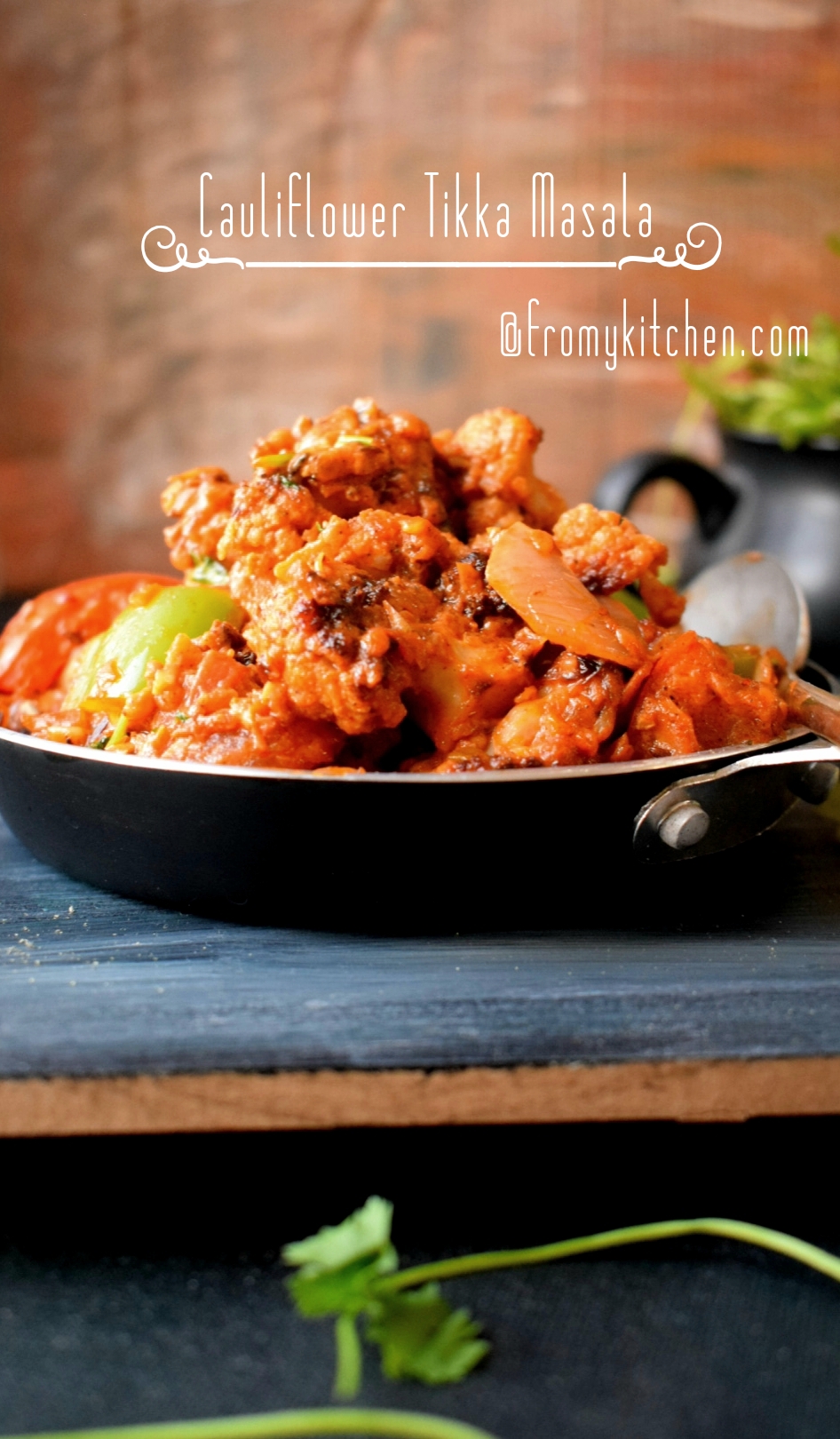 Cauliflower tikka masala is a spicy rich gravy in which grilled pieces of cauliflower florets are dunked and coated in it. This is a lip-smacking gravy that can be a super hit for any party! Perfect to go with any kind of Indian flatbread. I hope this veg version of chicken tikka masala will become a fav in your home too!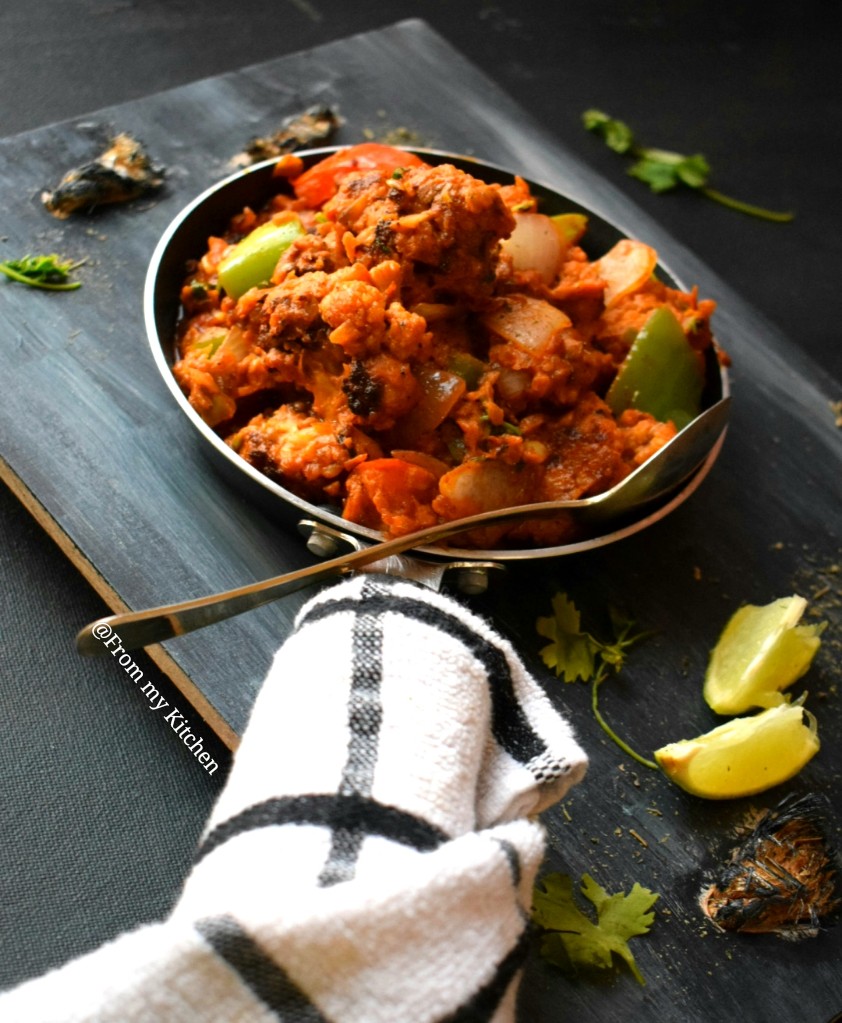 This gravy is spicy, with a little bit of tang and creaminess in it, exactly like how we get from a restaurant! The cauliflower pieces are nicely marinated and then grilled to perfection, as we can have it as a snack or side dish too! I paired it with rice crepes and it was yum! You can make nan or poori to accompany this! The cauliflower florets are so flavorful here that you can't stop munching on it! You can adjust the consistency of gravy as per your preference by adding enough water.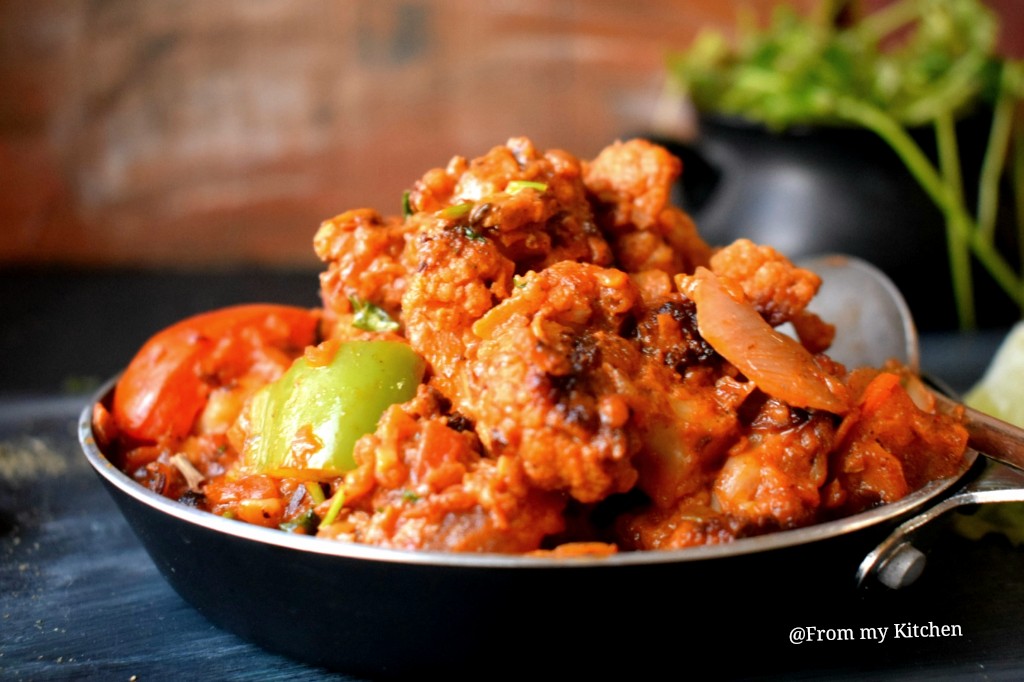 If you want chicken tikka masala just replace the cauliflower with chicken! Here are 2more delicious cauliflower recipes check out the links  Cauliflower Masala and Cauliflower in tomato garlic sauce if you would like to!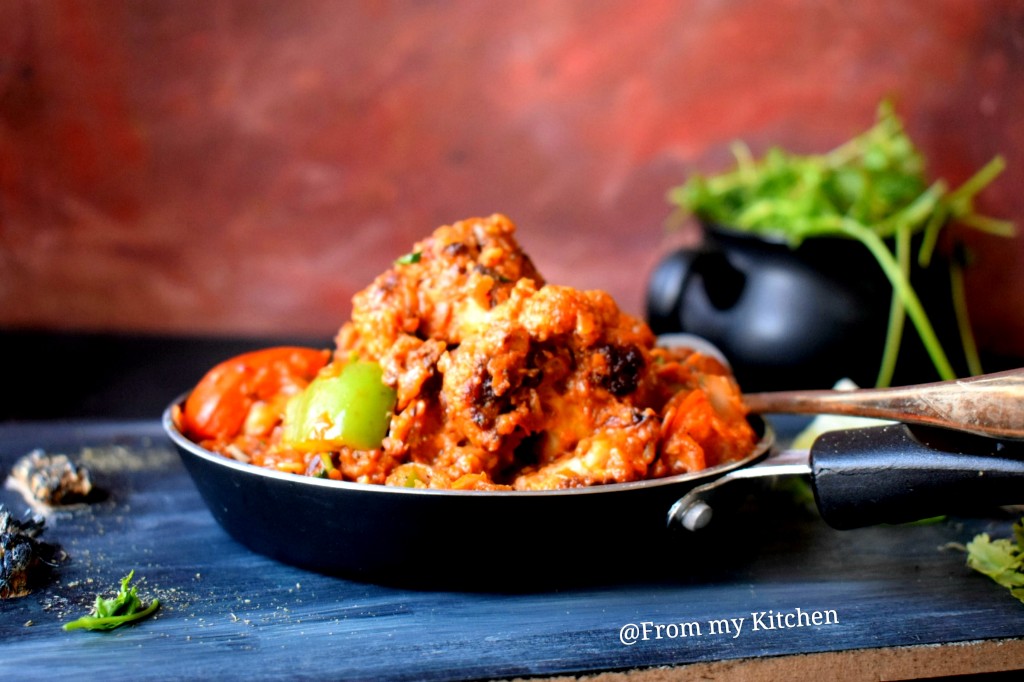 My family just loved it!hope same there
Ingredients
1 small cauliflower separated into florets
2 tbsp yogurt
some lemon juice
salt to taste
1 tsp ginger garlic paste
1 to 2 tsp chilly powder
1/2 tsp coriander powder
1 tsp cumin powder
1/2 tsp kasuri methi
1 tbsp oil
For Gravy
1 tsp cumin seeds
1 large onion
2 medium tomatoes pureed
1 tbsp ginger garlic paste
2 green chilies
1 tsp chilly powder
1/2 tsp coriander powder
1/2 tsp turmeric powder
1 tsp garam masala
salt to taste
1/2 tsp cumin powder
1/2 tsp kasuri methi
2 to 3 tbsp fresh cream
lots of chopped coriander leaves
lemon juice
small onion,1/2 bell pepper, 1/2 tomato cut into cubes
2 tbs oi
Method
Blanch cauliflower florets for 5 minutes and drain it and keep aside.
In a large bowl mix all the ingredients to marinate the cauliflower and dump in the cauliflower and mix it well. Leave it for 30 minutes
In a grill pan or frying pan brush some oil and place the marinated cauliflower on hot pan and grill it until cooked and chared.(keep an eye don't burn it)
Chop the veggies in a chopper or grate it(that means u need it very finely)
In a pan pour oil and splutter the cumin seeds.
Add chopped onions and saute till onion becomes brown.
Add ginger garlic paste, mix well and cook for some time.
Add tomato puree, mix well and cook for 2 min.
Add the red chili powder, coriander powder, turmeric powder, garam masala powder, and salt, mix well and Cook for 3 min n by adding some water.
Heat a tsp of oil in another pan, add onion and capsicum cubes saute for 2 min, then add tomato cubes, mix well and cook for another 1 min. Transfer this into the gravy and mix well.
 Add kasoori methi, cream, garam masala, chopped coriander and mix well.
Add cauliflower and mix well. If you like gravy adjust the water accordingly.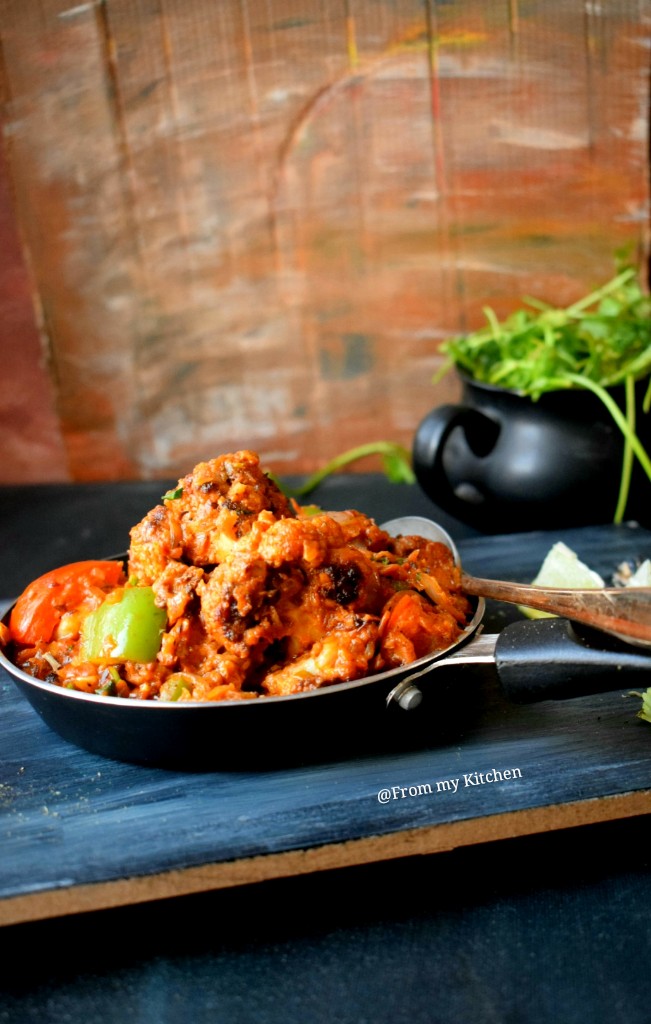 Happy Cooking!