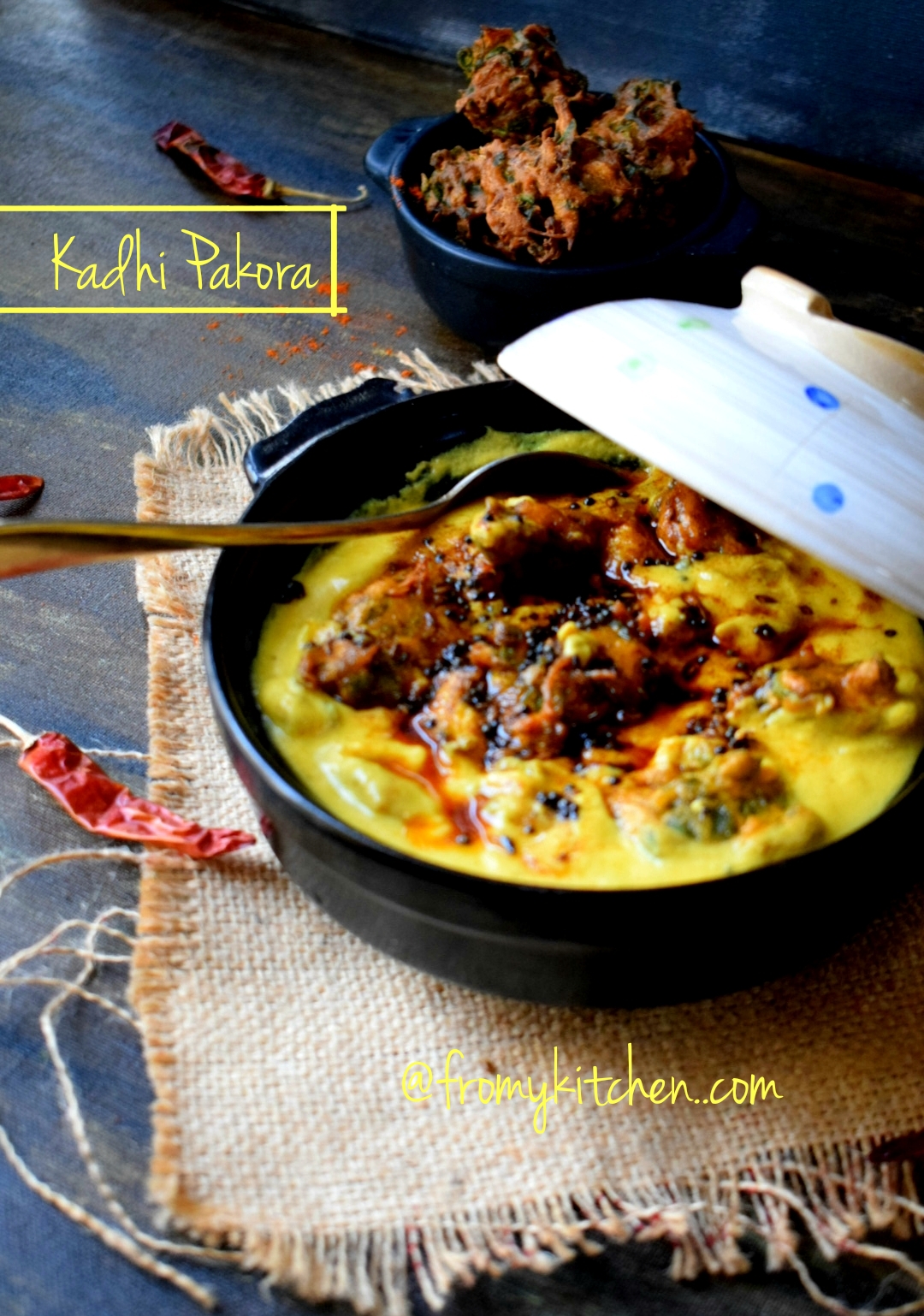 Kadhi Pakoda is a famous North Indian dish! In this dish, crispy pakoras are dunked in a rich silky yogurt and gram flour based gravy which is delicious and so comforting! It has some mild flavors with a slight tang from yogurt and the flavor from tadka, Woh it's so good.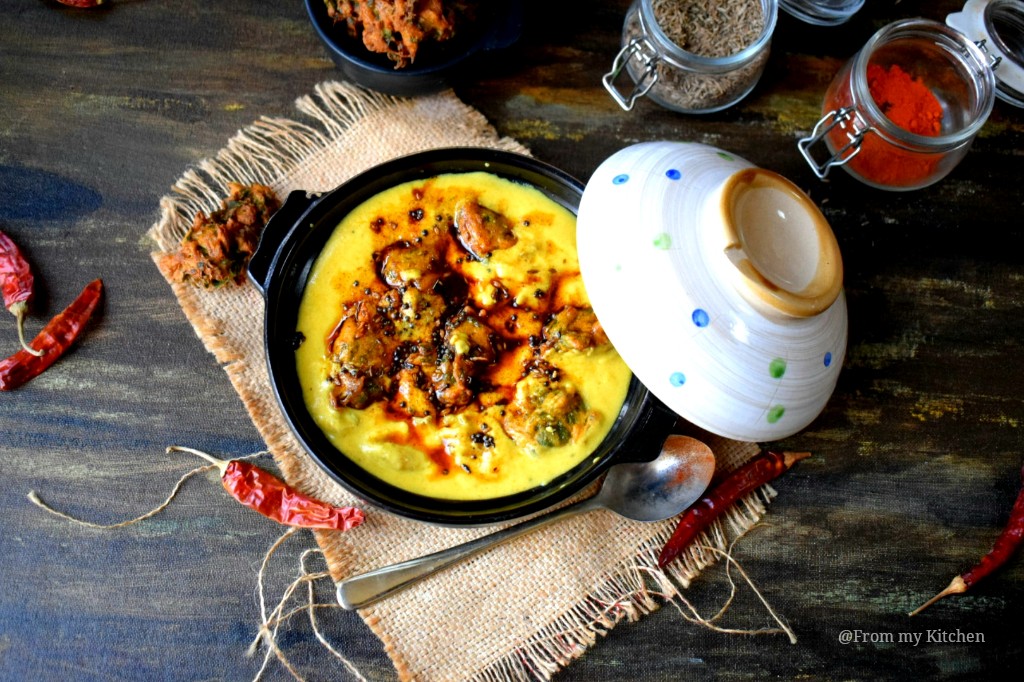 This dish attracted me by its look and I wanna make it since long time! I'm not sure whether my folks love it and when I asked hubby if u would like to have it, he said "Yes" immediately because he used to have it with his colleagues before and he loves it. So without wasting much time by thinking "what's for dinner" I gave it a shot!  And I'm sure Kashif will love it coz he is a yogurt lover! Yes and they both enjoyed it, that's all what we want right? hehe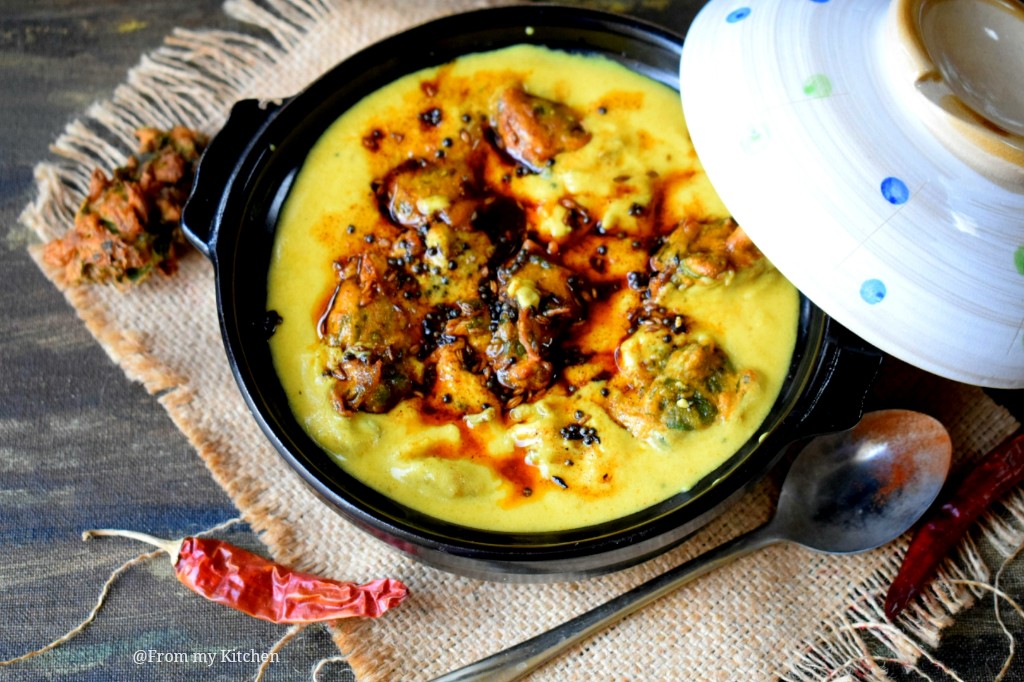 That lemon yellow gravy with a red tadka (splutter)calls me to try this one! I just love the royal look of the dish, that crispy pakoras sinking in the rich yogurt gravy and that last tadka with chilly powder is so yum! Here in pakoras, I used both spinach and onions, but you can make it simple with only gram flour or any of the veggies like spinach or onion. Both way it's yum!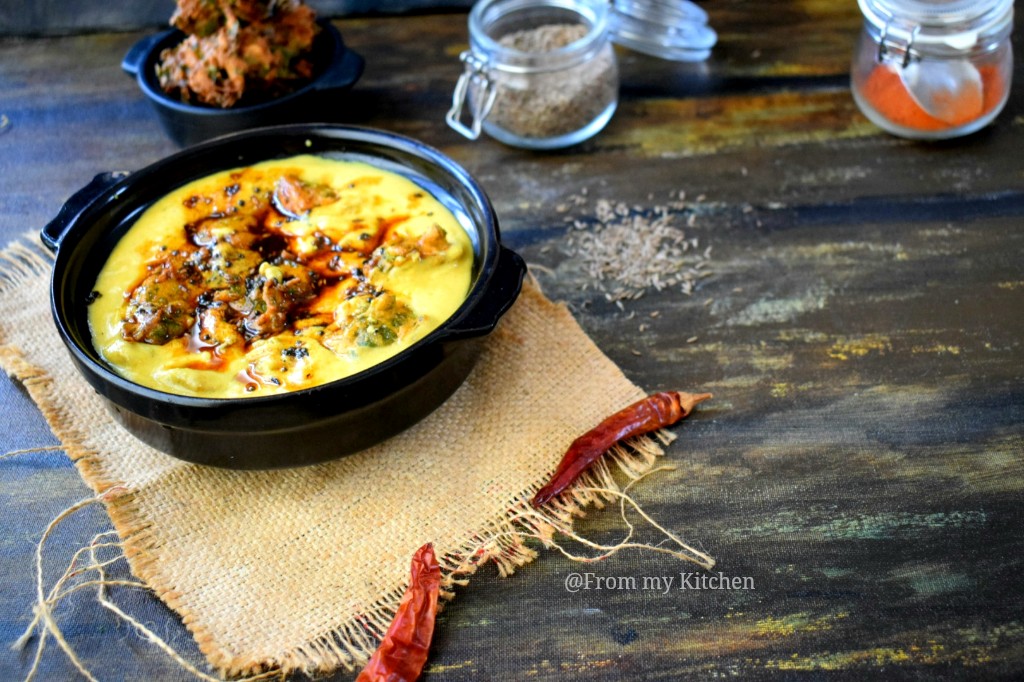 I beg you to make more pakora batter because pakora itself is so yum that you can't stop munching on it after frying! So if you want something to add in your Kadhi make more pakora batter!😉 hehe! This is inspired by Kunal Kapur's Punjabi style Kadhi Pakora recipe( made some slight changes) Hope you all will love it too.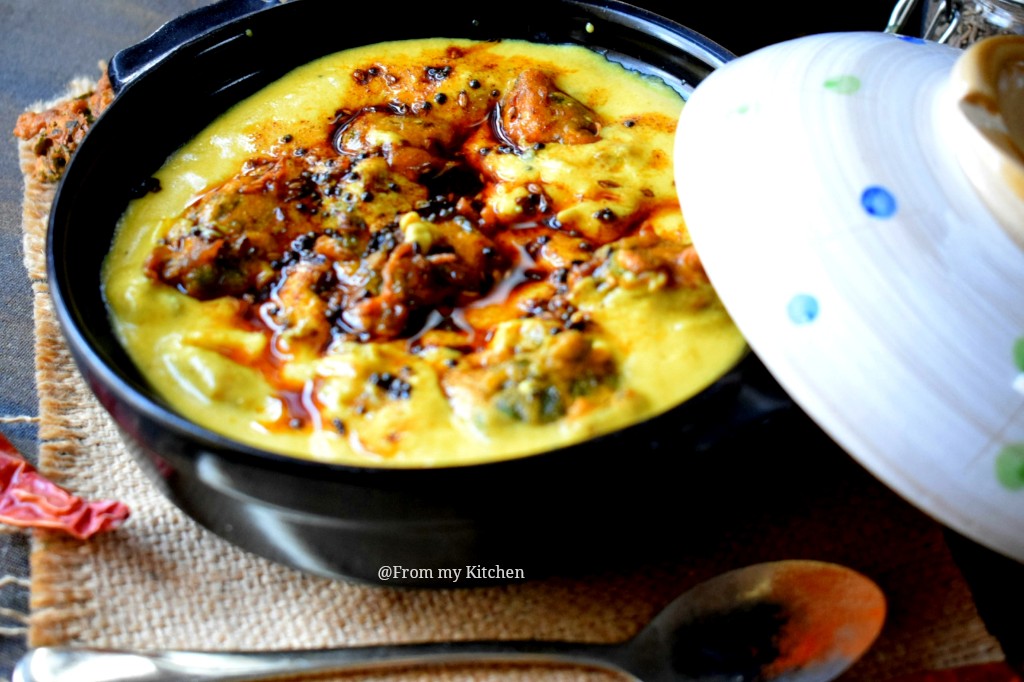 Ending my 2018 post with this comforting dish! Wishing you all a wonderful year ahead!
Ingredients
1 cup yogurt
3 tbsp gram flour
4 to 5 cups water
1 tsp ginger chopped
1/2 onion sliced
1 ts turmeric powder
1 tsp chilly powder
1 tsp cumin powder
1 tsp coriander powder
1 tsp ghee
1/2 tsp fenugreek seeds
1/2 tsp cumin seeds
2 dried red chilies
1/4 tsp asafoetida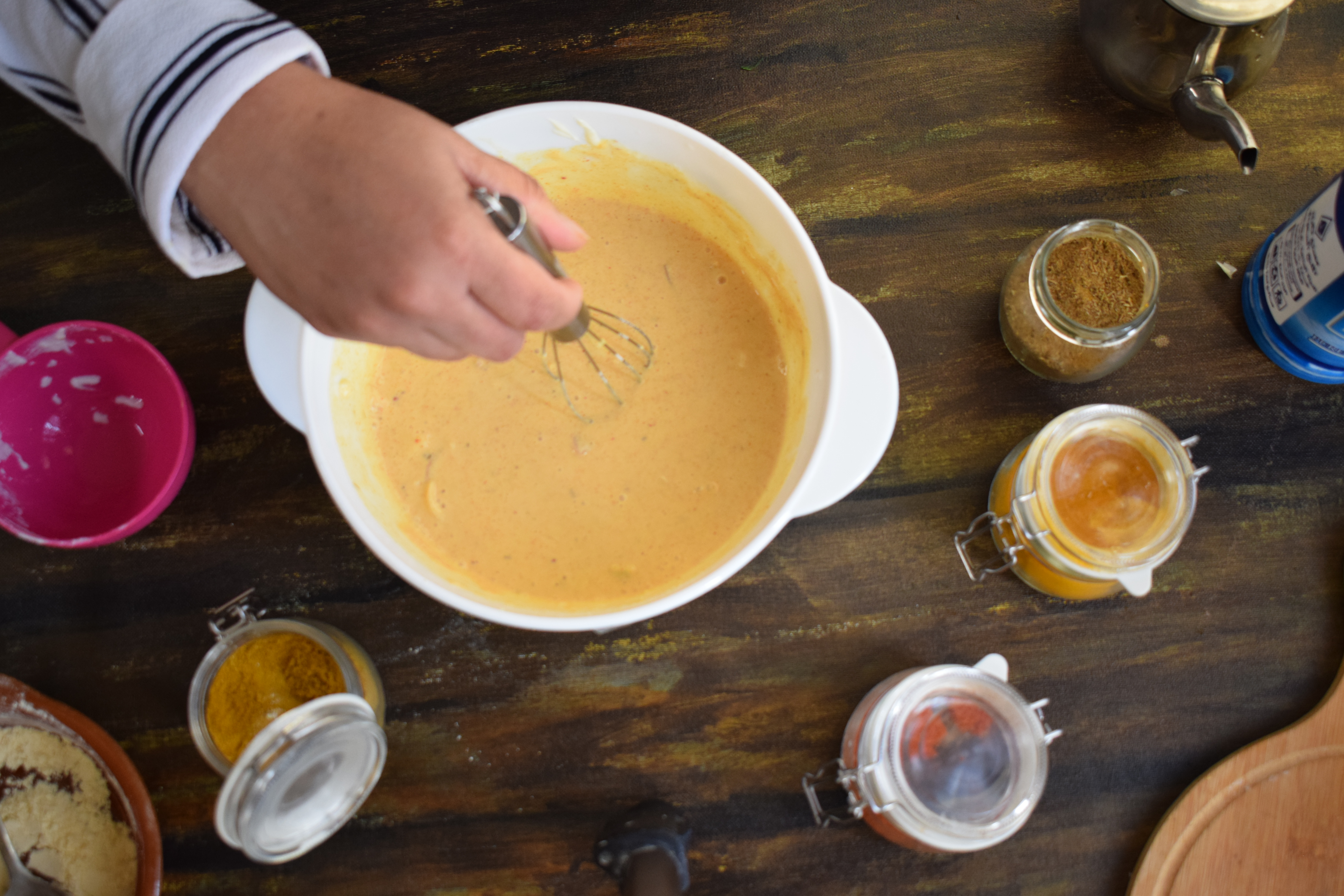 For Pakora
2 cups spinach chopped finely
1 onion
2 green chilies
1/2 tsp ginger chopped
2 cloves garlic chopped
salt to taste
1 tsp cumin seeds
1/2 tsp chilly powder
1/2 tsp turmeric powder
1 cup chickpea flour(Besan)
1/2 tsp baking powder
2 tbsp yogurt
water to make a semi-thick batter
Oil to deep fry
For final tadka
1 tbsp oil
1/2 tsp mustard seeds
1/2 tsp cumin seeds
1/2 tsp red chilly powder
Method
In a large bowl whisk together yogurt and gram flour and mix well without any lumps.
Then add all other spices and veggies listed under kadhi and mix well with a half cup of water.
When everything is well-blended add remaining 4 cups water and set it aside.
In a large pot heat, ghee splutters fenugreek, cumin seeds, and dry red chilies.
Then add the yogurt mixture to it. Stir it continuously until the first boil comes. Then leave it on low flame for 20 to 30 minutes. Stir in between
For Pakora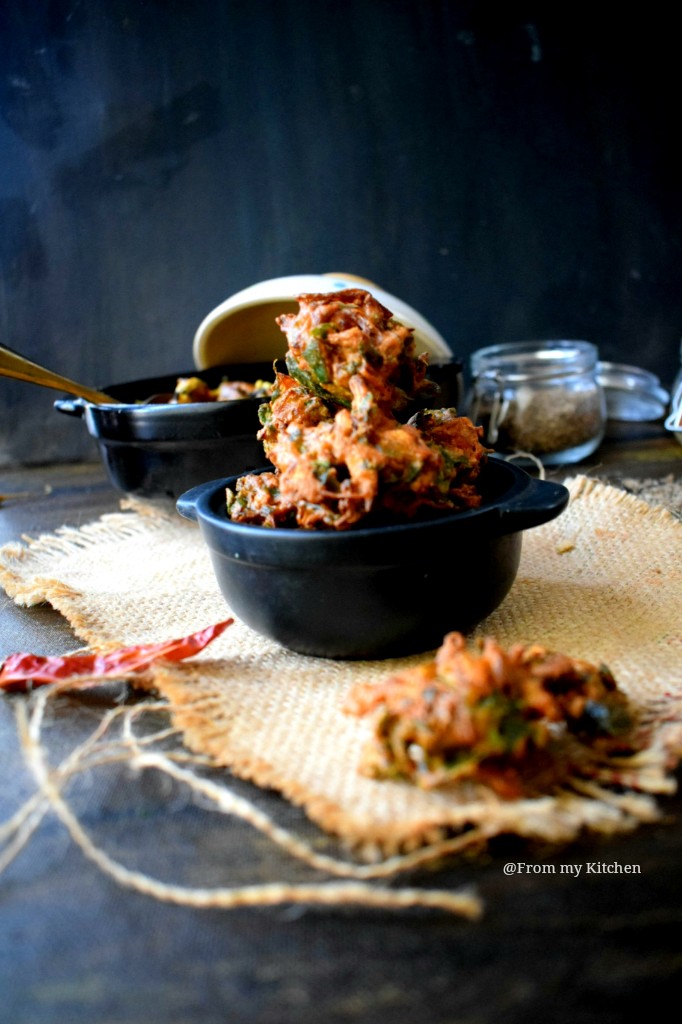 In a large bowl add in the veggies like onion, spinach green chilies, ginger garlic and rub well with your hands.
Then add all other ingredients and mix well with your hands and then add enough water to make a semi thick batter. Don't add too much water and make it runny.
Heat the oil and deep fry the pakoras on medium-low flame. Take it out.
By that time your kadhi will become thick and silky.
10 minutes before serving add pakoras in the kadhi.
Final Tadka: In a pan add a tbsp oil splutter 1/2 tsp mustard seeds, 1/2 tsp cumin seeds and switch off the flame. Add in 1/2 tsp red chilly powder and give it a swirl.
Then pour this over the prepared kadhi and serve hot!
Video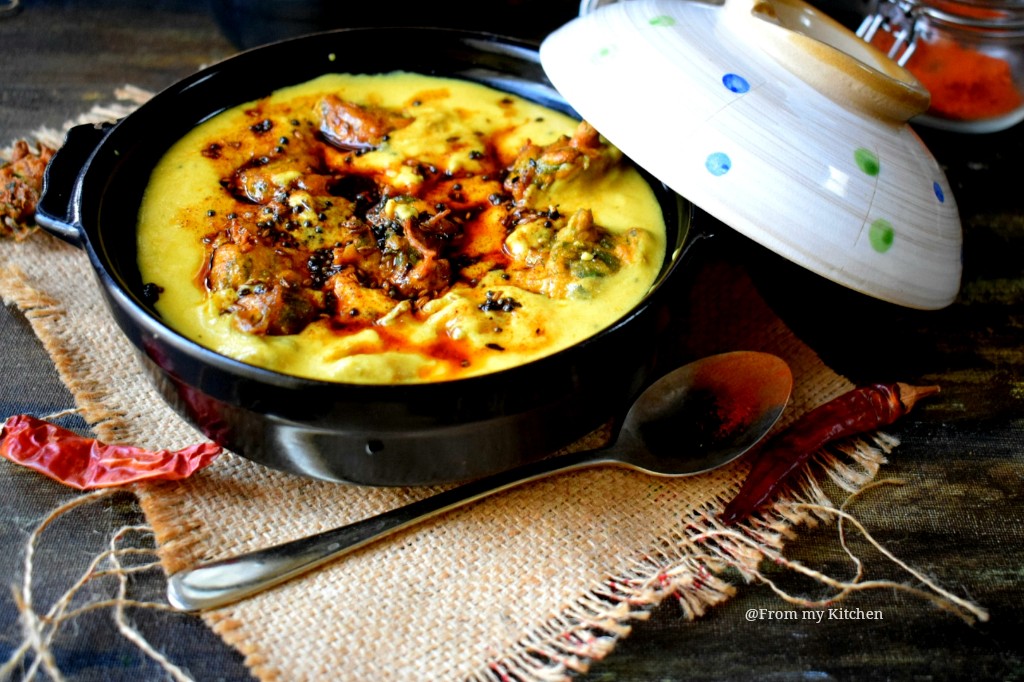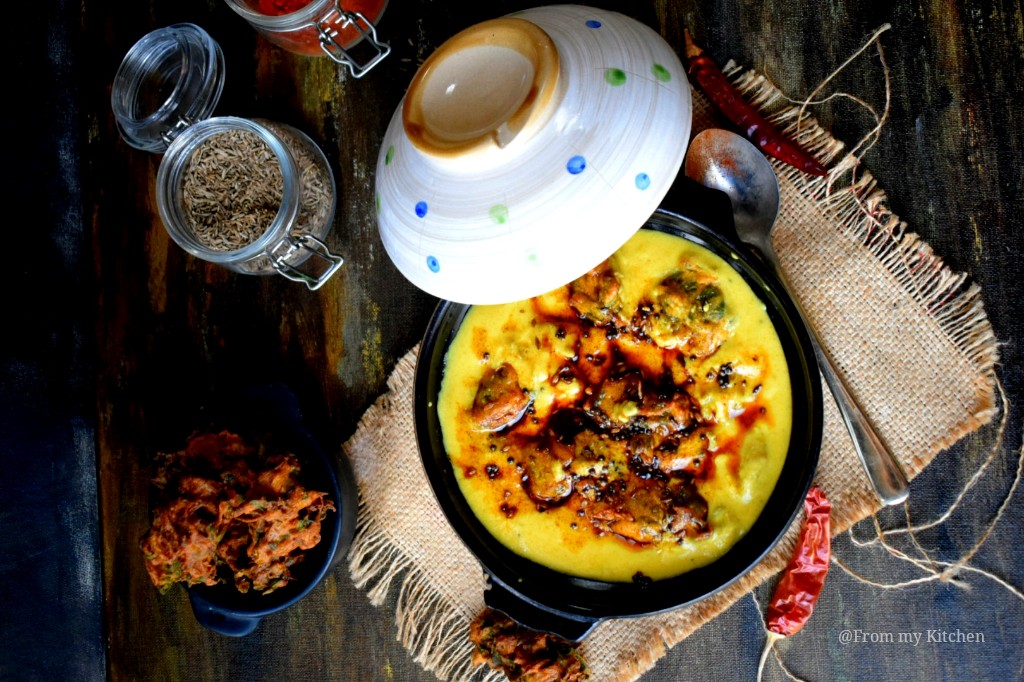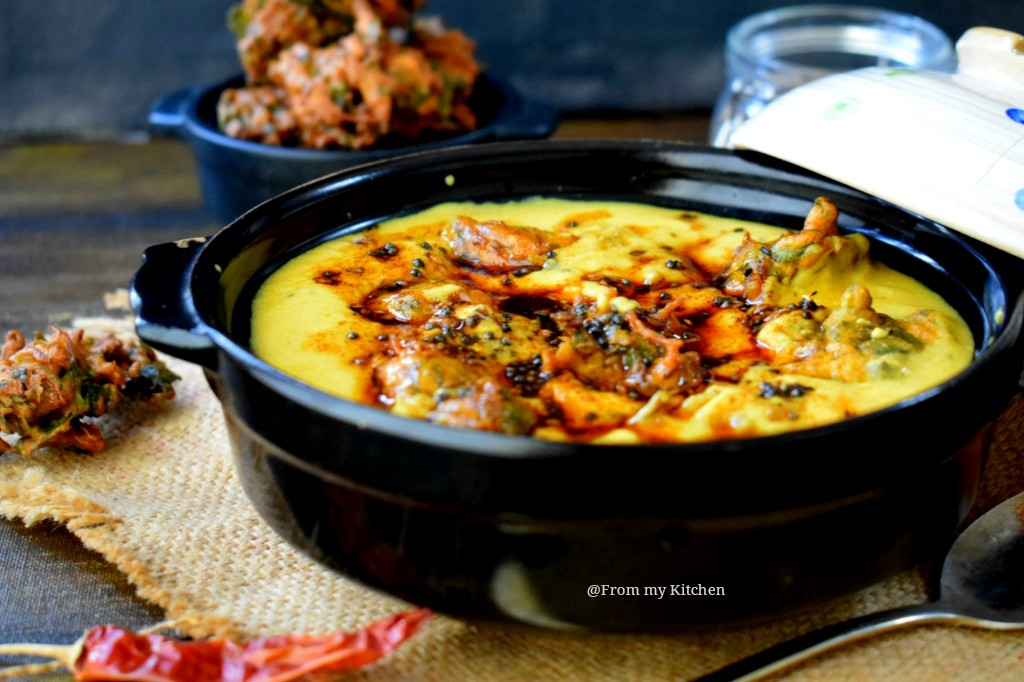 Happy Cooking!