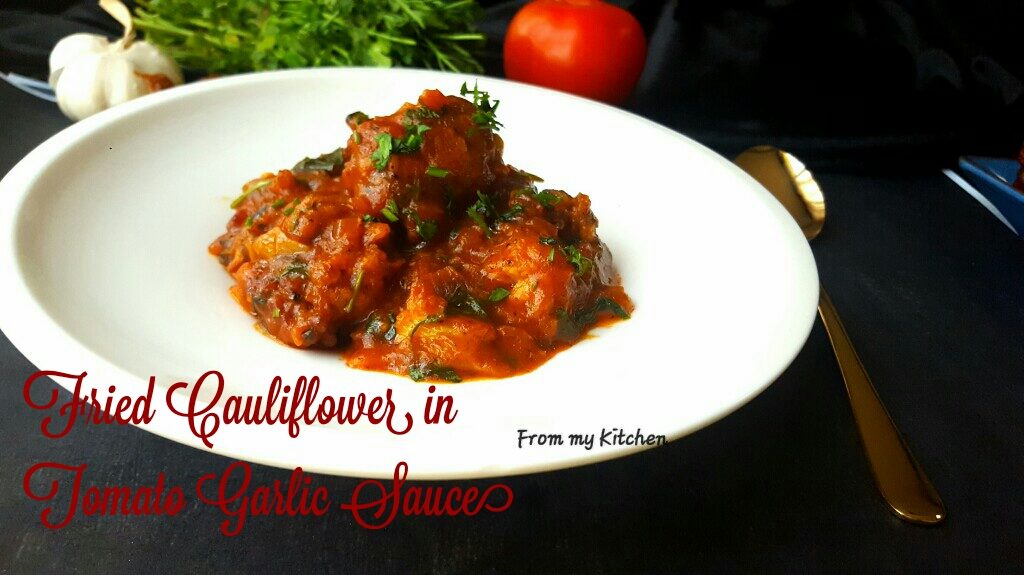 Cauliflower is that veggie which can be easily replicate with non veg recipes.That's why i love it!When ever we browse for cauliflower(Gobi) recipes we end with gobi munchurian,chilly gobi, goby 65 and so on. This one is totally different from all those and it was divine.The well flavored and marinated cauliflower first fried and then coated in a yummy garlic and tomato gravy which is distinct from manchurian and chilly gravies.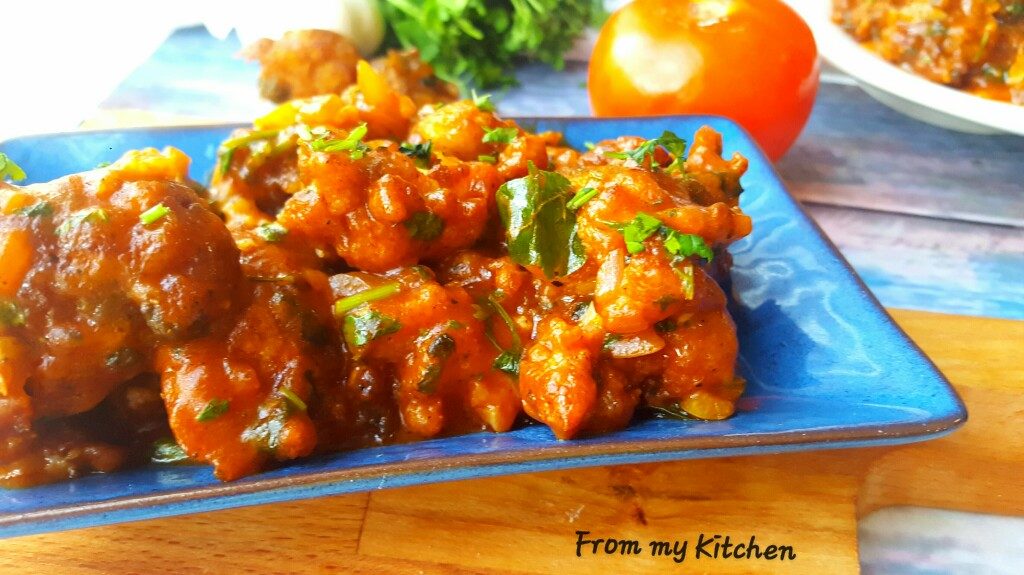 Cauliflower contains an impressive amount of nutrients, including vitamins,minerals and antioxidants.Because of its beneficial effects on different aspects of health, cauliflower can easily be described as a super food.So it's important to include cauliflower in our diet.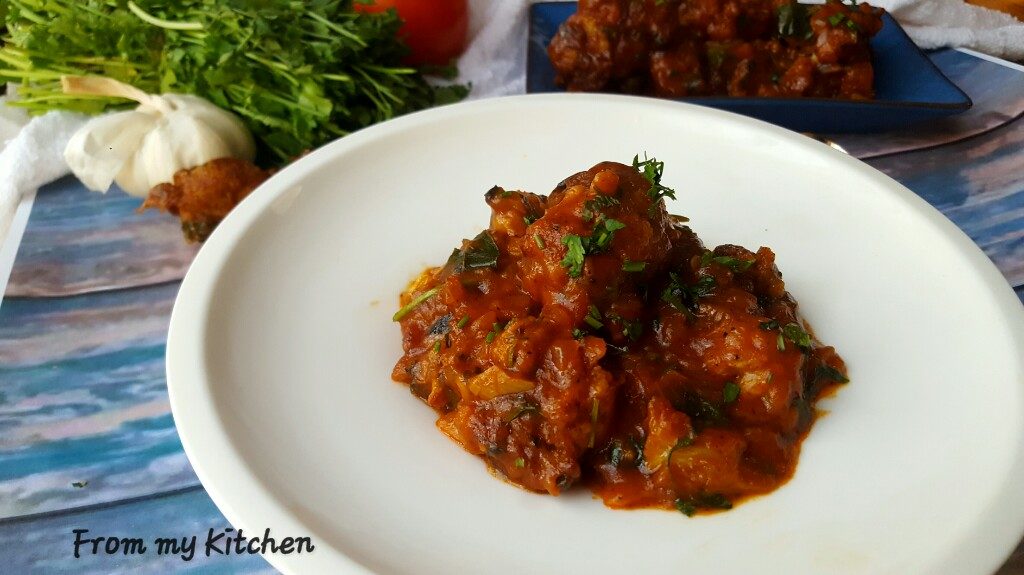 Here the sauce is made up of lots of garlic and tomato paste with some green chilies and some other spices.The fried cauliflower can also be have like an evening snack,it was yum to have like a dry fry.This is such a luscious gravy that nicely compliment with rotis and nans.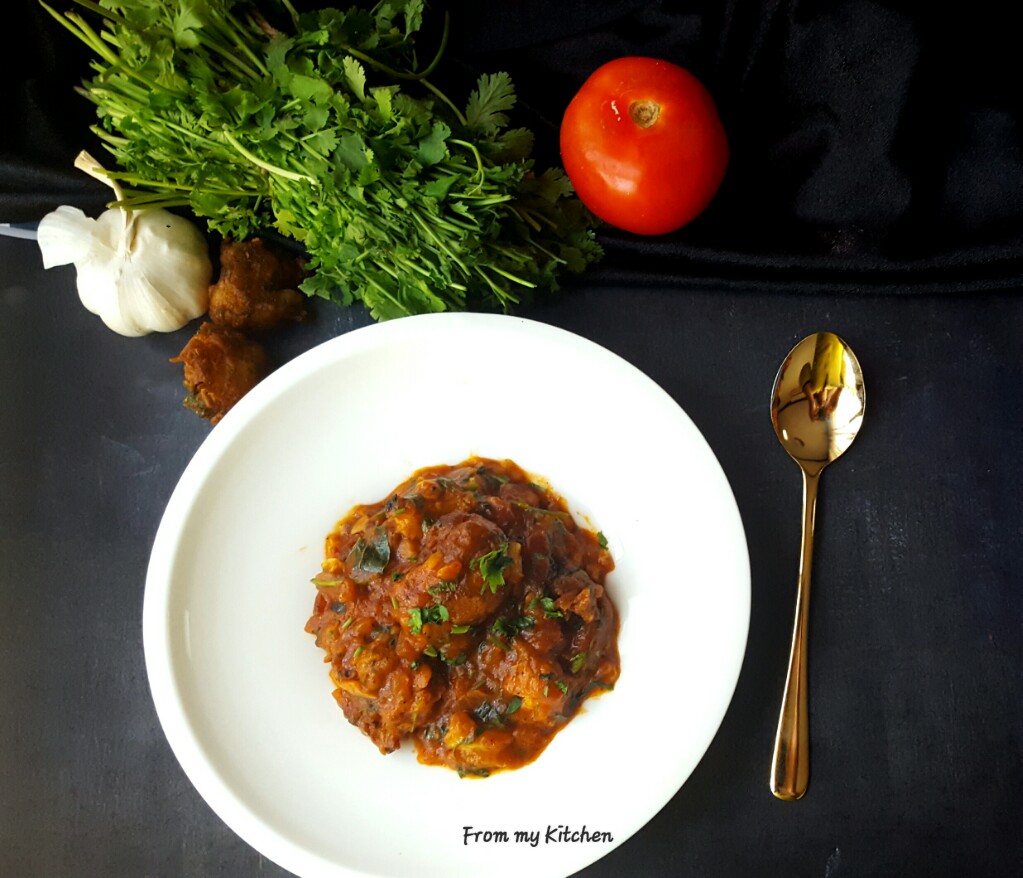 Try it out and i'm sure you will like it.Its spicy,tangy also lightly sweet.This recipe is like a fusion of Indian and Chinese !
Over to recipe
Ingredients
1 medium cauliflower
1 tsp pepper powder
1 tsp chilly powder
1 tsp garlic paste
1 tsp ginger paste
1 tsp garam masala
1 tsp soy sauce
2 tbsp yogurt
1 tsp lemon juice
3 tbsp flour
2 tbsp cornflour
Water to make thick batter.
Salt to taste
Oil for deep frying
For gravy
4 green chilies(more or less upto you)
7 to 8 cloves garlic chopped
1/2 an onion finely chopped(optl)
3 tbsp tomato paste
1 to 2 tbsp tomato sauce
Salt to taste
Lots of Coriander leaves
Method
Separate the cauliflower florets and blanch it in boiling water for 2 minutes.(don't boil more than that)Drain it and keep aside.
In a bowl mix together all ingredients listed under marination and make thick batter with this.Pour this over the cauliflower florets and mix well.(or dip each florets in it)and deep fry it.Preserve the extra marinade for sauce.
Note:Make sure the cauliflower is completely dry before adding it to the batter.Otherwise the batter will become runny and it will not coat to the cauliflower.
If you feel like the coating is not sticking add some more flour.
For Sauce
In a sauce pan pour two tbsp of fried oil add green chilies and garlic saute for few minutes,add onion and cook for 2 minutes.Then add tomato paste and sauce and saute well in the oil until the raw smell disappears.(don't burn it)
Pour 1/2 cup water in the preserved marinated bowl mix and add it in the gravy.Then add pepper powder,salt and mix well.It will start thickening when you add this marinated slurry.Add fried cauliflower and chopped cilantro mix well boil for 1 minute and switch off the flame.If you want it with more gravy add some more water.The delicious tomato garlic cauliflower ready to serve
Tip : If you want your cauliflower crispy add it in the sauce just before serving.
If you don't have tomato paste puree 2 tomatoes and use.(for this you need to cook it really well until the rawness of tomatoes are gone)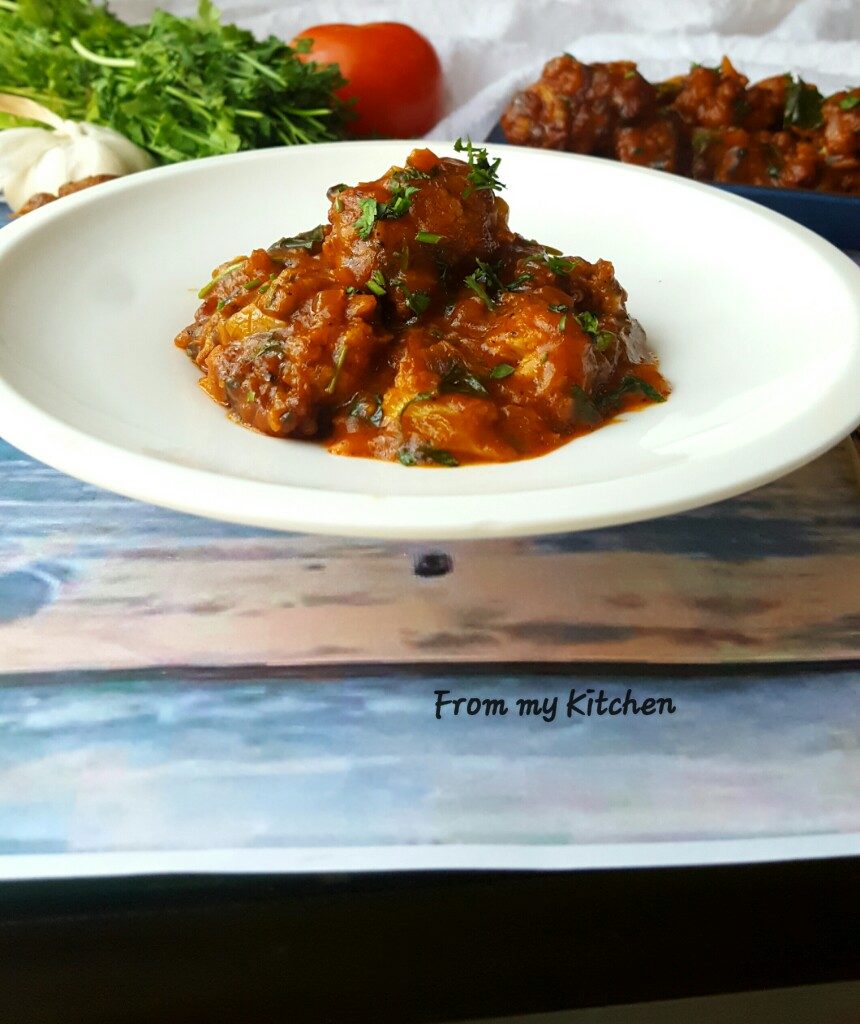 I'm sure this one will be a go to dish now on wards in your kitchen too.We enjoyed it!I served it with chapati.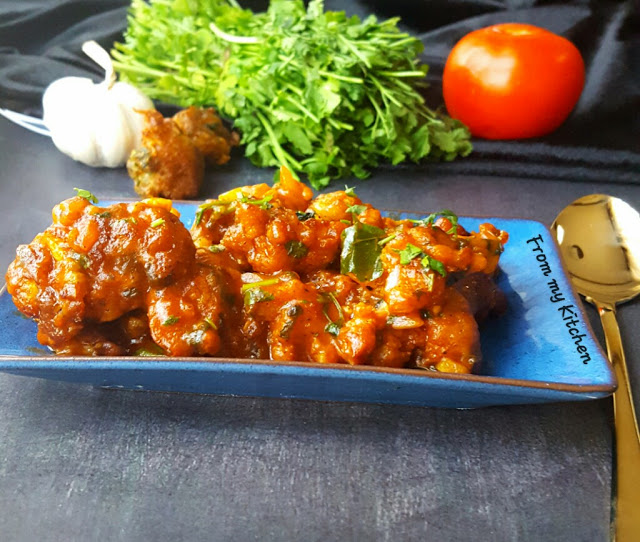 Happy Cooking!!