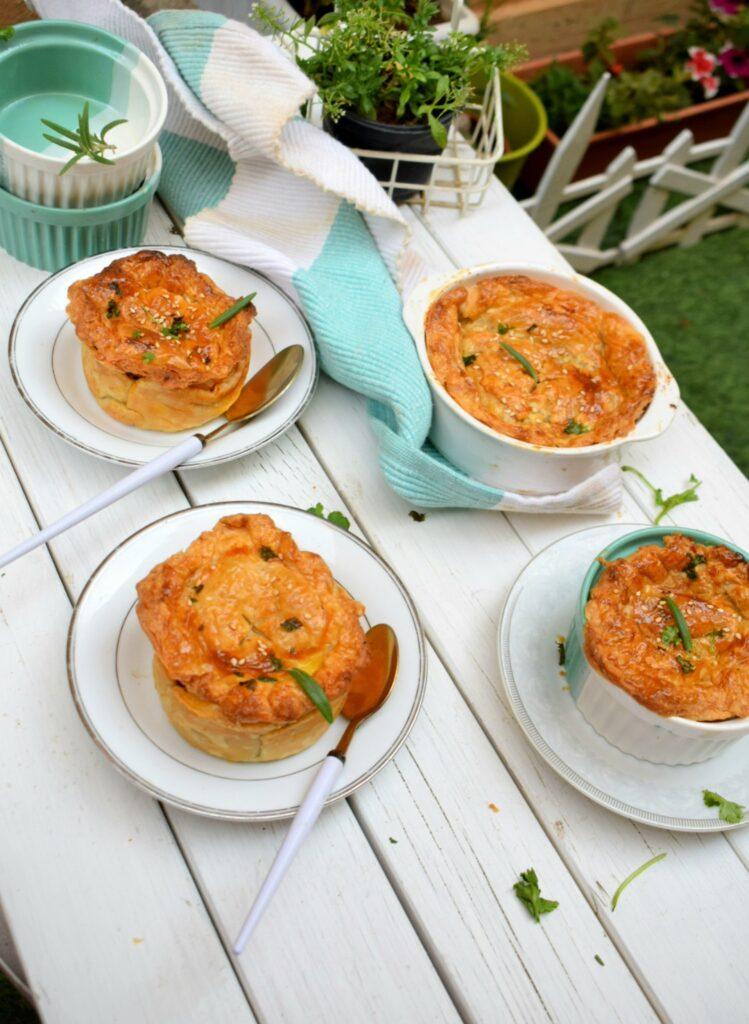 Ramadan Mubarak to all my lovely followers! Alhamdulillah, we are witnessing one more Holy month with the blessing of the almighty! As promised I'm sharing some simple recipes to make your Iftar simple and easy and to utilize the maximum of your time in worshipping Allah!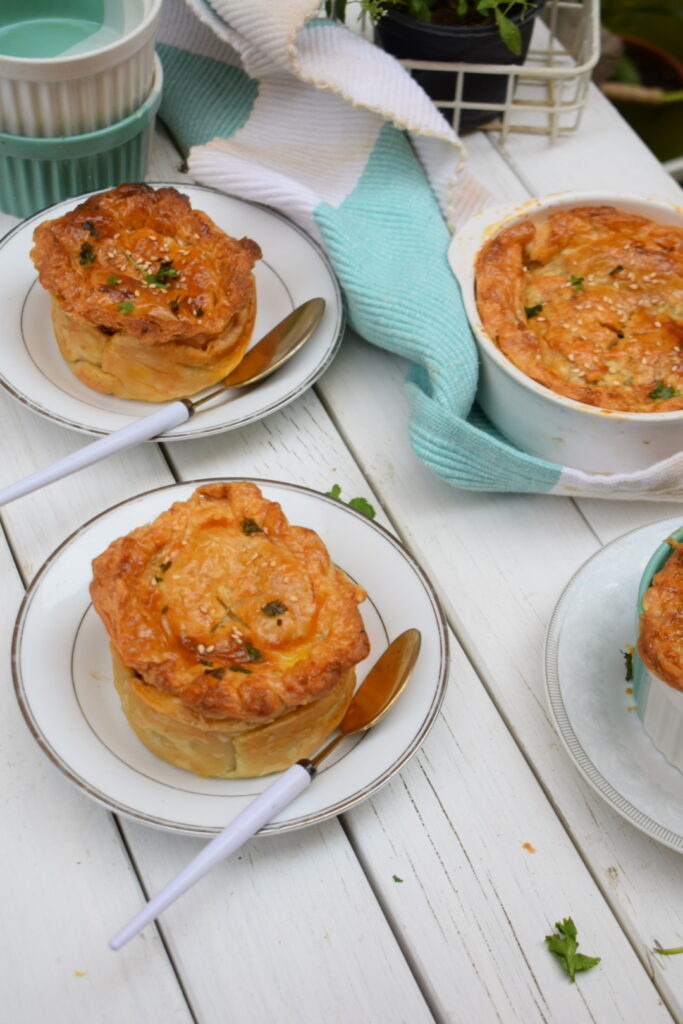 Pot Pie is a crusty meat pie made from puff pastry stuffed with creamy meat and veg filling! Actually, a white bechamel-based creamy filling that oozes out after baking! Here I give it my own twist with a spicy potato and chicken filling that complimented well to our taste buds!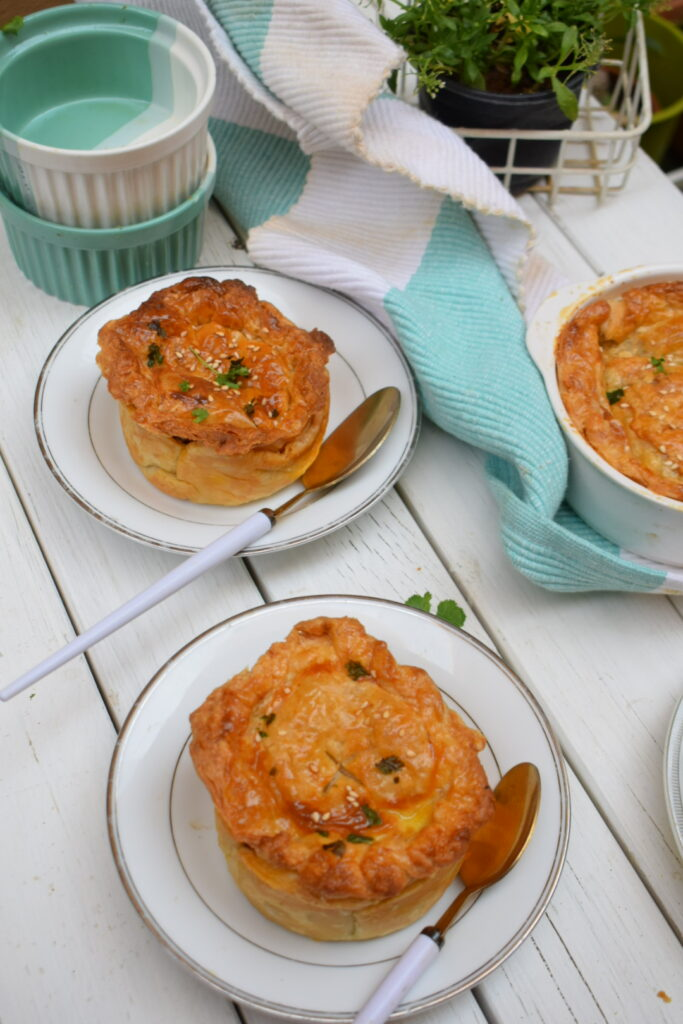 If you're searching for a simple yet appealing appetizer for Iftar, this is a perfect treat! Crispy base, with a creamy spicy filling, loaded with flavor👌👌If puff pastry is not available you may use this filling and idea in a bread dough too, But that flaky puff base and the creamy filling take it to the next level!
Ingredients
2 chicken breast fillets
salt to taste
1 tsp chilly powder
1 tsp garam masala
1/2 tsp cumin powder
Marinate the chicken and cook
Other Ingredients
2 onions chopped
3 cloves garlic chopped
2 or 3 green chilies
1 potato chopped
1 tsp chilly powder or paprika
some chilly flakes
1/4 tsp garam masala
1 tbsp all-purpose flour
1 to 3/4th cup milk
salt to taste
2 tbsp fresh cream
cilantro and some pepper
Puff Pastry
Method
Cook the chicken with the above-mentioned ingredients and keep it aside.
In a pan melt butter and add garlic and green chilies, cook until aromatic.
Add the onion and cook until soft with salt.
Add the potatoes and stir well, add all the spices, simmer the flame, cover, and cook until the potatoes are soft.
Add the flour and mix well, gently pour the milk, stir, and cook until the gravy is thick. Add the cream, pepper, and cilantro mix well and switch off the flame.
Roll the puff pastry square with a rolling pin to make it thin. (Rest of the process check the video
) Bake it at 200 degrees preheated oven for 20 minutes or until it becomes crisp and golden brown.
Youtube Video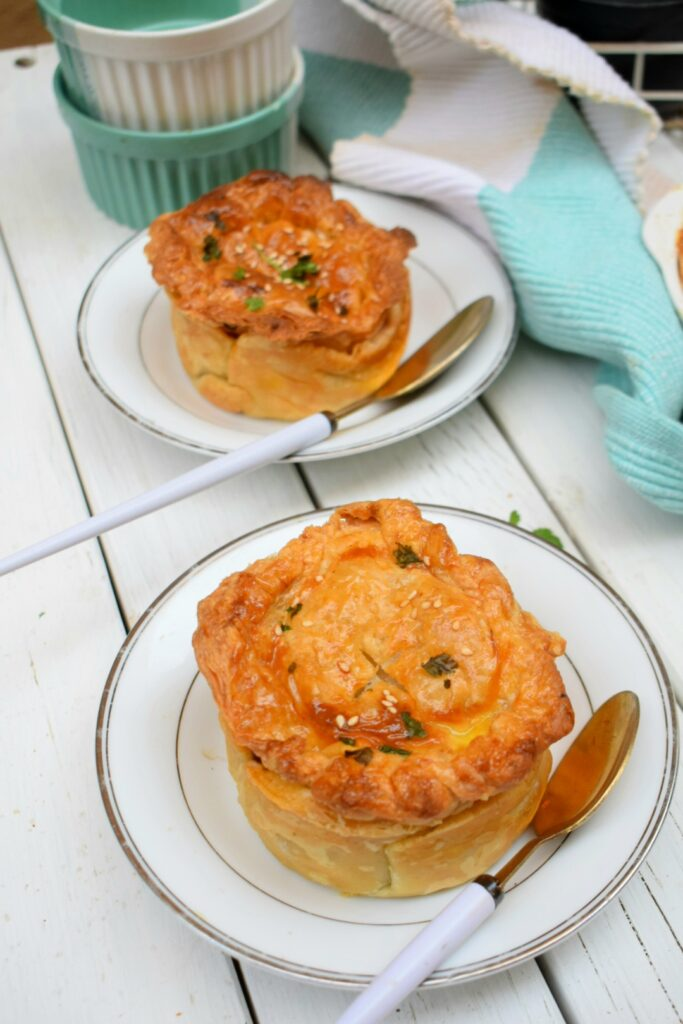 Happy Baking!
SHARE YOUR FEEDBACKS AND PICTURES WITH ME IF YOU TRY MY RECIPES!
IF YOU LIKE PLEASE ALSO SHARE WITH YOUR FRIENDS AND RELATIVES!