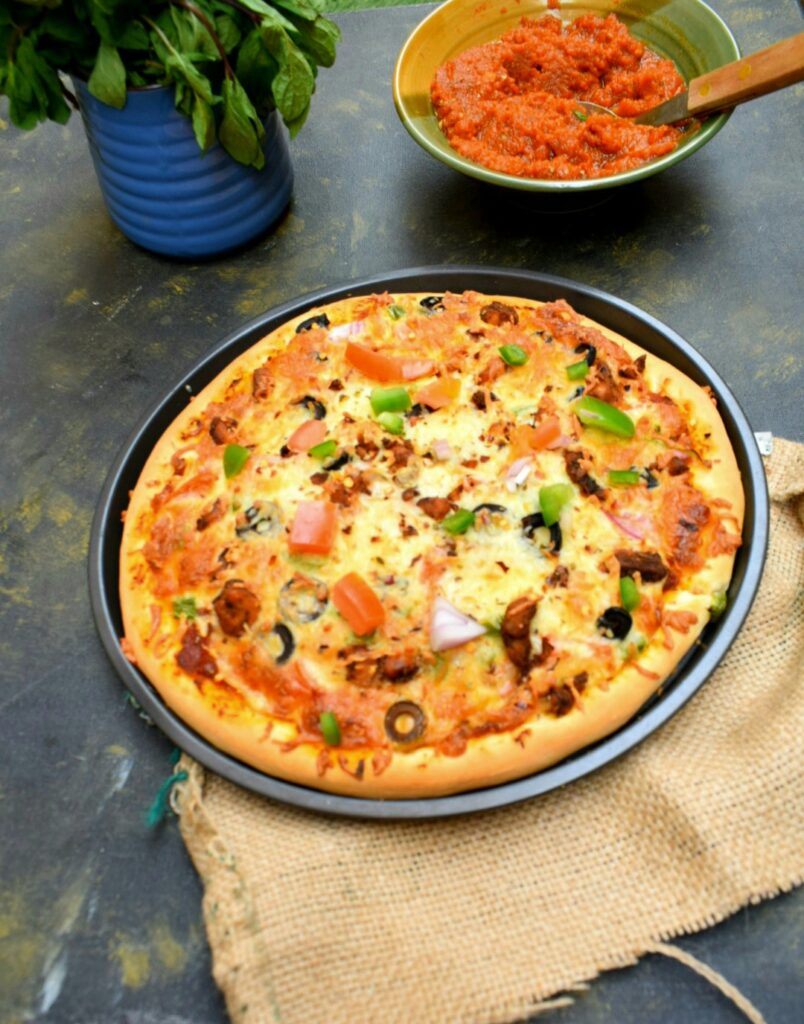 Yay, It's a Pizza Party! A perfectly baked pizza might be a dream for many, isn't it? Soft base with flavorful sauce, perfect topping, and that melting cheese pull is what comes to our mind when we think about a pizza, right? Pizzas are surely a crowd-pleaser from kids to adults, and to perfect it is an art for me!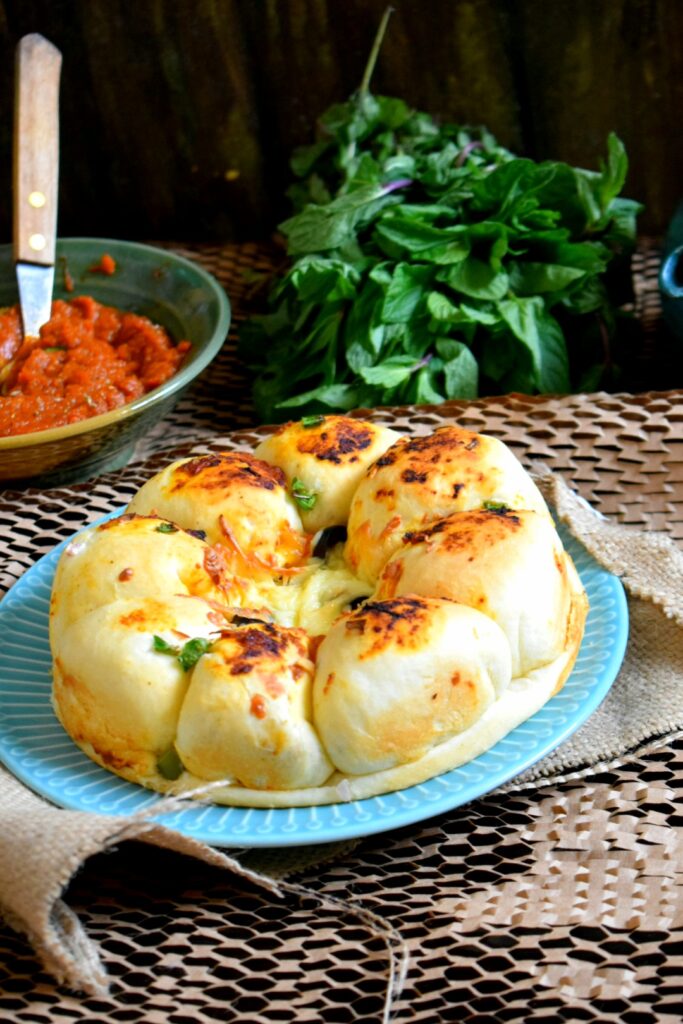 I already have an old post for pizza, but still many of you asked me for a perfect pizza recipe, so thought of reuploading it with new pictures and video! Here I'm showing three ways of making pizzas- Normal perfect Pizza, Bubble Pizza and Mini Pizzas – refer Video!
Oh my God, this bubble pizza is simply crazy! Soft pillowy pizza balls with cheesy gooey filling arranged beautifully on sides of the base and baked to perfection! A must-try one for all the cheese lovers!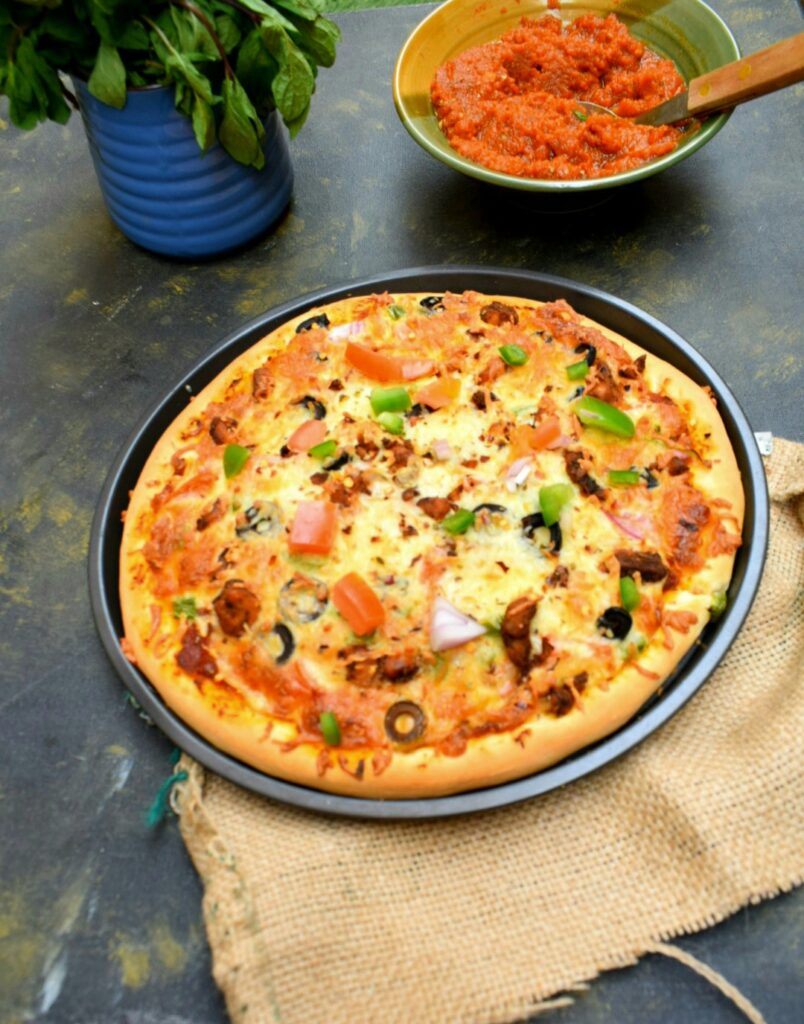 Mainly there are 3 steps in perfecting pizzas, kneading a soft dough, making flavorful pizza sauce and toppings. Cooking everything from scratch is a real satisfaction, right? Believe me, it is so simple! Just try this way, For Pizza sauce check the link below! Check out my Pizza Folder for a variety of Pizza recipes🤗
Ingredients
Pizza Dough
4 cups all-purpose flour
Salt to taste
1 tbsp sugar
2 tbsp yeast
1 cup warm milk
1 or 1/2 cup water
4 to 6 tbsp olive oil/oil
Extra flour for kneading and dusting
For Chicken Marination
2 chicken breast fillet
salt to taste
Pepper to taste
Some paprika
1 tsp chilly powder
some soy sauce
1 tsp garlic minced(opt)
2 tbsp oil or olive oil
If you like another marination here is a cajun seasoning mix(this one was from my old post) I'm deleting that post and creating a new one!
For Cajun Seasoning
2 tsp garlic powder
1 tsp oregano
1/2 tsp thyme
2 tsp paprika/chilly powder
1 tsp pepper powder
3/4 tsp salt
1 tsp onion powder (opt)
Mix it and store it in an air-tight container.(You can use it in your salad dressings, sandwiches, and many more…) If you are marinating chicken with cajun seasoning- In a bowl add 2 tsp of cajun seasoning, ginger, lemon juice and oil. check for salt and add if needed. Then marinate the chicken in it at least for 1 hour. Grill it or cook it in a pan.
Other Ingredients
Mozzarella Cheese
1 small Onion
1 bell pepper
1 tomato
Some black olives
Some olive oil to spread the dough.
Pizza Sauce link is here
Method
Dough
Knead pizza dough very well. If its sticky add some flour and knead it very well until you get a smooth and soft dough.(for 8 to 10 minutes)and let it rest in a warm place for proofing
2. Chicken
Cut chicken into small cubes and marinate with the ingredients mentioned above. Cook and shallow fry it. Cut the veggies and keep it asid
3. Assembling and Baking
Preheat your oven to 180 degree 
Roll your pizza dough to the desired thickness and with a fork prick it (this is to prevent rising the dough (refer video)
Now apply your pizza sauce 
Some Mozzarella, veggies chicken and lots of cheese. Bake it for 15 to 20 minutes or until the cheese melts.
Cooking time varies according to the thickness of the base. The thin crust will cook fast. 
For Bubble Pizza & Mini Pizza refer video!
Enjoy the goodness of freshly home-baked pizza and stay happy!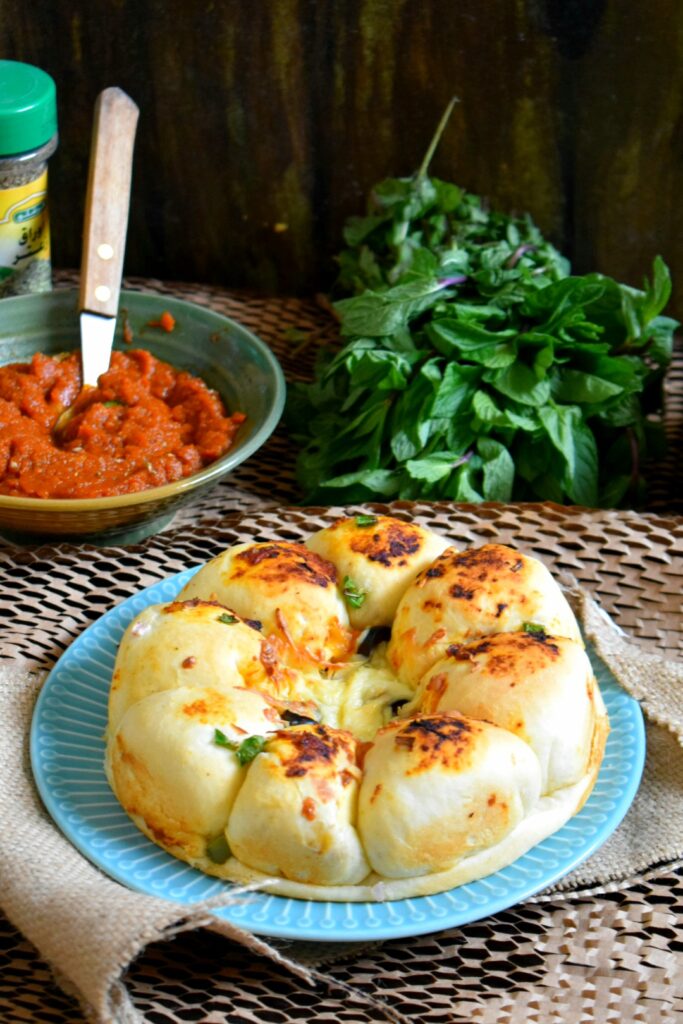 Happy Baking!