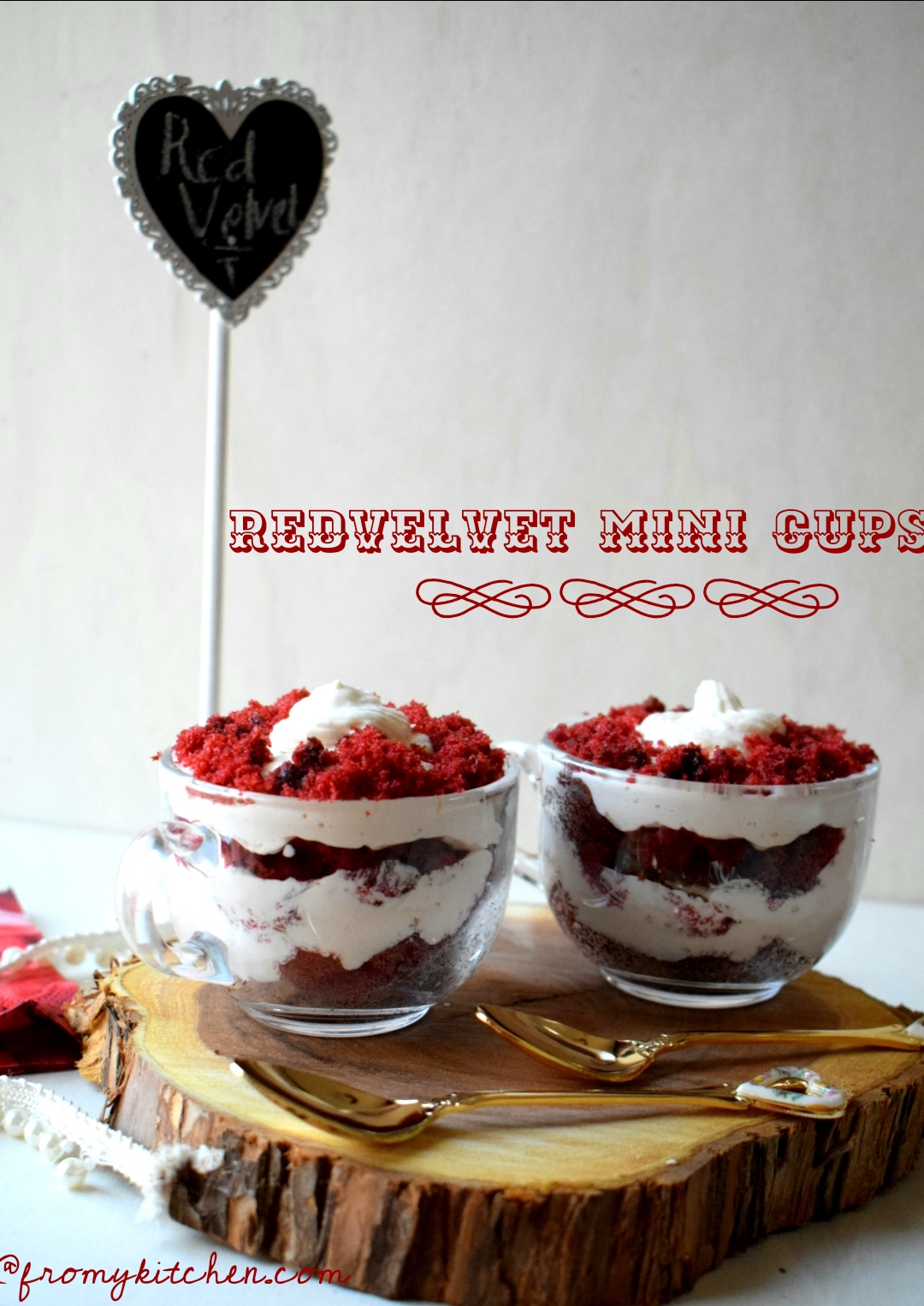 Red Velvet cakes are so attractive and i simply adore the beauty of this cake!! Red, velvety, soft cakes covered with white cream cheese frosting is to die for! Agree or not??💕 This red velvet shots with soft flavorful cake and lightly sweet frosting are so delicious to say no! I beg you to try this recipe as its frosting is too good!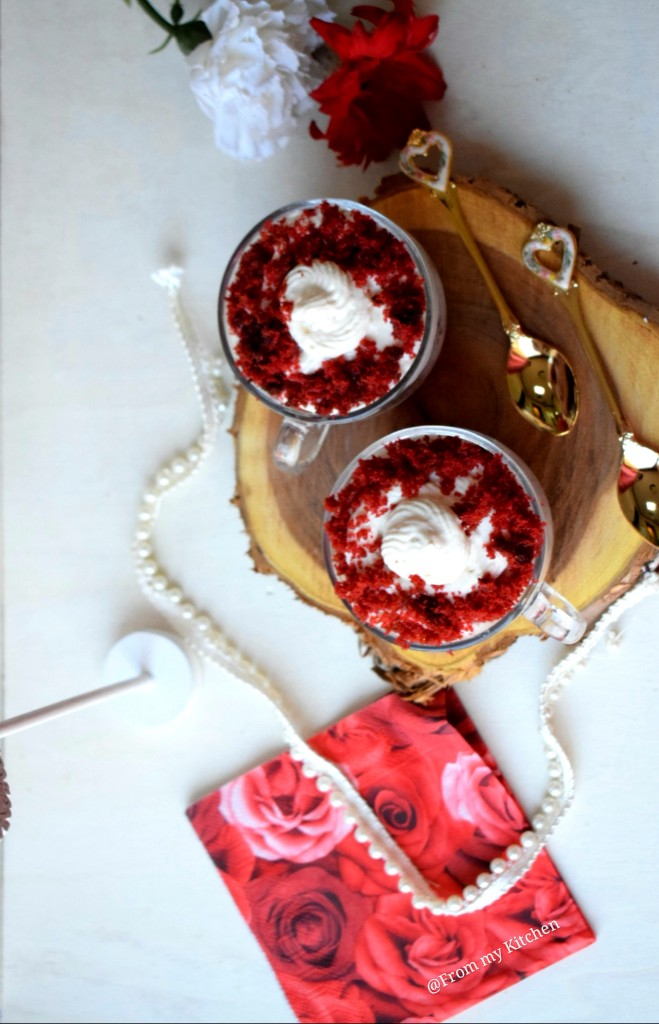 If we are making shots no need to bother about the perfect looking cake isn't it? For my bake sale, I took this one and whoever had it gave me a big thumbs up! So thought to share this one with you guys and clicked it with leftover cake pieces and frosting i had with me and wala here, is it! Enjoy! You can even set it in a dessert pan too.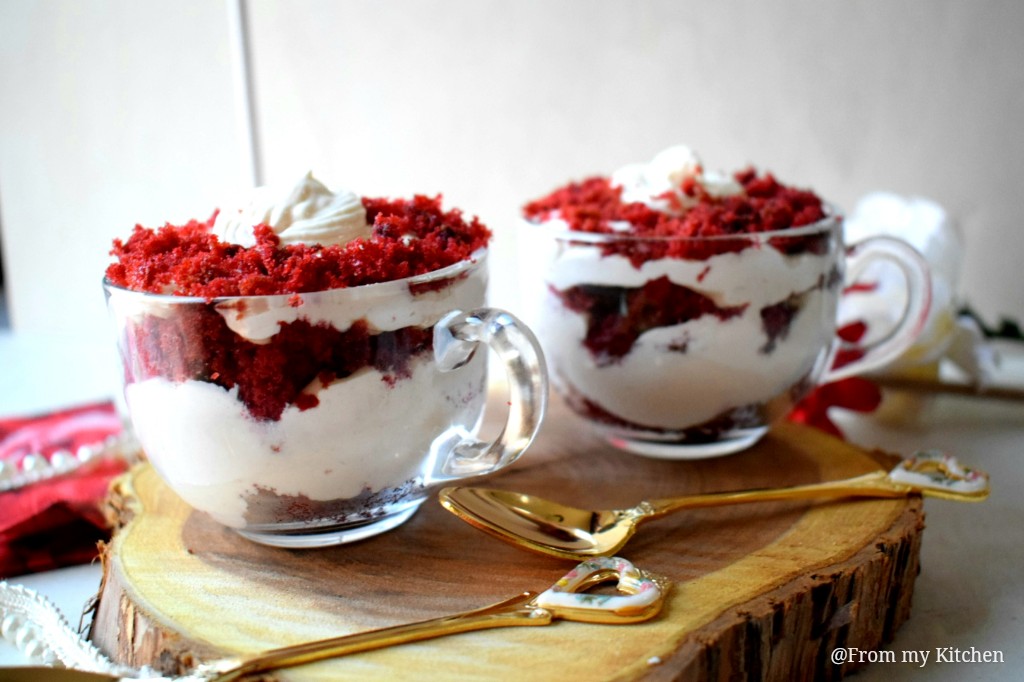 Although i have one Red Velvet Cake.recipe on the blog I loved this recipe more(cake and frosting both). I want this recipe on the blog so that I too can refer it when in need! Two more recipes to come that i showcased on my sale, that is Toffee praline and Ferrero Almond Mousse! Will do when I'm free, till then enjoy this and stay tuned!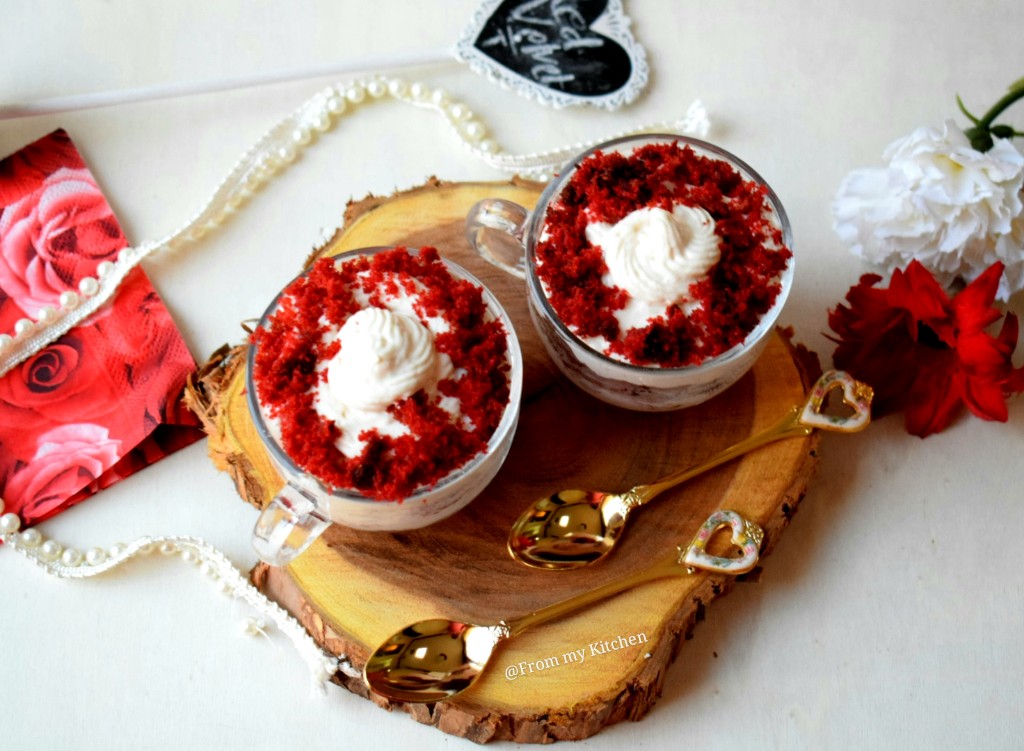 I know many don't prefer red velvet because of the color added in it, but I'm a biiiig fan of this cake. Here we have a pastry shop called Aani & Dani oh my god their red velvet is my favorite! Try using natural coloring like beetroot juice for guilt-free eating! The cake recipe is adapted from Home Cooking Adventure!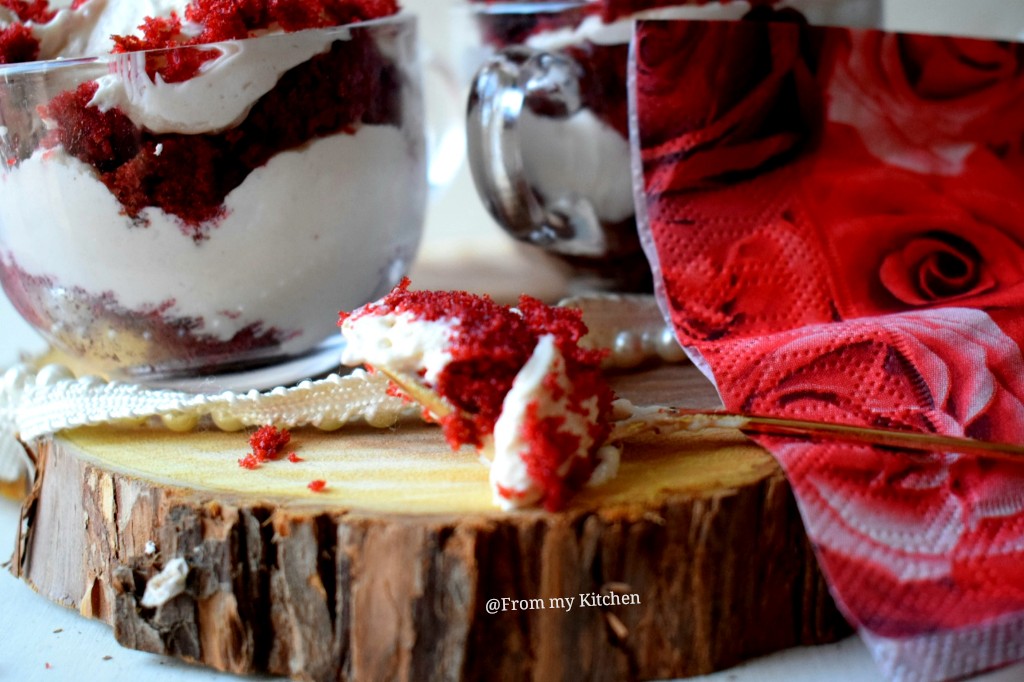 Ingredients
2 2/3 cups (310g) cake flour
2 tbsp (16g) unsweetened cocoa powder
1 tsp (5g) baking soda
1 tsp (5g) salt
1/2 cup (113g) unsalted butter, room temperature
1 1/2 cup (300g) sugar
2 eggs
1 cup (220g) vegetable oil
1 tsp (5ml) white vinegar
2 tsp (10g) vanilla extract
1 cup (240g) buttermilk, room temperature
 Red food coloring gel
Half this amount if you don't want this much qty
Cream Cheese Frosting
300  gm cream cheese
50 gm butter
1 cup icing sugar( check and add if you want more) maybe you will need 1/2 more cup
2 sachet whip cream powder
1/2 cup milk
200 gm fresh cream
1 tsp vanilla essence
Method
Preheat oven to 180C. spray your sheet pan with oil and then spread the parchment paper and keep it aside.
In a large bowl sift together the flour, cocoa powder, baking soda, and salt and whisk to combine.
In another bowl mix butter with sugar until combined. Incorporate eggs one at a time. Mix in oil, vinegar, vanilla extract and buttermilk. Incorporate flour mixture until well combined.
Gradually add red food coloring until the desired color is reached.
Pour the batter evenly into the prepared sheet pan.(as I'm making shots I used a big rectangular sheet pan, so that it will be easy for us to slice and fit it in the shot glass) I got two big cakes from this. batter.
Bake for about 20 minutes or until a toothpick inserted into the center comes out clean.
Let pans cool on a cooling rack for 10 minutes.
Remove the cakes from the pan and let them cool completely.
Prepare the frosting
In a bowl the beat the room temperature cream cheese and butter with icing sugar and vanilla extract until smooth.
In another bowl whip the cream until soft peaks form with 2 sachet whip cream powder and 1/2 cup milk.
Then add the fresh cream and beat until you get stiff peaks. Check for sweetness and add icing sugar.
Gradually fold into the cream cheese mixture until well combined. (Sweetness depends totally upon you) Maybe you will need 1/2 tp 3/4 th cup more icing sugar.
Assembling the shots
Cut the cakes into the shapes and size of your shot glasses. If the cake is too thick after cutting it slice it from the middle.(this will help you get neat slices)
Arrange it in the glass and then pipe the frosting and repeat the layers!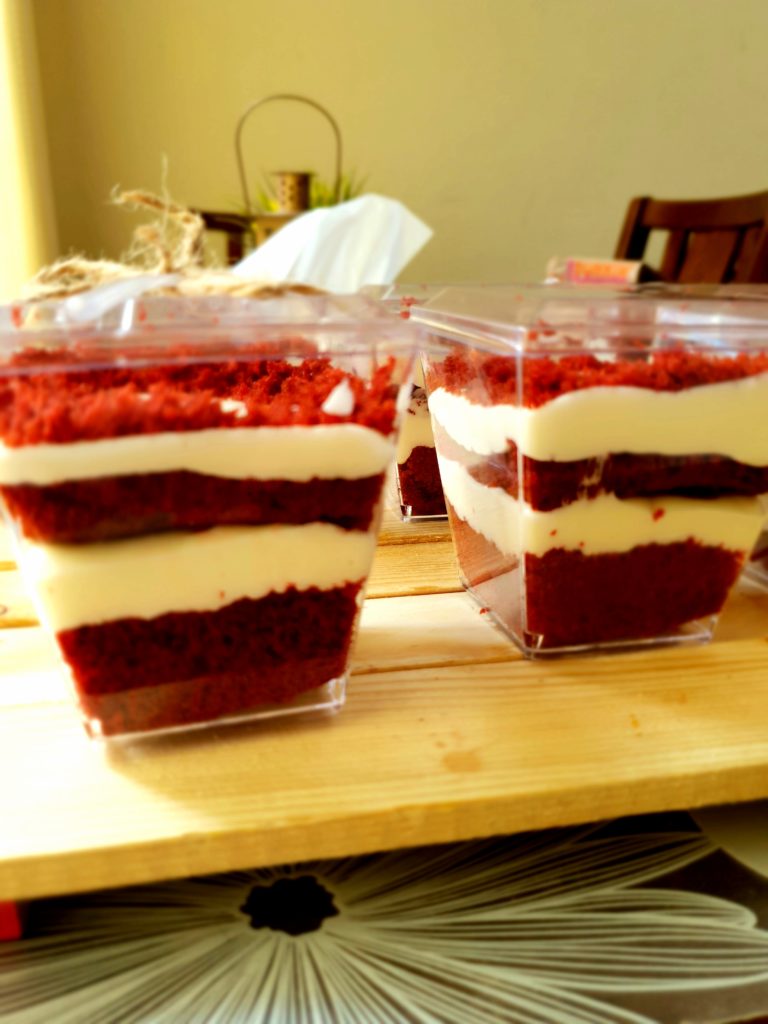 You can see that neat layers here! This one i made for the event!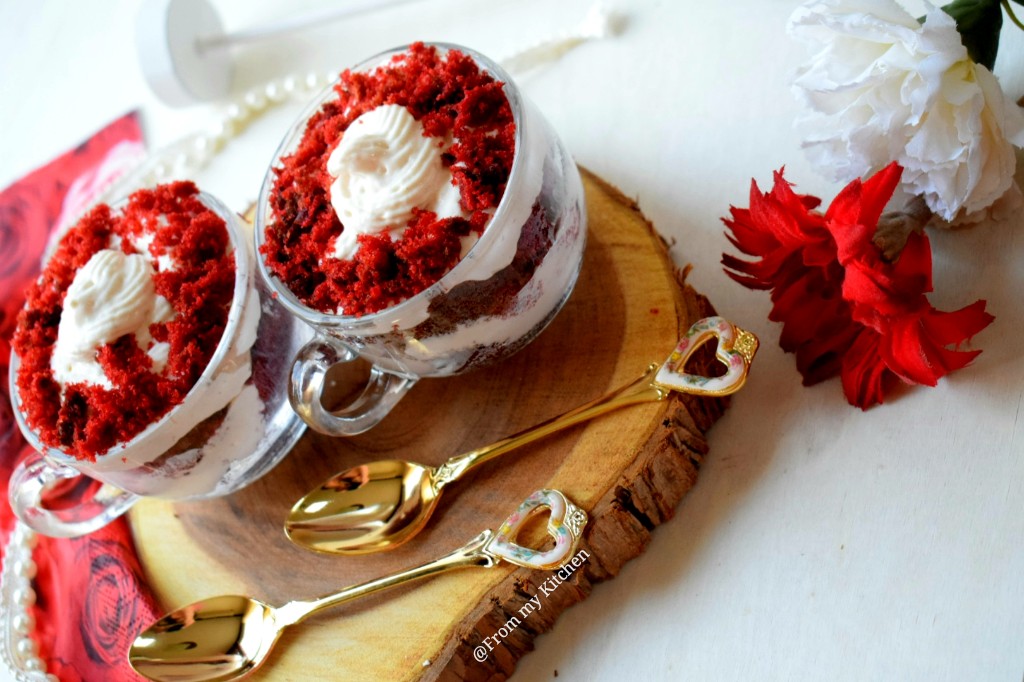 It is really velvety soft and delicious cake shots that you can't stop at one!