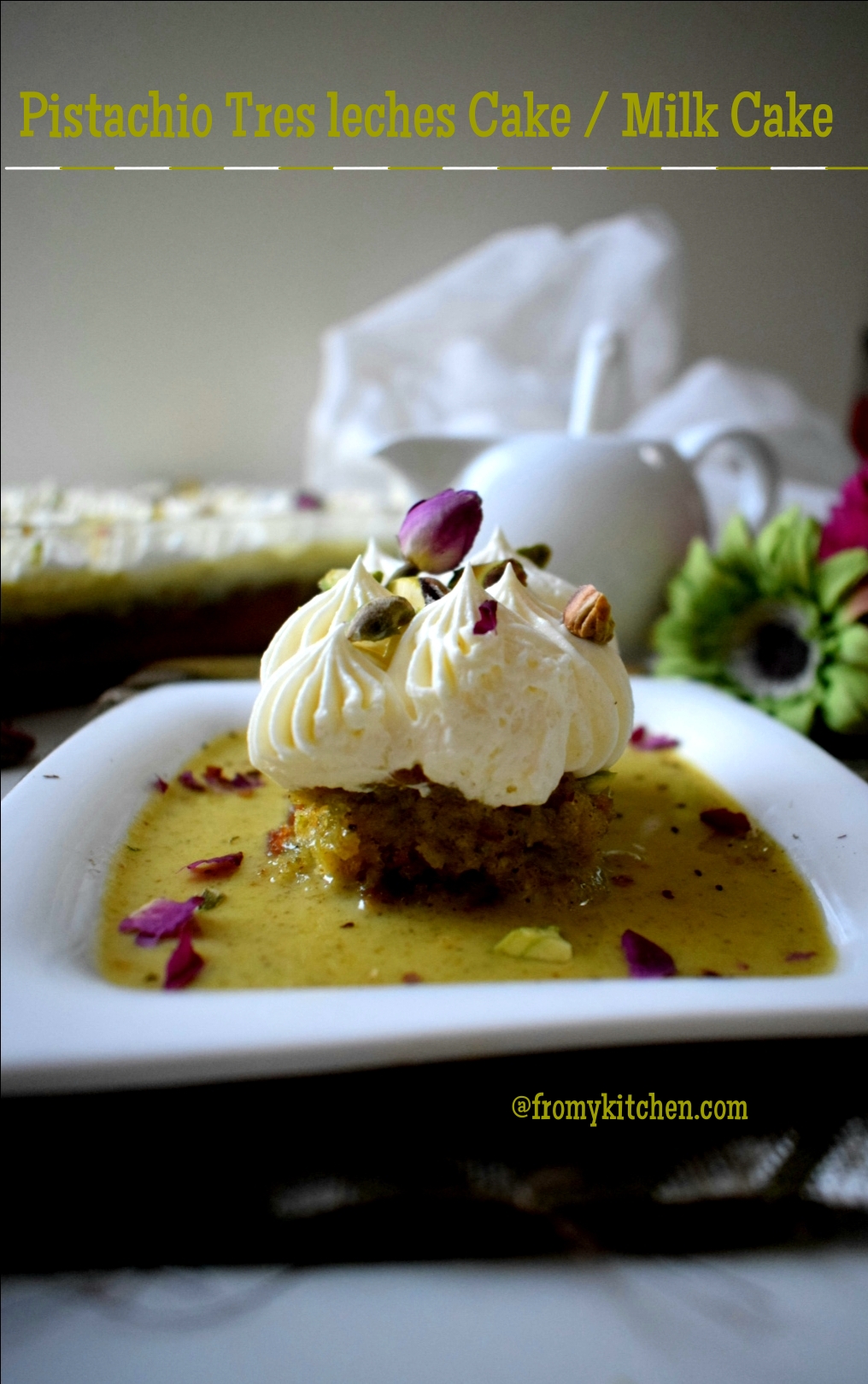 Tres Leches Cake was there in my bucket list for a long time and finally, here it is! I'm so glad I did a pistachio Milk Cake! This is so yum moist and delicious with a wonderful creamy pistachio flavor! That color contrast of Mehandi green milk sauce with white cream is so beautiful, isn't it? Once you have it you will fall in love with this beauty!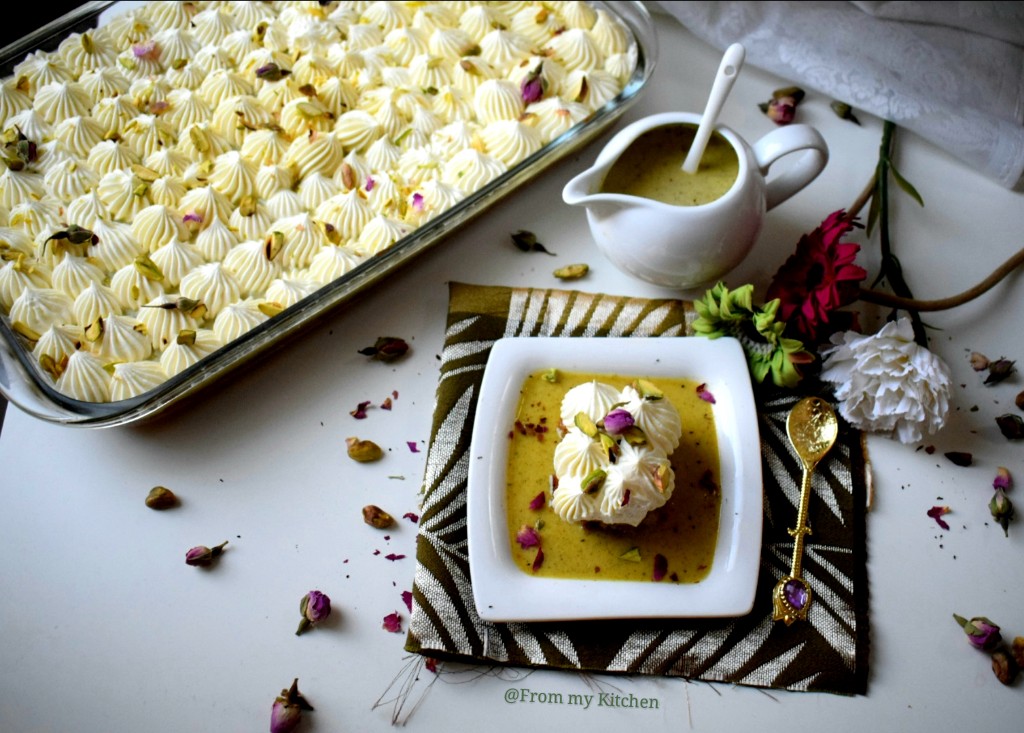 The delicious pistachio flavored cake is soaked in a creamy milk sauce and then topped with whipped cream is surely a keeper. You can also make a plain vanilla sponge or butter cake instead of pistachio cake and use the sauce. I took it for a party and my friends just loved the flavor and texture of this milk cake. A 3 layered dessert using three different types of milk, that is condensed milk, evaporated milk and fresh milk/heavy cream. I think that's why name Tres Leches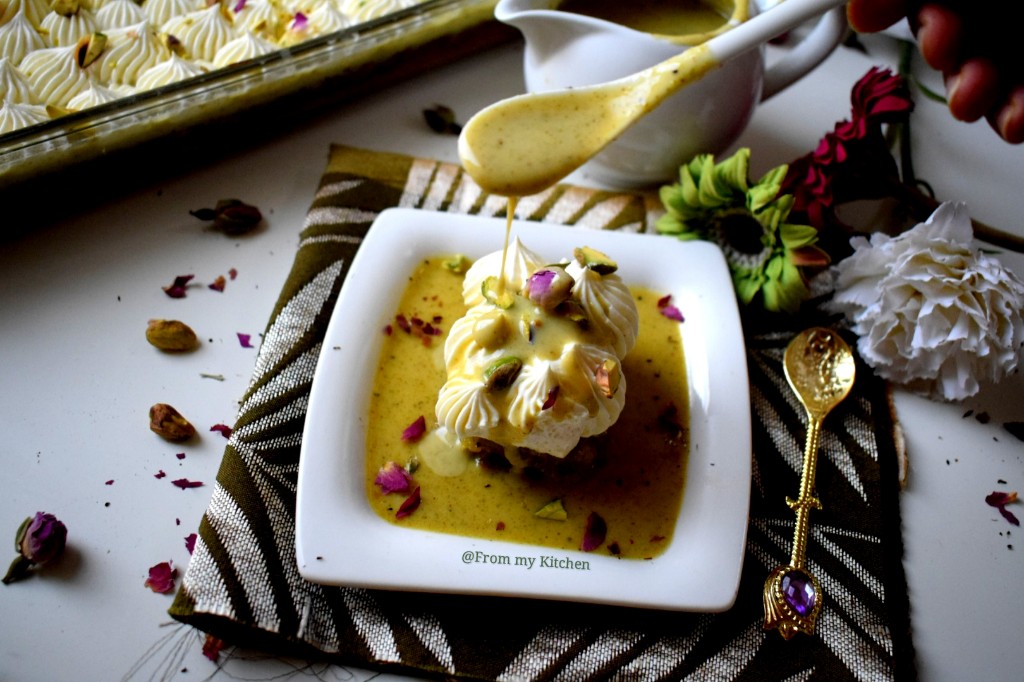 That pistachio sauce was a killer and I'm definitely creating more recipes with this. In the milk sauce, I added powdered pistachio and was yum! I browsed and browsed for a good pistachio milk cake recipe but I can't found a good one and so this one is totally my idea and so proud of it!hehe!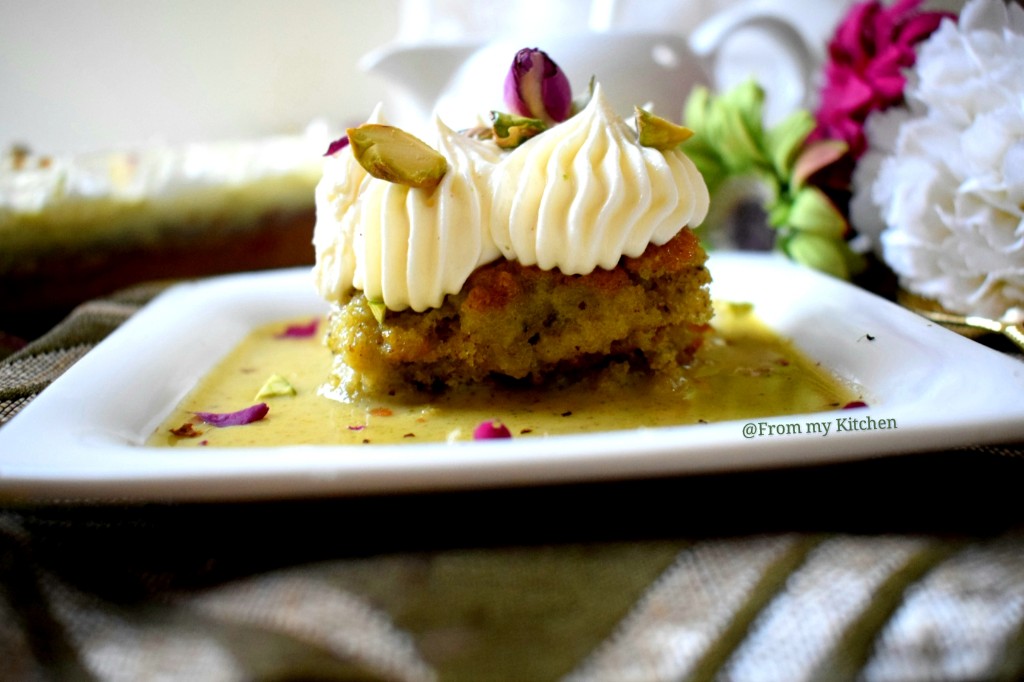 This post is special for me as i crossed 400 recipes and I gotta perfect one to celebrate it! My next wish is to publish a cookbook! Just a dream, only if we dream its gonna workout right? hehe In sha Allah someday!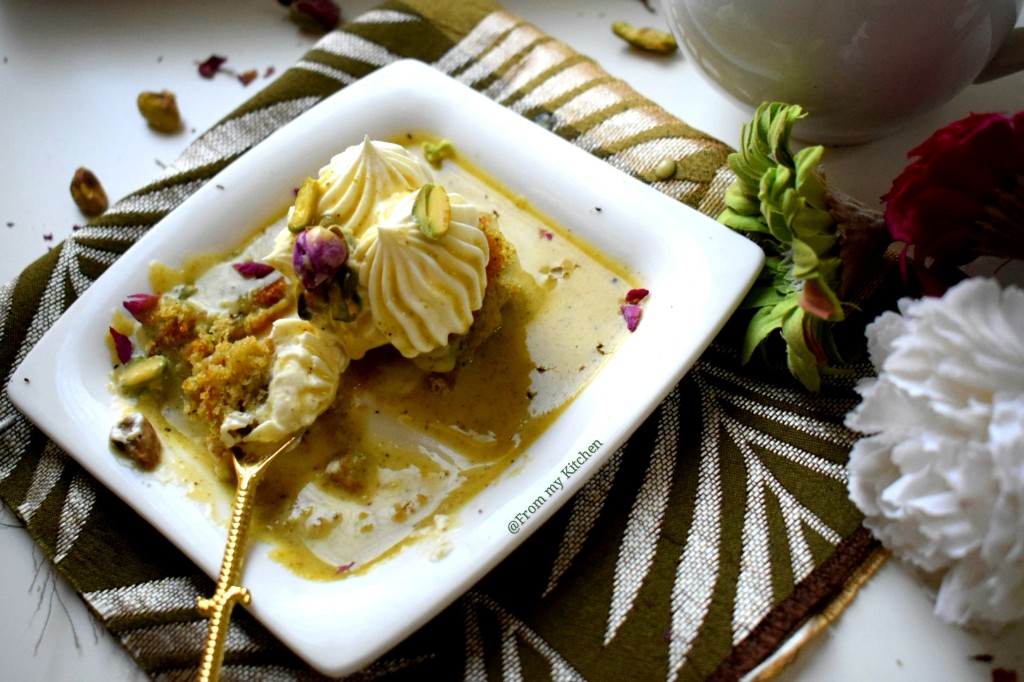 Ingredients
1 cup all-purpose flour
1 cup pistachio (powdered)
1 tsp baking powder
1/2 tsp baking soda (optl) but if you have use it
100 gm butter
1/4 cup oil
2 eggs
1 tsp vanilla
1/2 cup buttermilk
1 cup + 2 tbsp powdered sugar
For Pistachio Milk Sauce
1 tin condensed milk
1 can evaporated milk
1 /2 cup milk
3/4 cup pistachio powdered
1/2 tsp vanilla essence
Few drops of green color (opt)
For Cream
2 sachet Whip cream powder
1/2 cup milk
1 tub fresh cream
You can also use just whip cream use
Method
Preheat oven to 180 degrees.
Powder pistachio.
Blend together butter and oil, add powdered sugar and blend.
Then add eggs and beat well until it becomes fluffy.
Sift together flour baking powder and baking soda.
Then add powdered pistachio and buttermilk and beat until its well combined.
Grease the tray and spread the batter evenly and bake it for 30 minutes or until the skewer inserted comes out clean.
For Sauce
Powder 3/4 cup pistachio in a mixie grinder.
Add 1/2 tin of evaporated milk in it and blend again to get a smooth paste.
Then add condensed milk, milk and rest of the evaporated milk. Mix well
Whip the cream and make it ready.
Assembling
After baking cool the cake for some time. Then poke the cake and add the milk sauce all over the cake. Spread or pipe the cream evenly and chill it.
Video Tutorial!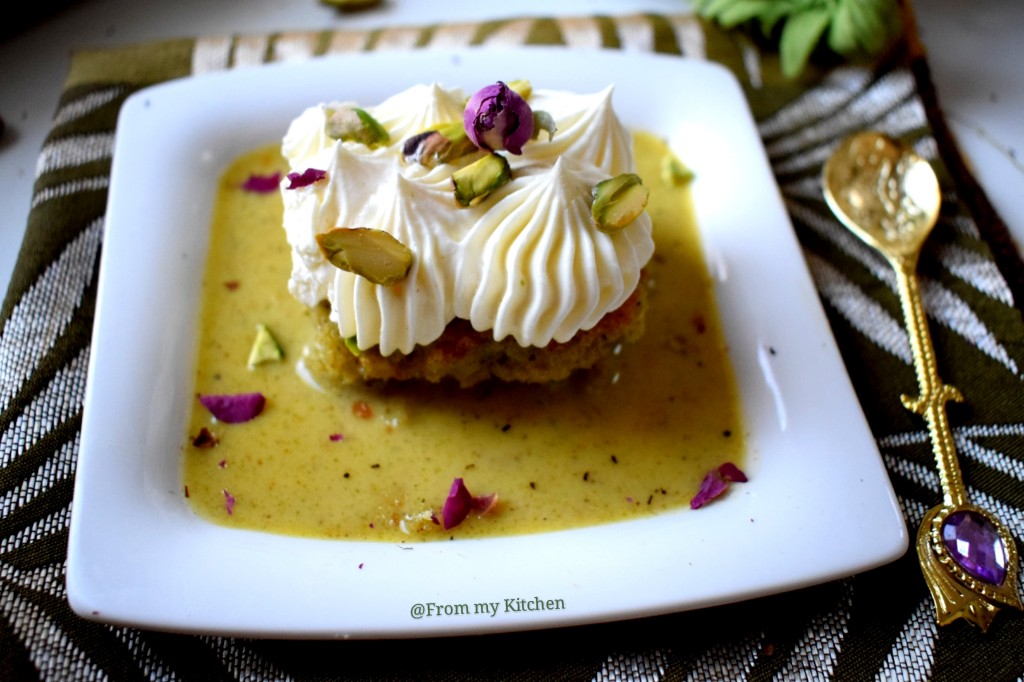 Will try to bring more interesting recipes for this festive season!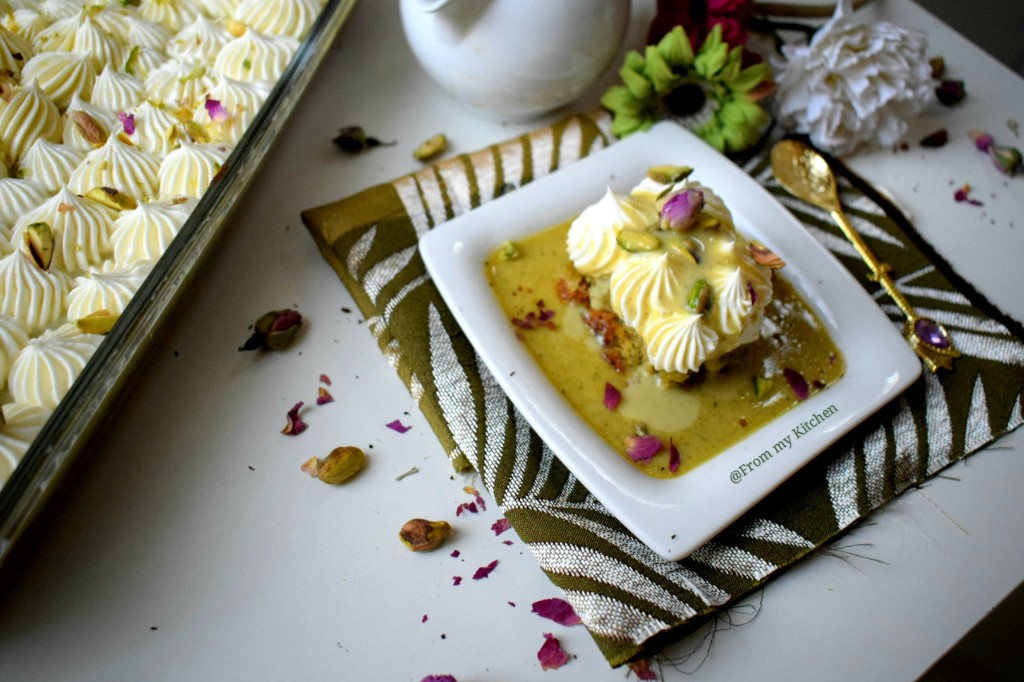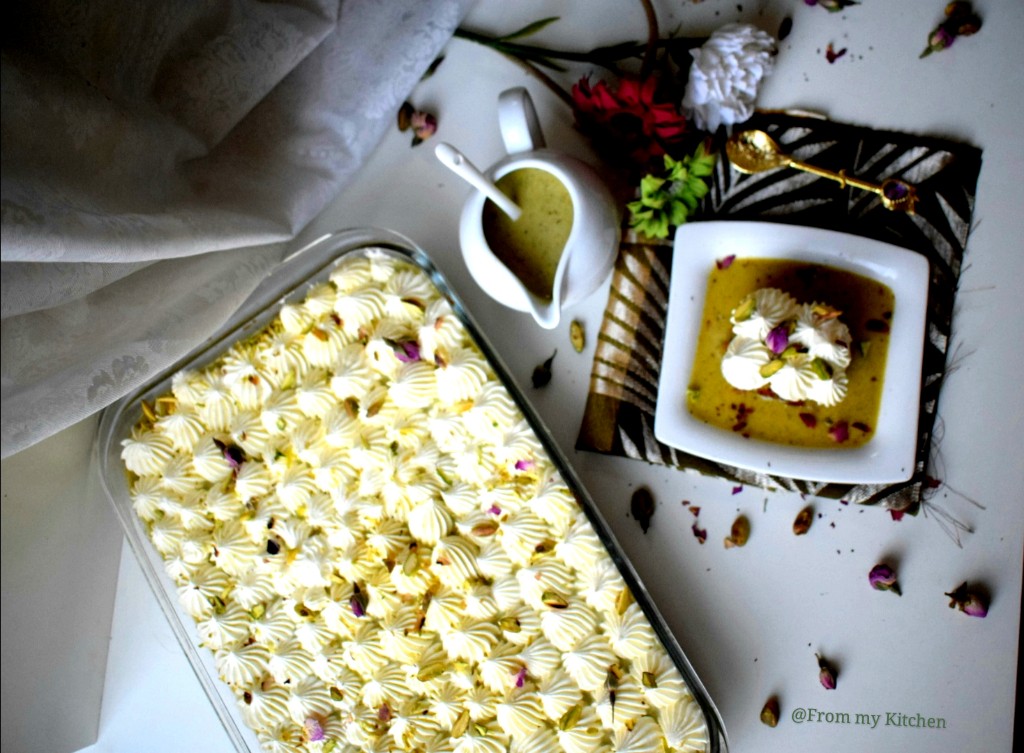 Hope this pistalicious dreamy creamy moist cake will be a favorite in your place too!
Happy Cooking!