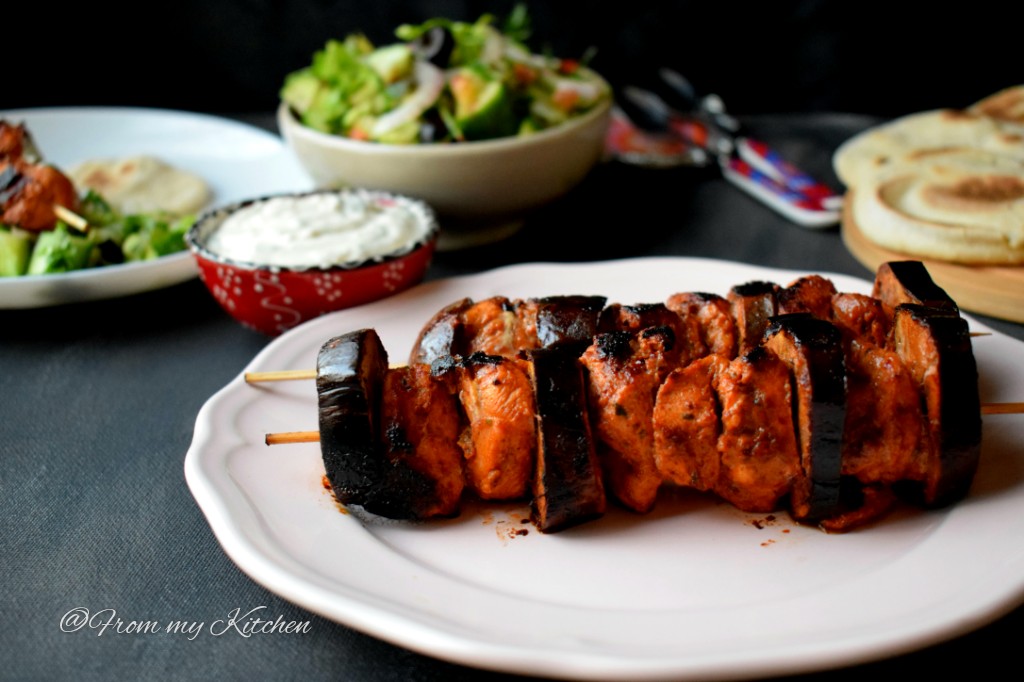 Shish Taouk is a popular Middle Eastern dish which is widely eaten in Turkey,Lebanon Egypt,Jordan Syria and some other countries too!You can see this dish on all the Arabic restaurant menu!Turkish food is my favorite,their salads,grills and kebabs are to die for!Shish refers to skewer in Turkish and Tavuk means grilled chicken.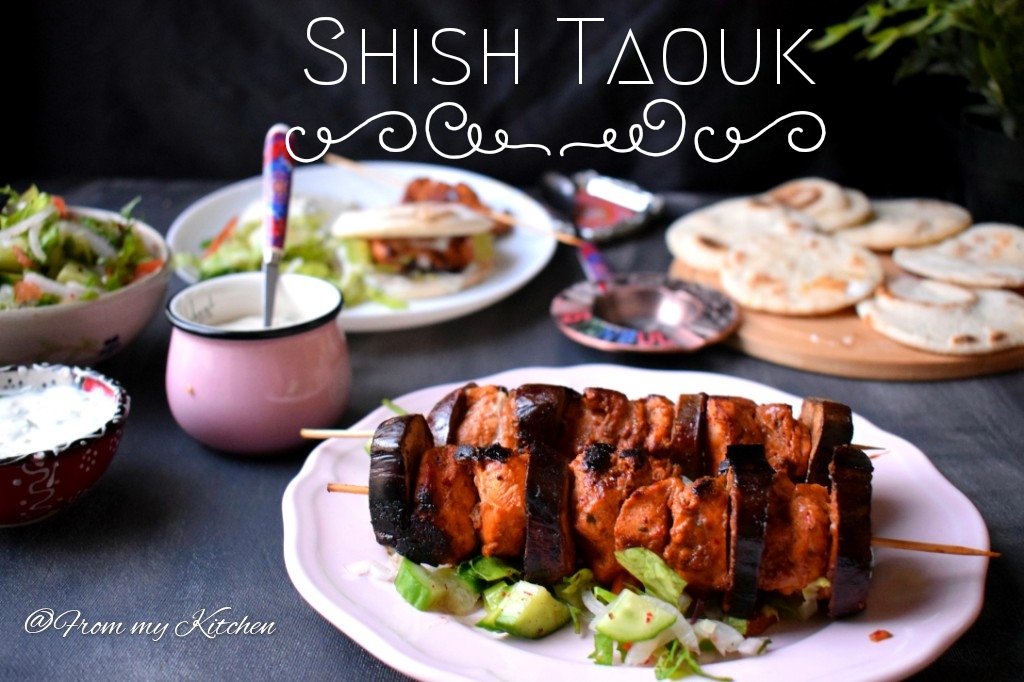 This shish Taouk recipe is so perfect and yum that everyone fall in love with this at first bite!hehe!This recipe is adapted  from my favorite blog which i used to follow even before i started blogging!From my friend Sadia's blog!I'm a great fan of her blog and photography and tried some recipes too,all were out of the world delicious! It is true this recipe tasted better than the ones you get at the middle eastern restaurants as she said.Thank you for this wonderful recipe!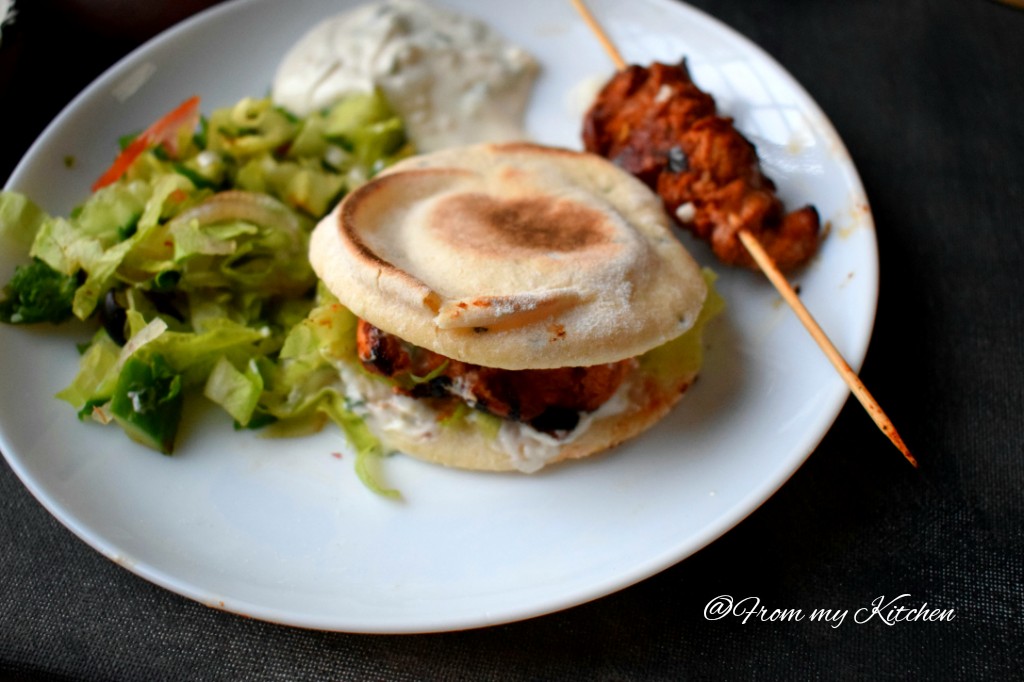 Boneless Chicken chunks are marinated in a mixture of yogurt, lemon juice, ginger garlic, spices and herb. The yogurt tenderizes the chicken while the spices and other marinade ingredients infuse it with flavor,and then grilled to perfection!You can serve it like an Arabic Burger as shown in the picture or as a wrap like Sadia did,or simply with khubs or batbout with your fav dip and salad.My complete menu is here on the blog.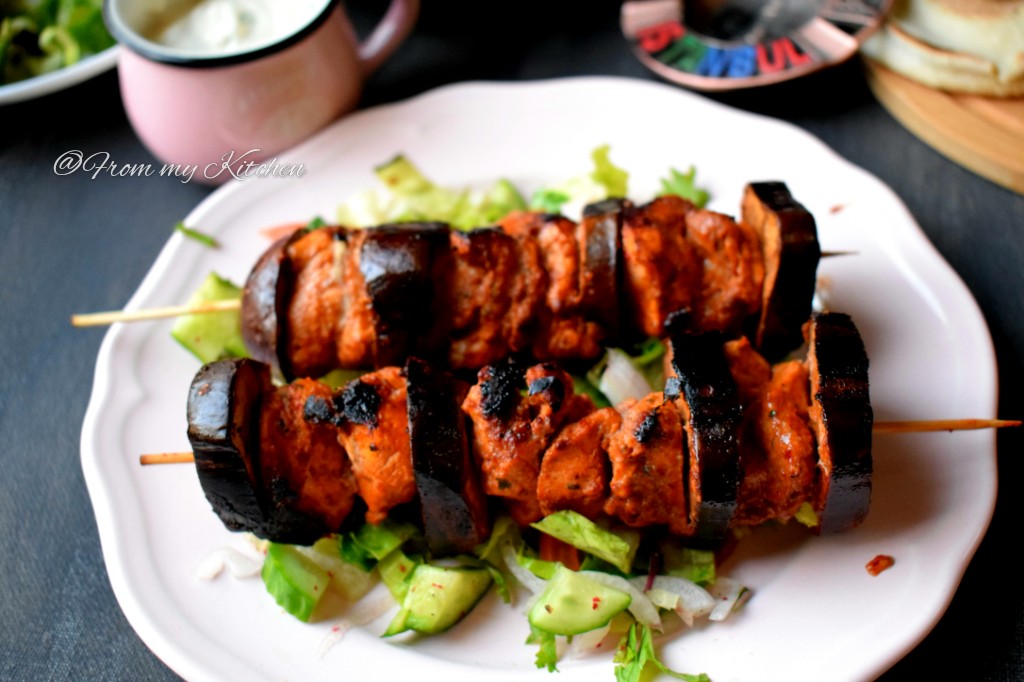 Make this whole spread and give your family a Middle eastern restaurant feel at your home!My menu Batbout,Arabic salad,Tahini Sauce ,Shish taouk and Pomegranate Mojito for the Cook Along Arabic Theme and everyone just loved it!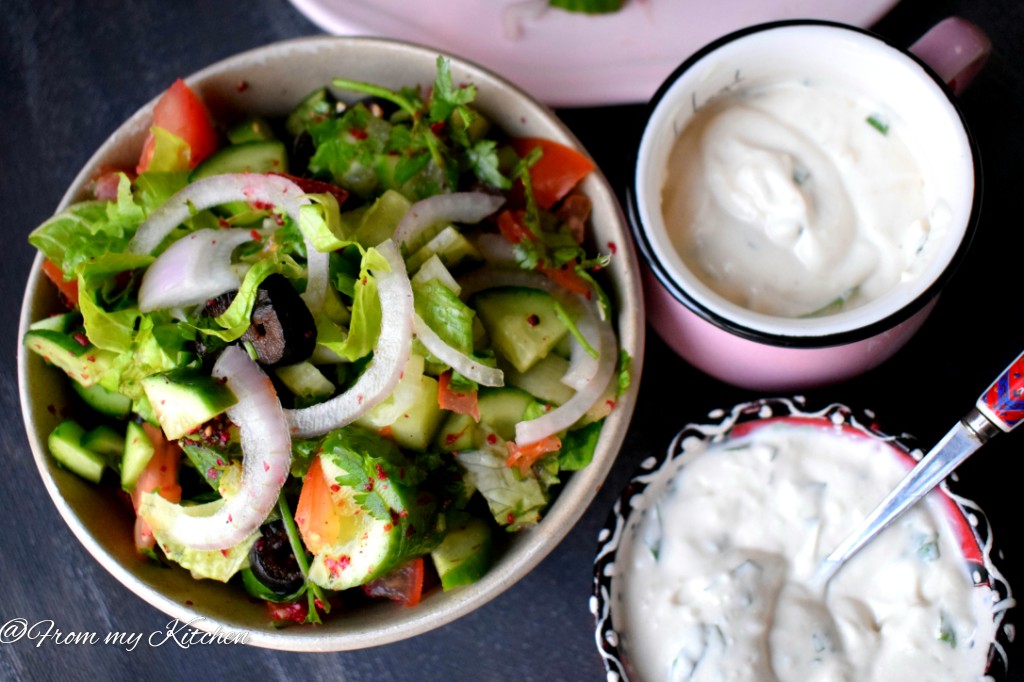 This one is similar to  fattoush salad.
Ingredients
5o0 g boneless chicken
12 to 15 mint leaves
7 to 8 cloves garlic
1 tsp tomato paste
1 tsp sumac powder
A pinch of oregano
Juice of half a lemon
1 tsp paprika
1/2 tsp pepper powder
2 or 3 green chilies
3 tbsp yogurt
1 tbsp olive oil
Salt to taste
Baby potatoes (optl)
Baby brinjal (optl)
Method
Cut the chicken breasts into small cubes.
Make a paste of mint leaves, garlic,tomato paste,sumac,oregano,lemon,paprika, white pepper,olive  oil, green chilies,yogurt and salt in a grinder
Marinate the chicken pieces in this mixture and refrigerate for about 2-3 hours.
Take wooden skewers and soak them in water for half an hour.
Then skew the chicken alternating with brinjal and chicken.
You can either grill them in your oven or in your grill pan or frying pan till tender and nicely browned all over.
Video Tutorial!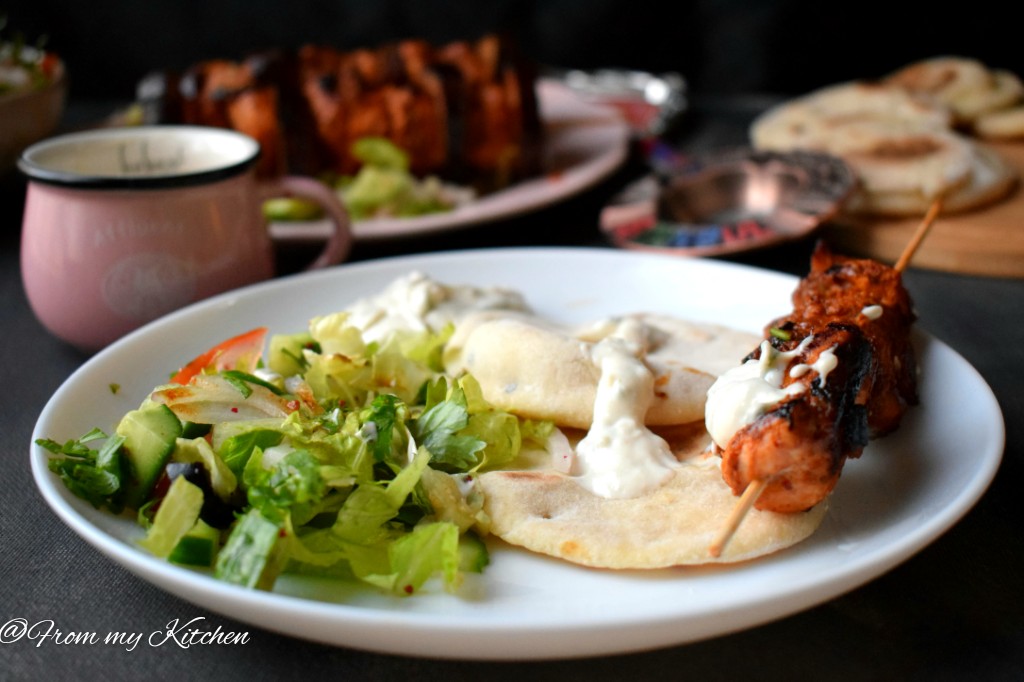 This is a must try recipe if u like Middle eastern food!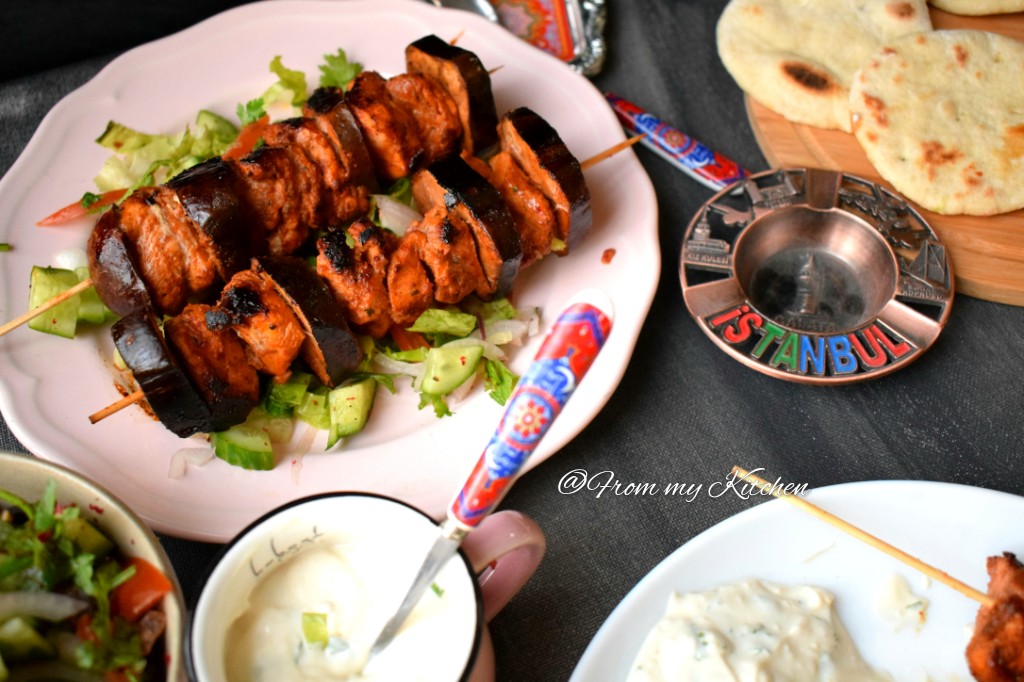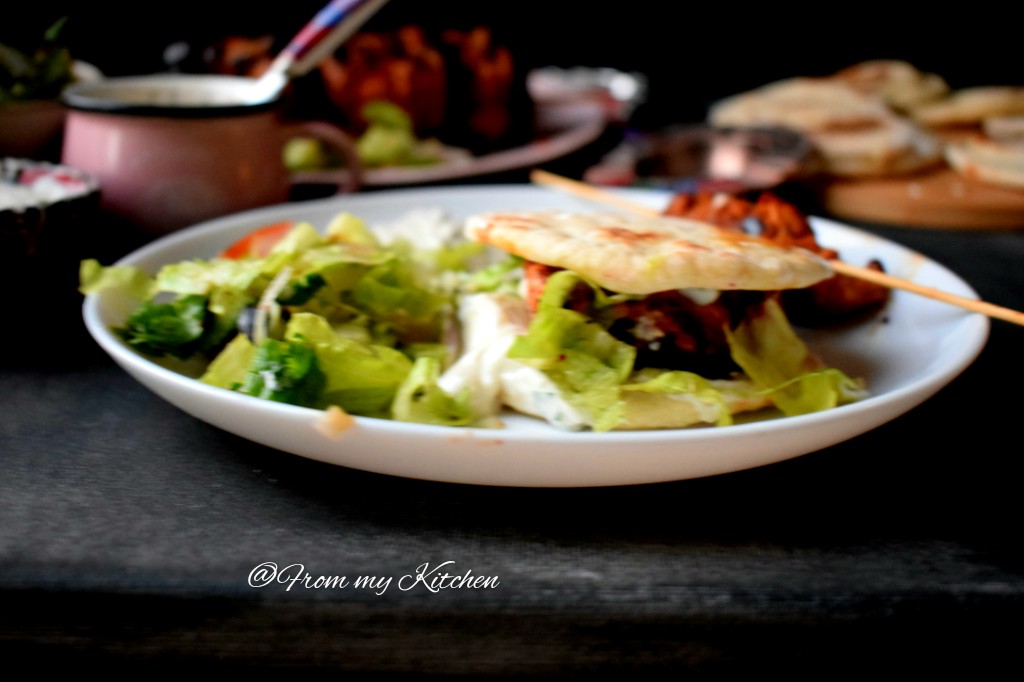 Relish it with your family!
Happy Holidays!
Here are the pictures tried by the cook along team!