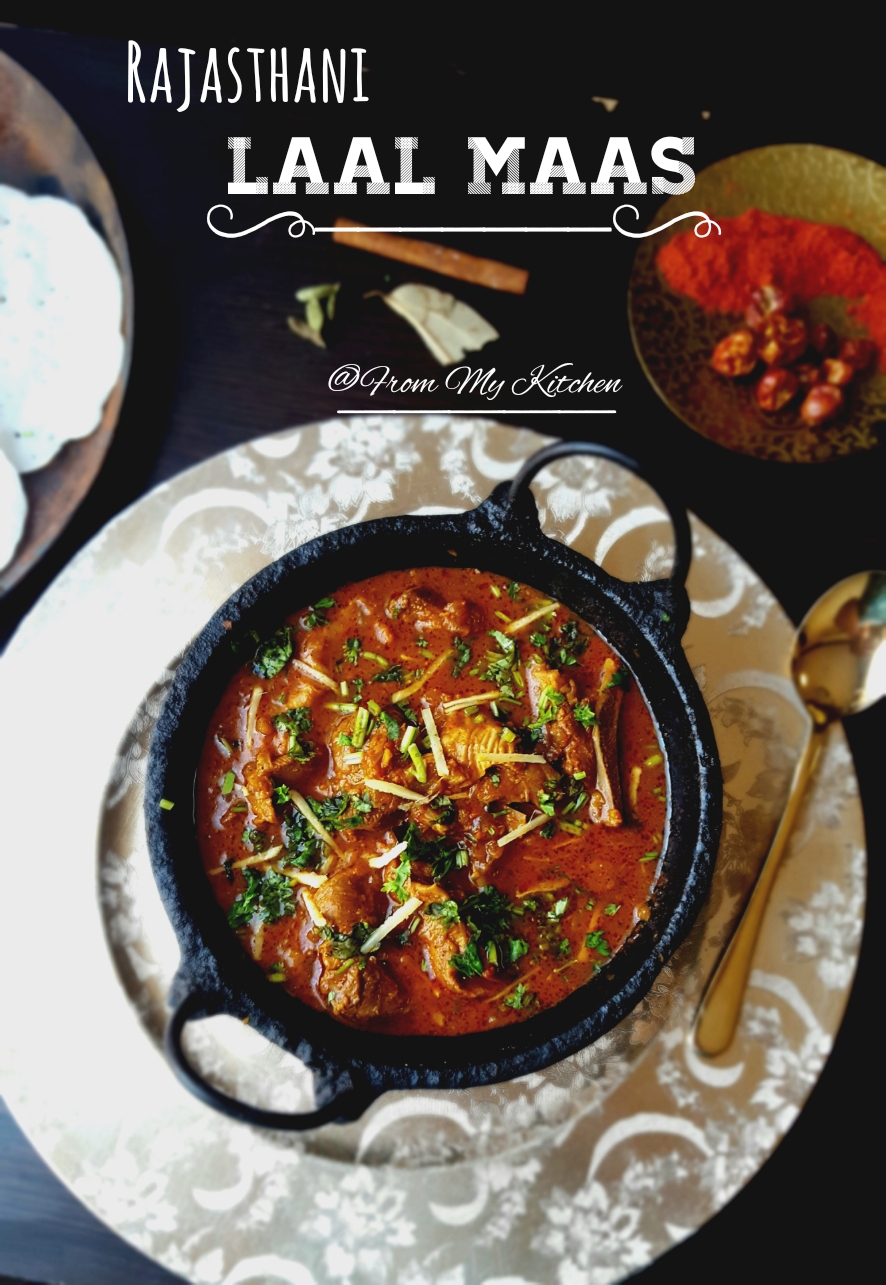 Laal maas is a very popular Rajasthani dish made with plenty of red chilies.It gets that red color from the the chilies used to cook it. Laal means red and Maas means meat.  It is a spicy hot gravy prepared in a sauce of yogurt and hot spices.Very simple to assemble and the taste is divine.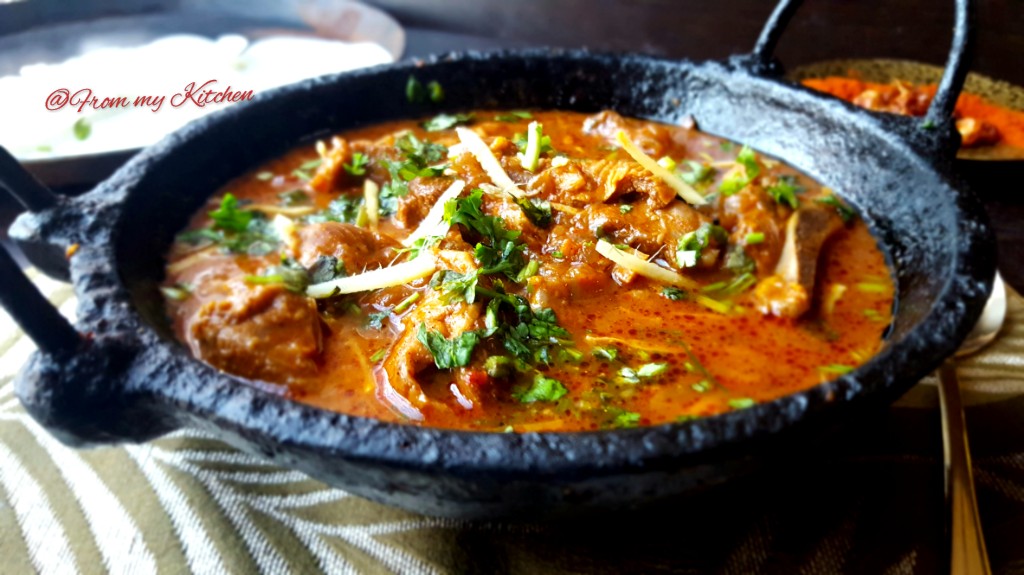 There are many different  ways of making this luscious gravy.Here i simplified the process without skipping any spices and masalas. If you like spicy curries you have to try it.I paired it with rice crepes and the combination was yum!Chapathis and puris will be a great option too.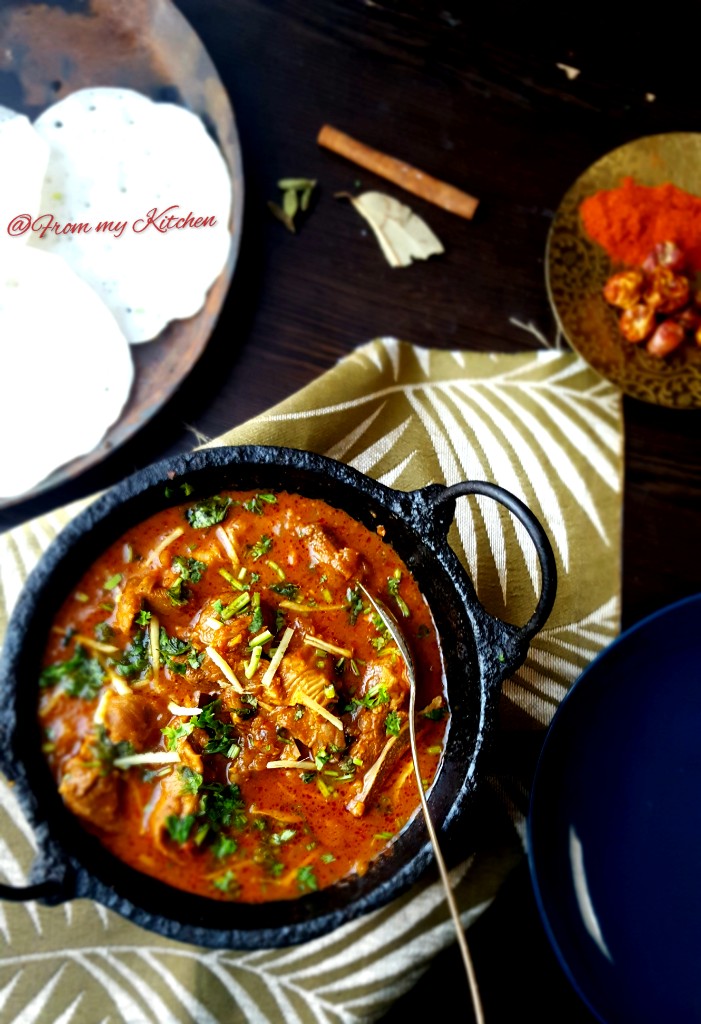 I bet you will lick the finger after having it!hehe!I have few other red gravies on the blog like  simple beef Khorma and Mutton Rogan Josh.
Ingredients
500 gm mutton on bone
5 to 6 Kashmiri red chilly soaked in hot water
1 tbsp ginger garlic paste
1 tsp heaped coriander powder
Salt to taste
1/2 to 3/4th cup yogurt
1 tsp cumin powder
1 tsp garam masala
For Gravy
2 tbsp ghee +1 tbsp oil
1 bay leaf
3 cloves
1 small stick cinnamon
3 pods cardamom
2 onions
4 garlic cloves
Red chilly powder(if needed)
1 cup water
lots of coriander leaves and ginger juliennes for garnishing
Method
Grind the soaked red chilly to a paste.
Marinate mutton pieces with all the above listed ingredients and let it rest for at least 30 minutes.(the more it sits taste better)
In a pressure cooker pour ghee and oil when its hot enough splutter the whole spices.
Add chopped onions and saute it for few seconds.
Now add sliced garlic in it(if your garlic are small add it whole)
Add salt and let it cook until translucent.
Add the marinated mutton pieces and sear it on high flame for 5 minutes by stirring it occasionally.Clean the the mixie jar we grounded the chilly paste by pouring water in it and add in the gravy.Mix well.
I added a tsp of tomato paste at the end as my red chilly was not that bright color.Try to use kashmiri red chilies for that bright red color.
Cook it for 15 minutes after the first whistle and switch off the flame.Garnish with coriander leaves and ginger juliennes.
Attaching the video
Can you see how tender and succulent the mutton pieces are!Try it out!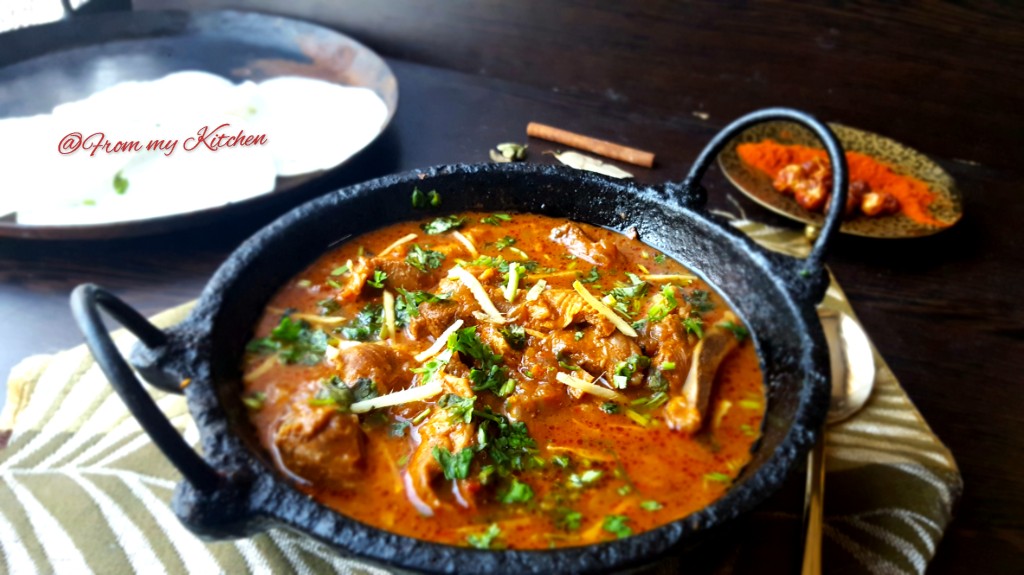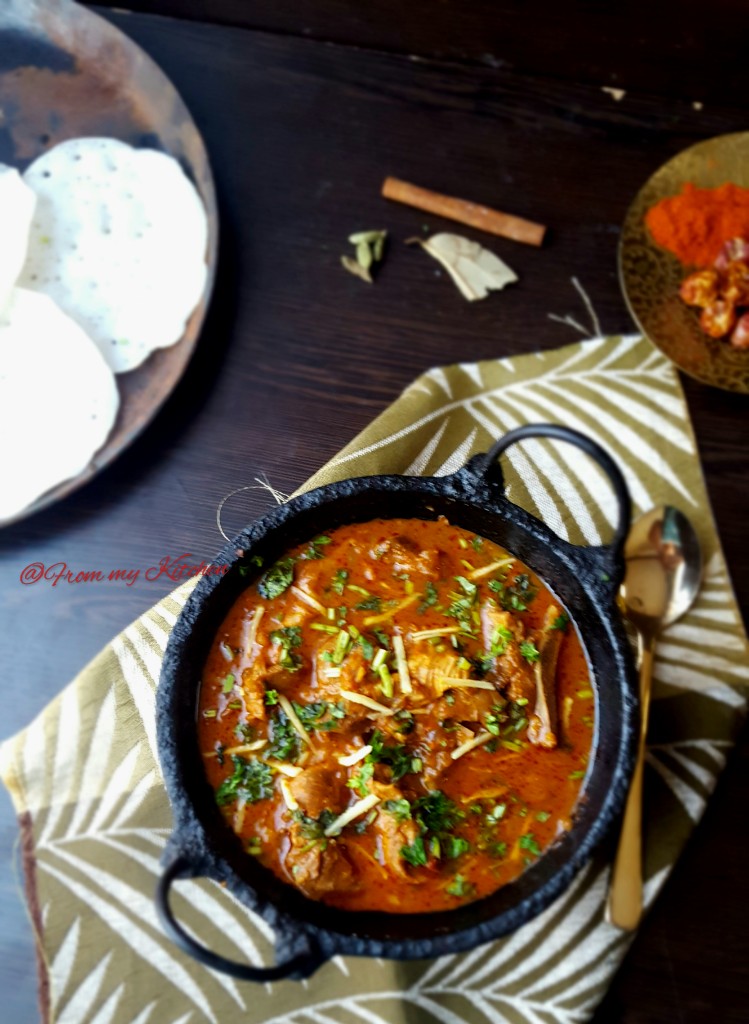 Happy Cooking!