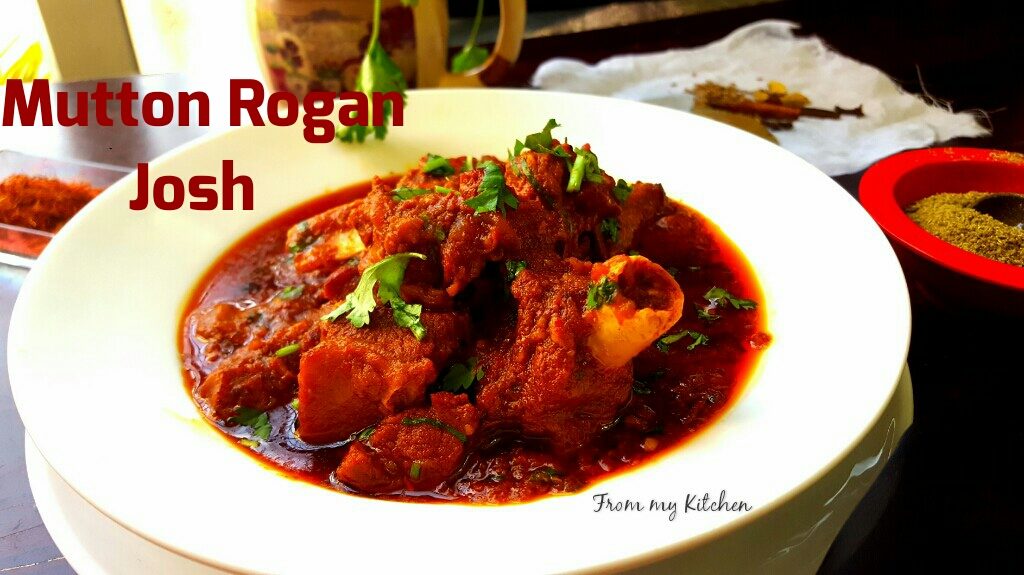 Rogan Josh is a signature dish from Kashmir which is very flavorful and aromatic!!It was brought to Kashmir by the Mughals, whose cuisine was in turn influenced by Persian cuisine.The spices goes in it and the way of cooking the dish makes it taste outstanding!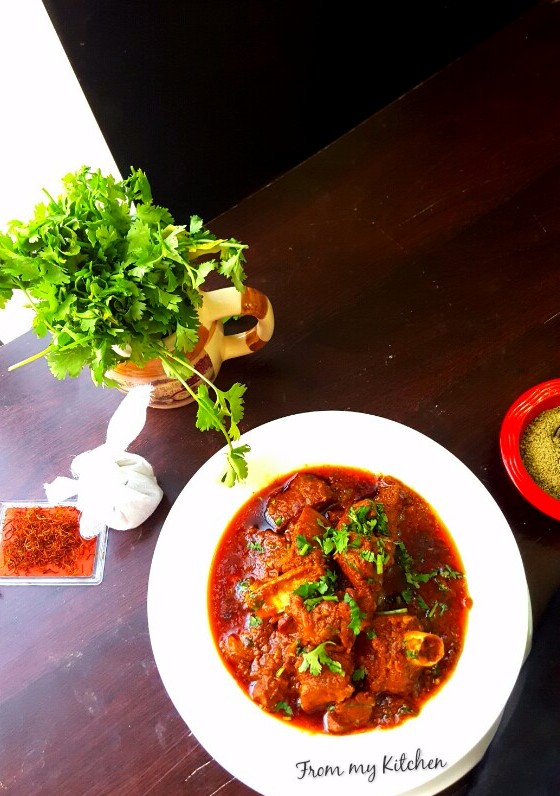 I don't know if this is an authentic way of cooking this dish.I believe that i simplified the process without any change in flavors.Its basically done in slow cooking process,but here i used pressure cooker to ease the cooking process and to reduce the cooking time!Also this will helps to get that soft and succulent meat along with all those flavorful spices with in less time.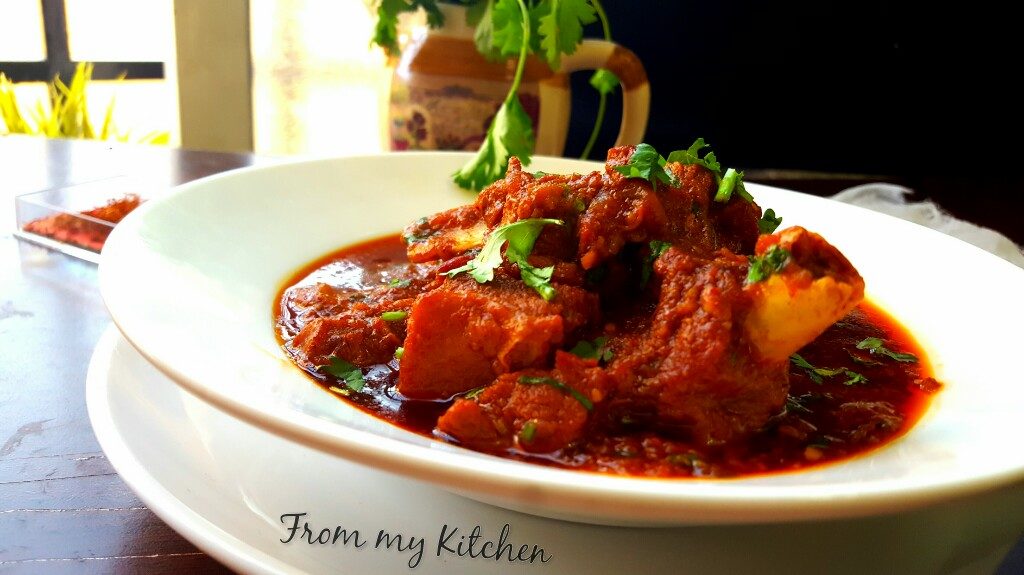 Remember one thing while cooking this ,you need a wide mouth pressure cooker as we are searing the meat first!Here to infuse the flavor of spices i made a pouch with some whole garam masala and put it n the gravy!This will give a nice blend of flavors from the spices.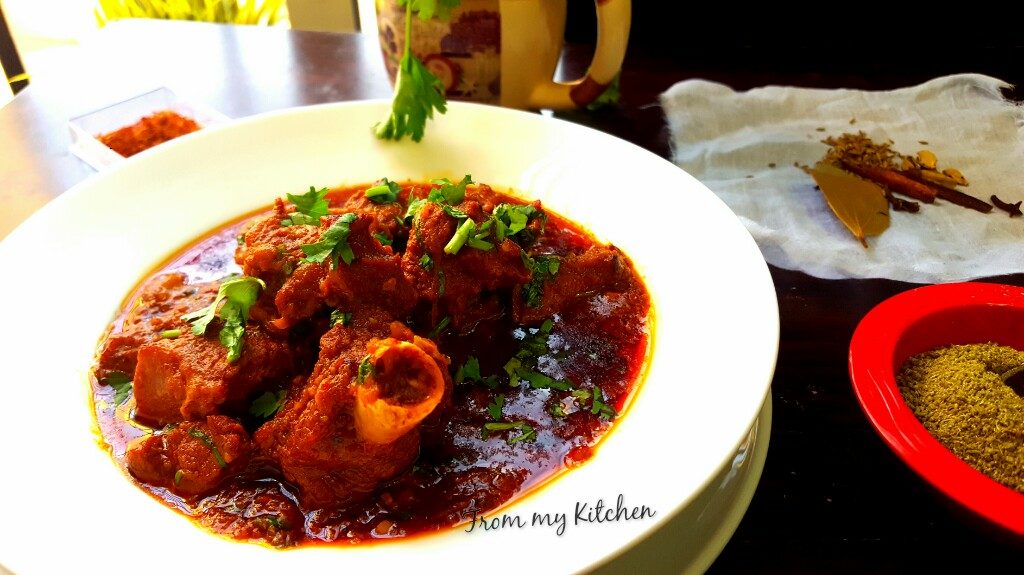 In this picture u can see the whole aromatics in a piece of muslin cloth!We need to tie it and make a small pouch out of it and this will go directly to the gravy!
Let's move on to the recipe!
Ingredients
1/2 kg mutton
3-4 tbsp oil
2 sticks Cinnamon
3 Cloves
4 Cardamom green
2 black cardamom
1 dried Bay Leaf
1/2 tsp cumin seed
2 Tomatoes pureed or 3 to 4 tbsp tomato paste
3/4 tbsp Asafoetida
1 tbsp ginger paste
1 tsp garlic paste
3 tbsp Kashmiri chilly powder
Salt as per Taste
Few strands of Saffron
1 tsp Fennel Powder
1 n 1/2 tsp Ginger Powder
Coriander Leaves Chopped
1 onion thinly sliced
Method
In a small piece of muslin cloth put all the whole dry spices like,cinnamon,cloves,cardamom bay leaves and cumin seeds then tie a knot and make a pouch out of it like shown in pic and keep it aside.
In a wide mouth pressure cooker pour oil .when its hot enough drop in the cleaned mutton pieces and sear fry it until the meat get nice brown color on top.
In between the mutton is searing add thinly sliced onion and let them cook along with the meat and get it brown.(you can also add fried onion separately in this.)
Now add asafoetida and ginger garlic paste mix well.
Add the pureed tomato or tomato paste along with some water(i used tomato paste as this brighten the beautiful red color of the dish)
Add chilly powder, half of the fennel powder and salt in this
Add required amount of water and then goes the flavoring pouch in this.This will immerse in mutton stock and infuse their flavor in the gravy.Close the lid of the pressure cooker and cook it for 15 minutes on low flame after the first vstle
When its done open the lid when the pressure goes completely.
Switch on the flame add fennel powder,saffron and ginger powder along with some fresh cilantro let it boil for 1 minute and switch off the flame.
If you feel like its too watery simmer it and reduce to the desired consistency.
Don't forget to take out the spice pouch inside the gravy!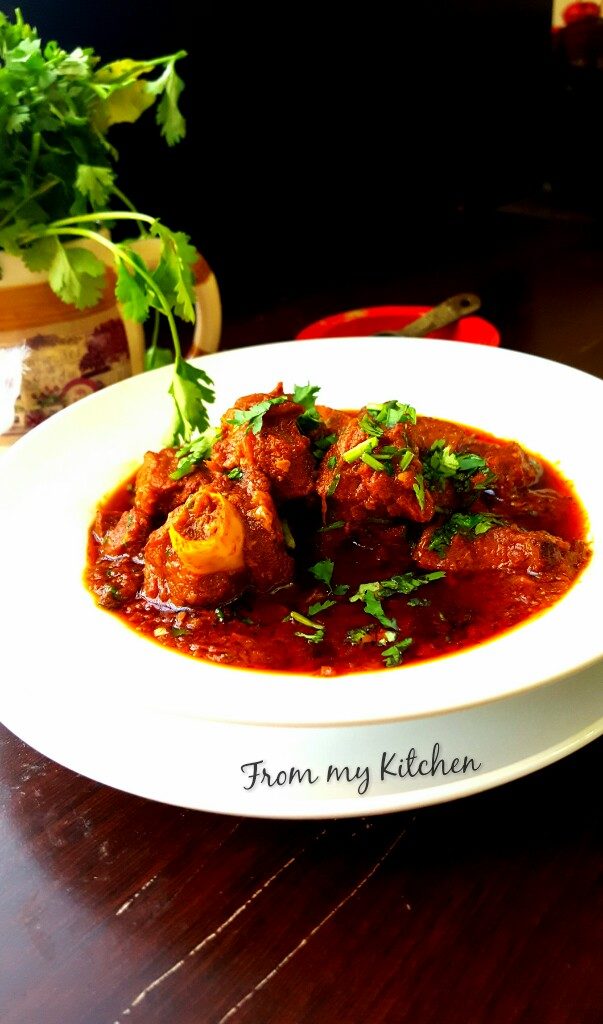 In this the main flavors are from ginger,fennel,saffron and chilly!Believe me its a burst of flavors!Tasted heavenly!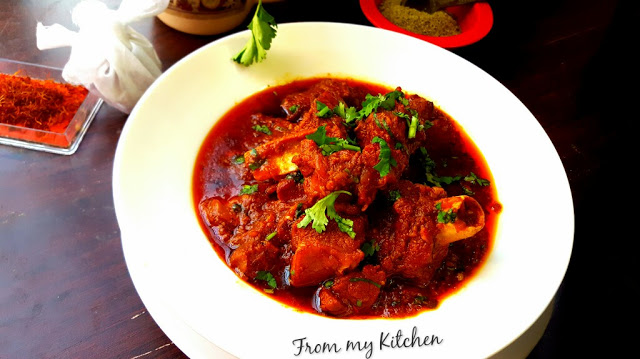 Serve hot with same crispy hot nan or paratha! This will be truly a comfort food in this cold weather!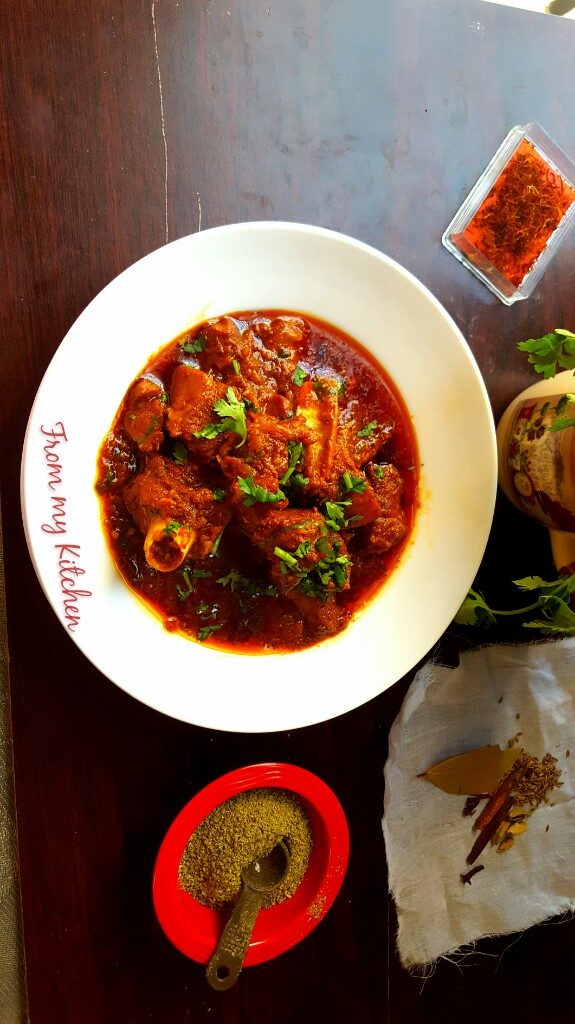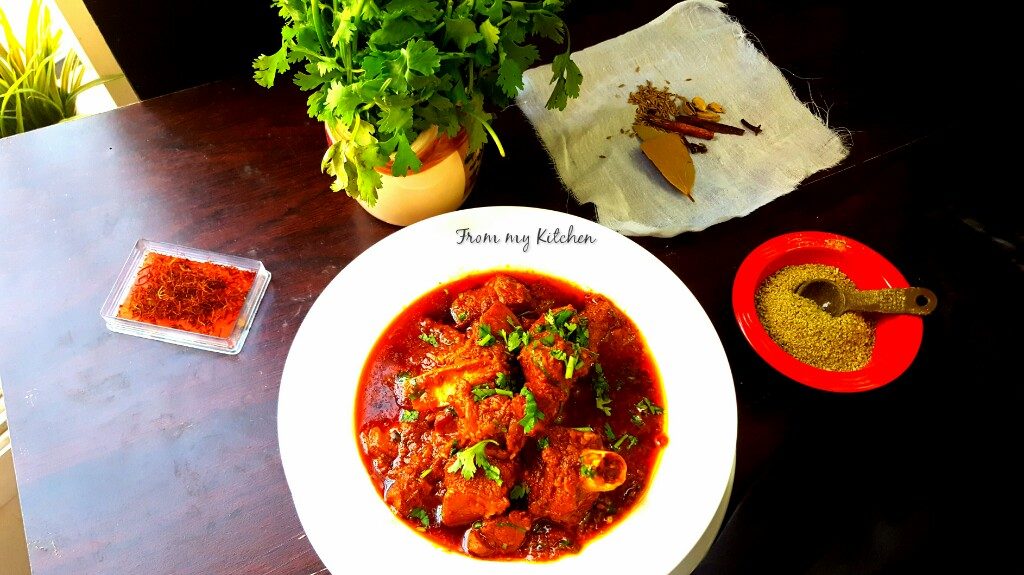 Relish with a cup of lemon tea!
Happy Cooking!!