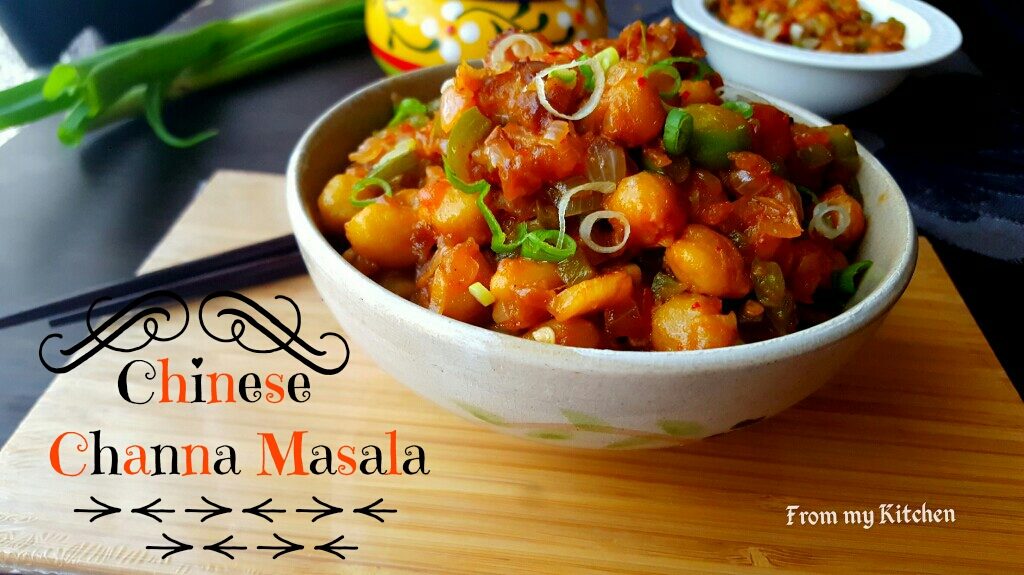 So it's 10th of the month and time for yet another MFB challenge! Hope you all remember the challenge every month we have about different themes which makes the participation more exciting and interesting! This month's challenge is "Cooking from scrapbook".Yay, it's quite interesting right! As a foodie, for sure everyone will have a scrapbook that is very close to their heart. I searched for a unique one from my scrapbook and finally end up with this recipe!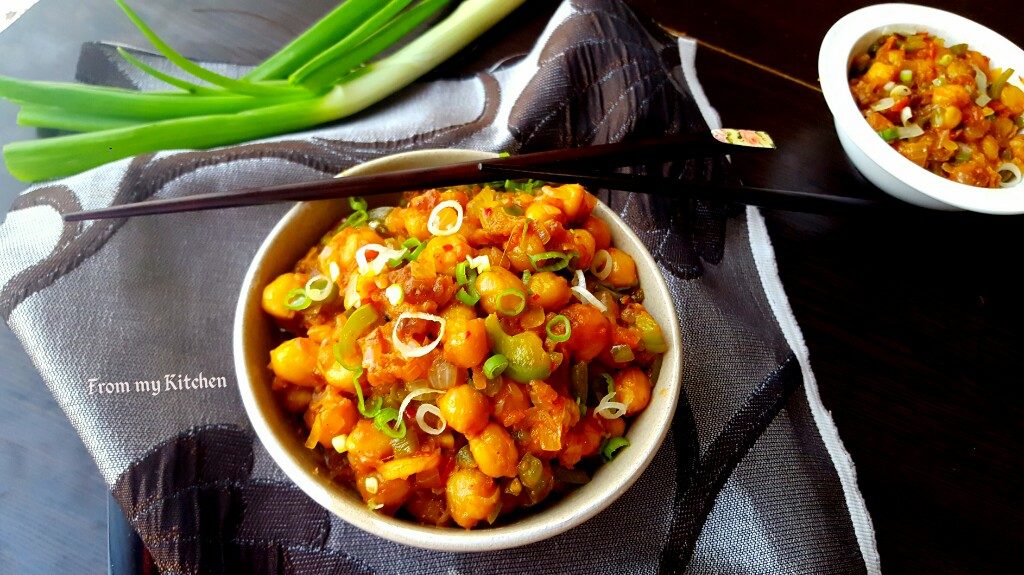 Hats off to Rafeeda(who hosts this) for doing such amazing work, more than this she is working and blogging too! Masha Allah, i must say she is a superwoman! Eagerly waiting for the next challenge! This recipe is one of my favorite veg recipe, something different and scrumptious using chickpea. I mentioned about the dish long back in this post. I got it from my sis in law which was shared to her by a lovely friend and cousin Shabana. Thank you ladies for this delicious recipe! It's a great combo with puri and bature.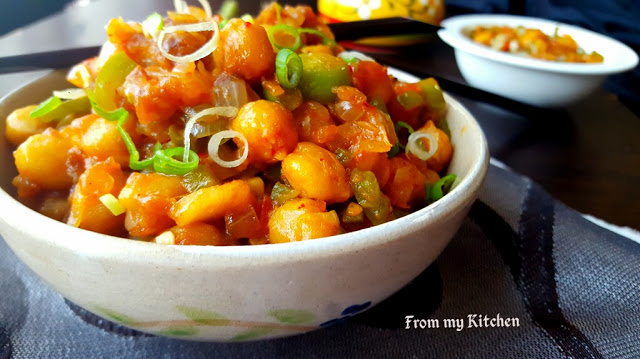 Coming back to the recipe, it is a delectable channa masala cooked in Chinese style. The boiled chickpea is coated and shallow fried first, then it's mixed up with tangy and sweet sauce. Don't think that channa can't be tasty in this way! You have to try it to believe that!
Ingredients
1 cup chickpea boiled with salt
2 tbsp cornflour
1 tbsp all-purpose flour
1 tsp soy sauce
For Sauce
2 small onions
1 tomato
1 capsicum
2 cloves garlic
3 green chilies
1 tbsp soy sauce
1 tbsp tomato sauce
1 tsp chilly sauce or Schezwan sauce
1/2 tsp pepper
1/2 tsp vinegar
Salt to taste
Oil to shallow fry channa (chick pea)
Some cilantro
Spring onions for garnishing
Method
Boil Chickpea with salt drain and keep it aside. Don't overcook it.
In a large bowl mix together chickpea, cornflour, all-purpose flour, soy sauce and mix well to coat it
In a deep bottom, pan pour some oil and dump in the coated chickpea and shallow fry it until lightly golden and crisp. Stir it in between with light hands,but don't mash it.
Here ready the chickpea
In the same oil add finely chopped garlic and green chilies saute for few minutes
Add finely chopped onions with salt and cook for 2 to 3 minutes
Then add finely chopped tomato and capsicum cook for few minutes until the veggies are slightly tender.
Add all sauces, pepper and mix well. Add the fried chickpeas and mix well, pour a dash of vinegar and sprinkle finely chopped cilantro. Just before serving garnish with spring onion.If you need gravy pour 1/4 to 1/2 cup water and let it simmer for few seconds.
Here ready the saucy, tangy channa masala.
Video!
This is a super delicious gravy that kids will definitely enjoy this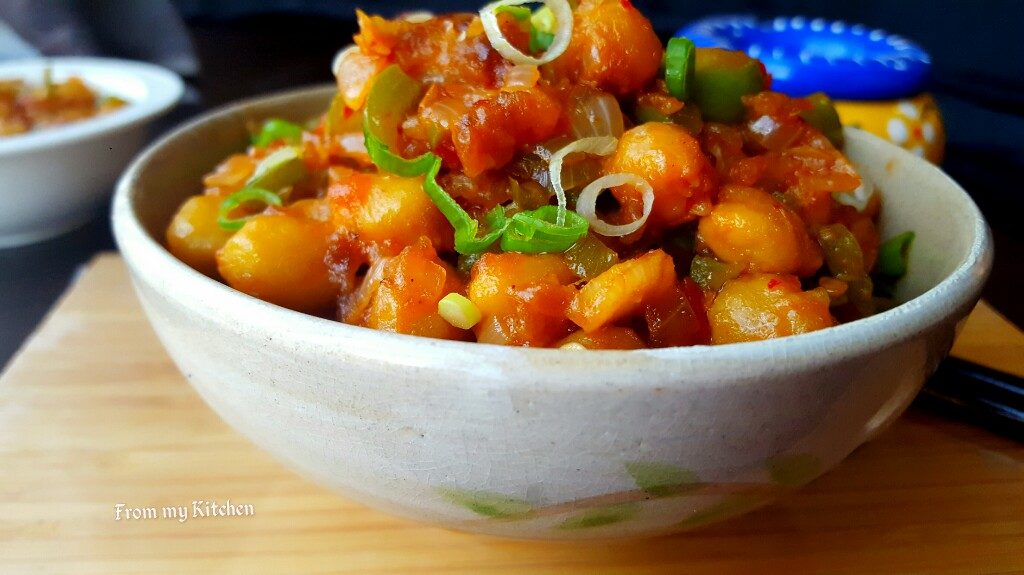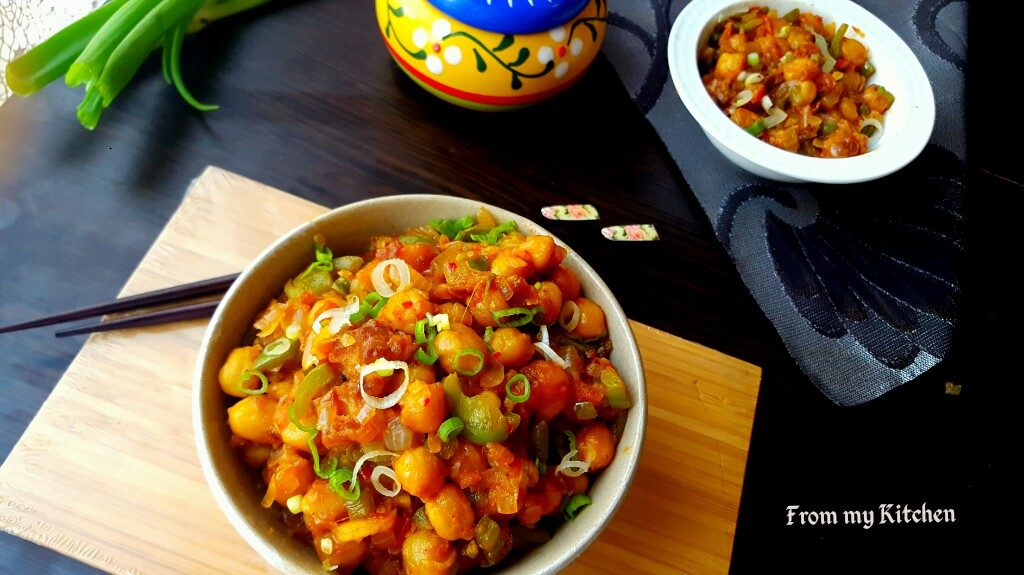 Happy Cooking!
Check what other bloggers have cooked!