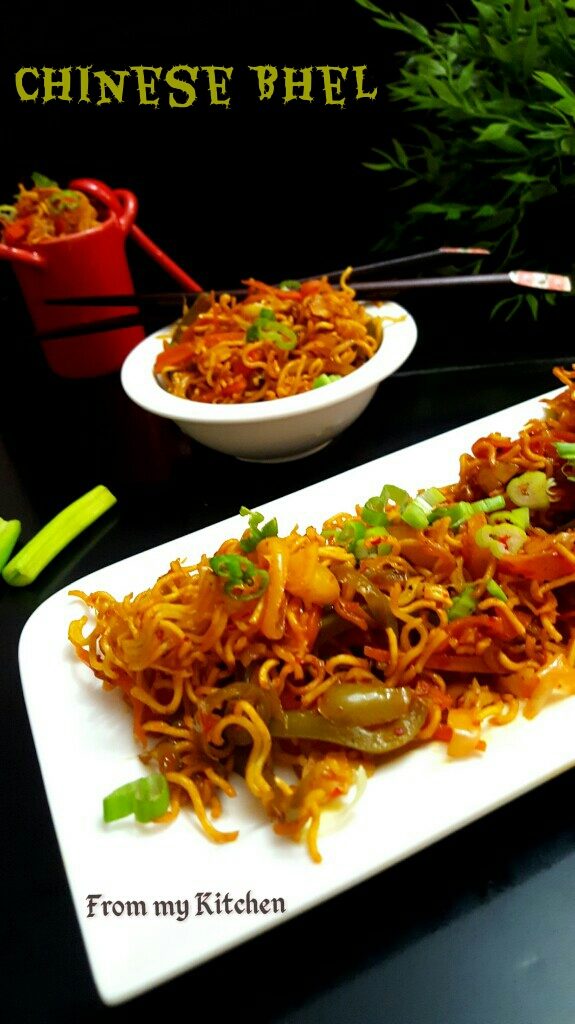 Chinese bhel is a perfect blend of crispy veggies,fried noodles and sauces!Its an Indian fast food originated from Mumbai,basically known as Indian noodles.Its an innovative version on the existing bhel.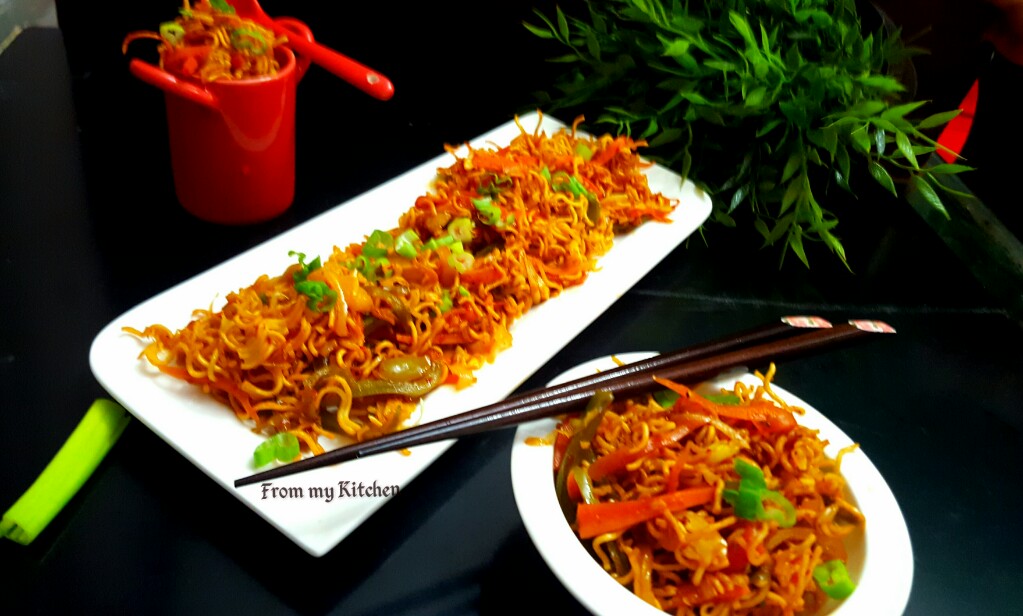 Its very easy to prepare with two simple steps.First you have to prep the noodles and then the sauce.The veggies are just sauted on high flame for few seconds to retain the crunchiness.Sauces adding in it gives a sweet and sour taste, with that crispy noodles is just heavenly,It's just like an Indian street foods chatpata…khatta aur meeta (sour and sweet).I have some street food recipes here : P
ani Puri
,
Vada Pav
.
I think this is an easier version of American Choup suey which i have already on the blog!Here is it American Chop suey!The only time consuming job in this, is to parboil the noodles and fry it.All other things will be made in a jiffy.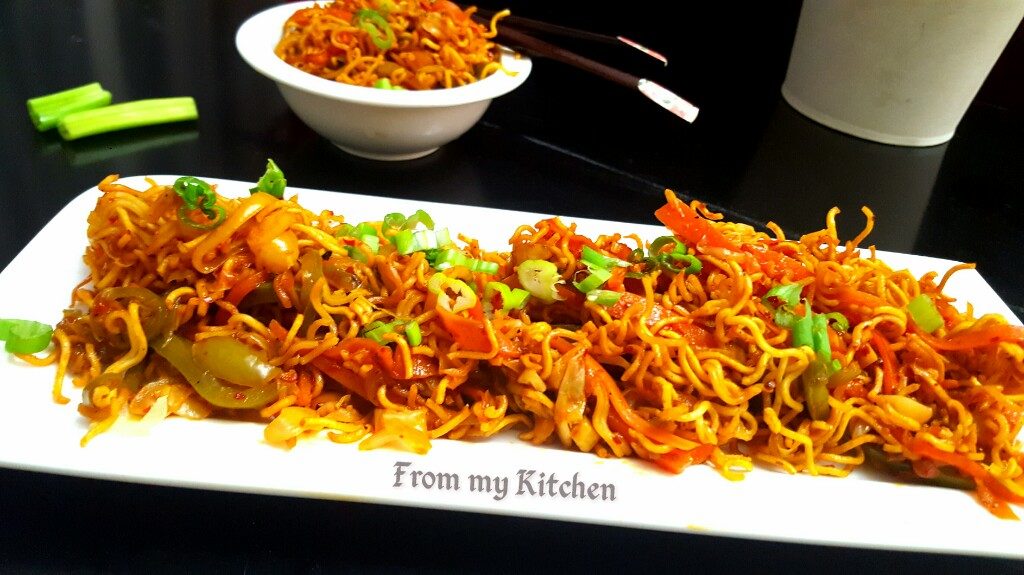 One more thing to take care while making this is,you have to mix the fried noodles with sauce just before serving.Otherwise it will go soggy and you will not get that bite and fun in having this!!(maza nahin ayega)
Ingredients
2 package noodles(1 used magi/indomie) you can use Hakka noodles here
Oil to deep fry the noodles
For Sauce
1 tbsp oil
2 tbsp finely chopped garlic
¼ cup finely chopped spring onion whites and greens
1/2 of a capsicum thinly sliced (if you have colour bell peppers use it too)
1 medium carrot cut in julienne
½ cup shredded cabbage
3 tbsp Schezuan sauce
3 tbsp tomato ketchup
1 tbsp chilly sauce
1 tsp vinegar
1 tsp sugar
1 tbsp sweet chilly sauce(optl)
Pepper 1/2 tsp
Salt to taste
For the garnish
2 tbsp finely chopped spring onion whites and greens
Method
Boil noodles don't overcook it,(make it 3/4th done)
Drain it.
Heat oil in a kadai and fry it until crisp and golden.
For Sauce

1. Heat the oil in a broad non-stick pan or a wok, add the garlic and saute on a high flame for a few seconds.
2. Add the spring onions whites and greens, capsicum, carrots and cabbage and saute on a high flame for 1 minute.
3. Add the sauces ,salt and pepper
mix well and cook on a high flame for a few seconds.
Lastly add vinegar and add sugar if you feel like need a balance in the dish.
4. Remove from the flame and transfer it into a deep bowl.
5. Add the fried noodles and toss well.
Serve immediately garnished with spring onion whites and greens.
It has healthy and colorful veggies in it along with noodles and sauces.Nothing can go wrong here!Isn't it?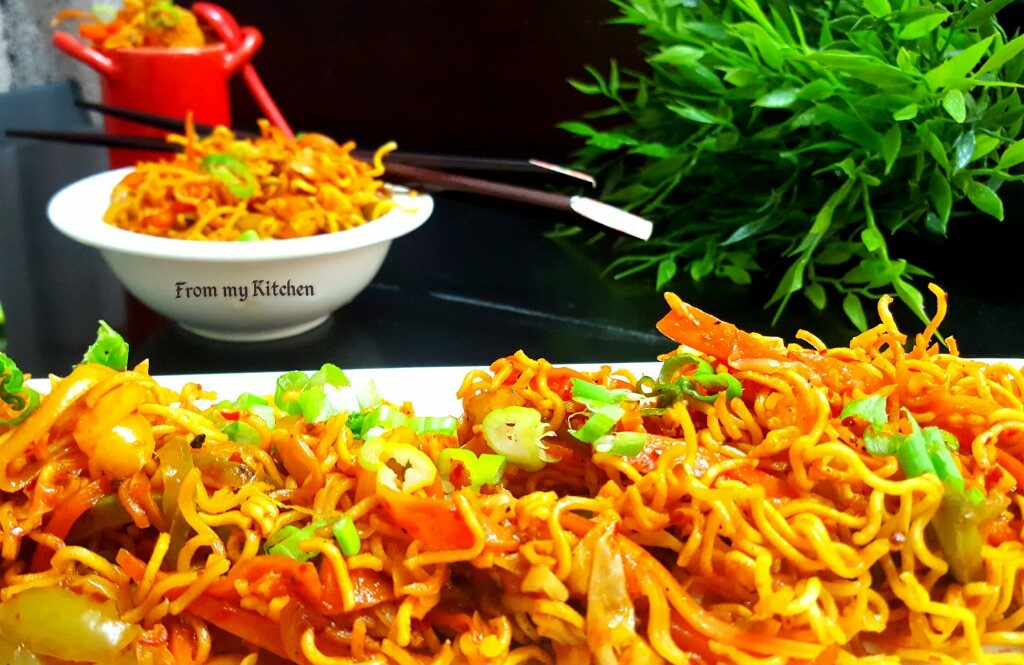 Make it and enjoy!I'm pretty sure you will love it if you are someone like me who loves to eat chatpata dishes!Do try and please let me know how it turned out for you!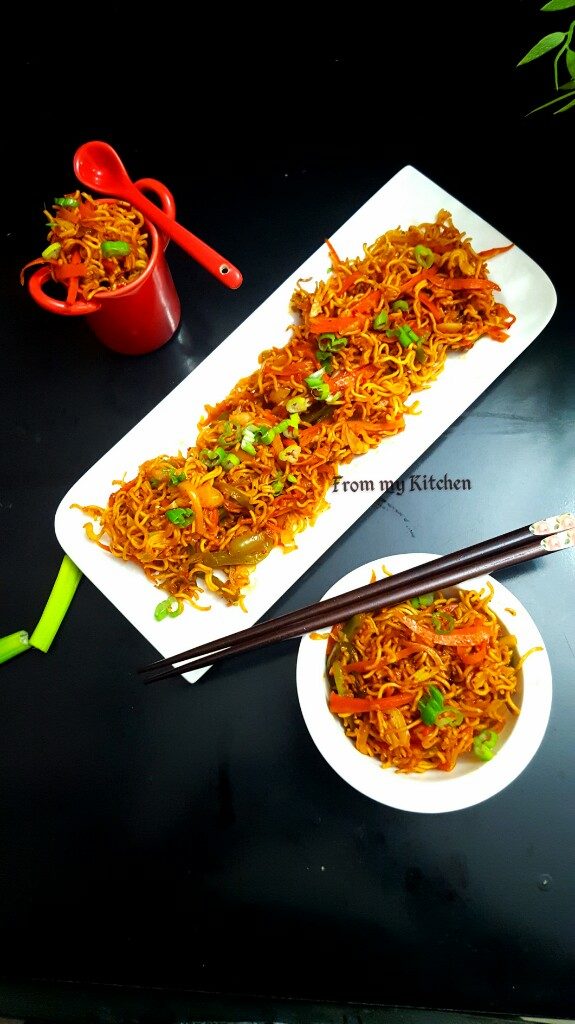 Relish it with your family!
Happy Cooking!