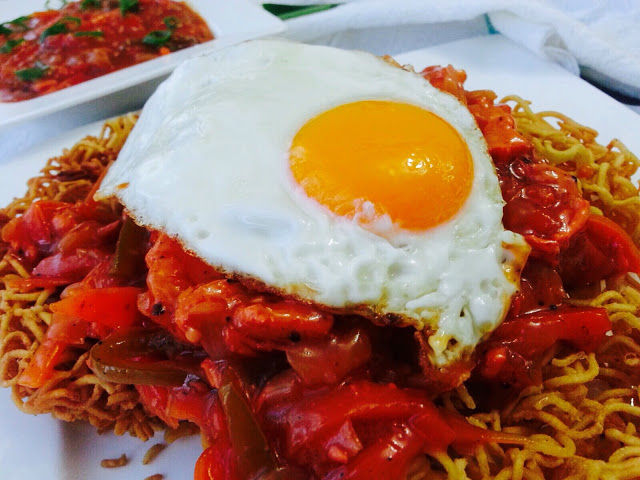 American Chinese Cuisine.No one can resist this I think.There is noodles in it that too fried,veggies in it,chicken in it,sauces in it.Children and adults both will enjoy it equally as we did.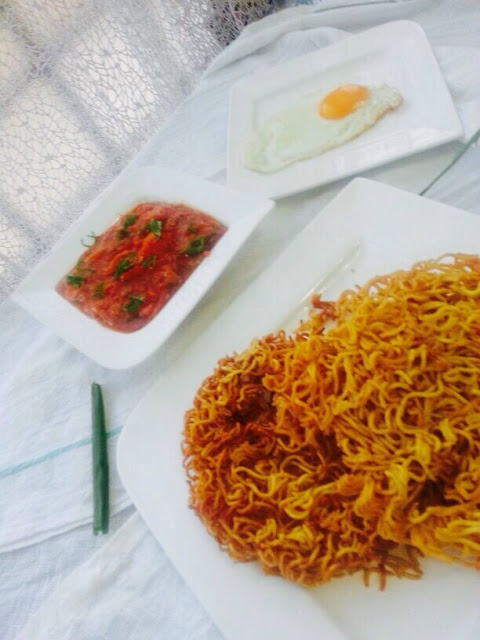 Chopsuey is a dish with some fried noodles,stir fried veggies and chicken and sauces cooked and reduced,and serve this thick sauce over the crispy fried noodles and lastly with a fried egg.Its an amazing combination of sweet n spicy sauce with some crispy noodles.
Noodles (I used indomie 4 packets)
2 pieces chicken breast fillet cut into thin strips
1/2 an onion
2 cloves garlic
1 cup carrots
1 cup capsicums
1/2 cup french beans
1 cup cabbage
3 to 4 tblspn tomato sauce
1 tblspn chilly sauce
1 tspn pepper
1 string spring onion
Salt as per taste
Teeny tiny bit of chilly powder(optl)
2 tspn cornflour in 1/4thcup of water
Oil for frying noodles
Method

1.Half cook the noodles drain it and deep fry it.Keep it aside

2.Julienne cut all the veggies.
3.In a pan pour oil add in garlic onion and saute then add the chicken(as its thinly cut strips it will cook quickly)add in salt and chilly powder.When its half done add all the veggies one by one and saute it in high flame.Don't cook it for long time.Then add pepper powder sauces and mix well if you have chicken stock pour it or else pour water to it,let it boil and then make cornflour slurry and pour it to the sauce thicken it.your sauce is done.Sprinkle spring onions.
Assembling
Take a serving dish base the fried noodles then pour the sauce and over the top a fried egg.
Note:Serve it only just before eating,otherwise it will go soggy,You can fry the noodles and keep it in an air tight container make the sauce ready and serve it when you want.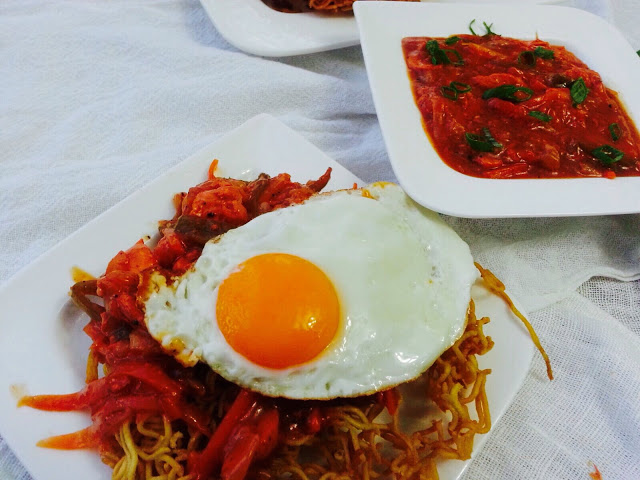 Enjoy!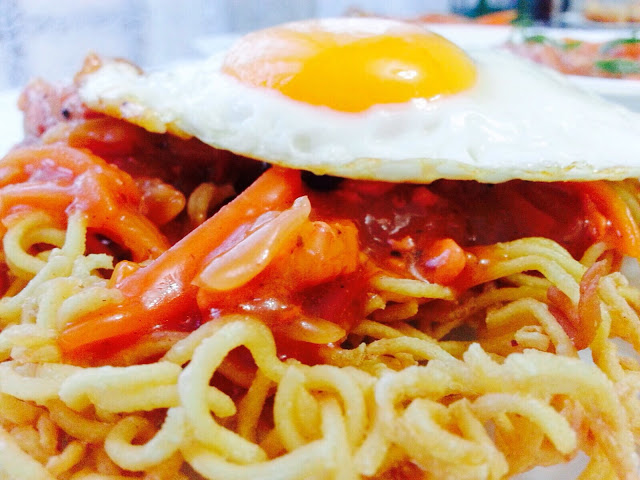 And don't forget to share your feedback;)