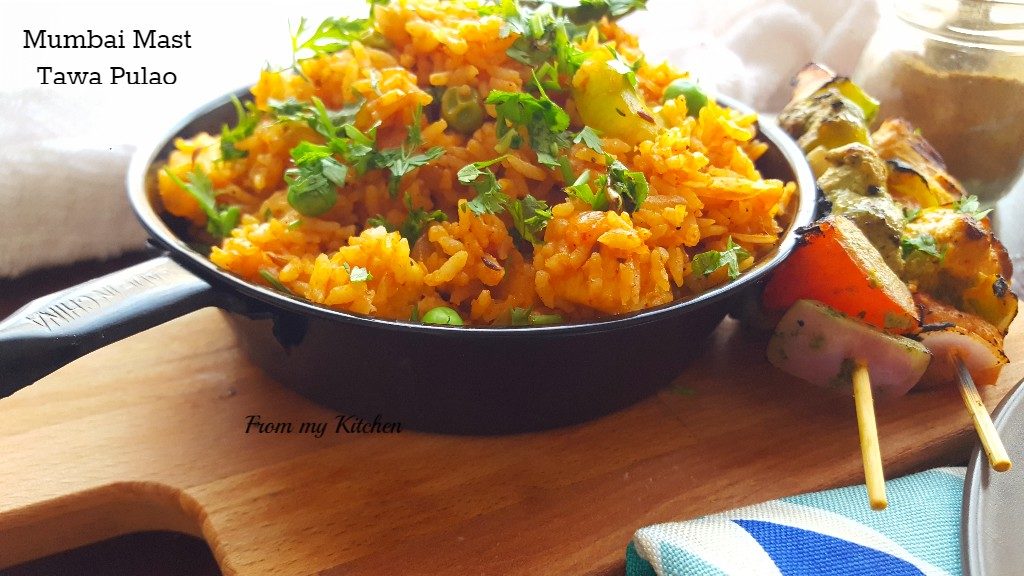 Tomato tawa pulao is a famous street food in Mumbai.It's made in pav bhaji stalls with the leftover bhajis and with some more tomatoes and masalas.Here instead of pav bhaji masala i used chaat masala(due to the lack of ingredient).Believe me it's really a mast pulao.The best part of this is we can make it with leftover rice too!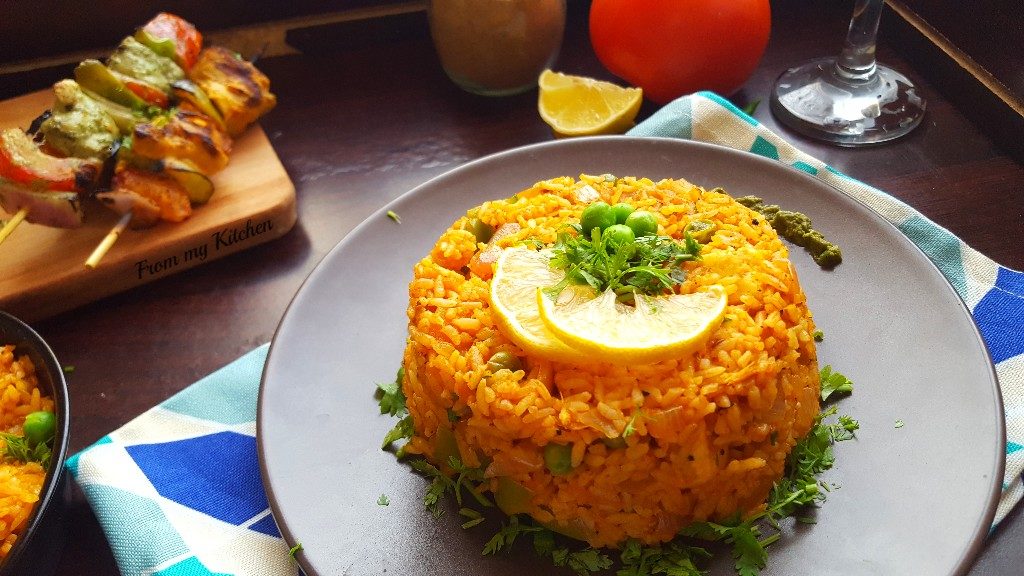 Pungent and flavoursome with a rich tomato based rice full of veggies and spices.It was yum yum yummy!Hard boiled egg will go best with this!No other side dish is necessary here!The addition of chaat masala and paneer in this recipe is what i loved the most .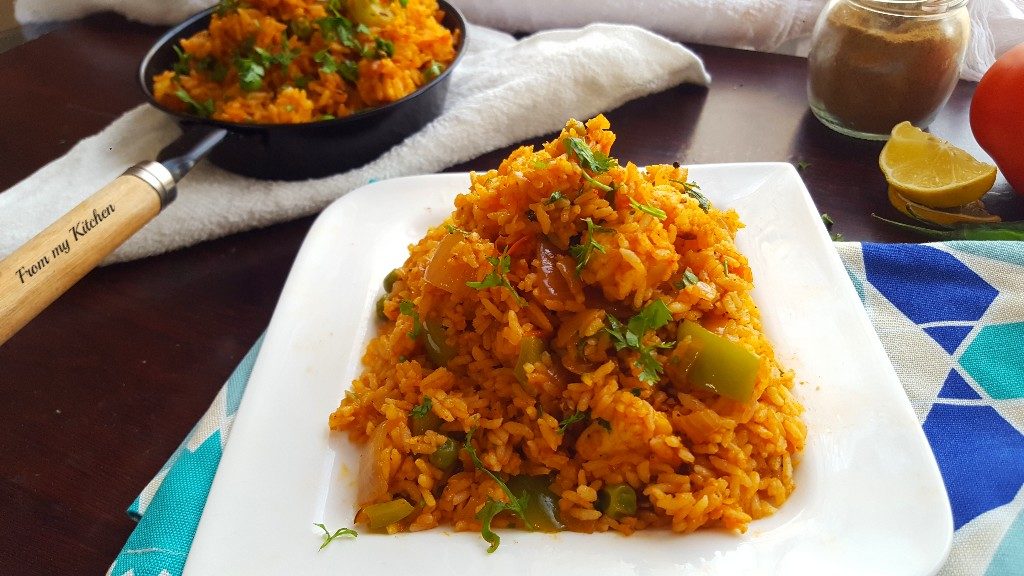 This recipe is inspired by Chef Harpal Singh Sokhi.Made some changes here.Actually i have lots of leftover rice with me and i want to do something chatpata(hot & sour) with that.So i tried this tawa pulao which was a super hit here.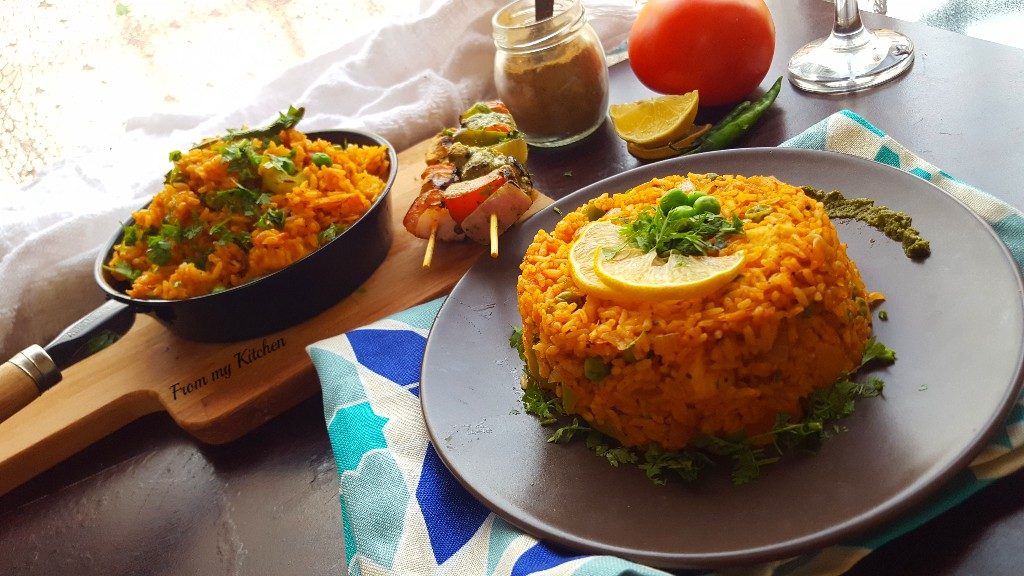 Just tossing all the cooked rice in the prepared tomato and veg masala which is filled with aromatics,spices and veggies!It's healthy and tasty!
Ingredients
4 cups cooked ghee rice
1 tsp garlic
1 tsp ginger
2 small onions
2 big tomatoes
1 tbsp tomato paste
3 tbsp tomato ketchup
1 tsp red chilly powder
1 tsp pepper powder
1/2 tsp coriander powder
1 small capsicum
2 or 3 green chillies
1 tbsp chaat masala +some for garnishing
1 tsp cumin powder
1/2 to 1 cup paneer
1/2 cup green peace
lots of coriander leaves
Note :You can adjust spiciness accordingly(more or less).Also go easy with salt as we are adding chaat masala in it.
Method
In a tawa or kadai pour 2 tbsp oil add ginger garlic paste and cook.
Then add cubed onion and cook until translucent.
Then add chopped tomatoes and cook until mushy.
Add tomato paste,tomato ketchup and mix well,
Add powders like chilly powder,pepper powder,coriander powder chaat masala and mix well.Add capsicum cubed and green chilies and cook for a while.(no need to cook it for a long time)Then add 1/2 cup water in it.
Add your boiled/frozen piece and paneer cubes in it.You can use any veggies of your choice
mix well.Add salt to taste.
Now toss the rice in it and mix very well.Adding water will helps the rice to keep moist.
Add lots of coriander leaves and serve hot!I sprinkled some more chaat masala on top.
Isn't it simple and tasty?
I really loved the addition of tomato ketchup in this.The recipe calls for 1/2 cup ketchup but i added only 3 tbsp.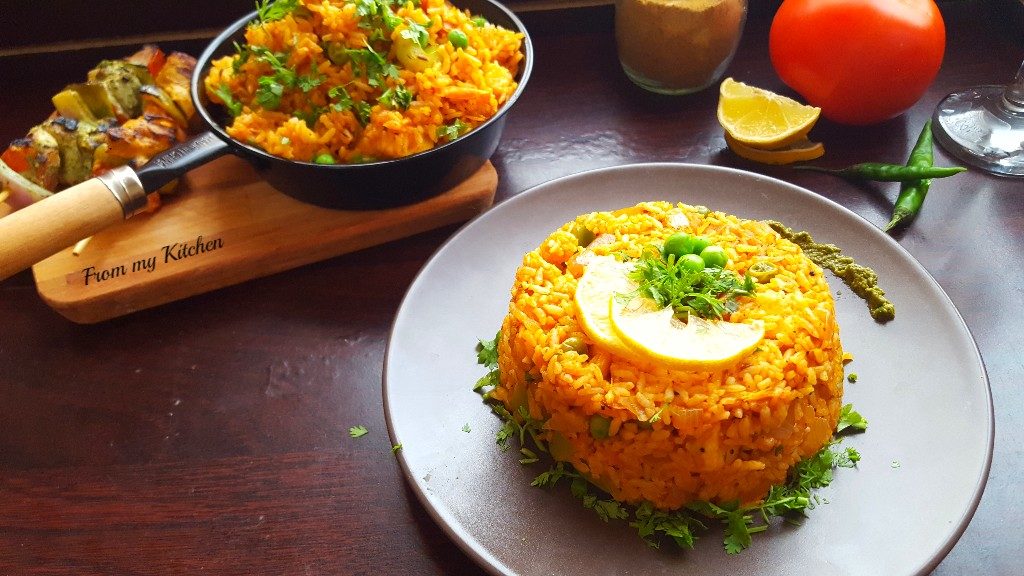 I don't thick it need a side dish.Hard boiled egg is enough.the rice is nice and moist.If your rice is too dry add some more water in it.My tikka too was a leftover so used it here!hehe!
Here is the recipe link for Red & Green Tikkas.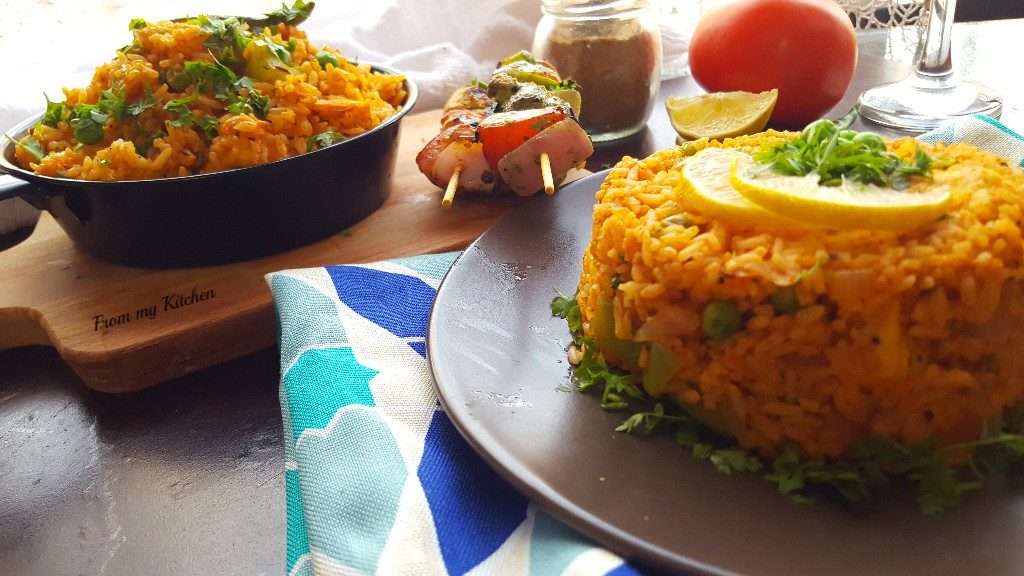 Hope you all will enjoy this tomato tawa pulao!