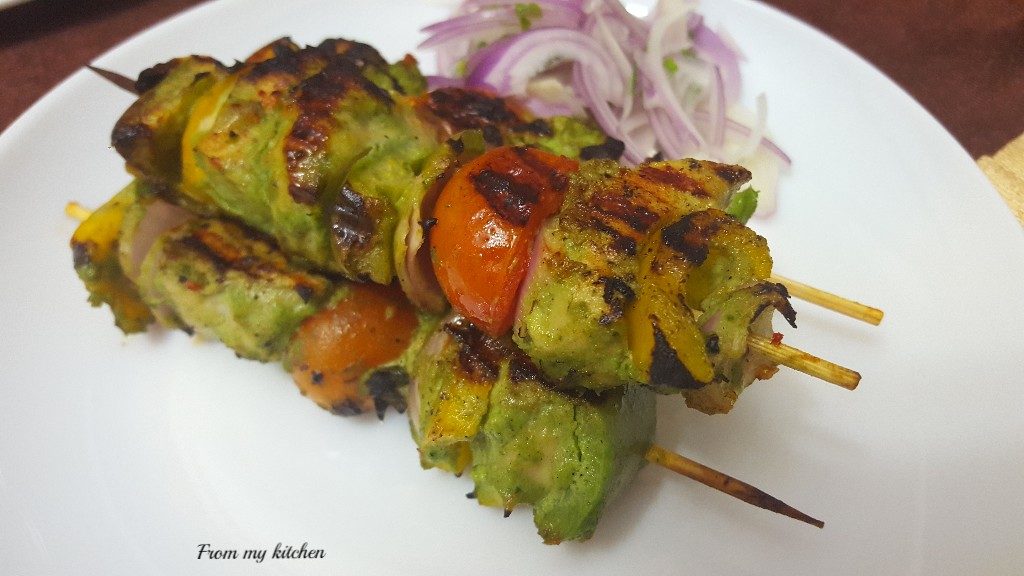 Tikkas and kebabs are my all time favorite.I love the taste of that charred food.It's healthy and tasty in my view!As we are grilling it not much oil is required as frying!So its healthy!Relish this lip smacking treat with some green chutney/hummus or any other dips and some pita bread and salad!
I like to make it it in this way in skewer with combo of veggies.The bite of that grilled juicy succulent chicken and charred veggies is just out of the world.Really!If you never tried it come on its time to go for it.Recipe for one more tikka is coming soon.Here just grinding some greens,some cream cheese and cream together and marinate and grill it along with vegetables.One thing to keep in mind while cooking tikkas never overcook it.Dry chicken will not taste good!
Ingredients
2 chicken breast fillet
1 handful mint
A small bunch of coriander leaves
2 hot green chilly
2 cloves garlic
1 inch piece ginger
2 cube cream cheese
3 tblspn cream
1/2 of a lime
2 tblspn yoghurt
1/2 tspn cumin powder
1 tblsp oil
Veggies
Onion
Tomato
Bell peppers
More oil for brushing
Method
Put your skewers in water.This will avoid burning of the skewer while grilling.
Cut chicken into small cubes and keep it aside.
Grind together all the ingredients under marination except chicken and make it a smooth paste.Marinate chicken cubes in it.Let it sit at least for 2 hours.The more time its marinated the more tasty it will be.
Cut veggies in squares.
Take one skewer mix your veggies in marinade ,First put caps,onion tomato then chicken,repeat it try to keep it closer.Use different colours of bell peppers if you want to make it more colorful.
Brush your grill pan or frying pan with some oil and grill it until its done and the black spot appears on the chicken.If you are using oven,in grill mode 10 minutes on each side.Need to brush oil in between.
Note : To get that exact grill effect what I used to do is after cooking just show it on direct flame.Believe me it will taste exactly like restaurant.Only few seconds on both side.Keep an eye on it and don't burn it.:)
My chilly is very hot so added only two,you can adjust the heat accordingly.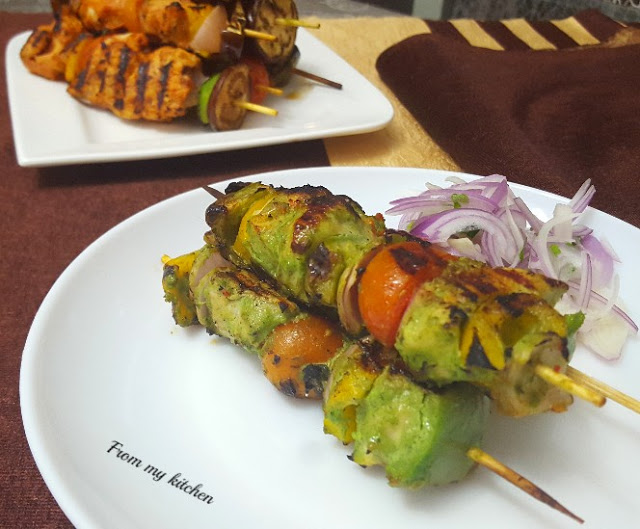 Its juicy and yum!Actually I tried green one for first time and made it only few but demand for it was high!hehe!
My grill combo red and green tikkas!
Enjoy your special moments with awesome food and make your family more happy!