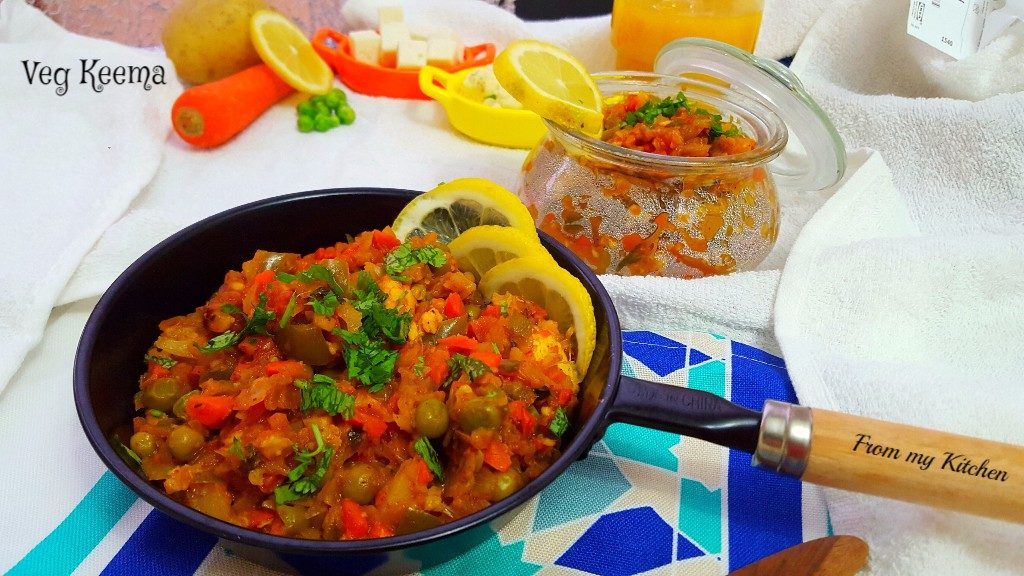 Minced Veggies in spicy masala!A mouthwatering Indian side dish with full of aromatic spices and healthy veggies!A must try list in veg category!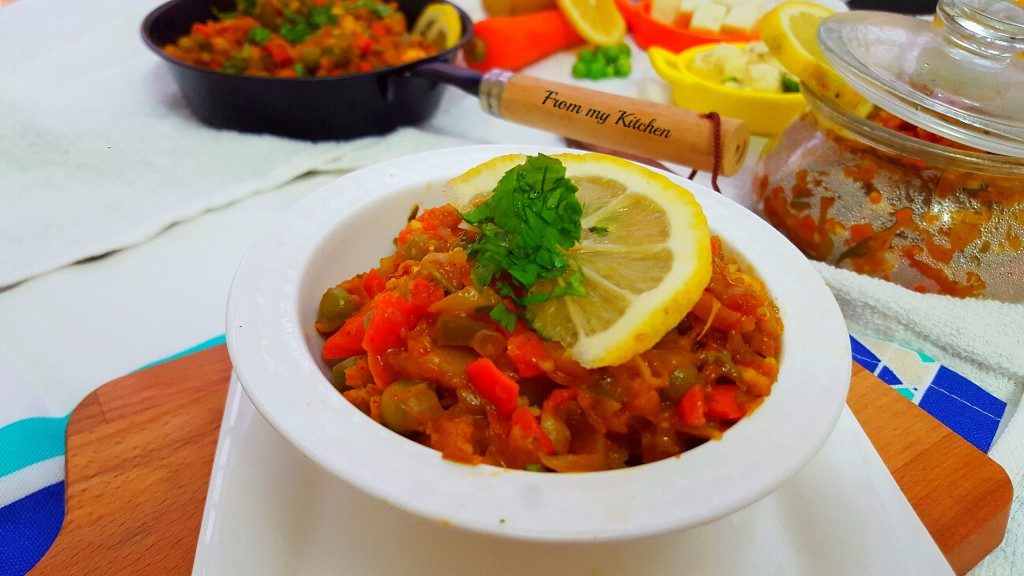 Spicy,tangy and healthy dish that goes very well with any kind of Indian flat bread!I think those who say no to veggies should also give it a try.Left overs can be used as a sandwich filling and enjoy!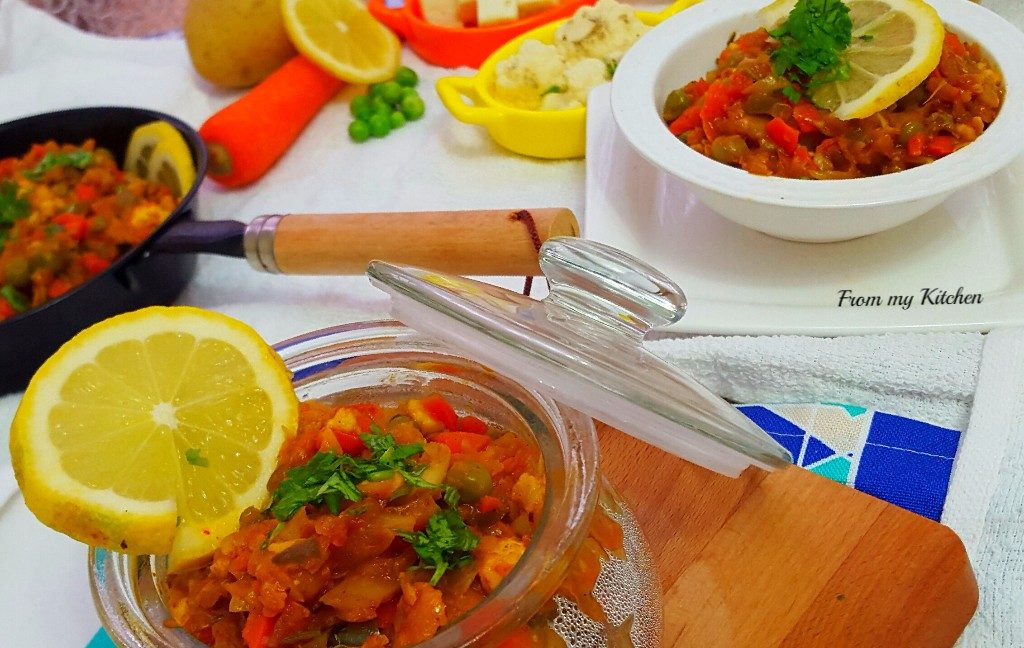 In this i added all the veggies i had here!Carrots,potato,peas,cauliflower,beans,paneer.First chop it and steam some veggies like carrots,potato,beans and cauliflower.You have to chop it up all very finely.Then make a gravy with onion and tomato along with some spices and then mix all of them together to make veg keema masala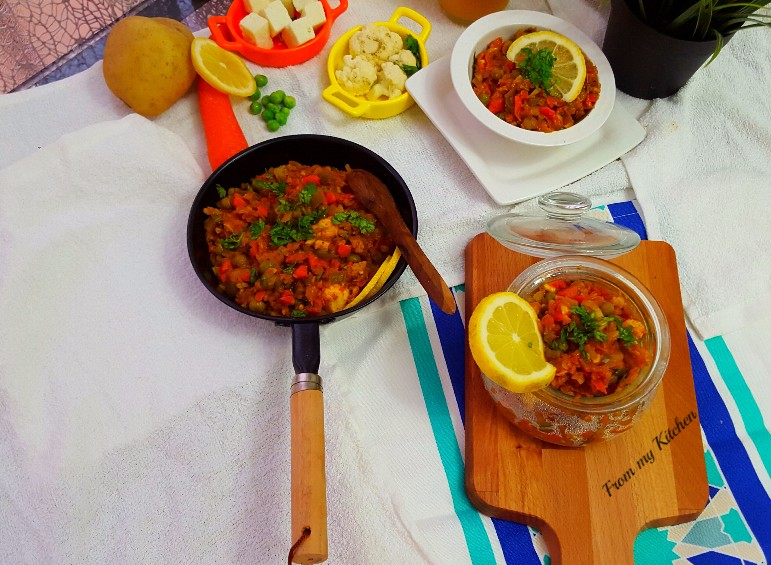 Ingredients
2 onions
1 big tomato
1 tsp garlic
1 tsp ginger
2 green chillies
1 tbsp tomato paste (or 1 small pureed tomato)
1 tsp chilly powder
1/2 tsp coriander powder
1 tsp cumin powder
1 tsp garam masala
Salt to taste
2 carrots
1 medium potato
1 small capsicum
1/2 cup frozen peas
Some beans
Some cauliflower florets
1/2 cup grated paneer
1 tbsp Lemon juice
Lots of coriander leaves
2 tbsp or butter
Method
Finely chop all the veggies or put it in a food processor.
Steam the veggies like carrots,potato,beans and cauliflower florets for few minutes.(like 80 percent cook) and keep it aside.
In a pan pour oil/butter then add onions,ginger,garlic,green chilly and salt cook until onions are translucent
Add capsicum and cook for a while.Then add tomato paste and mix well.
Add finely chopped tomato and cook until its mushy.Add some water to deglaze the pan.
Add frozen peas in it.
Now add all masalas 1 by 1 mix and cook for a while.
Then add all the veggies and mix well.Chop the cauliflower florets and add.Cover and cook until its done in law flame.(will take about 5 minutes)If u need some gravy add 1/4 cup of water.Add grated paneer and mix.Lastly squeeze some lemon juice and lots of coriander leaves.
Enjoy with garma garam (hot hot)naans or rotis!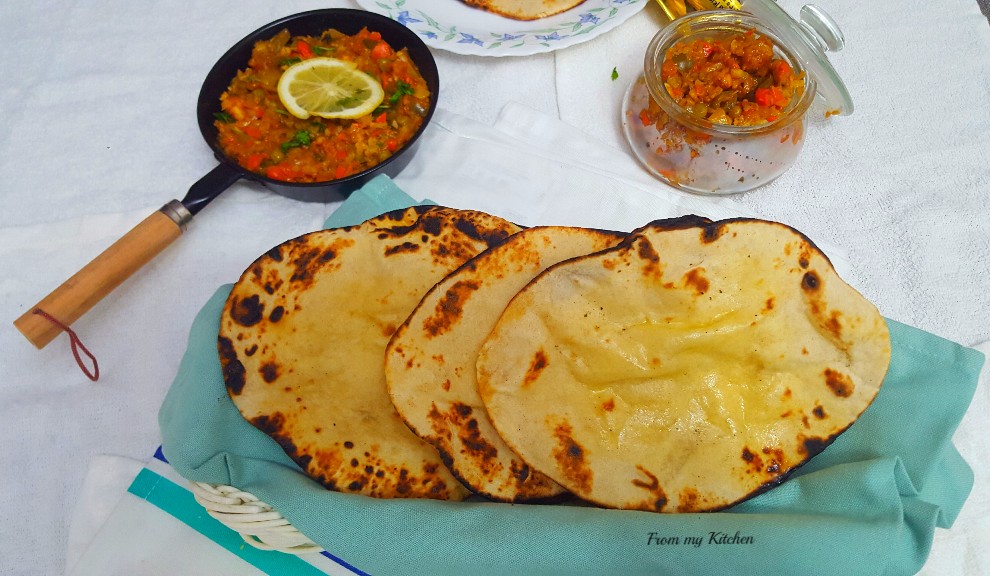 It's something very different with less gravy and and minced veggies!A yummilicious veg curry!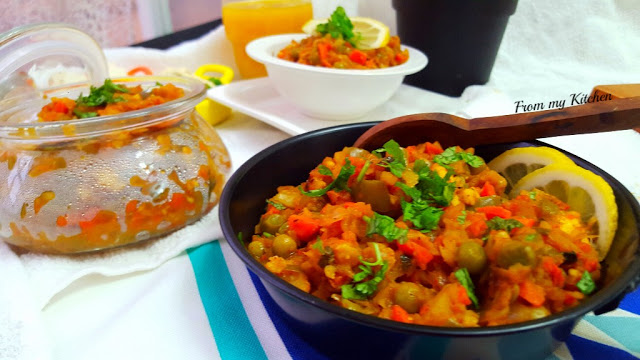 Note : Don't over cook it and make the veggies mushy.The veggies are 80 percent done so it will take very less time to cook.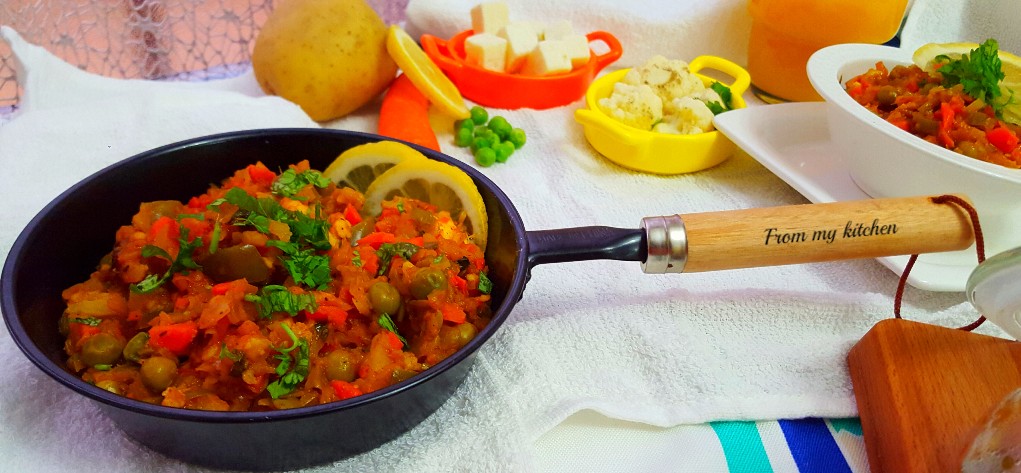 Veg lovers will surely love it!Do try it and let me know how it turns out for you!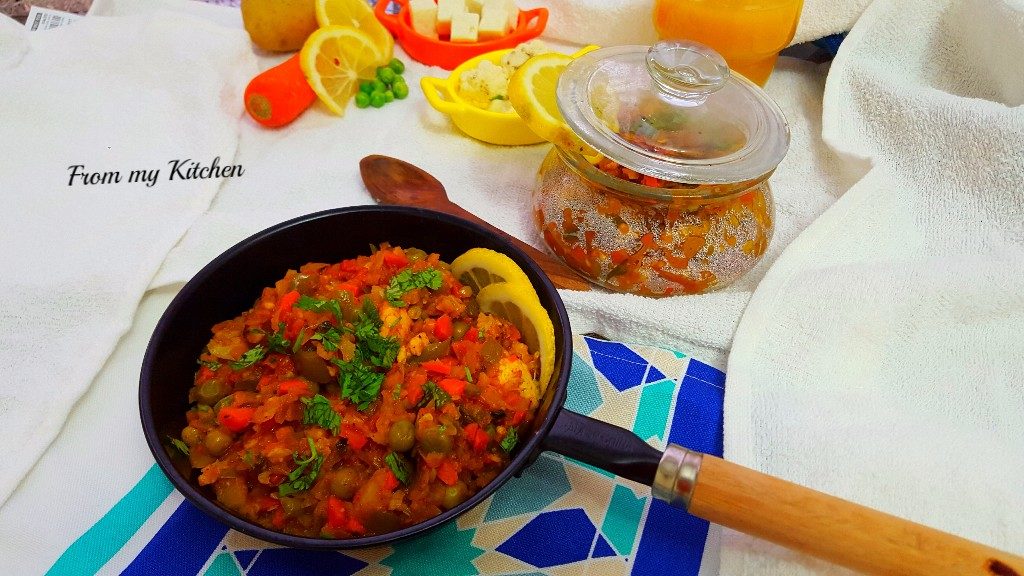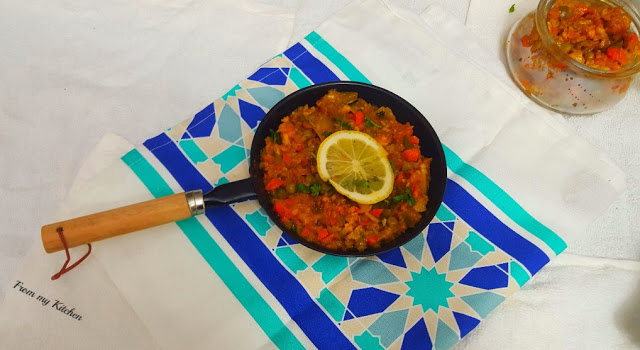 ENJOY!
Happy Cooking!