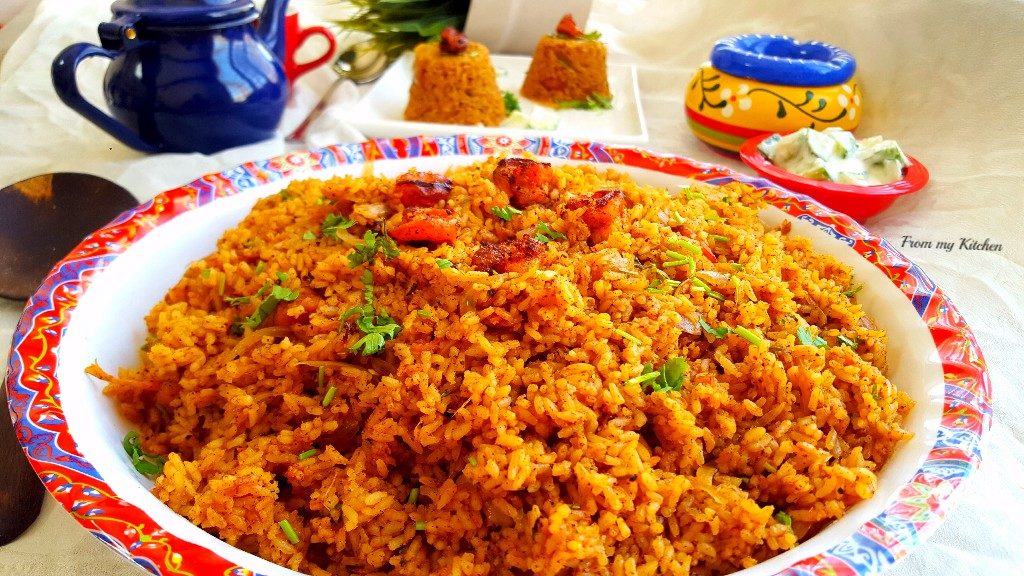 Scrumptious prawn pulao that tickle your taste buds!Well marinated and fried prawns with a spicy and delicious tomato based masala.Perfect dish for a party table who loves sea food.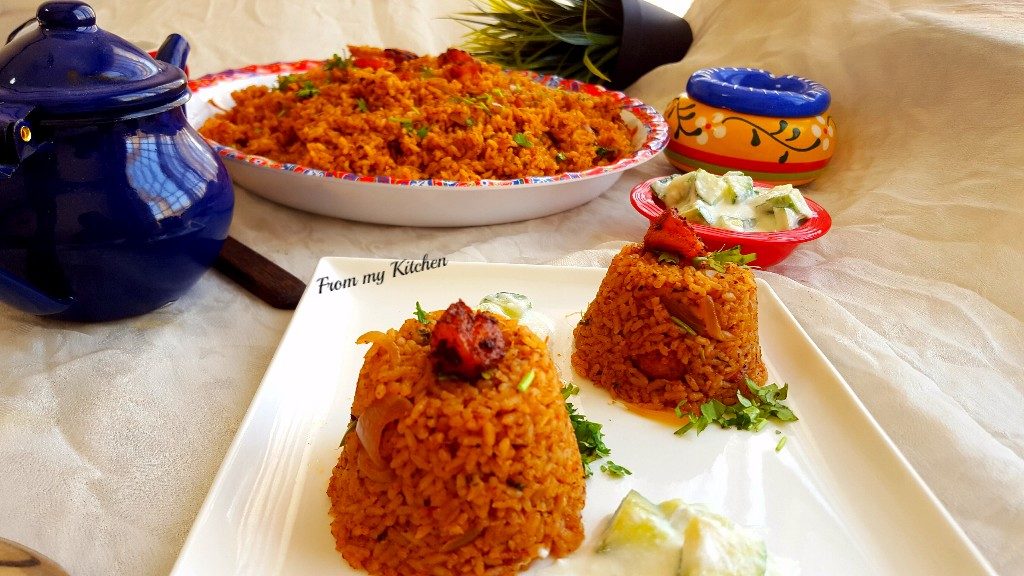 Now in hometown!Yaaay! Enjoying the lovely Monsoon, totally in love with rain!Perfect timing for some spicy food ,and of course fried goodies for chai!haha!Such a relief from the hot summer and all those tasks!Really enjoying moms food and lot more fun!Alhamdulillah!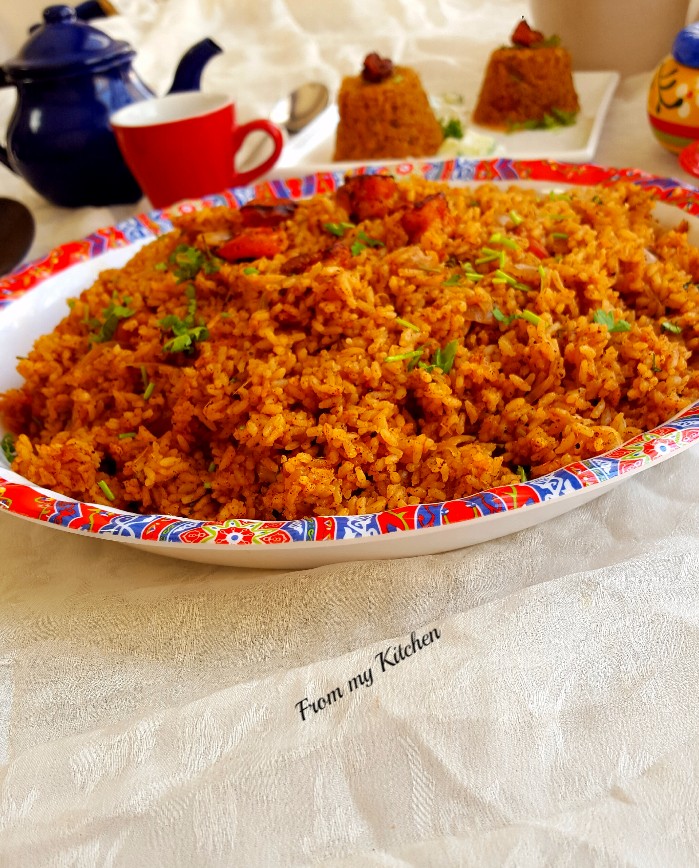 This is the last recipe i made before vacation and i want to share it before i forget it :-)To prepare this prawns are well marinated and fried then made a masala with tomato puree and spices.With chicken also it will be awesome!There is already one recipe on the blog Grilled Prawn Rice.Hope you all like this!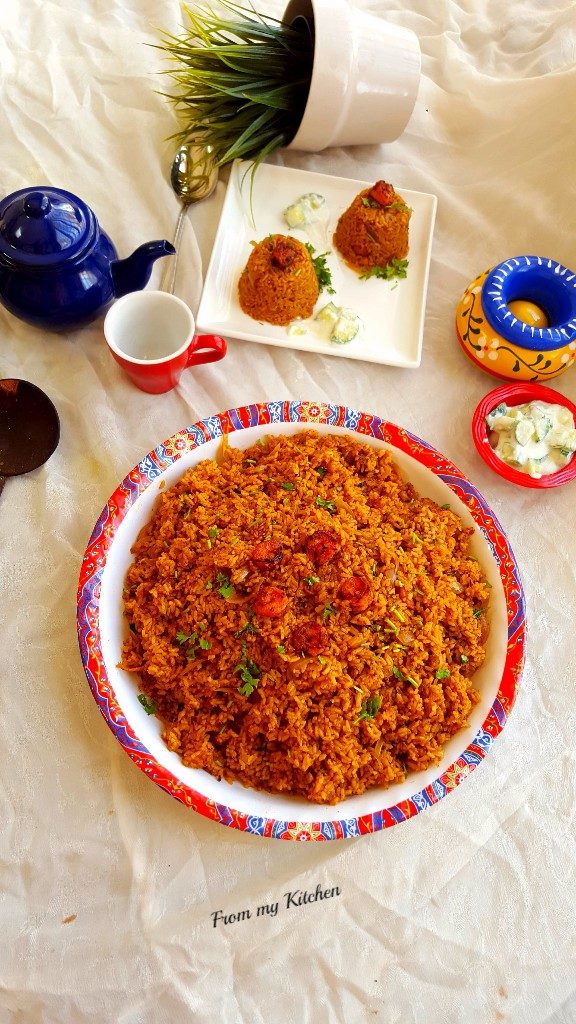 Ingredients
To marinate
300 gm prawns
1 tsp chilly powder
1/2 tsp garam masala
1/2 tsp coriander powder
2 tsp lemon juice
salt to taste
1 tsp ginger
1/2 tsp garlic
4 tbsp oil
For rice
2 cups rice
3 n 1/2 cup water
2 tbsp ghee
1 bay leaves
1 small stick cinnamon
2 big tomatoes
1 large onion
5 green chillies
1 tsp chilly powder
1 tsp pepper powder
1 tsp cumin powder
1 tbsp coriander powder
1 inch piece ginger
4 cloves garlic
1/2 tsp turmeric powder
1 tsp garam masala
Salt to taste.
Method
Clean the prawns and marinate it for at least for 15 minutes with above ingredients.Then in a pan pour 4 tbsp oil and fry it.Preserve some for garnishing!
Puree the tomatoes and keep aside.
In same pan splutter bay leaf,cinnamon then add green chilly slits,ginger garlic paste and saute for few seconds.
Add sliced onion and cook until translucent.
Pour the tomato puree and mix well.
Add all the powders and salt except garam masala, cook the masala until done
Add fried prawns in it and mix well.Stir in between.
Lastly add garam masala , lemon juice and coriander leaves.
Pour the water in masala and let it come to a boil.Check for seasoning and add.(If you want it more spicy add more pepper or chilly powder.)In a large pan add 2 tbsp ghee and roast the rice for few minutes. Then pour in the Prawn masala and stir well check for salt and add.Close the lid and let the rice cook completely.Garnish with coriander leaves and preserved fried prawns!
Note
: I reduced 1/2 cup water as we are pureeing the tomato.If you feel like the water is less add 1/2 cup more boiling water to the rice.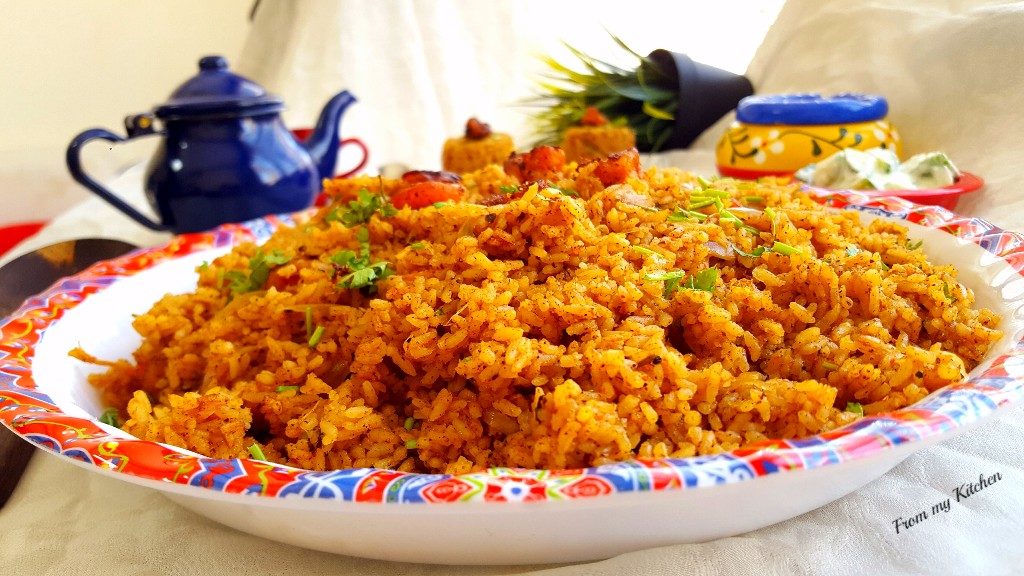 It's a quick and easy meal!Make some cucumber raita and pappad to accompany this with a cup of lemon tea!

Nothing can beat such a freshly home made comfort food!isn't it?
Enjoyy!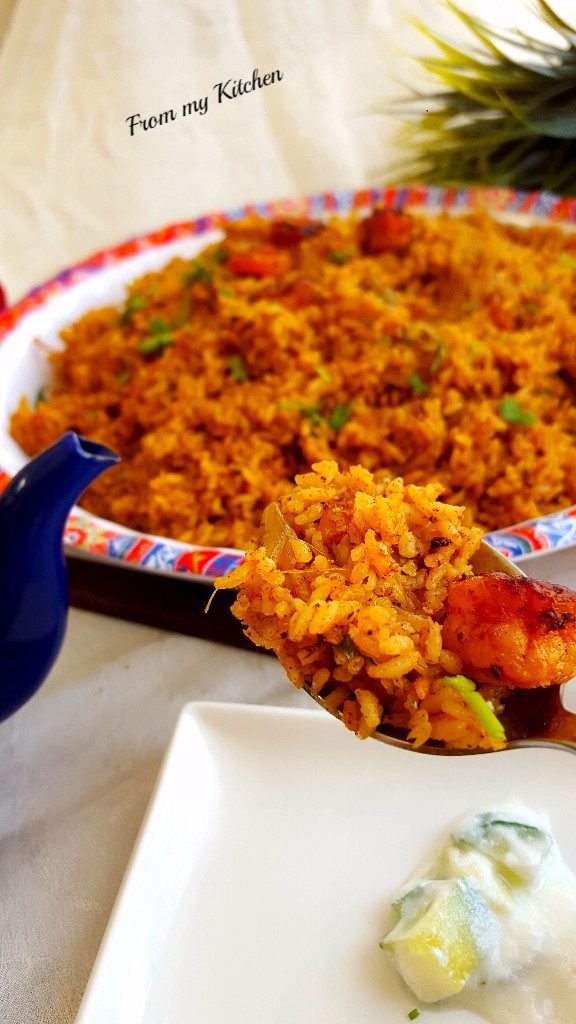 Happy cooking!!!!!!!