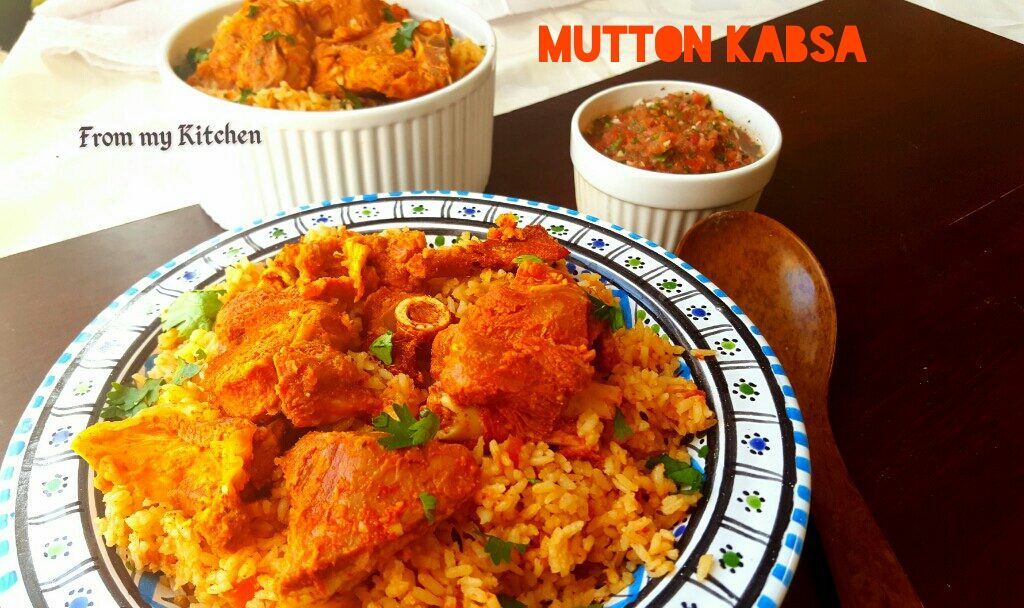 One more Kabsa recipe!!Yes i already have Chicken Kabsa recipe on the blog.There are some changes in this recipe.This one is really flavorful and i'm sure you'l get that authentic kabsa flavor without any ready-made mix.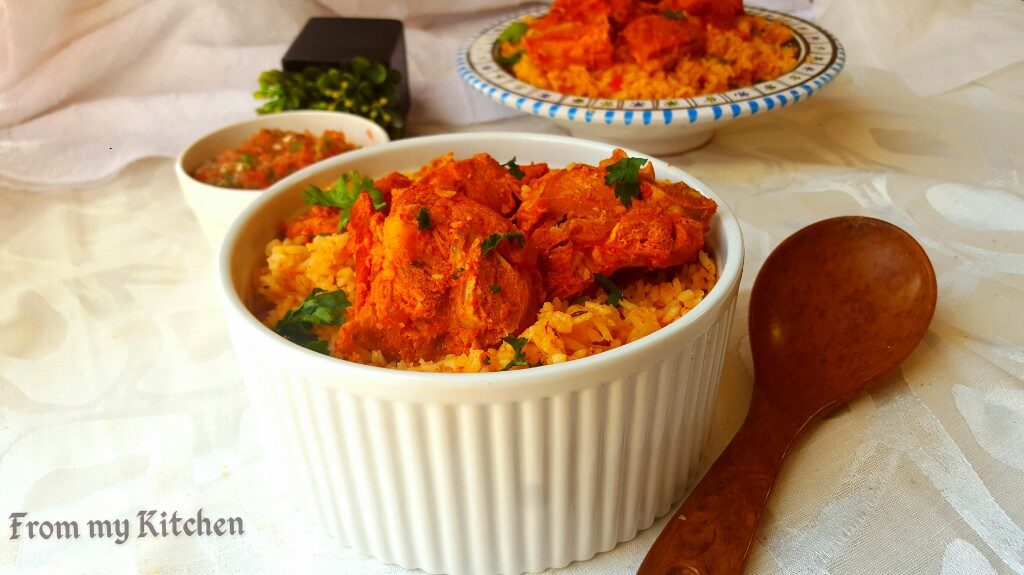 Kabsa is the national dish of Saudi Arabia .There are many kinds of Kabsa and each one is unique. The spices used in this varies in different places!The dish is traditionally prepared with lamb, mutton or chicken, but occasionally prepared with goat, camel, beef,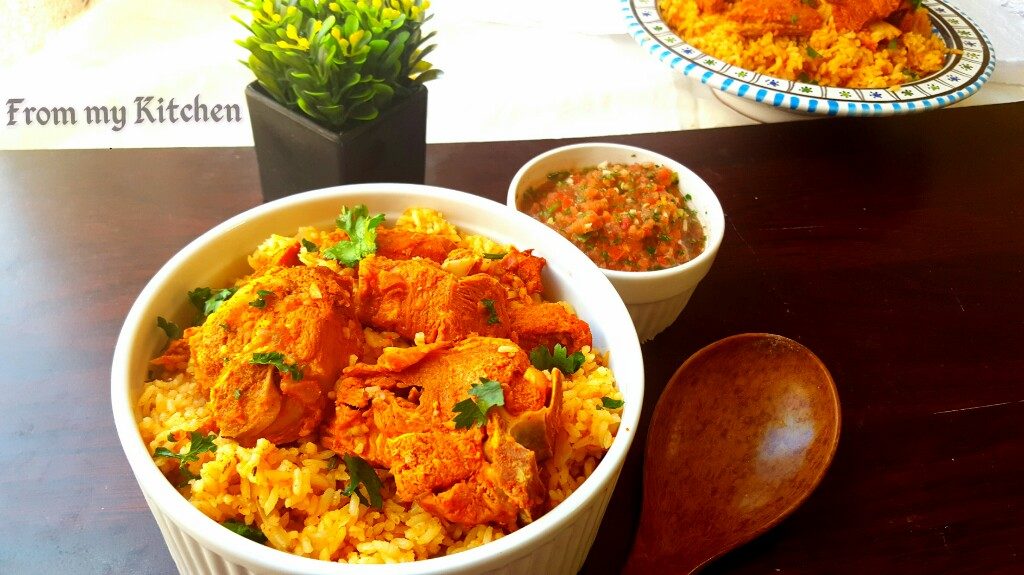 This recipe is our family fav!This is my aunt's recipe (uppitha)who is a wonderful chef with magic in her hands…Masha Allah!My dad is a great fan of Arabic foods especially kabsa and the rice dishes.I'm pretty sure this is a fool proof recipe for Kabsa lovers.Simple and flavorful!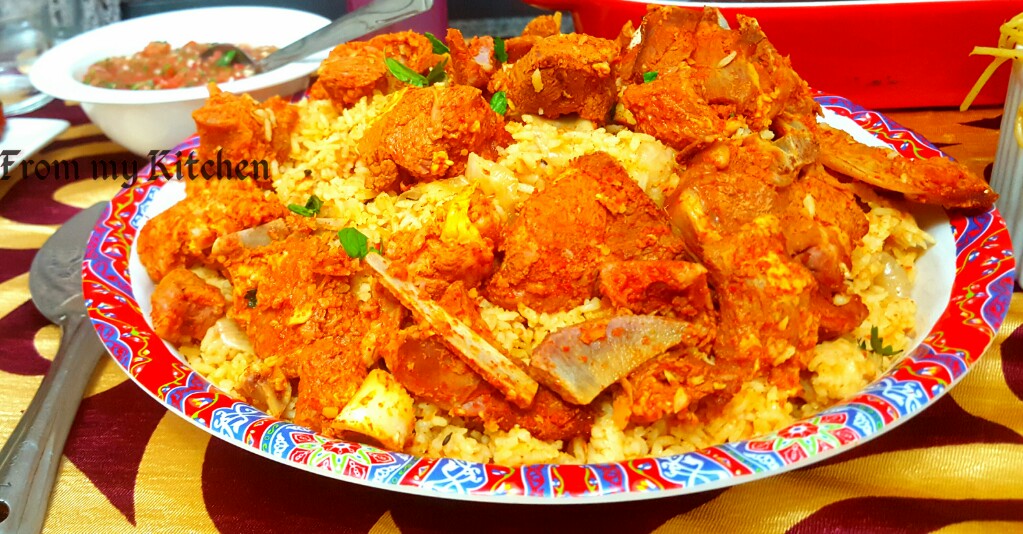 I made it for a party and the guest just loved it.So over to the recipe!
Ingredients
To boil the meat
1/2 kg mutton medium size pieces
Salt to taste
2 tbsp chilly powder
1 tsp turmeric powder
1 tbsp ginger
1 tbsp garlic
Lots of water (3 to 4)
Other Ingredients
3 cups rice
1 large onion
4 tomatoes
1 chicken cube
3 tbsp oil + 2 tbsp ghee
1 tsp cumin seeds
Small piece cinnamon stick
3 to 4 cloves
For Salatha
2 tomatoes
4 cloves garlic
3 green chilies
1 tsp vinegar
pulse it all and make to a coarse paste.This is a combo with kabsa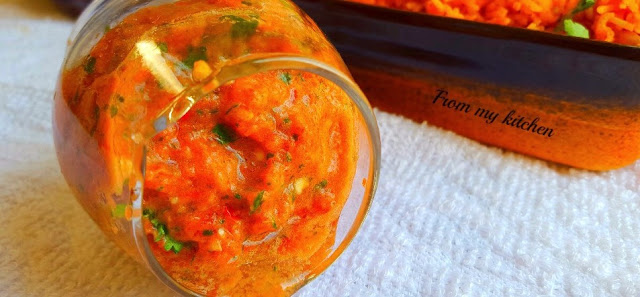 In a pressure cooker mix together mutton and all other ingredients listed under to boil the meat along with 3 to 4 cups of water.(Try to use a 5 litre cooker)You need to add more water while cooking the meat because later we are cooking the rice in this mutton stock.Cook mutton till they are nice and tender.(it will take almost 15 to 20 minutes after first whistle)
When it's done take out the mutton and keep aside.
Soak the basmati rice for 30 minutes.
Puree the tomato and keep it aside
In a large pan pour oil and ghee,splutter cumin seeds,cinnamon and cloves.
Then add sliced onion and cook until translucent.Add chicken cube in it and mix well.
Now add tomato puree and cook until the rawness of the tomatoes are disappeared.
Pour the mutton stock and let it boil.Add remaining cups of water need to boil the rice.Check for seasonings like salt and pepper and adjust.(go easy with water as we are also adding tomato puree so check and add)
Now add the soaked and drained rice and cook until the rice is soft and done.
Tip to cook the rice evenly is first make the flame on high and when it starts to bubble up make the flame low and cook until its done.
While serving arrange the mutton on top of the rice and serve.If you don't like the mutton that way grill it on tawa at high flame.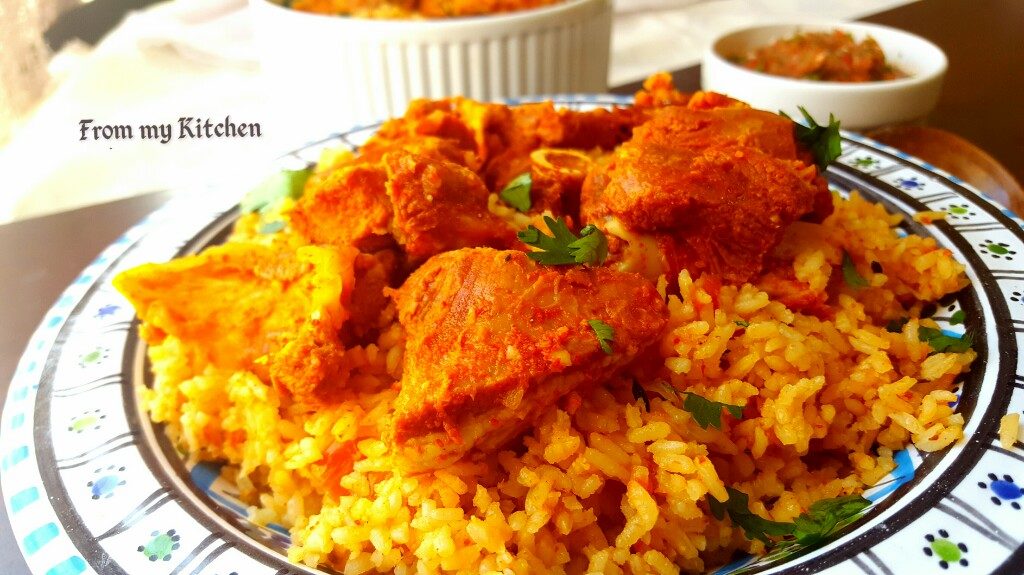 I believe that for all rice dishes the flavors truly came out when its cooked at least 1 hour before serving.All flavors will nicely incorporate with the dish!I love to eat the leftover rice coz i think it enhance more flavor…isn't it?