A soft flavored bun filled with spicy green cheese sauce layered with juicy chicken tikka and cheese, baked to perfection! In short, you may call it an Indian-flavored slider, that you literally fall in love with! Here, I'm showing 2 ways of presenting it!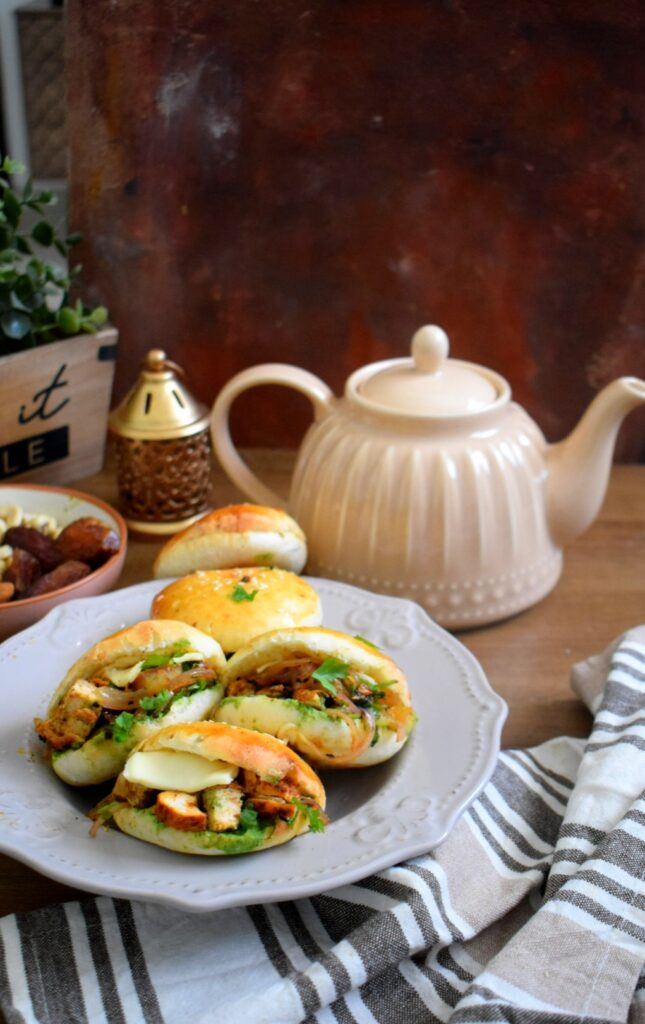 One is in the form of a galette and the other is stuffed inside the freshly baked buns like a slider. Do let me know which one you like the most! I liked mini cute Tikka sliders!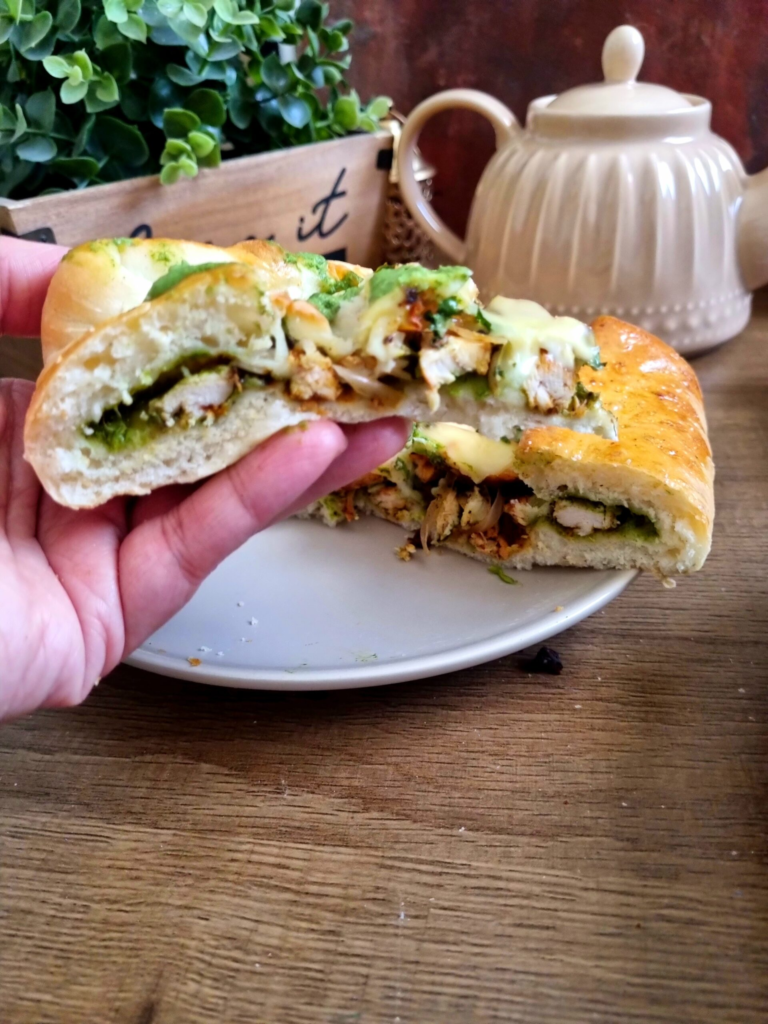 Hope you all will relish it as much as we did!
Ingredients
3 cups flour
1 tbsp yeast 1 tbsp sugar
salt to taste
Some rosemary(opt)
chili flakes
oregano
2 tbsp olive oil
1/2 cup warm +1/2 cup warm milk
Knead to a soft dough
For Green Cheese Sauce
1 cup coriander leaves
1/2 cup mint
2 or 3 green chilies
lime juice
salt to taste
1 tsp cumin seeds
2 tbsp cream cheese
First blend all the ingredients listed above without cheese with a tbsp of water, once it's done add the cream cheese and blend to a smooth paste.
For Chicken Tikka
2 chicken breast fillets
salt to taste
1 tbsp chilly powder
lime juice
2 tbsp yogurt
1/2 tsp cumin powder
1 tsp garam masala
1 tsp ginger garlic paste
mix well and marinate the chicken for at least one hour
In a pan add 2 or 3 tbsp butter and grill it. Take it out and keep it aside
In the same pan add 1 large onion and a green chilly cook it for some time. (it should retain its crunch)
Slice some tomato and cilantro and keep it aside.
For the cooking methods check the video.
1st method
Once the dough is doubled, half the dough take one portion, roll it into a big circle, spread the cheese sauce add the topping and cheese fold from the sides and bake it at @180 degrees preheated oven for 15 to 20 minutes.
2nd method
Make equal size small balls, roll them slightly egg wash, and bake at @200 degrees preheated oven for 15 minutes. Cut open the bun, spread the sauce add the filling place a piece of slice cheese and voila! Spicy and full of flavor!
Video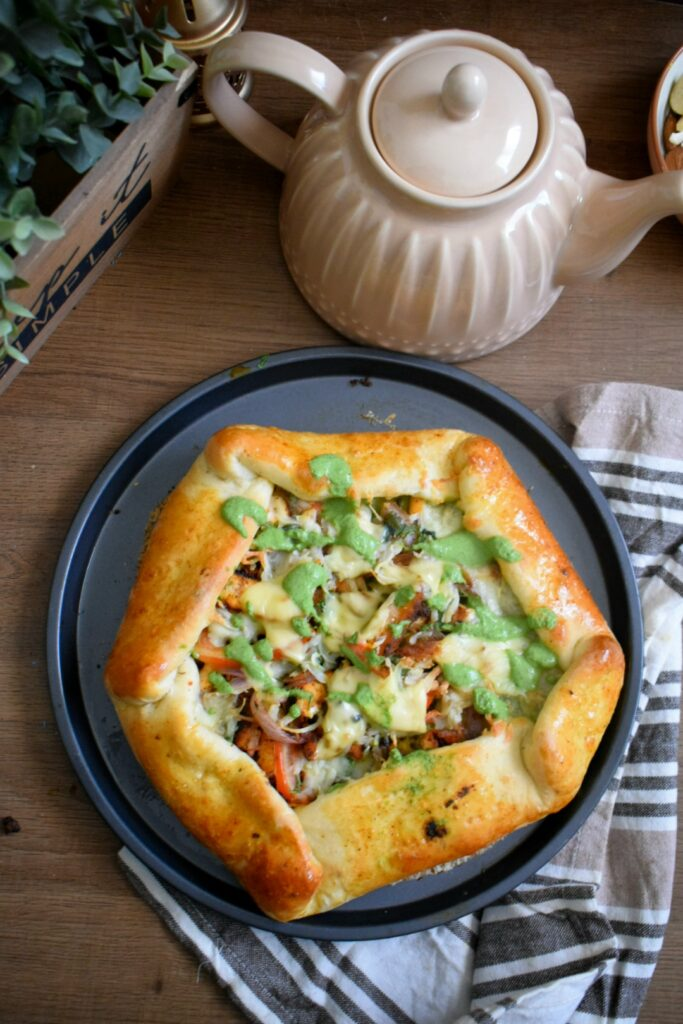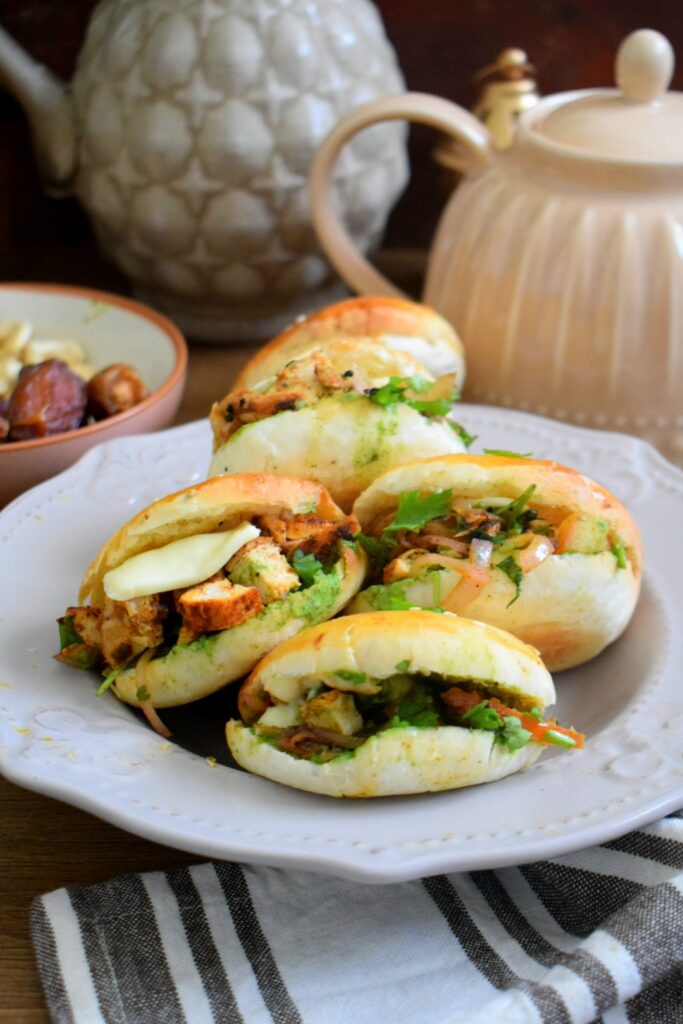 happy Baking!