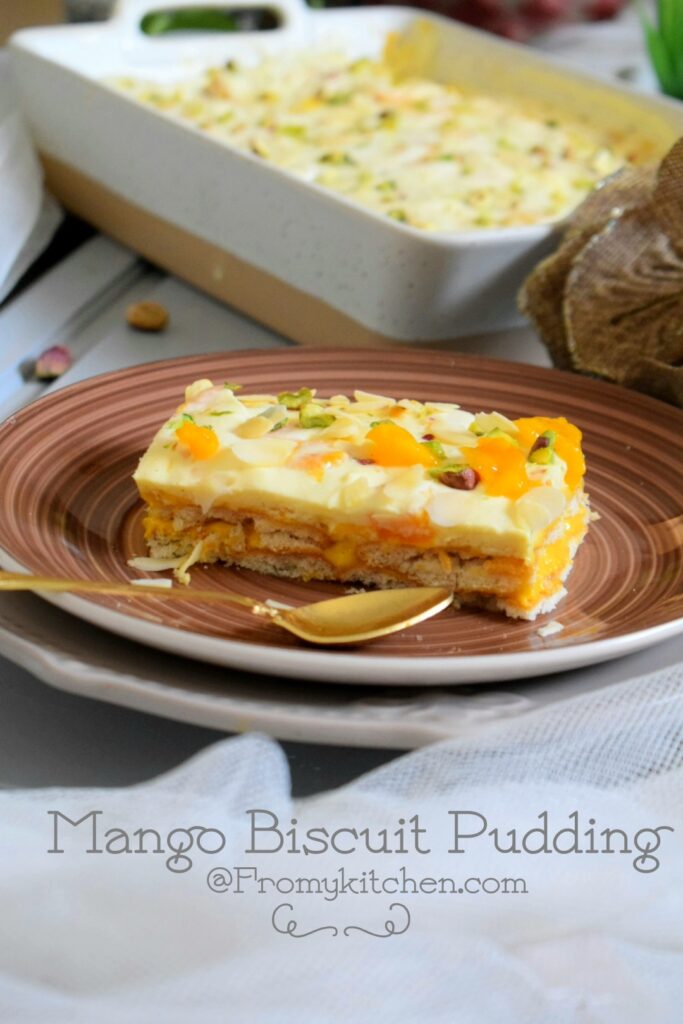 Creamy mango pudding with a biscuit base and some chunks of mangoes are heavenly! Mango is in season so why not mango pudding for this Eid! Yes, it has three layers, in which a delicious mango cream is sandwiched between biscuits and whipped cream folded with mangoes!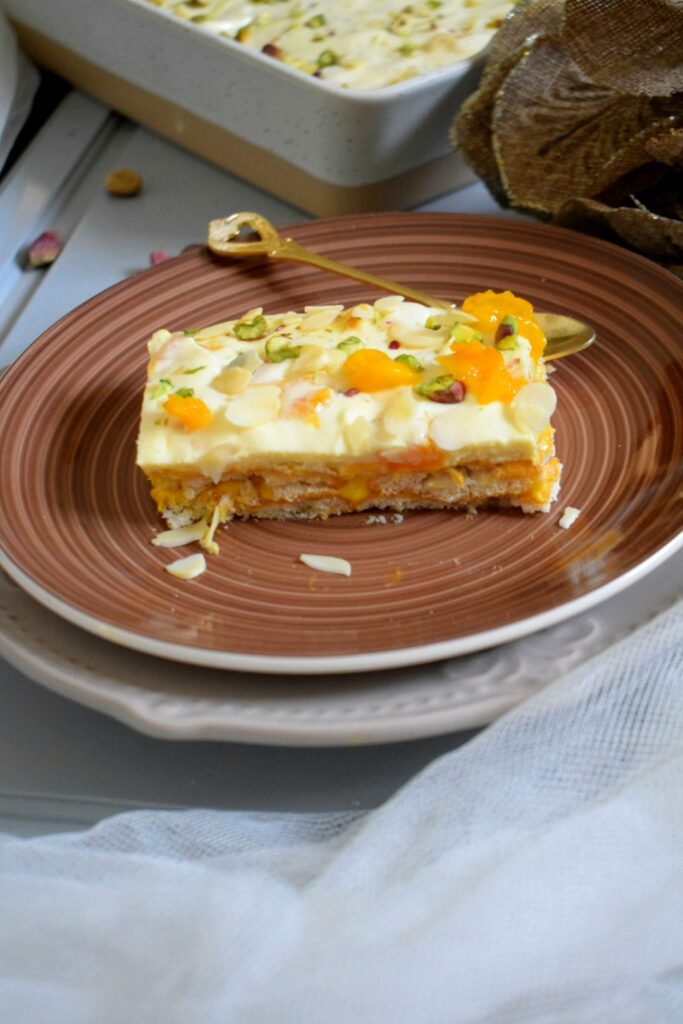 My folks are totally mango lovers so anything and everything made with mangoes makes them happy! For topping and that crunch, you may add caramelized nuts too! For more dessert ideas check the link below https://fromykitchen.com/category/desserts/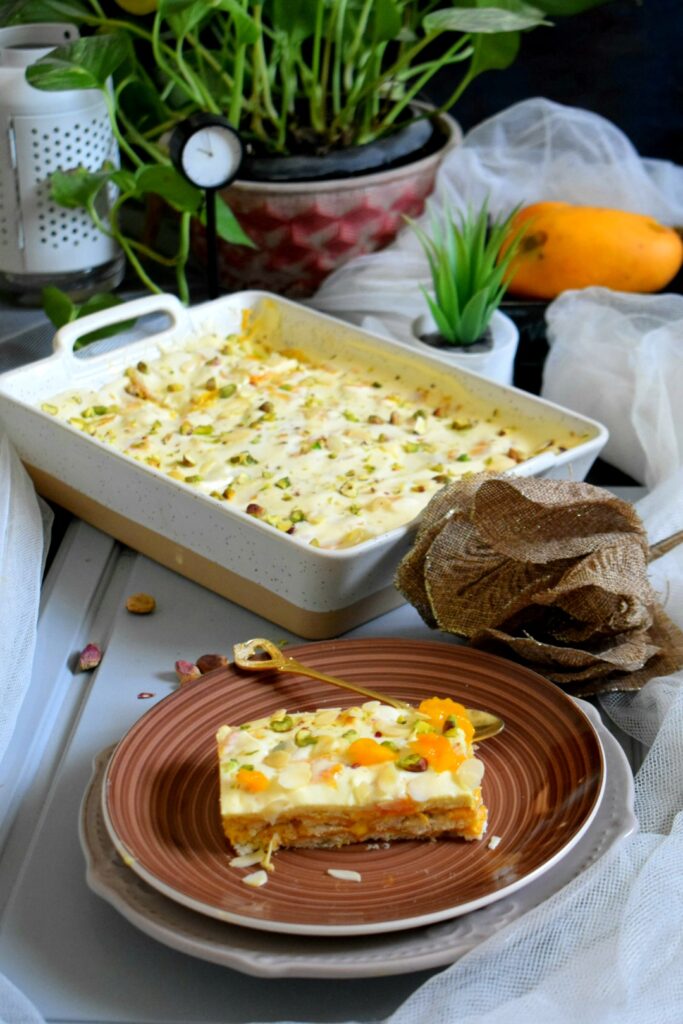 This is my second dessert for this Eid season! I will try to add one more dessert if possible! Otherwise, this one will be the last recipe for this Ramadan season! Stay home and stay safe all! Let's pray and hope for a better tomorrow! Eid Mubarak my dear followers!
Ingredients
Tea Biscuits (milk for dipping biscuits)
3 or 4 sweet mangoes
4 cheese cubes
2 sachet whip cream powder
170gm tin cream or fresh cream
condensed milk or sugar for sweetness
1 sachet cream caramel (optl)
1 tsp gelatine soaked and melted (if you like a well-set pudding)
For cream (thick cream heavy cream, powdered sugar to taste) or whip cream
Method
Dip the tea biscuits in milk and layer it as base
For the cream- In a blender add 2 mangoes, cheese cubes, dream whip, cream, sugar or condense milk for sweetness, cream caramel(opt) and blend well.
If you like a well-set dessert add 1 tbsp soaked and melted gelatine to the blender and blend once again.
Pour it over the biscuit base, add one more layer of biscuits dipped in milk.
Last layer blend the cream and powdered sugar with vanilla, fold in chopped mangoes and spread it evenly. Cover and chill it for at least 6 to 8 hours or overnight. Garnish with some pistachios and chopped mangoes and enjoy!
Youtube Video!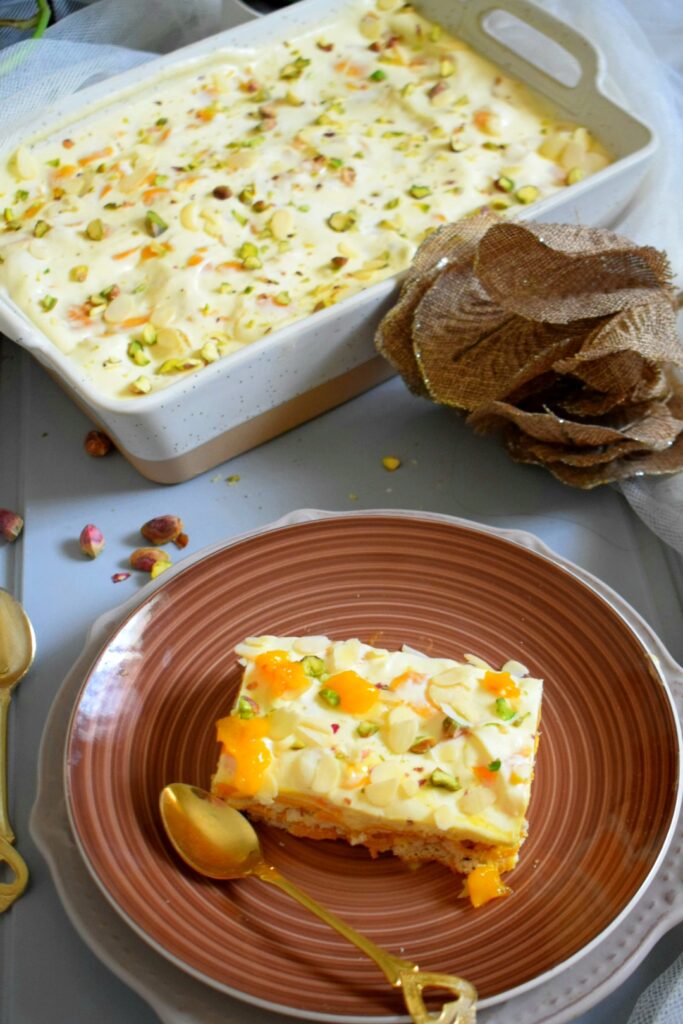 Relish with your loved ones!