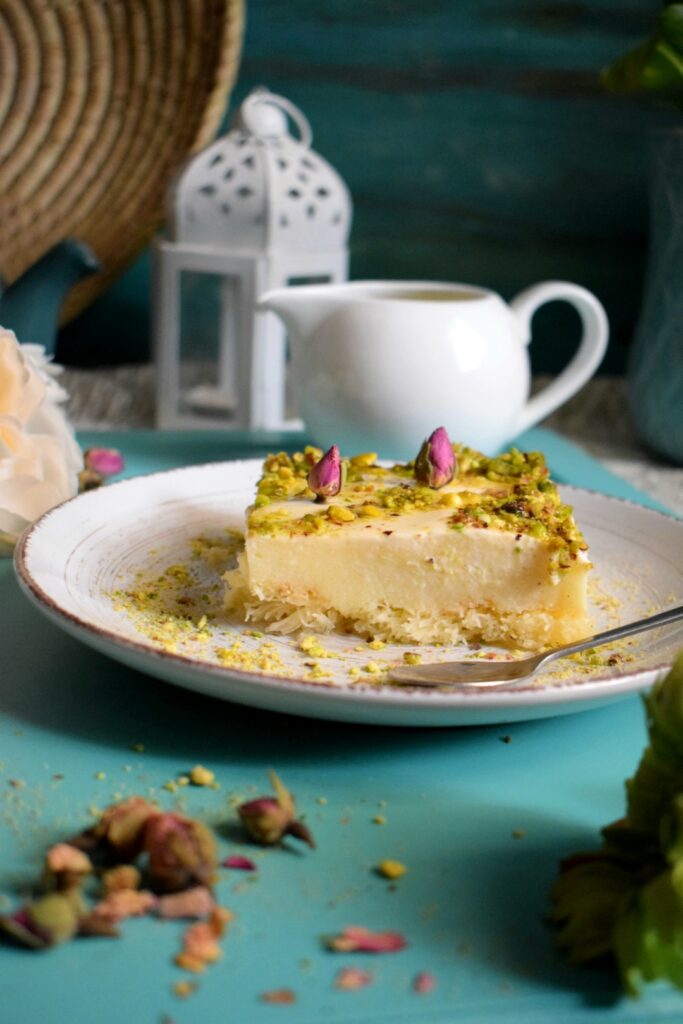 2 most delicious Arabic desserts on a plate! Yes, crispy kunafa and the creamy Lalayli lubnan with the nutty pistachios are so dreamy, isn't it? This is my first Eid Dessert! If you like Arabic Dessert try it out!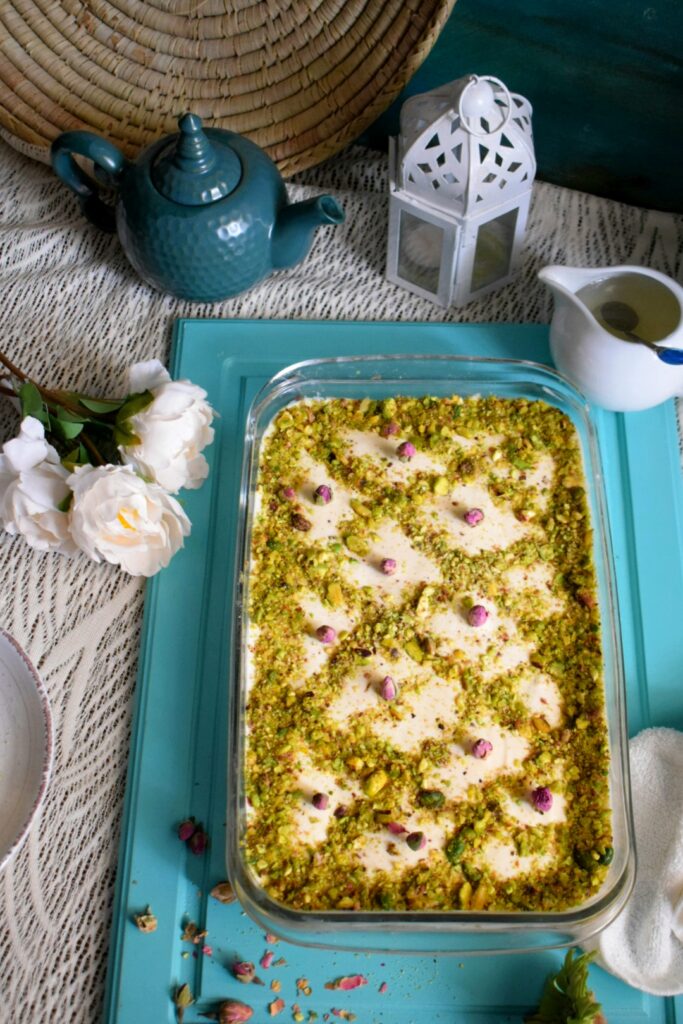 Arabic Desserts are the easiest to make and favorite for many! Most of the people love Arabic desserts because it's mildly sweet! We can add sugar syrup according to our preference and it's easy to prepare too! I have both Kunafa recipe and Layali Lubnan on the blog, but here I'm sharing the combined recipe of both, qty also is perfect for a large tray!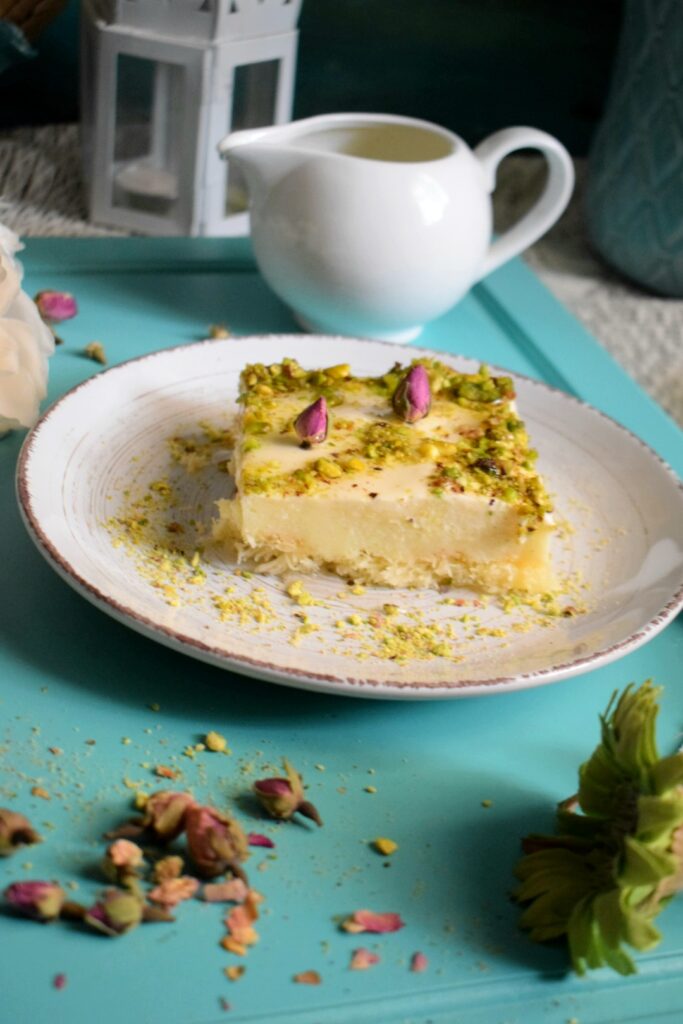 Ramadan is coming to an end and as always with a heavy heart, we bid adieu to this holy month! There is really great positivity during Ramadan. May almighty bless us to see many more Ramadan and in the best of health. Praying very deeply to end this pandemic and let's all live a happy mask free tense-free life like before! Let's be united with our parents and loved ones soon!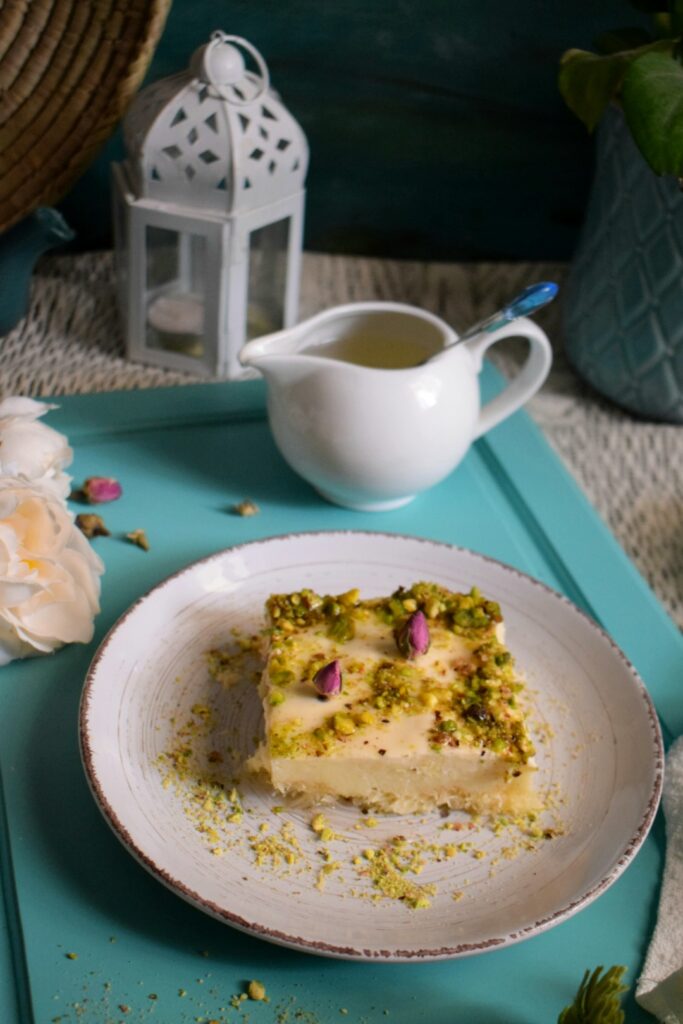 Ingredients
300 gm Kunafa dough
100 gm melted butter
1 cup sugar and 1 & 1/2 cup water to make sugar syrup.
Pistachios
For Layali Lubnan
5 cups milk
3/4th cup semolina not heaped
5 tbsp or less sugar or some condensed milk
Rose water
For Third Layer
1/2 cup heavy cream
1 small tin cream
100 ml fresh cream
1 sachet whip cream
Powdered pistachios
Note : You may simply use kishta(cream) or whipped cream
If you want kunafa recipe check the link and for Layali Lubnan
Method
Mix Kataifi(kunafa dough) with butter and layer it as a base bake it at @200 degrees preheated oven for 20 to 30 minutes or until golden brown. You may also pan roast it until golden brown.
Pour some of the sugar syrup immediately after baking.
Add some pistachios on top and keep it aside.
Prepare Layali lubnan – Mix milk, semolina, and sugar/condensed milk well in a saucepan and then bring to a boil on medium to high heat while continuously stirring and scraping the bottom (this step is important so the semolina doesn't stick onto the bottom)
When the pudding starts to boil and thicken, remove from heat, add the rose water and orange blossom water, give it a good stir so they are well dissipated. The consistency should be creamy, not too thick. Immediately pour it on the kunafa base and spread it evenly. Let it cool completely at room temperature.
Blend well all the ingredients mentioned under the 3rd layer and spread it evenly.
Decorate it with pistachio and chill it. Pour sugar syrup before serving!
Video!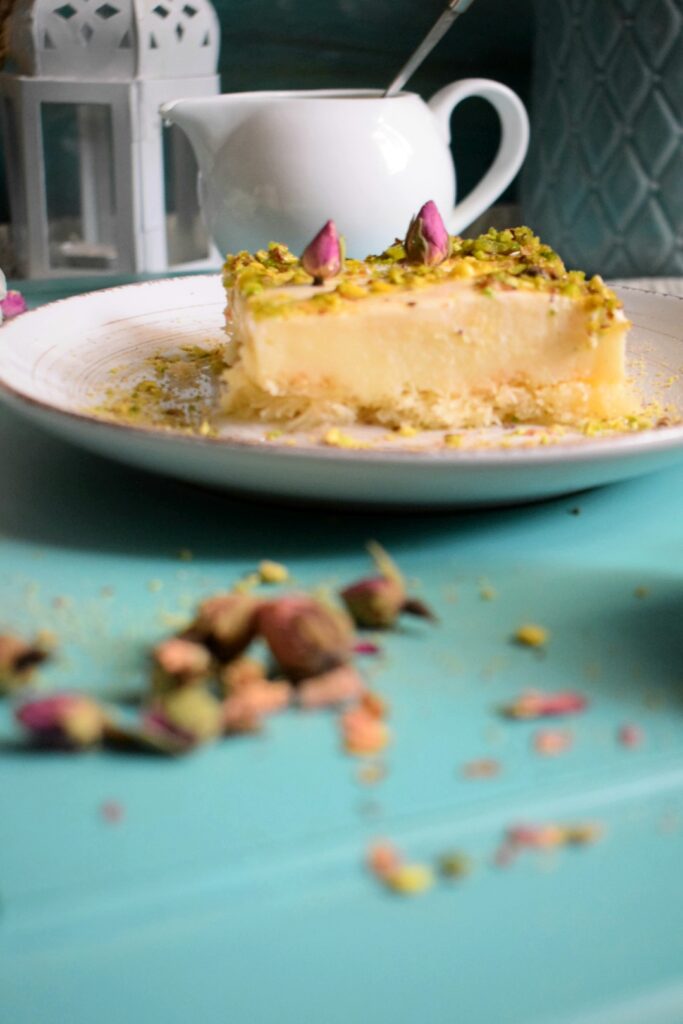 Happy Cooking!