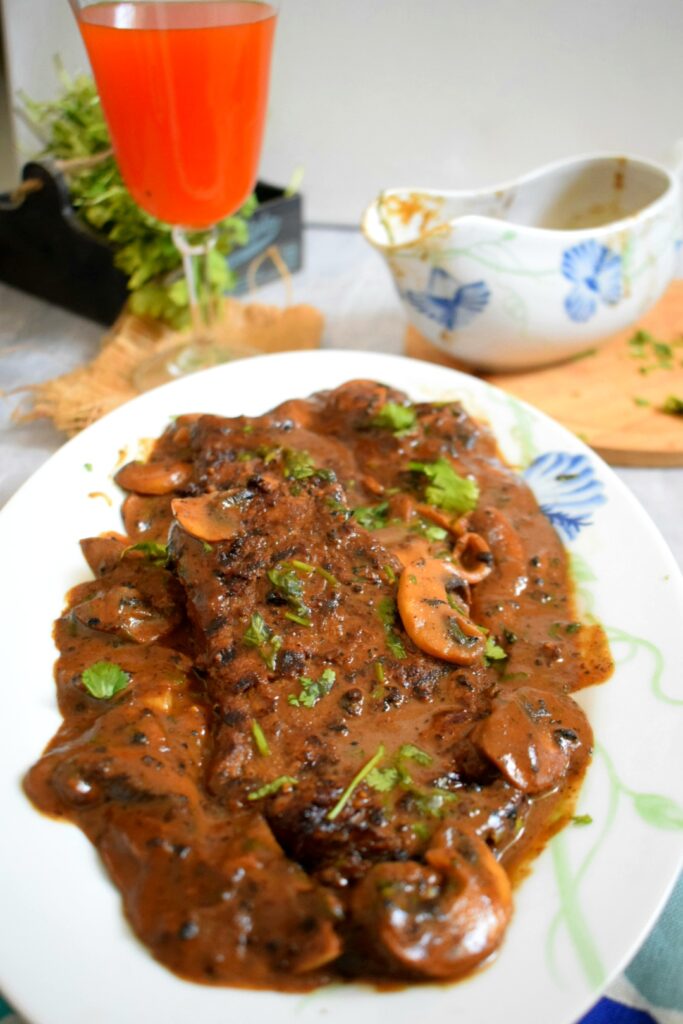 Juicy Beef steak full of flavors drenched in a delicious mushroom sauce gives such a fancy restaurant feel, isn't it??!! Love such hearty meals that hardly need much effort and flavors are bang on! Goan beefsteak has a nice garlic flavor with some dark sauces! If there is a mash to compliment then this is the perfect dinner to enjoy with your loved ones!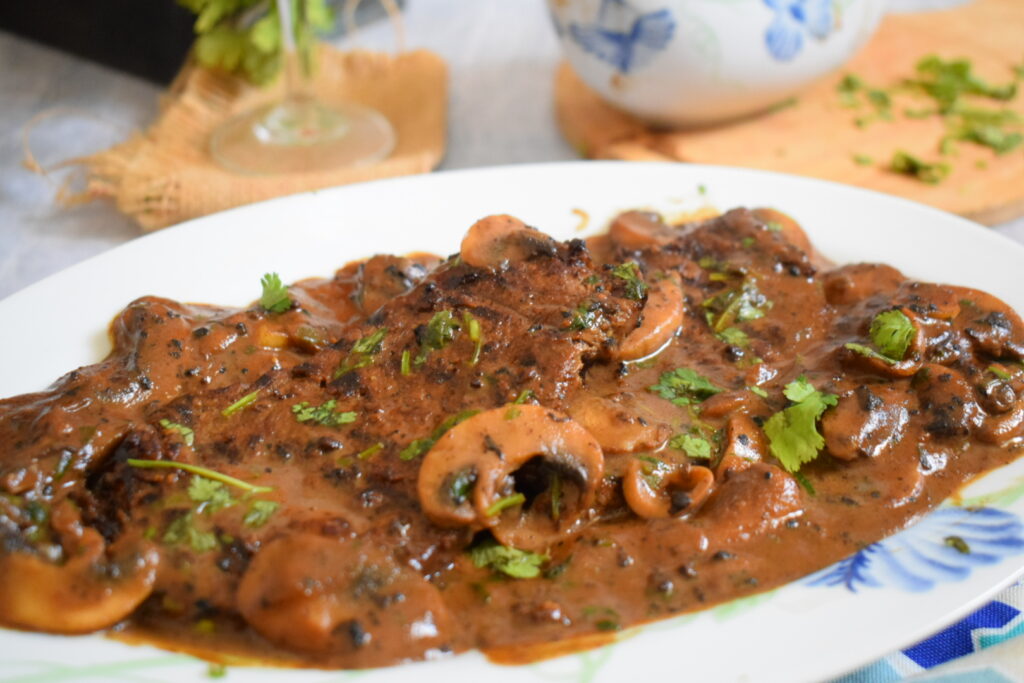 I've got many requests on recipe for this when I shared it on my Ig stories! So here is a flavorful steak recipe for you all! I cooked it for almost 15minutes. Make sure that the steak is not too thick nor too thin to retain that juicy texture!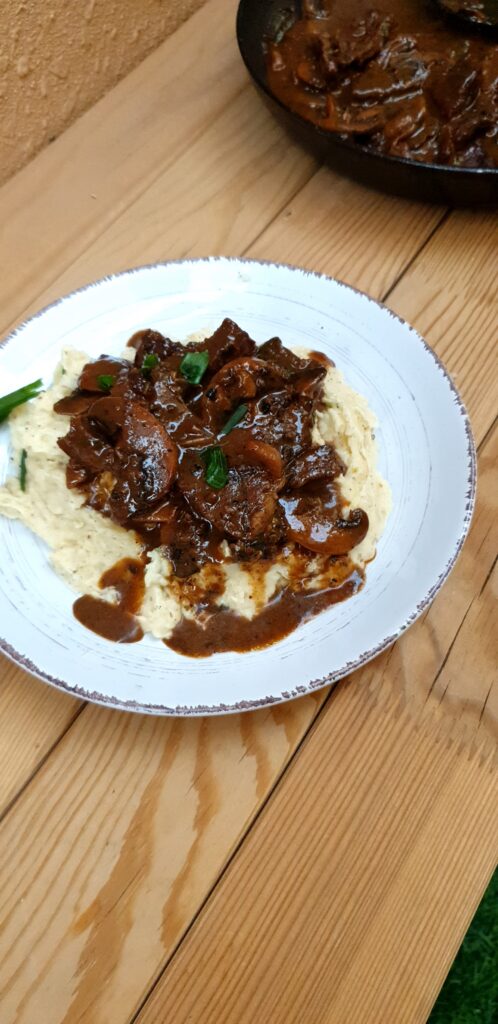 This one I sliced the steak and then cooked it in the sauce for some more time and poured it on top of mashed potato! Oh my God It was heavenly, the creamy mash with all those steaky creamy goodness!
Ingredients
500gm beef steak
1 tbsp garlic paste
1 tbsp pepper powder
1 tbsp dark soy
1 tbsp light soy
1 tbsp wrosterchire sauce
2 tbsp vinegar or lemon juice
Mix well and marinate the steak in it. Cover and keep it at least 1 hour more, the better.
For Mushroom Sauce
200 gm mushroom
2 cloves garlic
salt & pepper to taste
1 tbsp butter
1/2 cup water
1/2 cup milk
some parsley or cilantro
1 heaped tsp wheat flour
If you like it creamier instead of milk you may add cream and some cheese too!
Video!
Method
On a preheated pan spread 1 tbsp olive oil evenly and place the steak on a medium flame for 5minutes, then gently flip and cook the other side too on low flame for 5minutes.
Then cover and cook it on low flame for 5 to 8 minutes. check the doneness and cook further, Do not overcook it, it should retain its juiciness and the meat should be tender. Slice the steak thinly, so it will cook fast.
For the sauce- If you are using a grill pan better change the pan before making the sauce(it was tough handling it in the same pan) but it adds a lot of flavors!
In the pan add butter, sliced garlic and mushroom with some salt and pepper and cook until soft.
Add 1 tsp heaped wheat flour and cook for few minutes. Pour 1/2 and 1/2 milk and water in it and cook until it thickens. Pourable consistency sauce. Lastly some cilantro and switch it off.
Pour on top of the steak and devour!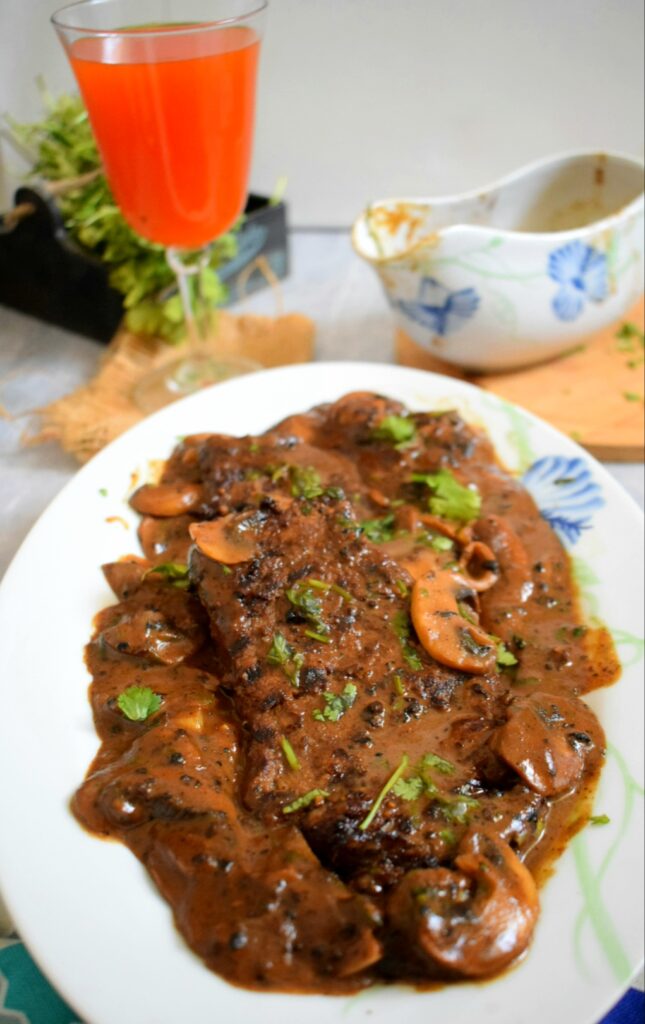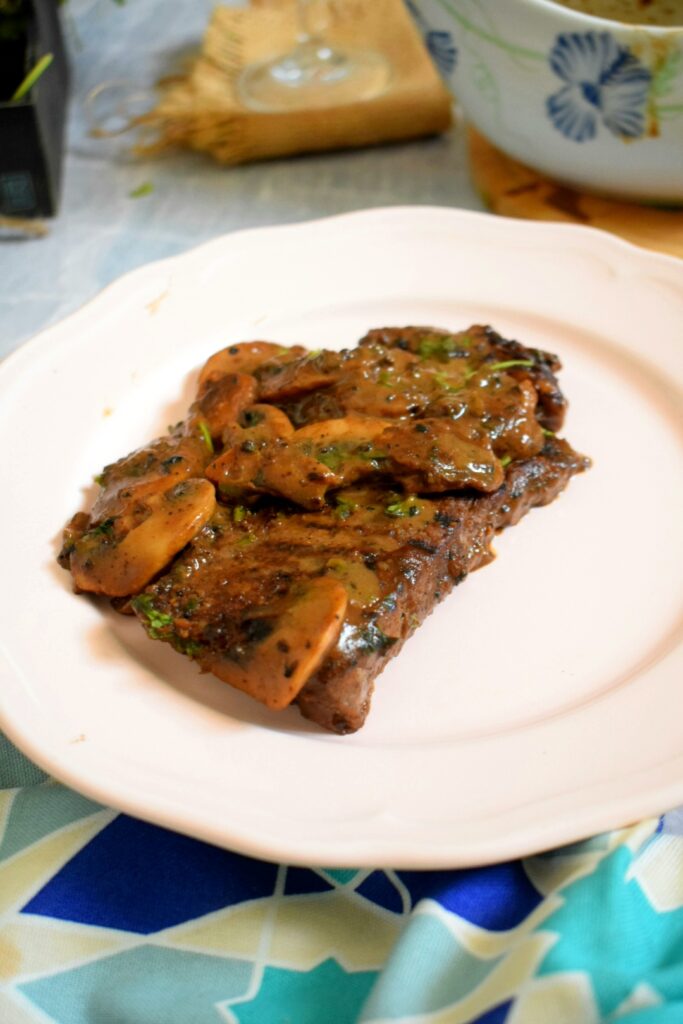 Enjoy!