A rich and delicious chocolate heaven pudding that every chocolate lover will love definitely! Sweet Oreo crumbs followed by a creamy cheese filling with crunchy bits of chocolate topped with rich chocolate ganache! Oh Yum!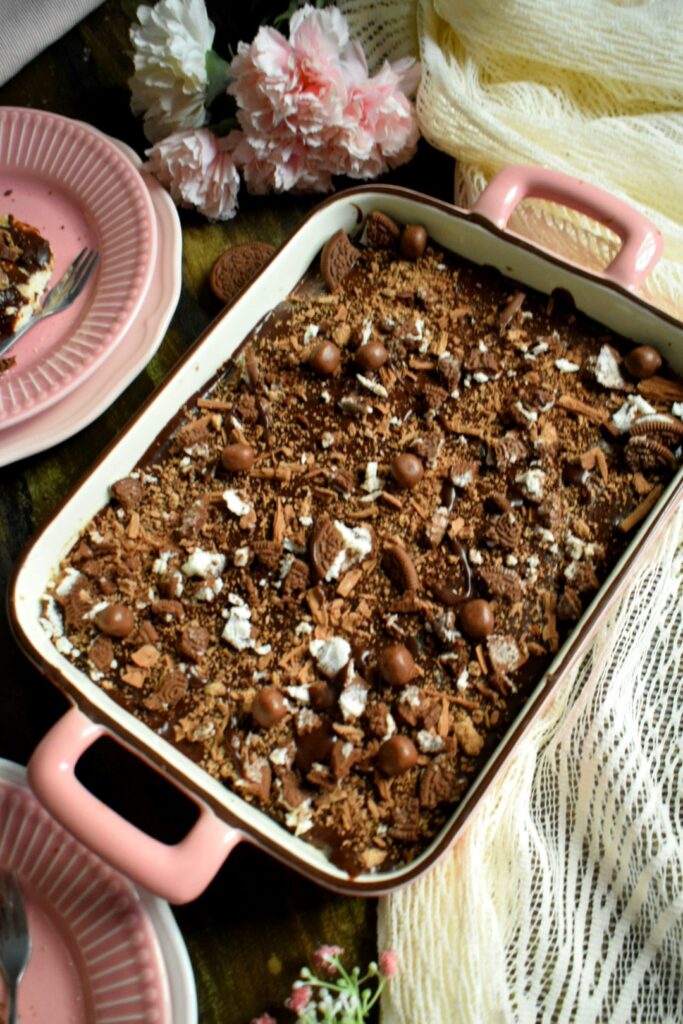 I must say this pudding is the simplest and tastiest yet, a little bit on a heavier/richer side. But come on once in a while or for a grand party one such dessert is a must, isn't it? I give the dessert a rustic look by adding some flakes and oreo as a topping! try and you will love it too as I did.
I made it for a friend's party and all liked it! So guys if you are searching for an easy and delicious chocolate pudding give this one a try! As the base is oreo and topping is rich chocolate ganache, i made the cheese filling light sweet. But you may adjust the sweetness by adding more or less condensed milk as sper your choice! Let's hop to the recipe!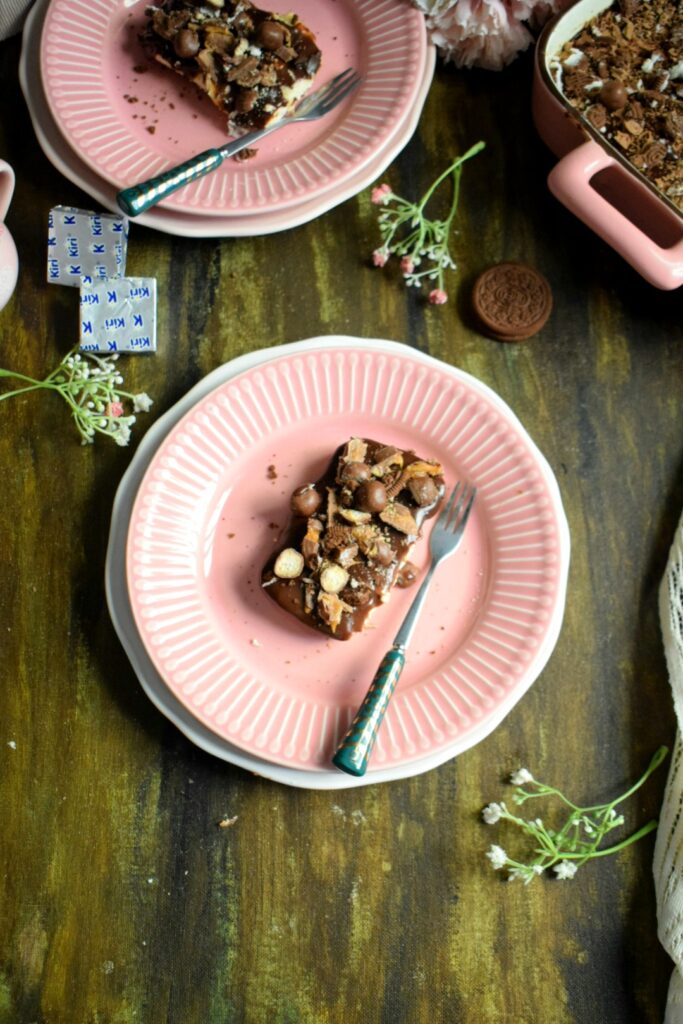 Ingredients
For Base
6 to 8 packets Oreo biscuits for crumbs
2 tbs butter
2 tbsp Nutella or any melted chocolate (If you don't want your base to be too sweet just add 3 or 4 tbsp milk to moisten the cookie crumb)
Filling
240 gm cream cheese
2 sachet whip cream powder
1/2 can condensed milk (check for the sweetness and add more if needed)
200 gm fresh cream or thick cream
Vanilla essence
1&1/2 tsp gelatine soaked in 2btsp water for 5minutes.
Any crunchy chocolates like KitKat or Maltesers
For Topping
1 cup chocolate chips
3/4th cup heavy cream or fresh cream
Some Chocolates and oreo biscuits.
Method
Crush the oreo biscuits and mix the above-mentioned ingredients to make a soft base.
In a blender add the ingredients for the filling except gelatine.
Mix the melted gelatine with the cream, add chopped chocolates and pour it on the base.
Chill it in the refrigerator until set.
Then pour the chocolate ganache on top and decorate the pudding(refer to video) As simple as that,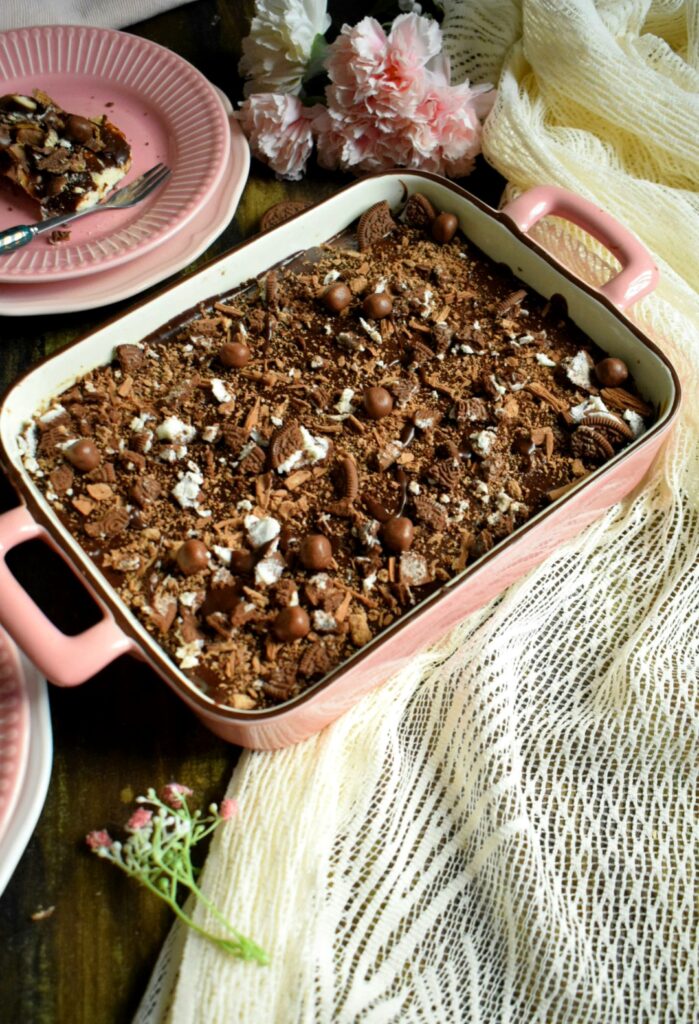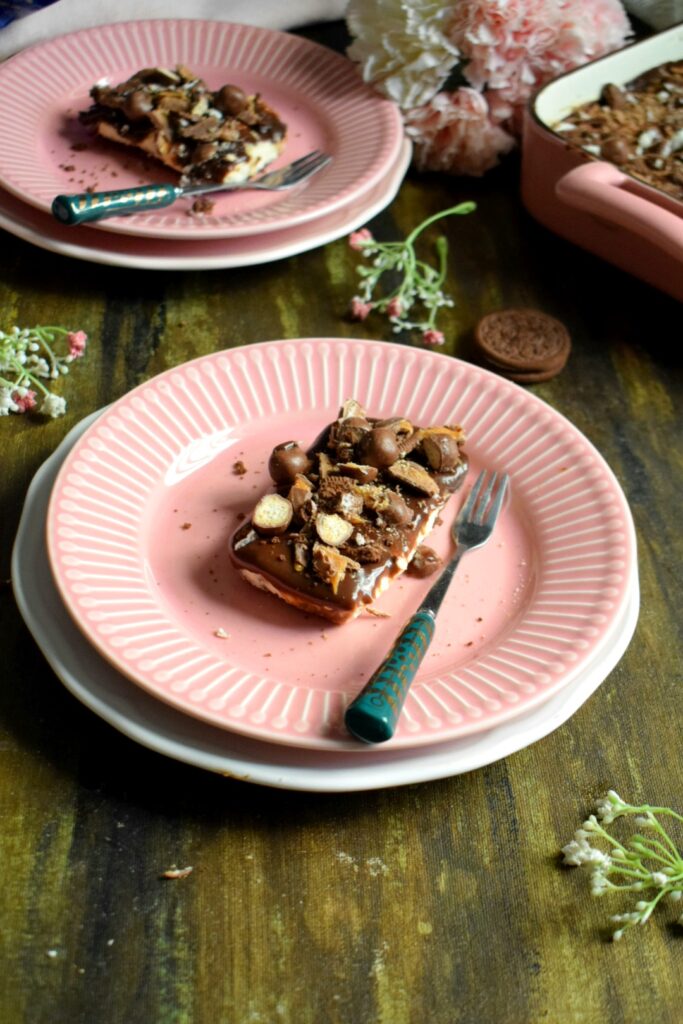 Enjoy!
Happy Cooking!