Koshari is the national dish of Egypt! Real Comfort food that is made of rice, lentil, macaroni, topped with spiced hot tomato sauce and garnished with crispy fried onions & chickpeas! A warm plate of this health packed dish will be total bliss on a cold winter day!
The climate here is freezing now and all we want is dishes like this, which makes us feel good and cozy! I love to bake bread and prepare some spicy hot dishes like this during winter!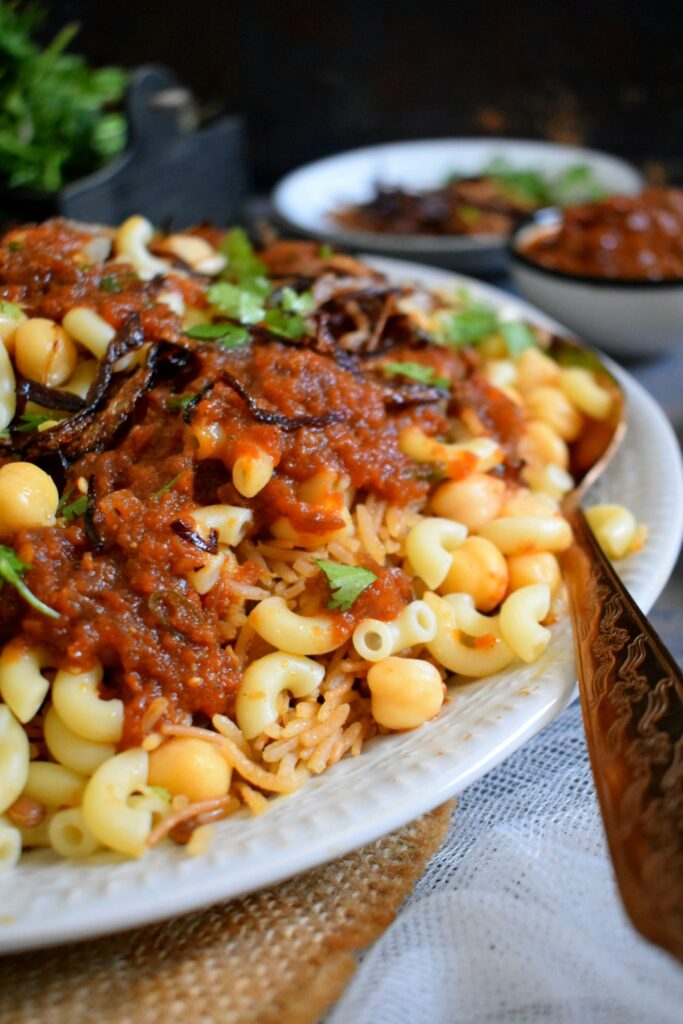 This one is a great option for those who love vegetarian dishes! If you are searching for such veg pulao this one is a must-try! This recipe is very easy to prepare, but there are some steps and preps to be made ahead like boiling macaroni, chickpeas, frying onion(crucial part) preparing sauce. So let's see how to prepare Koshari!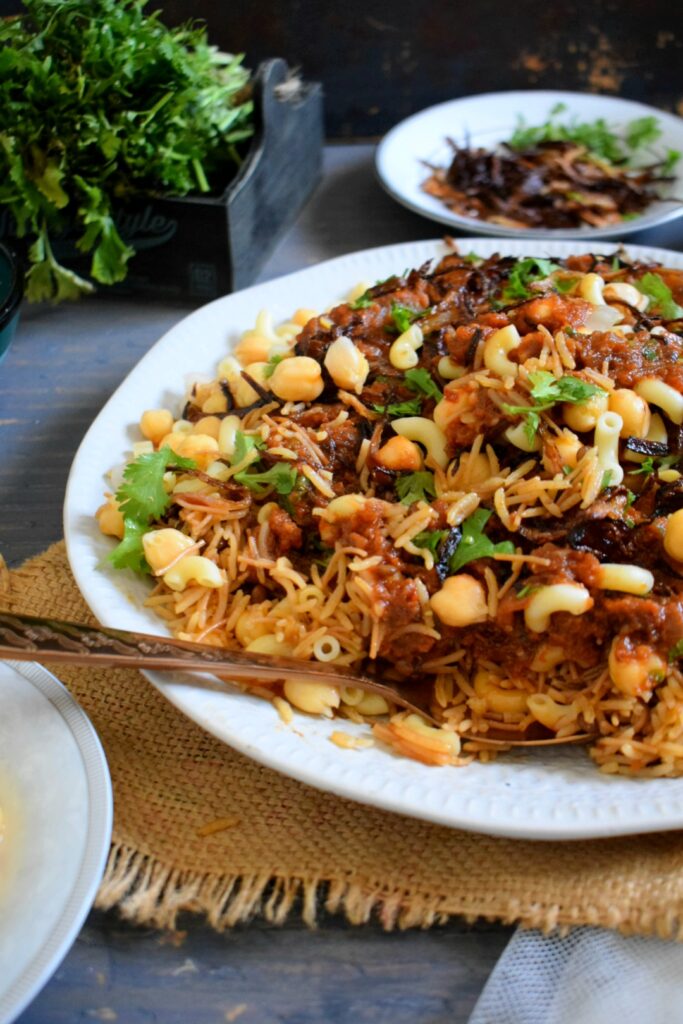 Ingredients
1 & 1/4 cup basmathi rice
1/2 cup soaked brwon lentil
1/2 cup vermicelli
1/2 cup chickpeas soaked and cooked
3/4th to 1 cup macroni
salt to taste
2 onions to fry
3 to 3 &1/2 cup boiling water
1 tsp cumin powder
1 tsp vinegar
1 tsp chilly powder(optl)
1 tsp coriander powder
For Hot Tomato sauce
3 tomatoes pureed or 1 cup tomato puree
1 tbsp garlic minced
2 to 3 green chilies chopped
small piece onion
1 tsp chilly powder
1 tsp coriander powder
1 tsp cumin powder
Some Fried onion
1 tbsp vinegar
1/2 tsp sugar to balance the flavor
pepper powder and some chilly flakes
salt to taste
some cilantro 1 cup water
For Hot & Tangy Sauce
1 clove garlic minced
1 green chilly finely chopped#
1/4tsp cumin powder
Some chilly flakes and pepper
1 tbsp vinegar
some lemon juice
1/4 cup water Mix all
Method
In a pan pour some oil and deep fry the onion to a golden crisp.
Boil Macaroni and keep aside.
Remove excess oil and we are preparing the sauce in the same pan.
Add garlic, green chilies and onion cook until soft.
Then add pureed tomato, spices, salt and some fried onions mix well and cook.
Add water, cover and slow cook on low flame for 10 to 15 minutes.
Then add the vinegar and sugar along with some cilantro and switch off the flame! (refer video)
On a large pot pour some preserved oil, roast the vermicelli, add the washed rice and roast it for few more minutes.
Add lentil and salt with some cumin and coriander powder pour boiling water and cook until done!
For assembling Refer video!
Video!