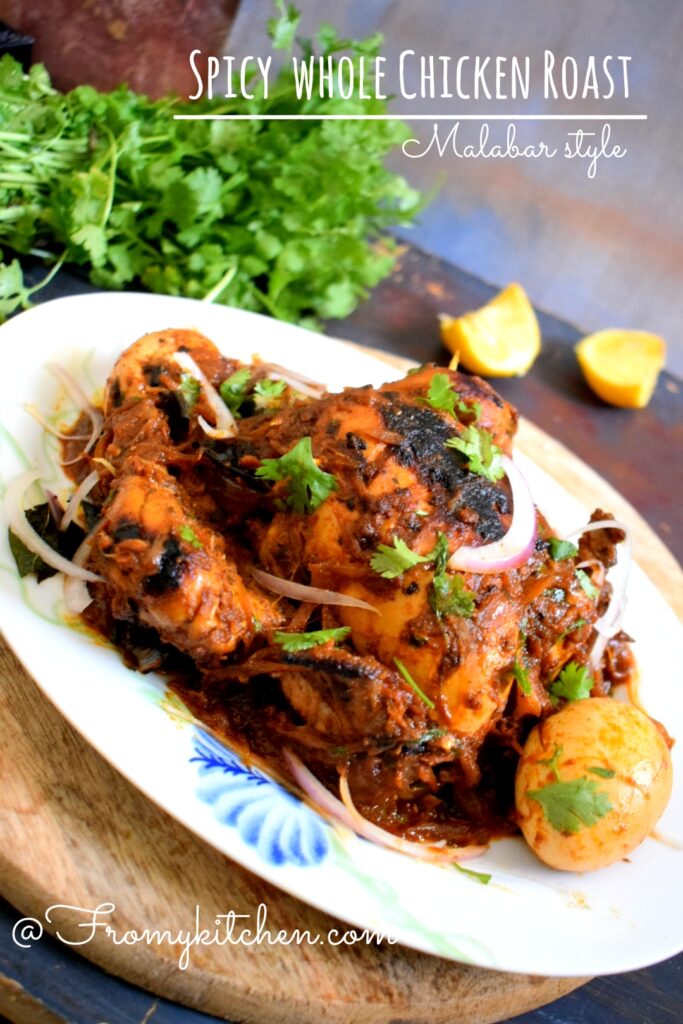 Spicy and flavorful slow-cooked whole chicken roast! The chicken is well marinated in a spicy tangy marinade and slow-cooked in an onion gravy which makes the dish extra delish! Believe me it was finger-licking good!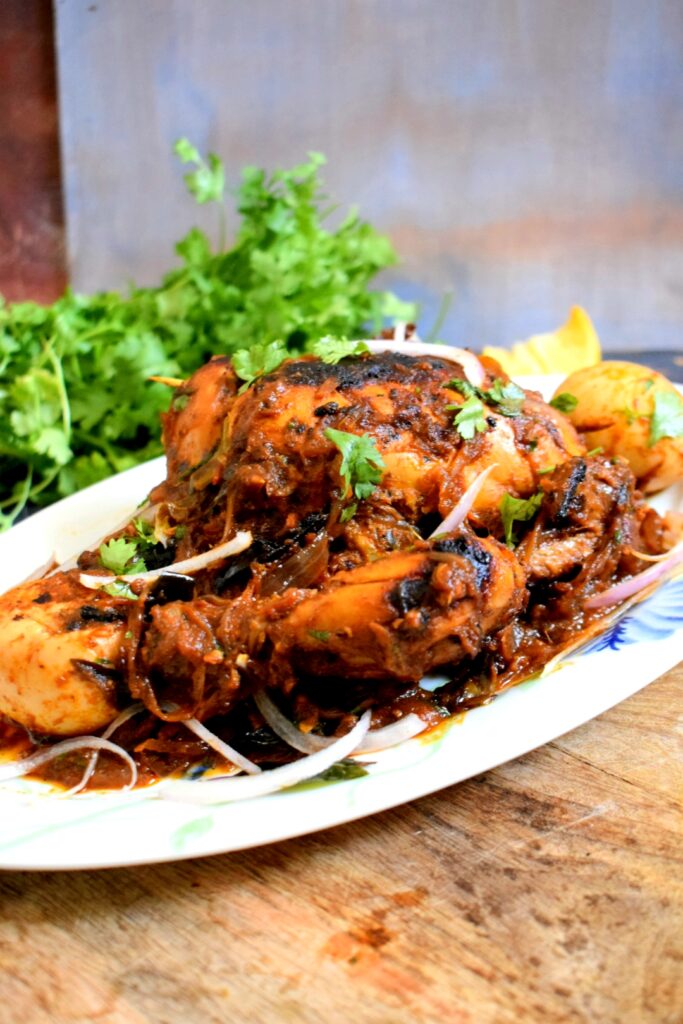 You can cook it in a pressure cooker too, but this method is the best. Try to use small chicken for this as it makes the chicken tender, juicy and takes less time to cook! For me, it took almost 40 minutes by flipping in between!
This is like a spicy Malabar style chicken roast that you will fall in love with! My mom used to make a stuffed chicken curry which is one of my favorites, if you guys need the recipe do lemme know!
INGREDIENTS
700 to 800 gm whole chicken
3 green chilies
4 to 5 cloves garlic
small piece ginger
some curry leaves
1 & 1/2 tbsp chilly powder
1tsp coriander powder
3/4tth tsp garam masala
few pepper corns
1 tsp fennel seeds
Salt to taste
lemon juice
1 tbsp oil
2 to 3 tbsp water
For Gravy
1 large onion or 2
1 large tomato
2 cloves garlic
small piece ginger
Curry leaves
2 slitted green chilies and 3 whole
salt to taste
1 tbsp chilly powder
Marinated spices+ 1/4 cup water (refer video)
2 boiled eggs
Method
Clean and drain the whole chicken
In a blender jar add all the ingredients listed under marination and grind it to a smooth paste.
Put slits on the chicken and marinate the whole chicken evenly. Let it rest in the refrigerator for at least 2 hours.
In a large pan pour, 2 tbsp oil splutter freshly pounded ginger, garlic, green chilies and curry leaves, cook it for few seconds and then add the sliced onion with salt. Saute and add tomato cook for 2 to 3 minutes.
Add chilly powder and the chicken marinade with 1/cup water(refer video)
Cover and cook it for 5 minutes! No need to cook it until soft and translucent as we are cooking chicken in this gravy.
Make space in the center of the pan and place the marinated chicken in it. Cook it on low flame for 15 minutes(it will release moisture)
After 15 minutes gently flip it and cook for another 15minutes.
Stir the gravy in-between and keep an eye on it as it dries out and burns at the bottom.
After 15 minutes check on the doneness and cook accordingly(If you feel like the gravy is getting dry pour some water in between.
When the chicken is done on a wide pan pour 2 tbsp oil splutter curry leaves and shallow fry the chicken by flipping each side.
Add the boiled chicken to the gravy and coat it with the masala. Pour some hot water if it's too thick and pour on top and sides of the chicken!
Add some coriander leaves and switch off the flame!
Refer video if you have any confusion!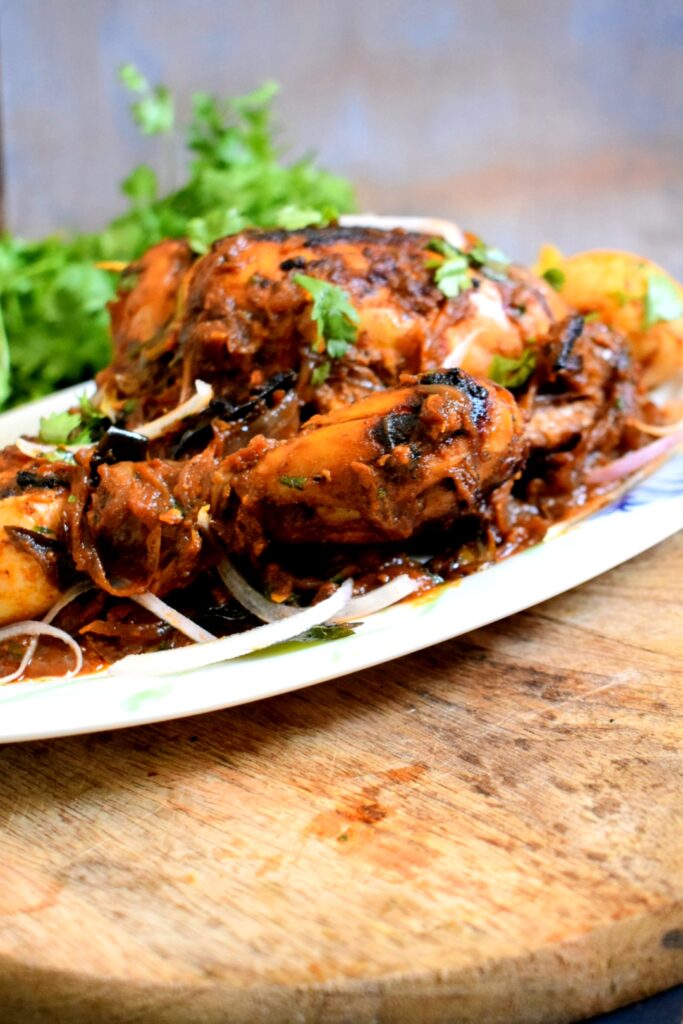 Enjoy!