Fatteh means "crumbs" which is a delicious combination of crispy pita bread topped with aubergine and flavorful minced meat with a creamy yogurt tahini sauce! For me, it is literally an Arabic Chaat with a bed of crispy pita, mince and yogurt mix! Believe me, it tasted really awesome! We relished every bit of it!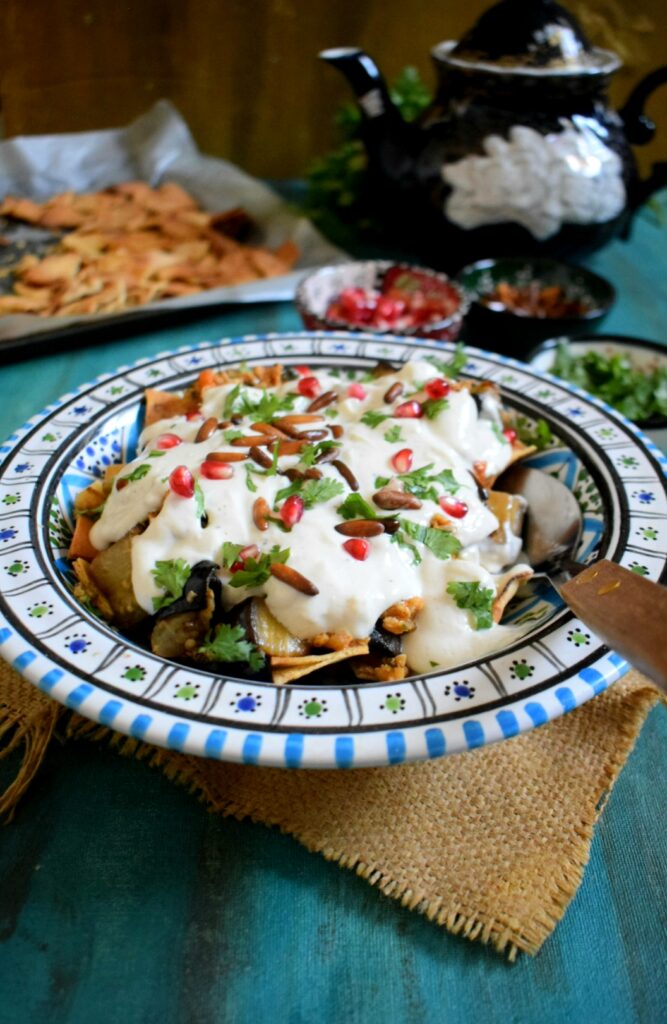 The way of preparing it differs from place to place like Syria, Egypt, Palestine! I opted for this one because I love brinjal and minced meat! The most commonly known fatteh salad is Labenese Fatteh Hummus, which is with chickpea, shredded chicken with mildly Mediterranean spices and yogurt tahini sauce! Easier one too!
Here i found it more flavorful because of the spicy tangy minced meat filling used here! I know that brinjal will not be a favorite for many, so they may replace it with potato or boiled chickpea and it will be more yum!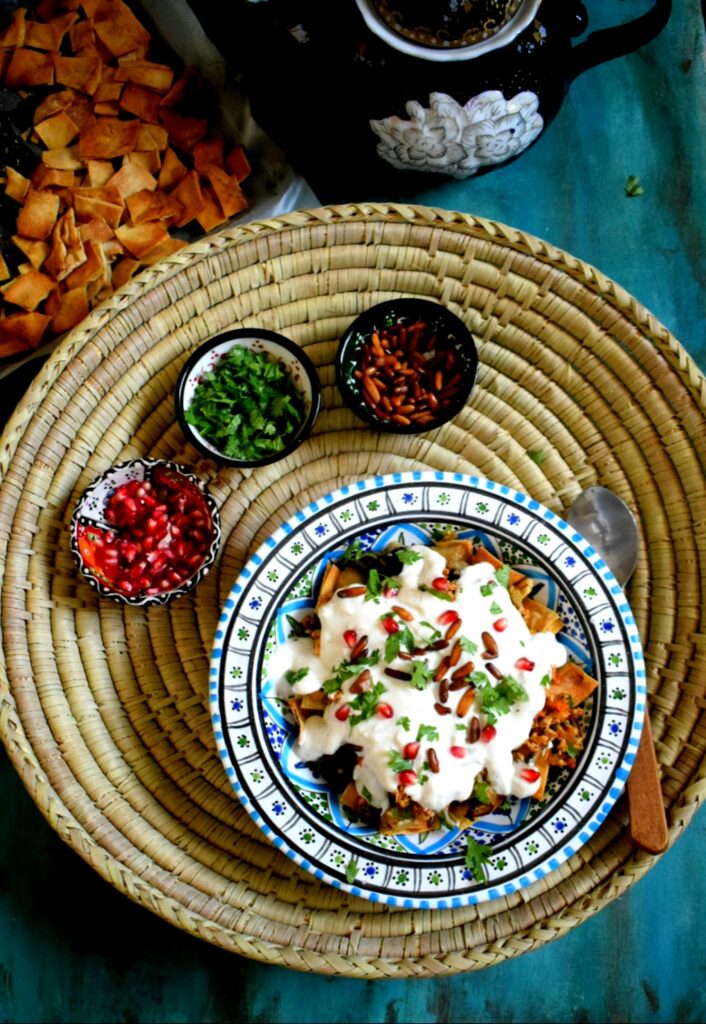 As I'm on a clean and healthy eating side nowadays, i opted a healthy way of cooking it, by baking the pita instead of frying it, again shallow fried the aubergine and not deep-fried it! If you are skipping carbs, assemble it with mince and yogurt mix.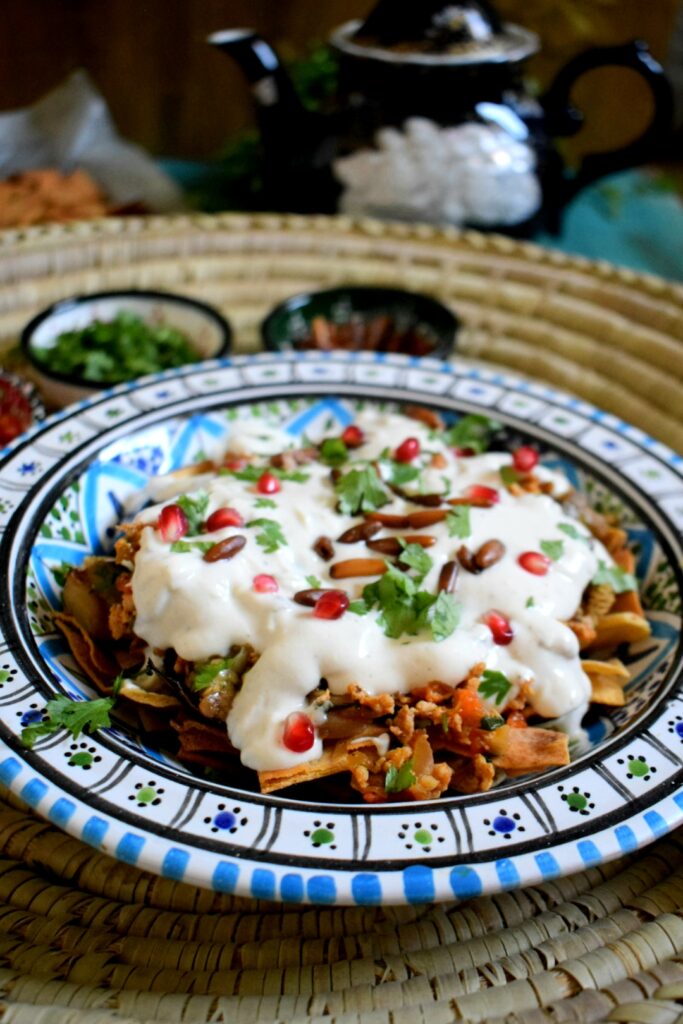 Ingredients
300 gm minced meat or boneless chicken grind to mince
1 large onion finely chopped
2 cloves garlic minced
2 green chilies
1 small tomato
A handfull of parsley
3/4th cumin powder
1/2 tsp chilly powder
1/2 of a lemon juice
Salt to taste
1 tbsp olive oil
Pepper to taste
For Yogurt sauce
1 cup yogurt
3 tbsp tahini sauce
1 clove garlic minced
lemon juice
salt and pepper to taste
Mix everything very well and your cream yogurt tahini sauce is ready
Other ingredients
1 aubergine or brinjal or you may use potato or boiled chickpea
3 leftover pita bread
Some pomegranate
fried pine nuts od almonds
Method
In a pan pour olive oil and cook the onion and garlic along with some salt until soft. Add green chilies too.
Then add the minced chicken, break and cook it, add enough salt needed for the mince.
Then add the cumin powder and chilly powder mix and cook it for 5 minutes.
Now add the tomato spread it evenly and close it with a lid, Cook it until tomatoes are mushy and chicken is done.
Add the parsley mix and cook it.
Lastly squeeze in some lemon juice and some pepper and the filling is ready.
Bake the cubed pita bread on a 200 degrees preheated oven for 10 to 12 minutes with some olive oil.
For Assembling Check the video
Video!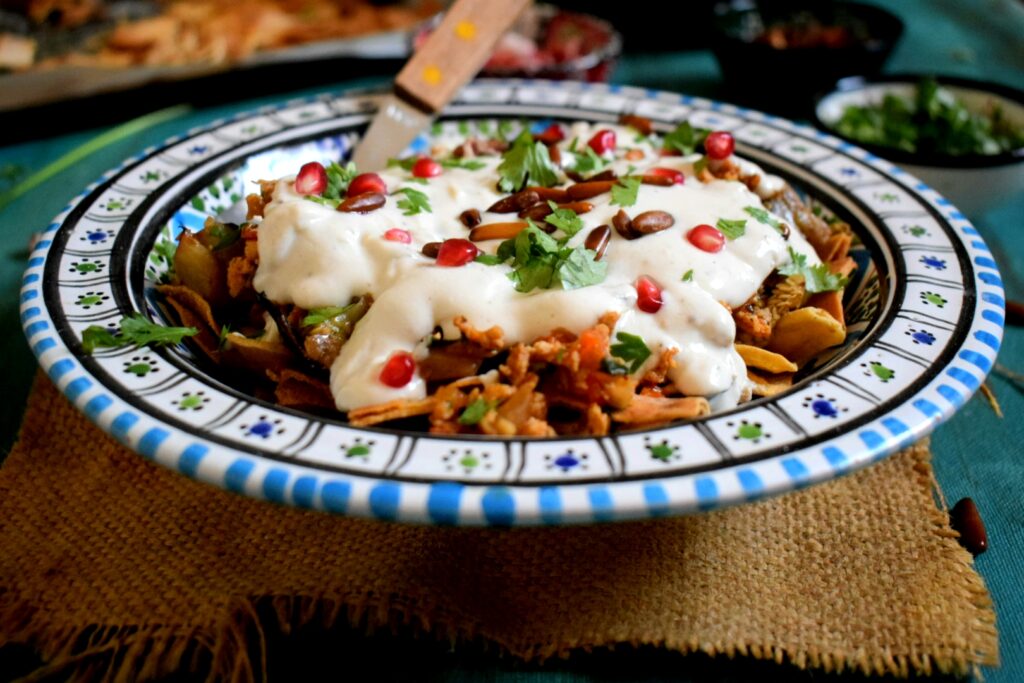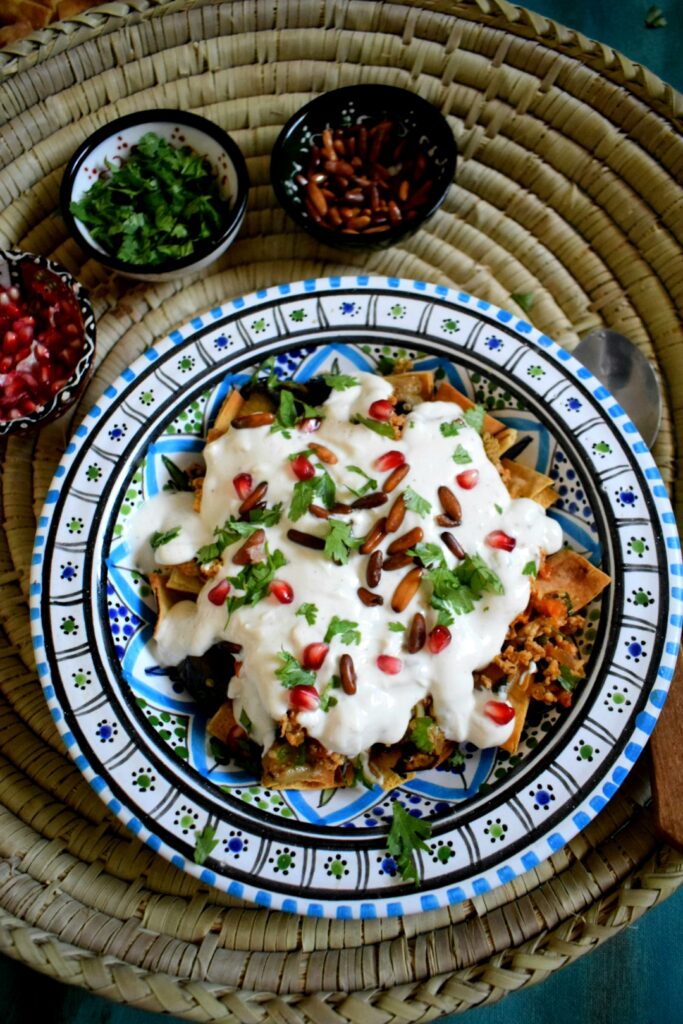 Happy Cooking!