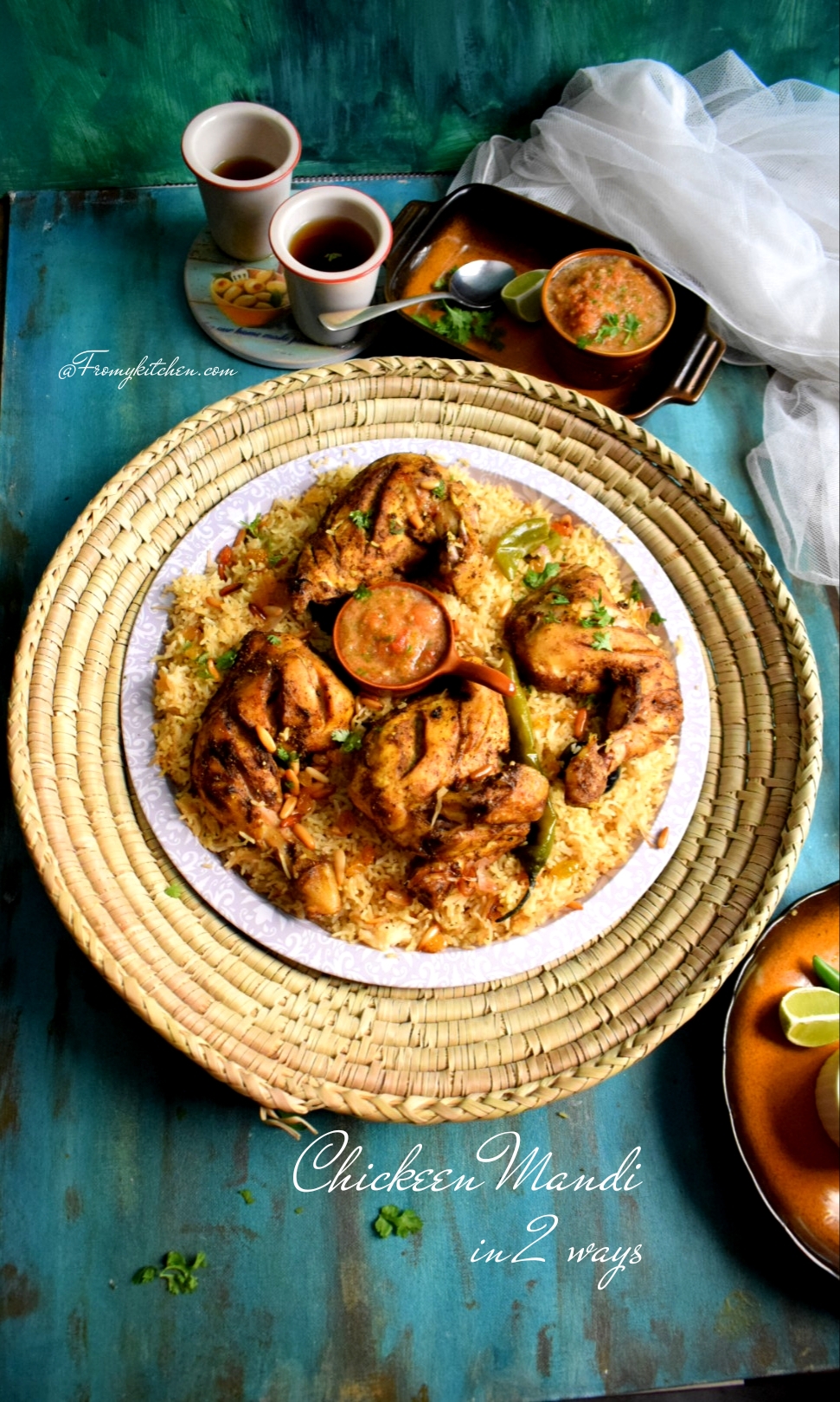 Mandi is a traditional dish that originated in Yemen but slowly spread through the Arabic peninsula! A simple yet most flavorful Middle eastern rice dish that has a smokiness in it! It is made with rice, lamb or chicken, and a special Arabic spice blend with very simple steps!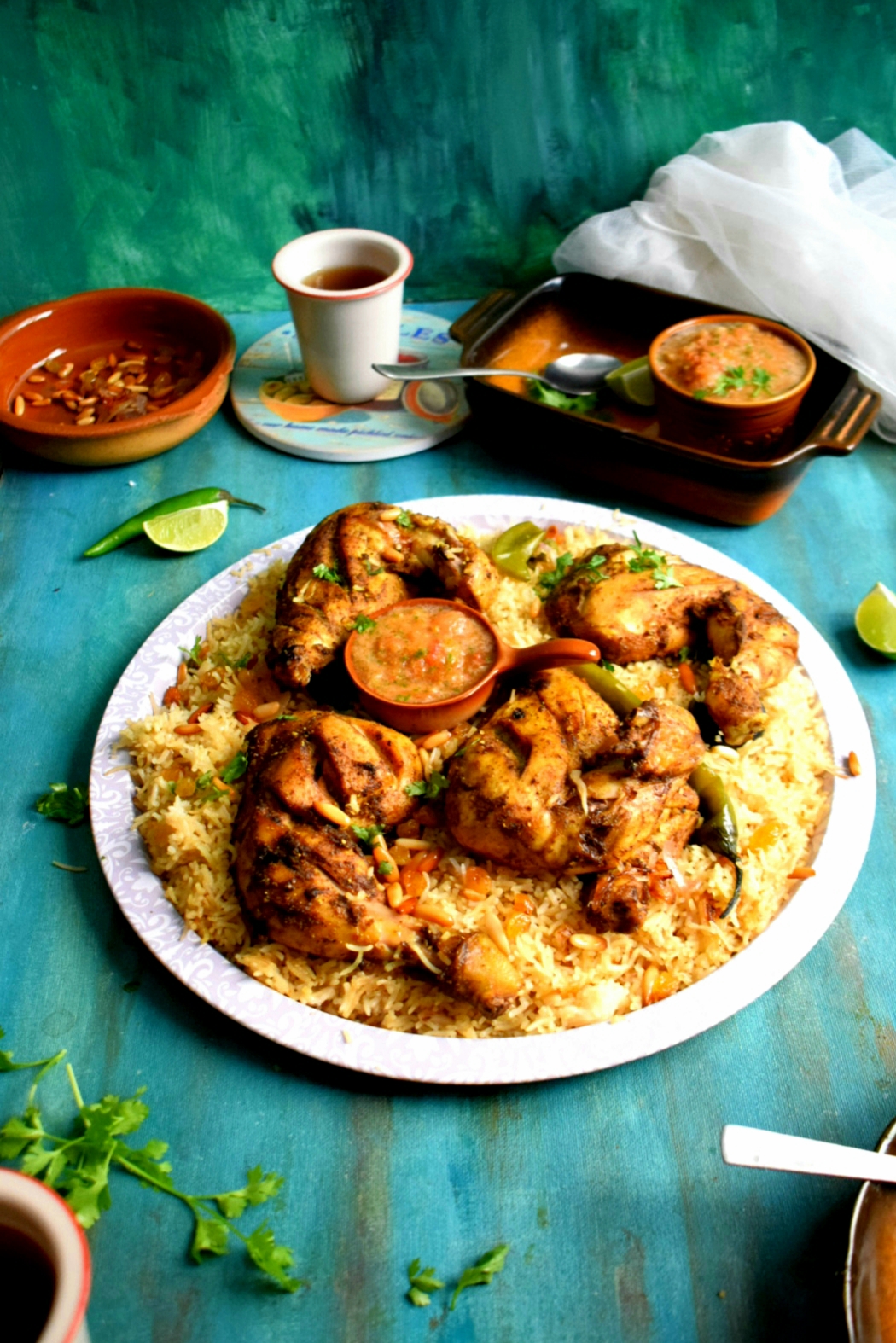 The word "Mandi" comes from the Arabic word nada, meaning "dew" which referthe moist texture of the meat. Mandi is traditionally cooked in a special oven known as tandoor which is usually a hole dug in the ground and lined with clay and then the rice pot is placed inside the tandoor in which the marinated chicken is placed on top of the rice on a wire rack. Then it's closed and cooked with charcoal! Nowadays everyone is making Mandi in their home with their own comfort!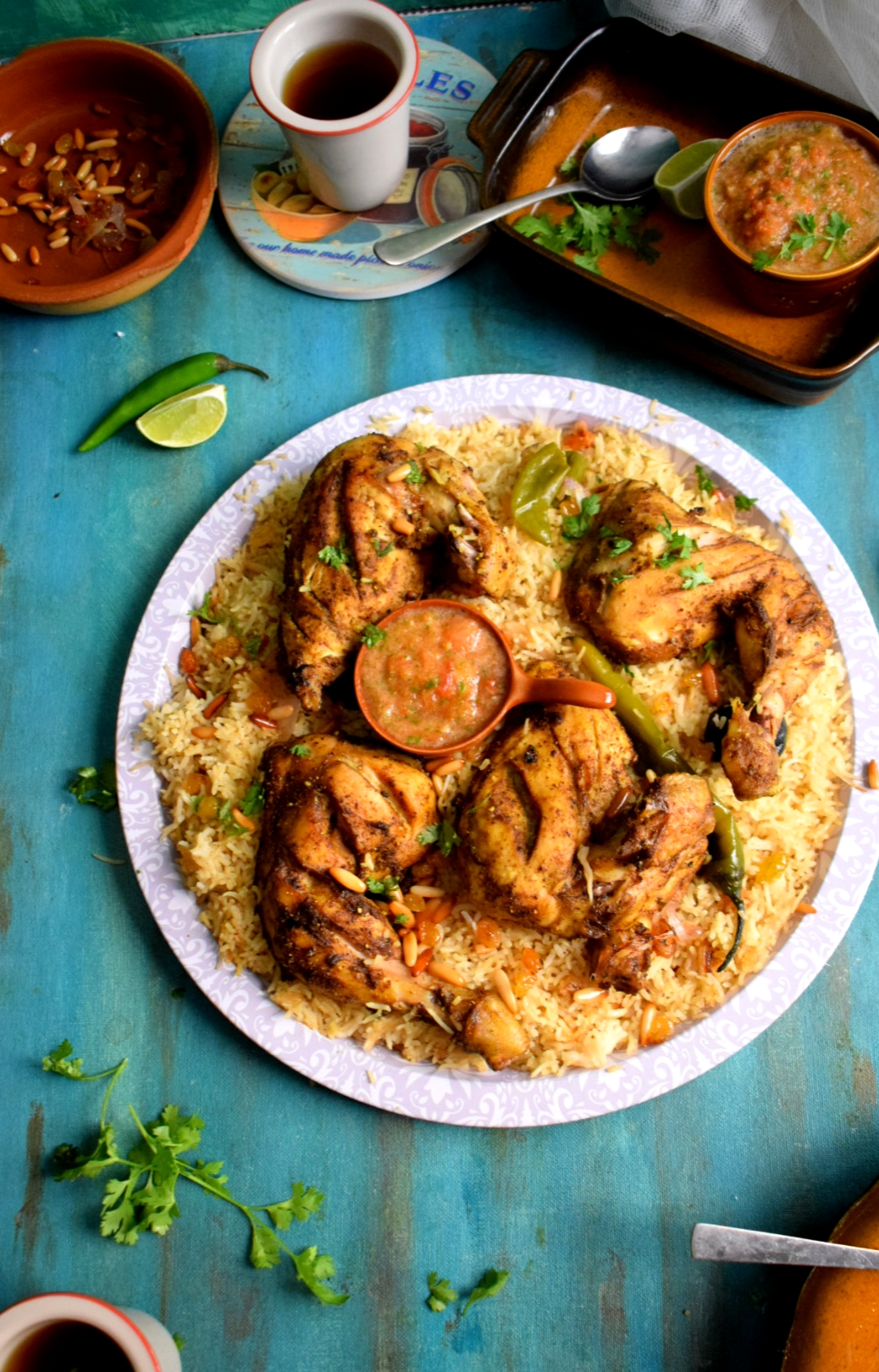 Oven plays an important role to make this smoky mandi in our home, isn't it? What if we do not have oven at our place! The whole idea of this dish is to create a smoky flavor by baking the chicken on top of the rice in which juices and flavors from the meat are trapped inside the rice which makes it the most flavorful! So here i tried the same way by steaming the chicken, by trapping all the drippings to the rice boiling water and believe me it turned out lip-smackingly delicious! So don't worry if you do not have an oven or tandoor at your home you still can make it without all these fancy and traditional gadgets!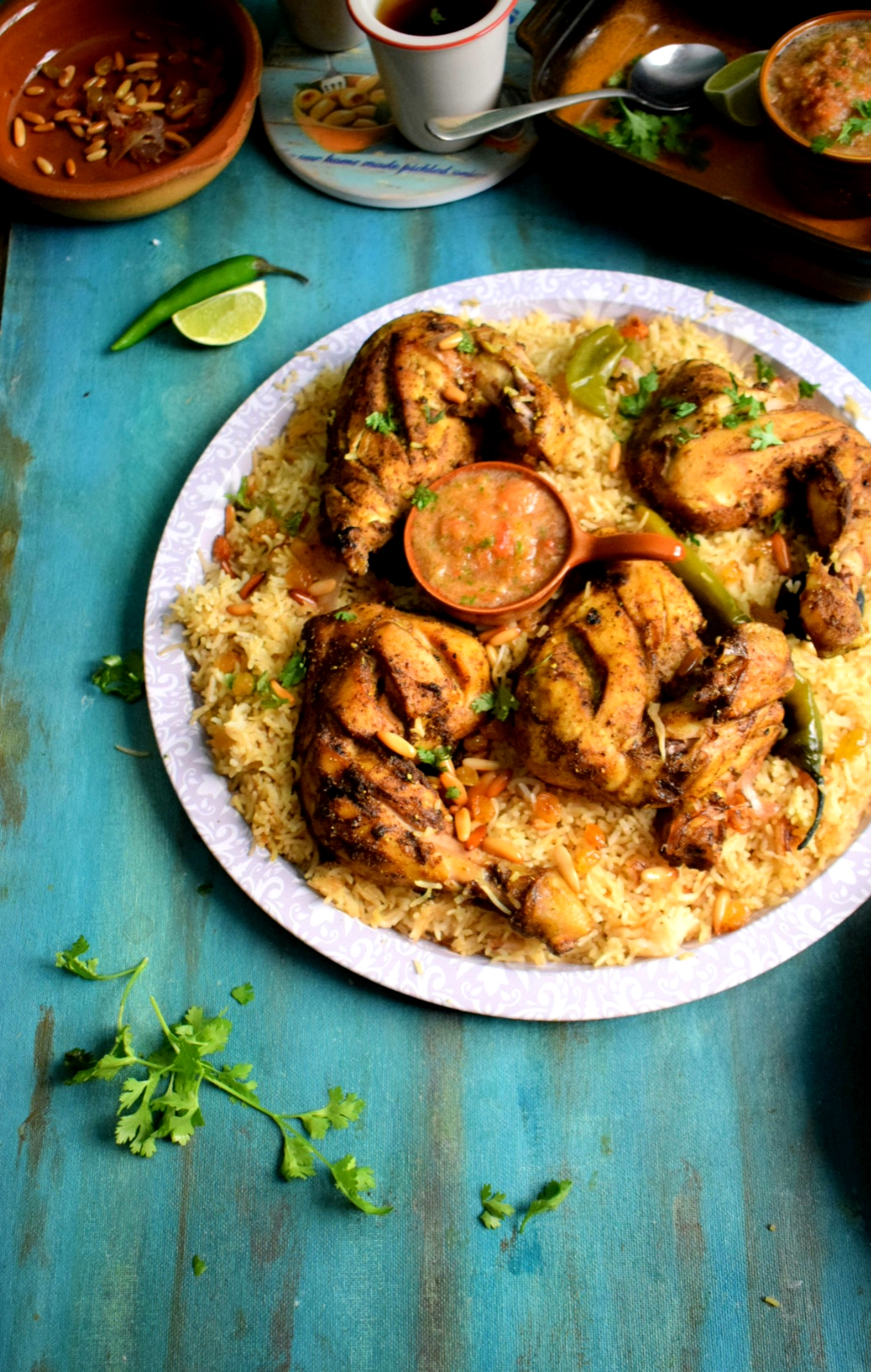 I'm searching and researching for a perfect mandi recipe for a long time and finally, I got the right one. This recipe is inspired by Saudi Food by Eman! I have sent it to one of my friends and she said that it has that authentic Mandi flavor which makes me so happy! My family too loved it! I hope you all will love it too! In the video, I've shown 2 different ways, so mentioning the ingredients together (I've divided it to show you guys the 2 different methods)
Ingredients
1 whole chicken cut into 4 or 2
2 tbsp Arabic Spice blend(link)
1 tbsp pepper powder
1/4tsp turmeric powder
1 tbsp oil
salt to taste
Mix all the ingredients and marinate the chicken. for at least 2hours, More the better
For Rice
4 cups Basmathi or Mandi Rice (soaked 1/2 an hour)
3 medium-sized onions
4 big chilies
6 to  8 cloves
1 large stick cinnamon
8 pods cardamom
5 to 6 cloves garlic (opt)
2 tsp Arabic Spice Mix
Olive oil
Salt to taste
7 cups hot water
Some pine nuts and raisins
Dried loomi 3 or 4
Method
Keep aside the marinated chicken
In a pan pour olive oil or any refined oil fry the raisins and pine nuts and transfer it to a plate
In it add the sliced onion and cook it until slightly brown.
Add whole spices, chilies, garlic and loomi along with the Arabic spice mix.
If you are steaming add half of the water to pan place a colander inside the pan then put marinated chicken in it and cover it tightly with a foil and then with the lid, steam it for 3ominutes. (refer video)
After 30 minutes take out the colander and add rest of the water and let it boil.
Then add the drained rice and cook it.
After steaming rub some more Arabic spice mix and salt on the chicken and grill it on a pan or bake it in the oven!
When it's done put the chicken on top of it seal tightly and on low flame for 10 minutes.
For Baking cover, the pan with 2 layers of foil rich it with a skewer and place the marinated chicken on it. Bake it at 200 or 220 degrees preheated oven for 30 minutes(for 2 cups you will need 4 &1/2 cups water)
Video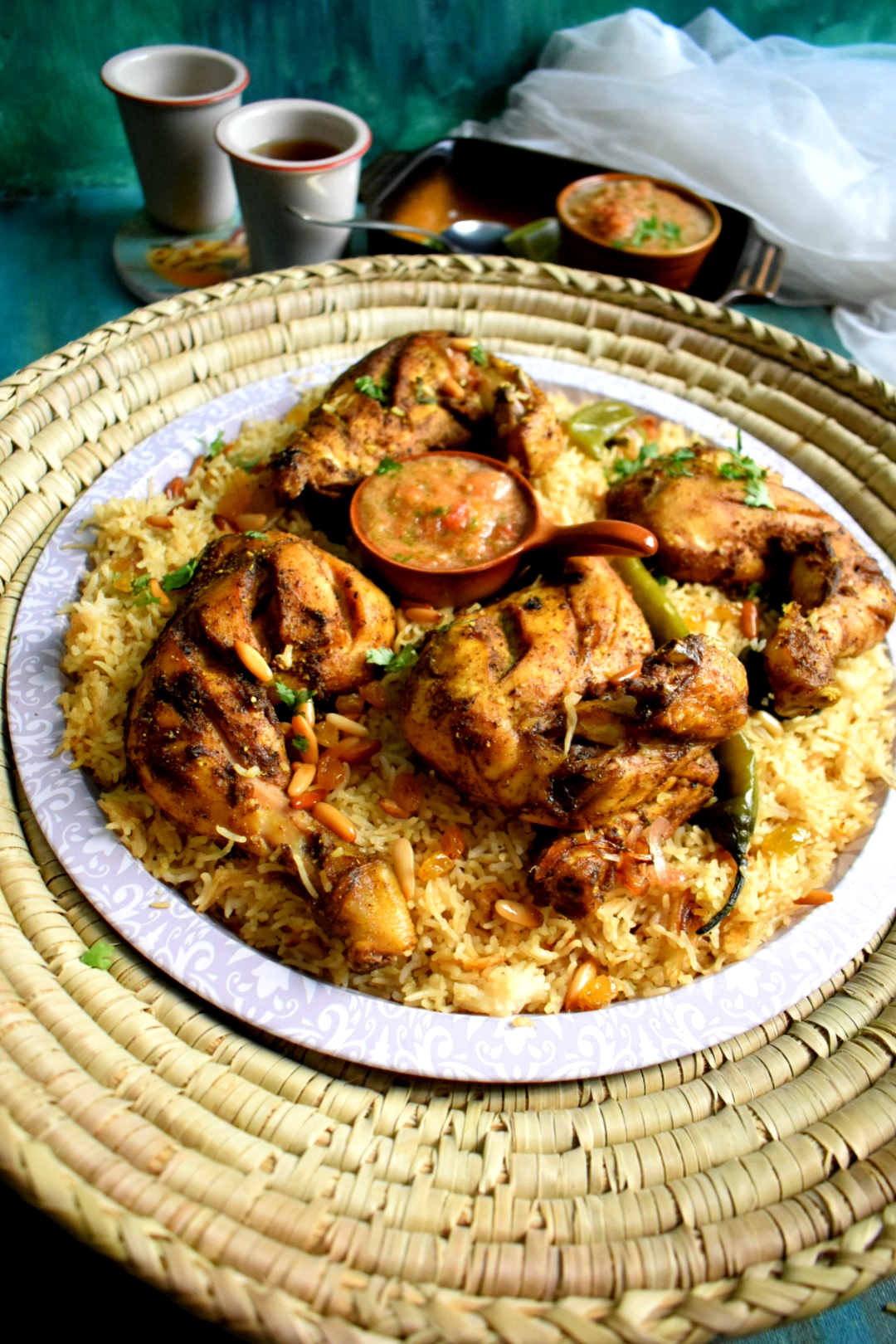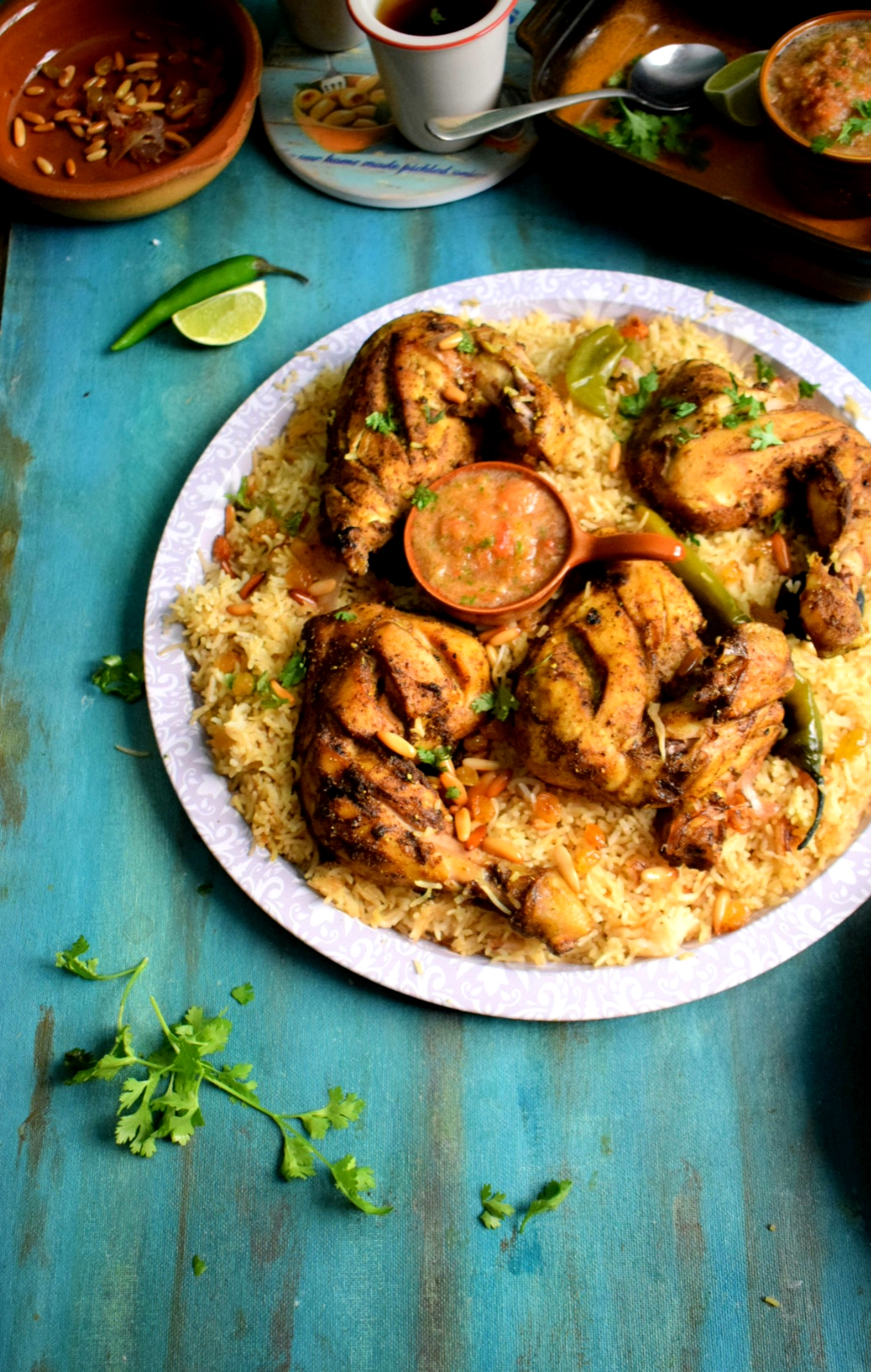 Happy Cooking!