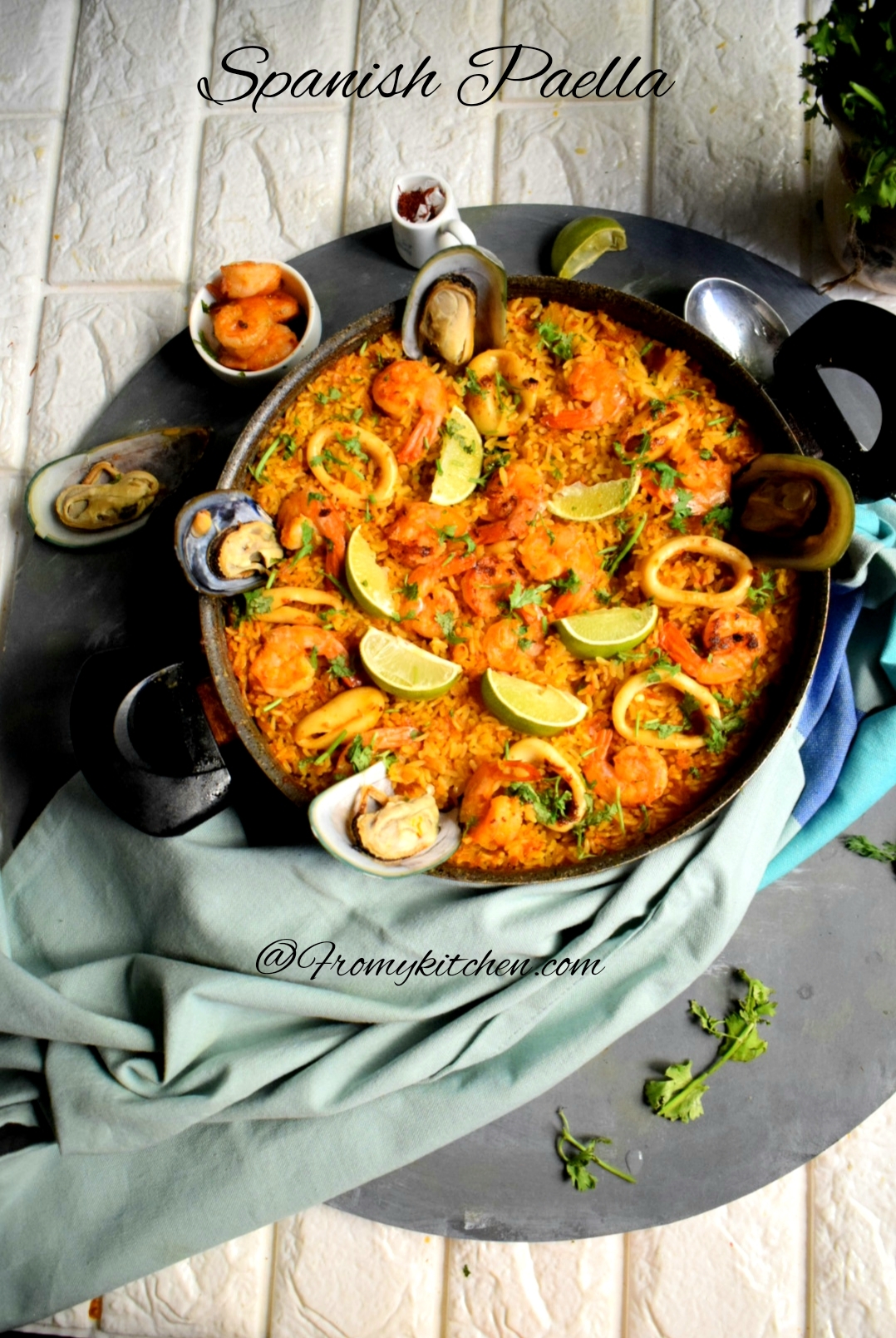 Paella is one of the well known and the national dish of Spain! Paella takes its name from the wide, shallow pan used to cook the dish on an open fire which means "frying pan" Yes it's cooked in a wide pan with very simple and basic ingredients packed full of flavors! This seafood paella is something different and a must-try recipe for seafood lovers! The key flavoring ingredient here is saffron!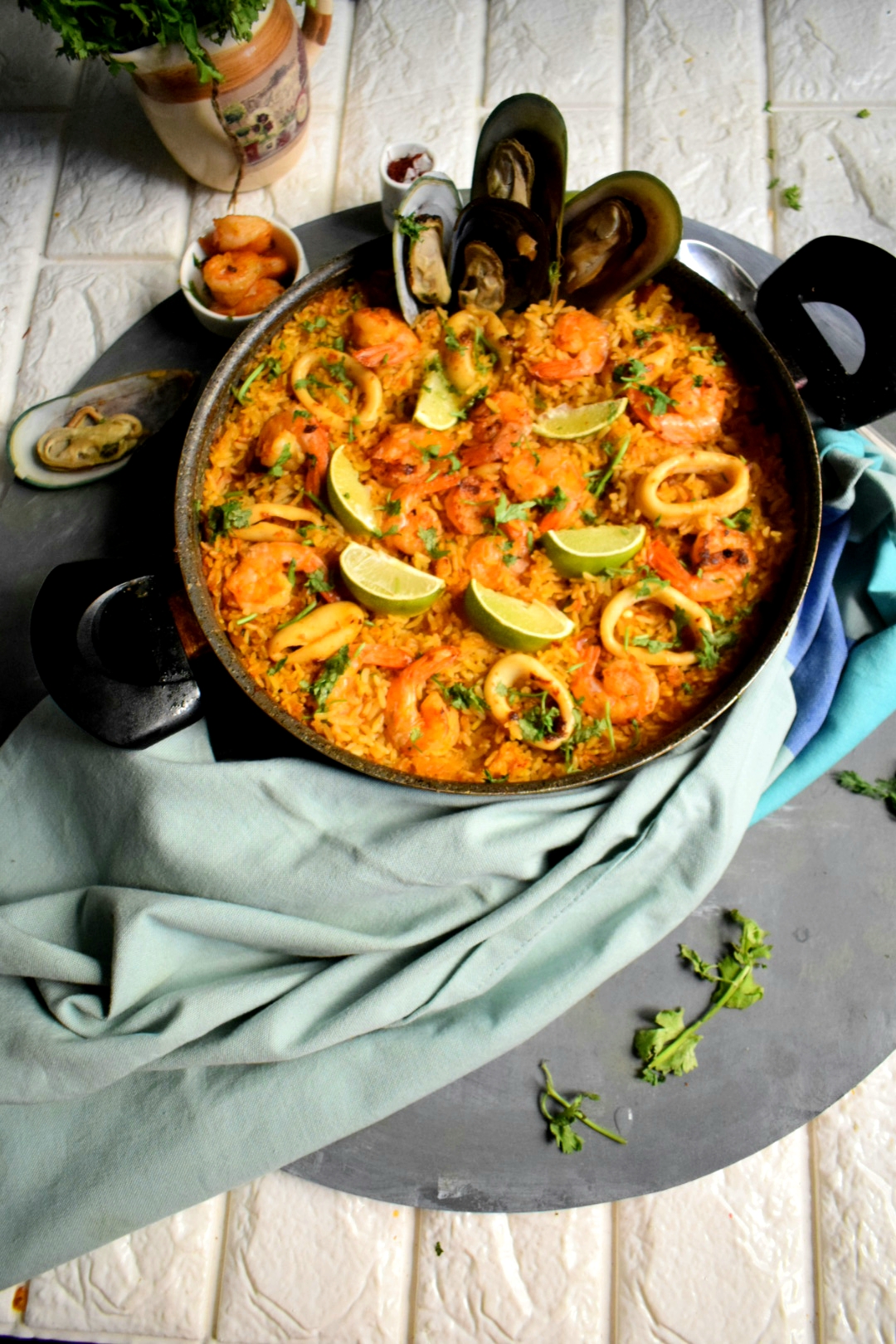 One of my IG followers was requesting this recipe for a long time and finally, I gained some courage to make this! It's not that the dish is so complicated or something like that, but my fear was that what if my family doesn't like it? hehe! But I made up my mind and tried it as it is seafood and mainly here I was using prawns (hubby's fav) which gave me some courage and I made it! And believe me, it tasted real yum with all those seafood flavors!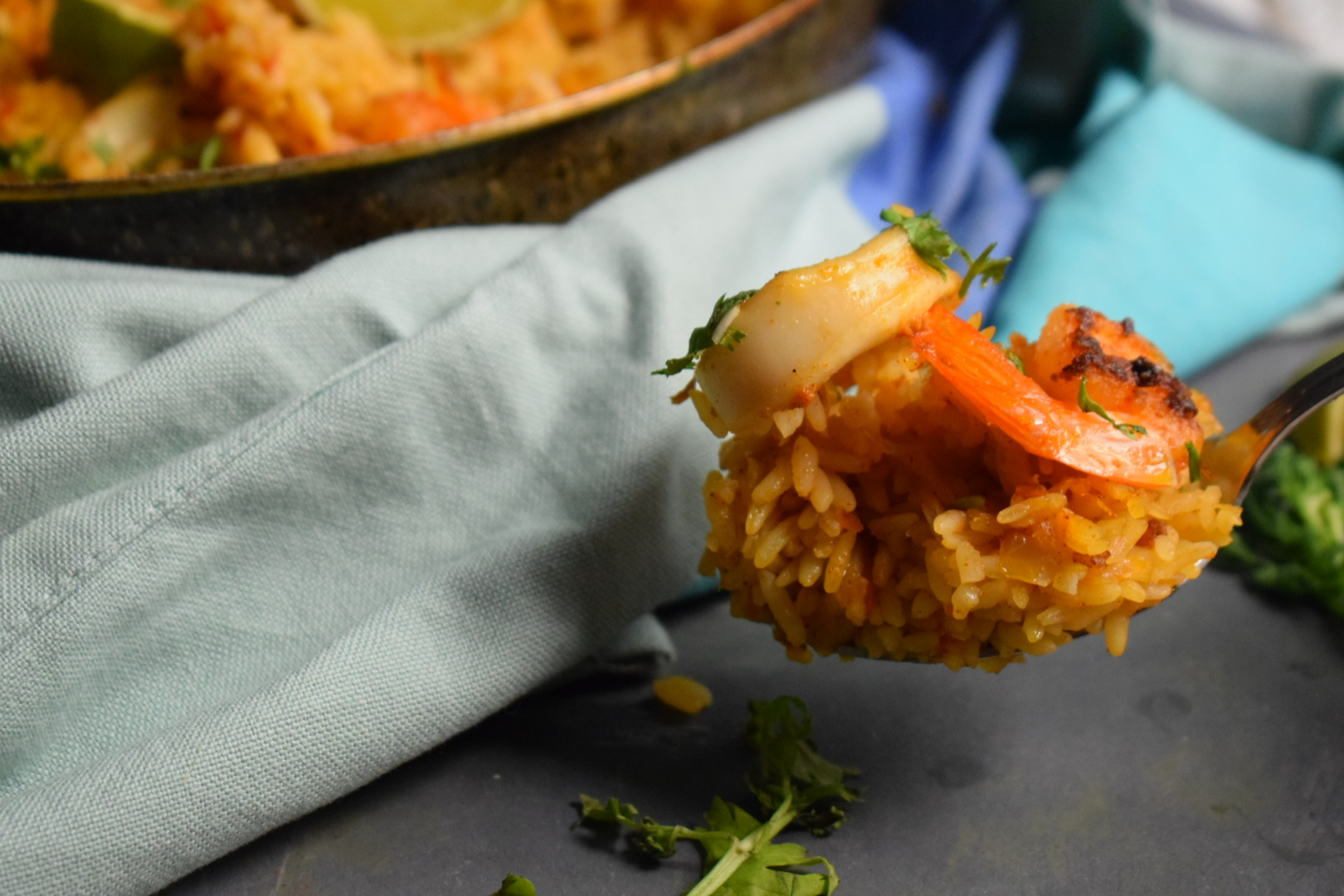 Here I made slight changes from the authentic version, as they were adding the raw prawns and mussels after the rice is half cooked! You will understand that while going through the recipe, also they are using special rice known as Bambi rice which is a small grain that I could not find here!! So I used ponni rice ((a kind of parboiled rice)and I guess I did justice to the dish! We enjoyed it a lot!  Hope you ll will love it too!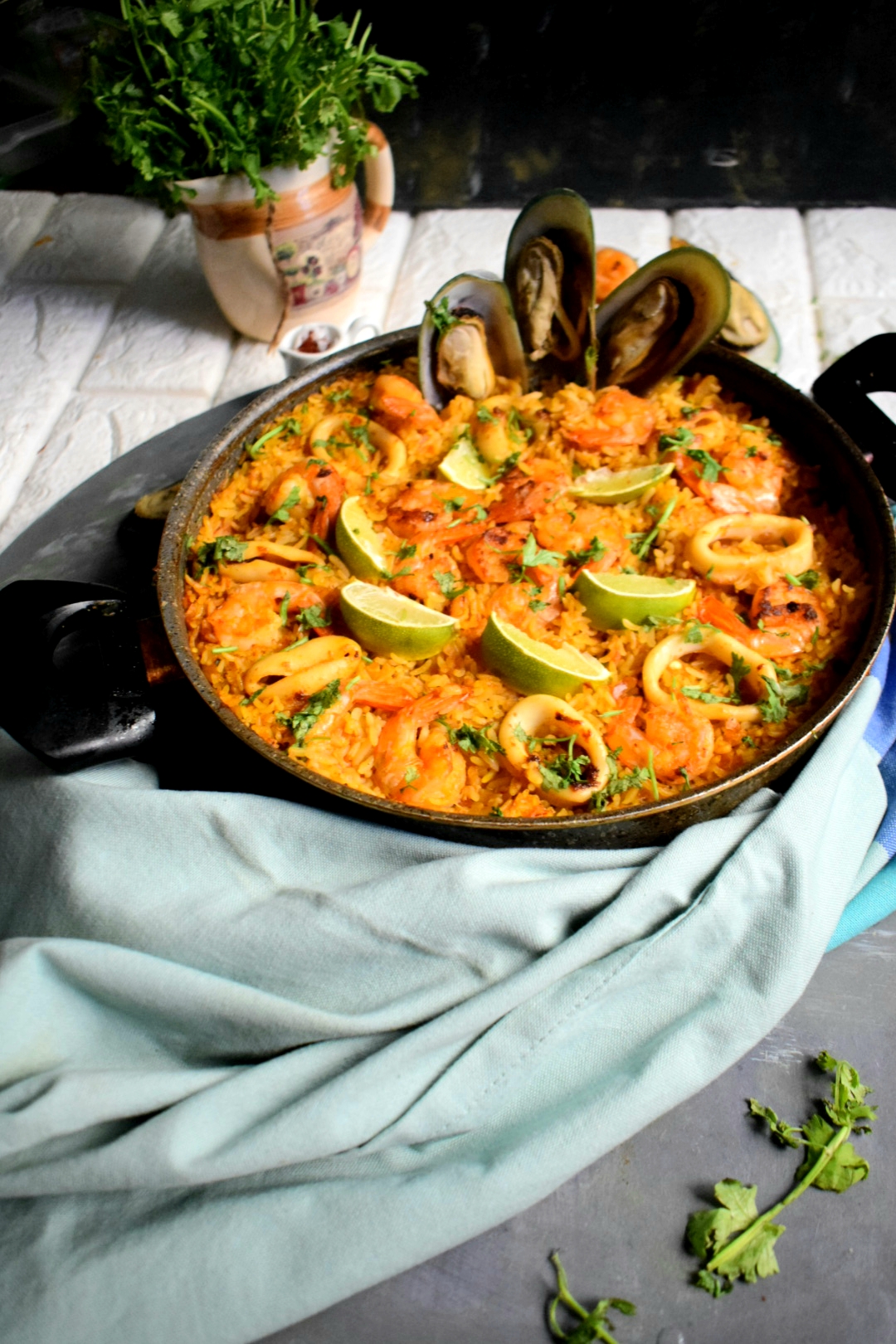 I've browsed many recipes and now here I'm coming with my own version of it! Nadhiya Salman this one is especially for you!
Ingredients
400 gm prawns
400 gm squid
400 gm mussels(opt)
chilly flakes to taste
salt
a little bit of chilly powder
1 large onion
1  large tomato
8 cloves garlic minced
A fat pinch of saffron
Salt to taste
Paprika
1 tbsp chilly powder(if you like it spicy)
1 & 1/4 cup ponni parboiled rice
5 cups prawn stock or plain water (prawn head cleaned and boiled with some chilly powder and salt) I used mussels here
some lemon wedges
Fresh cilantro
Method
Marinate the prawns and squid with salt, chilly powder, chilly flakes and salt.
In a pan, pour some olive oil shallow fry both and keep aside.
In the same pan pour some more olive oil and cook very finely chopped onion and minced garlic along with some salt. Cook it until soft and translucent.
Then add the grated or pureed tomato and cook until its fully done.
Add paprika, saffron and mix well.
Add pepper powder and chilly powder cook everything until its mushy and combined together.
Add the washed and drained rice roast it for 3  to 4 minutes and then add the prepared stock or water. Keep it on medium-low flame,
When the water simmers and started to bubble up check for seasoning and add accordingly. This will be the last stir before arranging the seafood.
Arrange the prawns, squid, and mussels (if you have the fresh one nearly, then cover and cook it on low flame for 15 minutes. In between shake the on slightly.
Then add the lemon weeds and some fresh cilantro and then cover and cook it for 5 more minutes. You can adjust the flame if the water doesn't simmer completely and put it on medium. The browned bits of rice on the bottom of the pan is sign of the perfect paella according to them, and believe me, it really tasted great.
Video!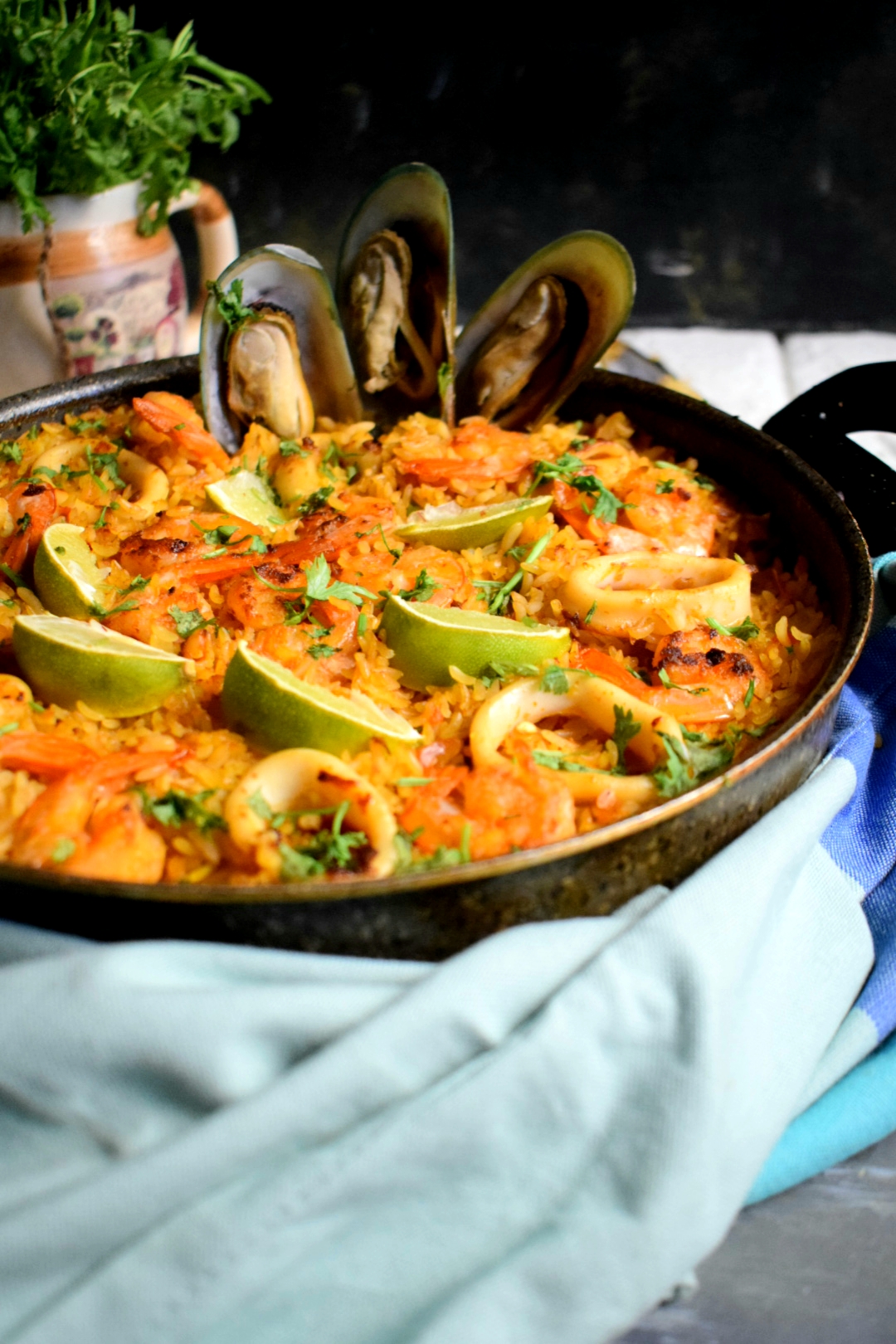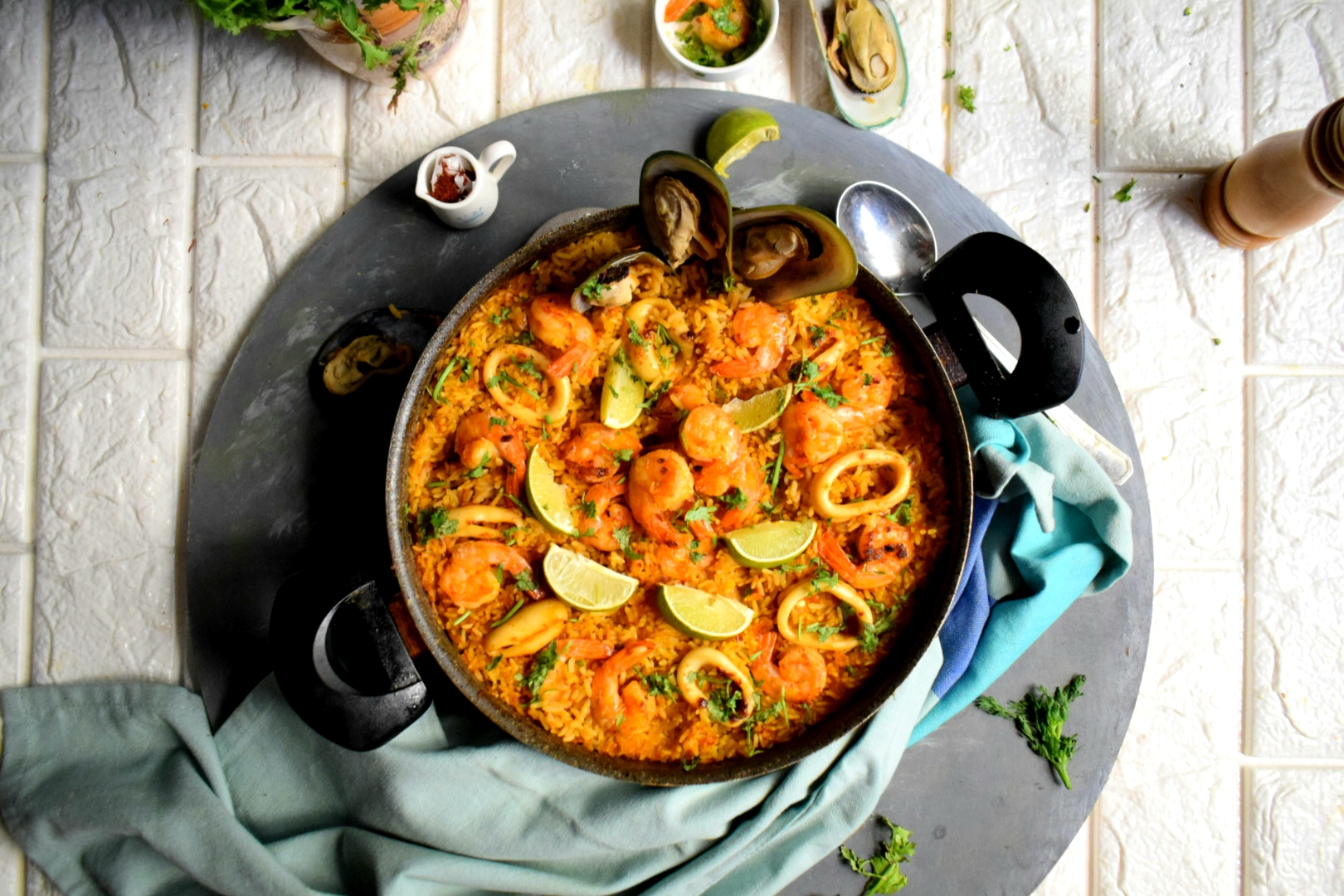 Enjoy!