Mafroukeh Pudding is a luscious dessert with a biscuit base, cream filling, and finally topped with this vibrant green ground pistachio and semolina mix! Mafroukeh is a Lebanese dessert made out of semolina, pistachios, sugar which is so flavorful and rich! Perfect Eid treat! Here I added my own twist to the authentic one and converted it into a lip-smacking Mafroukeh Biscuit Pudding!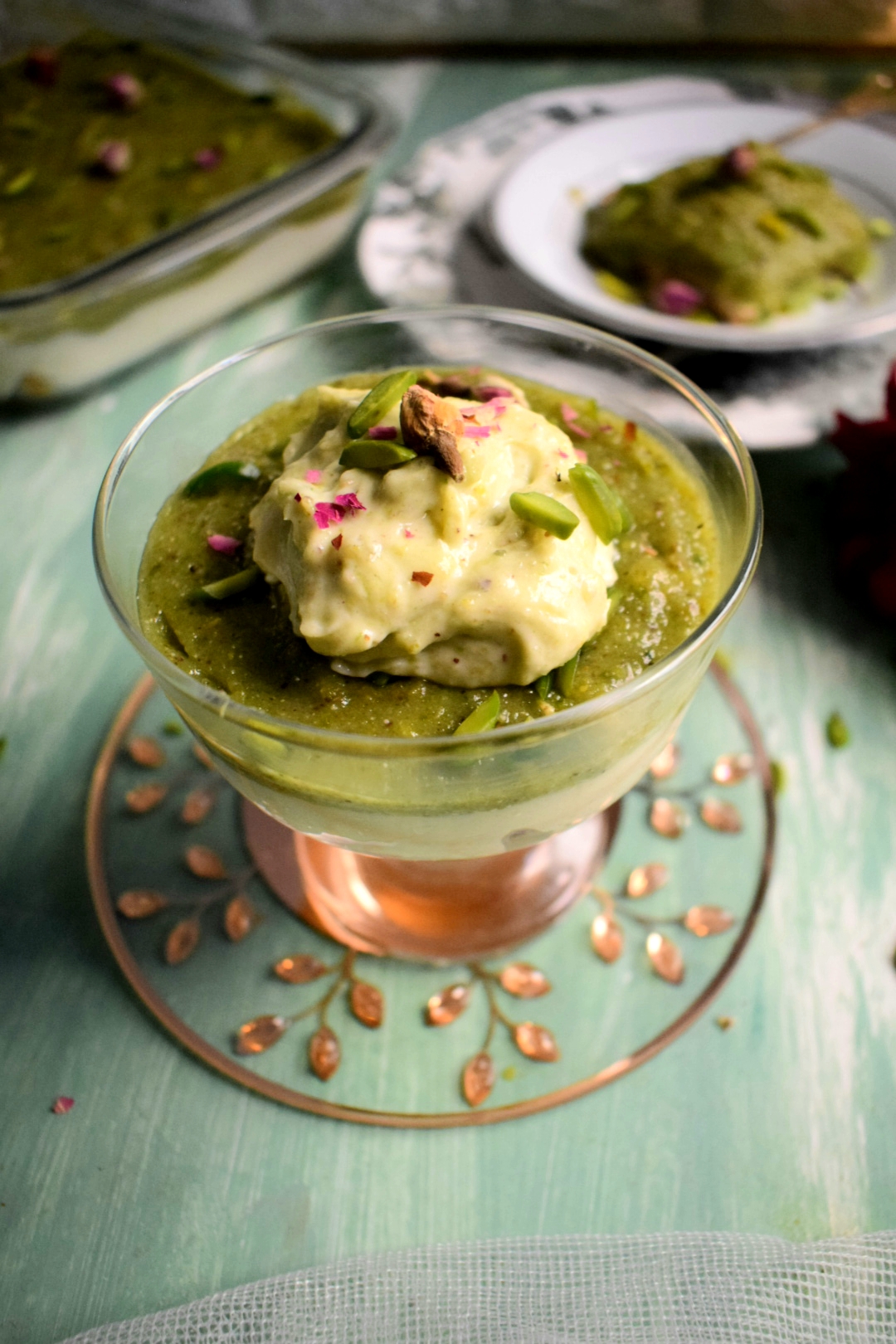 I always wanted to try this Mafroukeh truffle from my ever favorite Savory and sweet food blog! My friend Sadia has many varieties of desserts and dishes on her blog with amazingly beautiful photography! I really adore her work! MashaAllah! !So this recipe is inspired from her blog, I made slight changes here in the recipe but it is totally inspired from there! 😍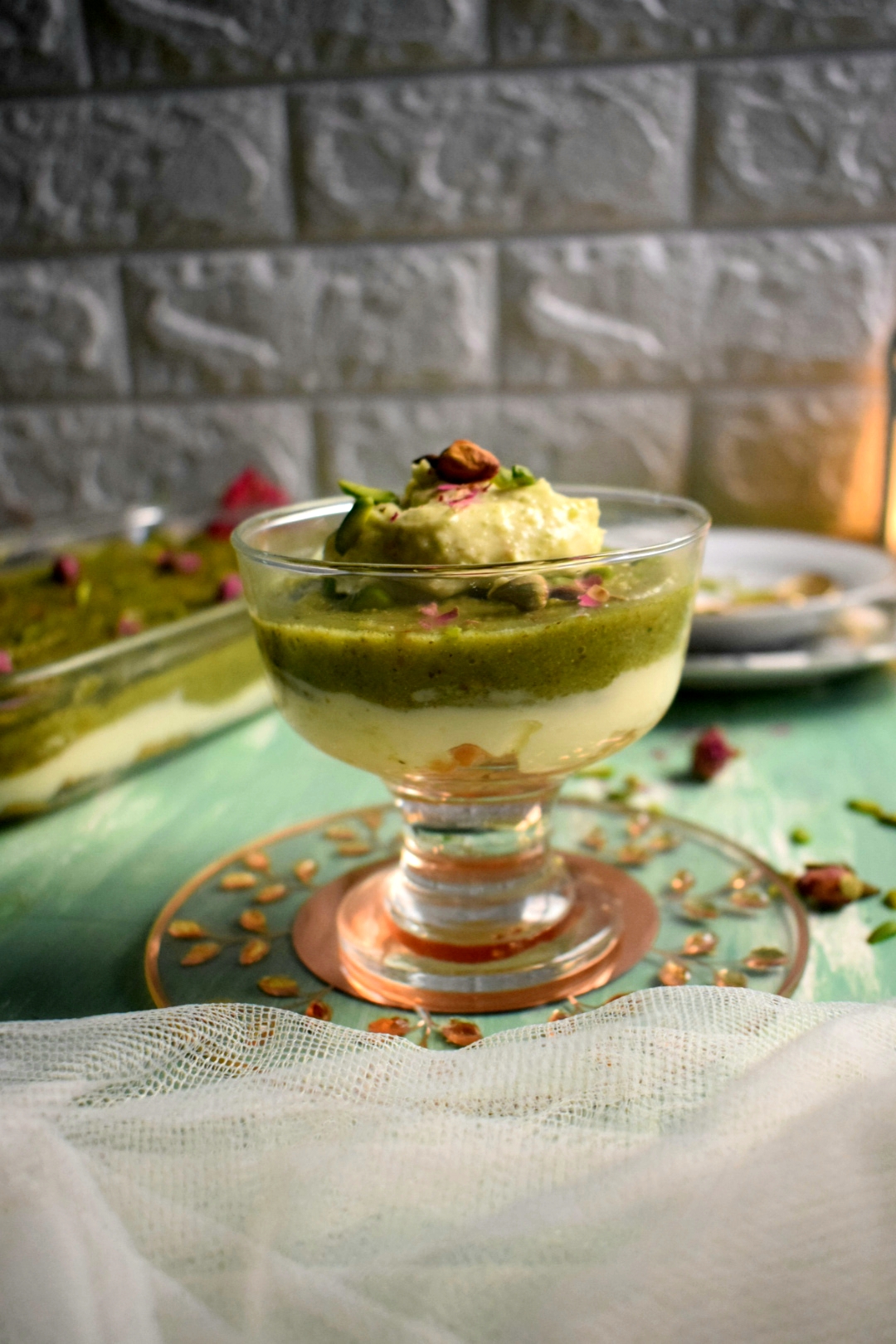 The authentic recipe is the mix of ground pistachios and semolina beautifully molded and filled with kishta! You can check her blog for that, but here as I'm making pudding in which I wanna layer it easily so made it pouring consistency! Do you remember the dessert Layali Lubnan it resembles somewhat like that with a rich flavor of pistachio in it, but this one has a thick consistency, so if you wanna make it thinner than what I made pour some more milk or water to semolina mix while cooking!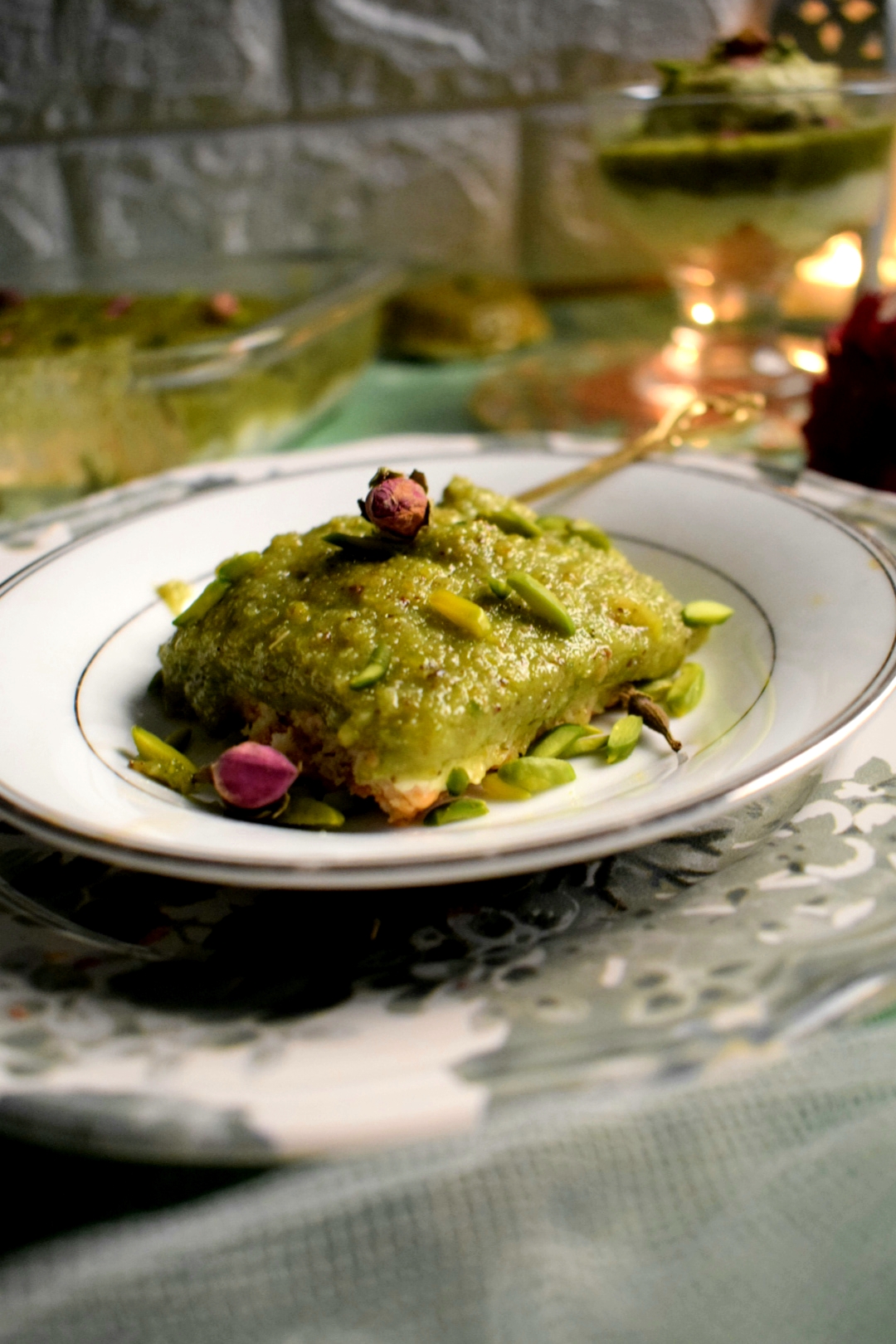 I hope you all will love it too! If you are a pistachio lover then give this one a try! Adjust the sweetness as per your taste. The cream cheese mix was mildly sweet!
Let's check out the recipe!
Ingredients
1st layer
Tea Biscuits
Some Milk to dip it
2nd Layer
2 sachet whip cream powder
200 ml fresh cream
5 cream cheese cube
1/4  to 1/2 cup milk
Vanilla
2 tbsp condensed milk
For Mafroukeh
1 cup pistachios
3/4th cup sugar (sweetness depends on you)
5 to 7 tbsp semolina(it should be very fine like powder, so just grind it)
3/4th cup milk
Milk or cream to loosen it
2 drops of rose water
2 tbsp butter
Method
1st layer dip the biscuits in milk and place it on a tray. 2 layers of biscuits
2nd layer blend all the ingredients mentioned above and pour on top of the biscuit and chill it.
3rd layer Making Mafroukeh –
Ground pistachio and 1/2 of the sugar to a fine powder.
In a pan add butter and roast the semolina for 3 minutes.
Then add the water and mix well, add the remaining sugar and mix well to a lump-free mix,
When it slightly thickens add the pistachio powder and mix.
Add rose water and switch off the flame.
The consistency should not be too thick, we need a spreadable pouring consistency.I added some cream to loosen the mix, you can adjust it accordingly! Then spread this over the cream when it's warm to touch. Chill it and dig in!
Video!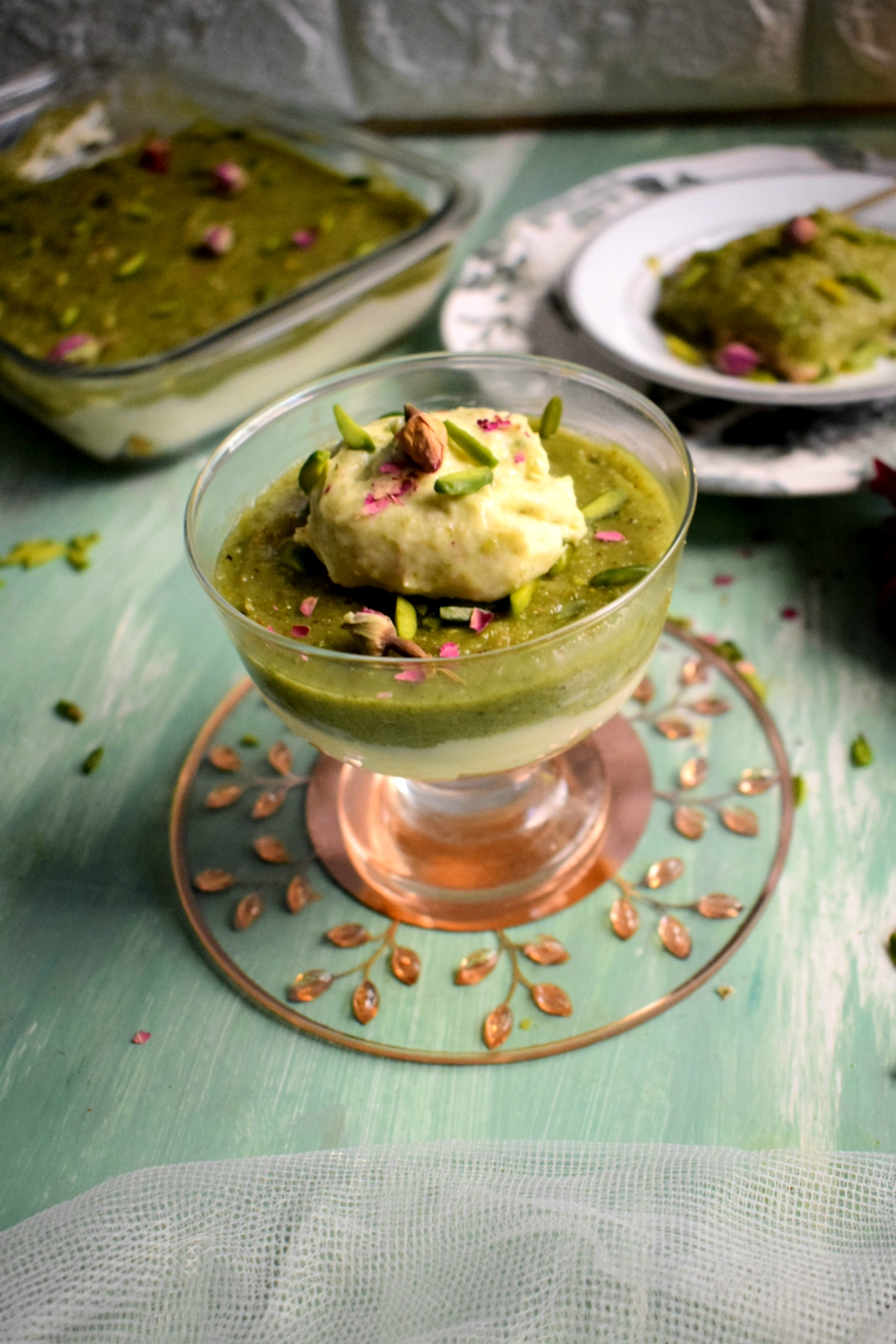 This dessert was so photogenic that I can't stop clicking hehe! So please bear with the pictures! Wishing you all Eid Mubarak!