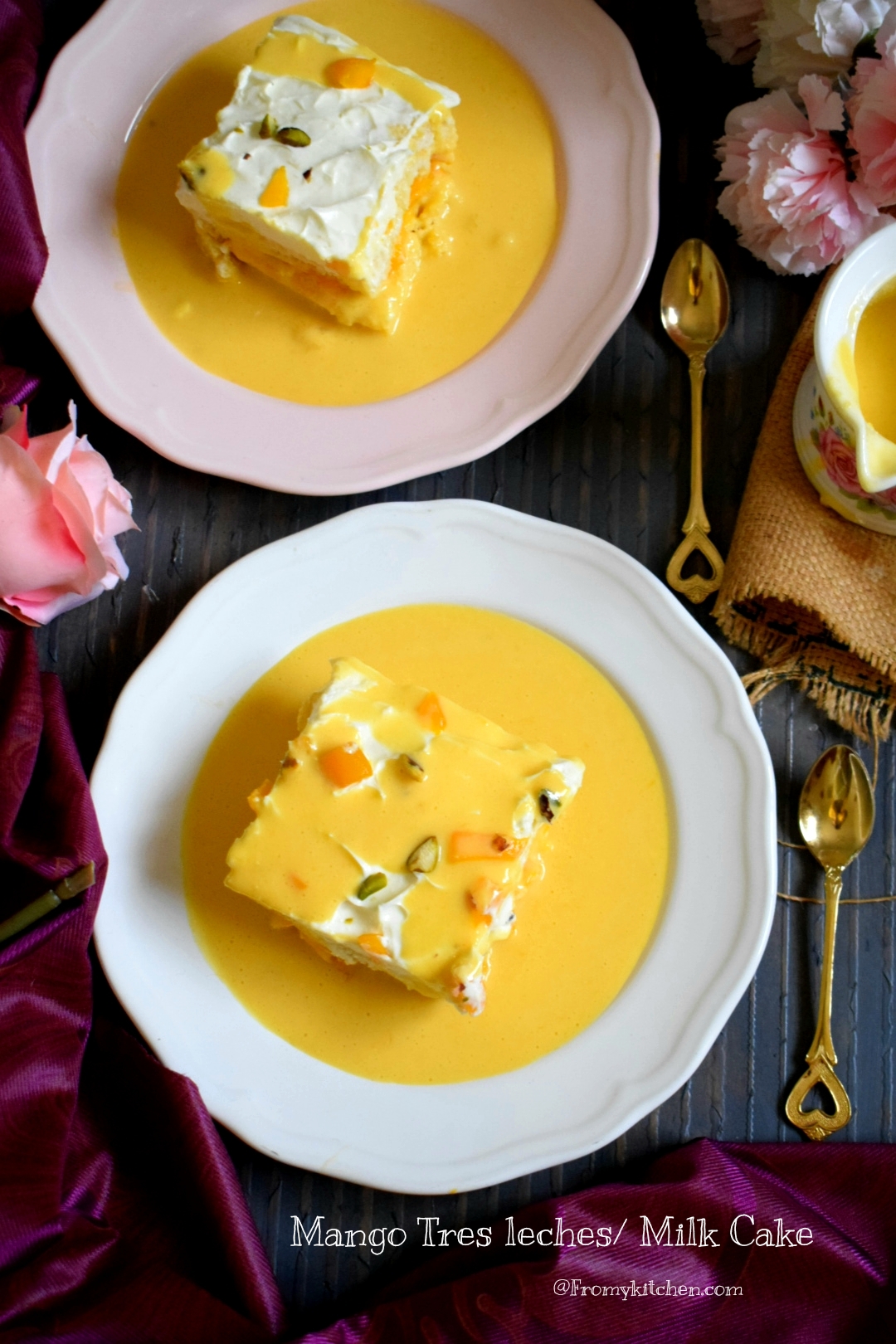 Milk Cakes are real addiction! Agree or not! Man, that soft spongy base immersed in yellow mango sauce topped with whipped cream and a layer of buttery chopped mangoes is a next-level dessert to try out for this eid! Calling all the mango lovers out there! This is seriously a show stopper dessert!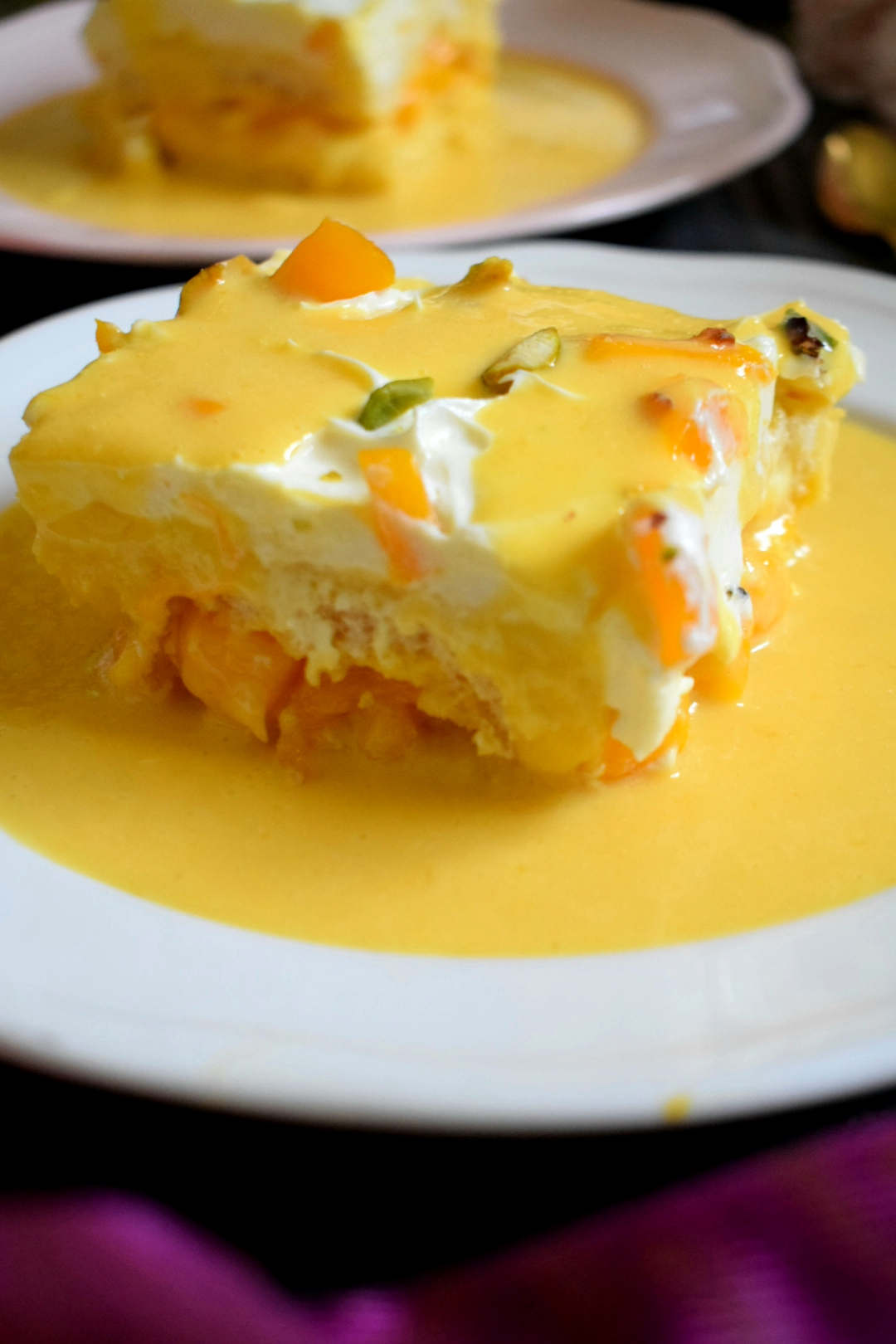 You all know how hit was my Pistachio Tres Leches, hoping the same with this one too! Wondering why an early post on Eid Dessert, actually there is mango dessert collab happening @insta with my fellow bloggers, so thought to share this highly requested recipe itself! Yes, you can make it for Iftari too because it's that easy to prepare! In this recipe, a bonus point is you don't wanna bake a cake! Yes, you heard it right! Here i used bread and believe me it tasted awesome too!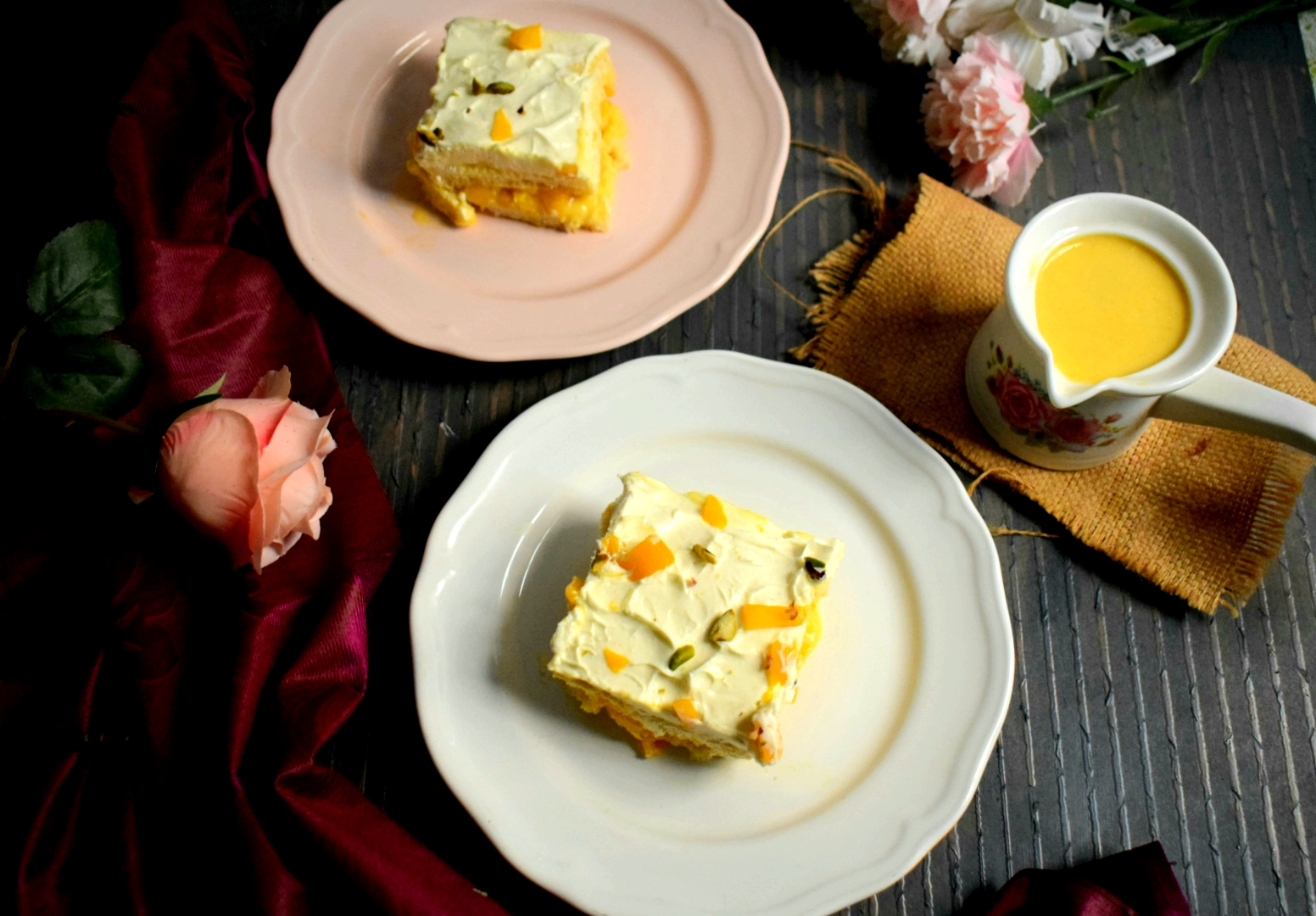 You can always replace the bread with a sponge cake or store-bought butter cake, but when there is an easy and better option why are we searching for that stuff right? Here finely chopped mangoes with butter and some sugar are layered between bread slices that make it extra delicious!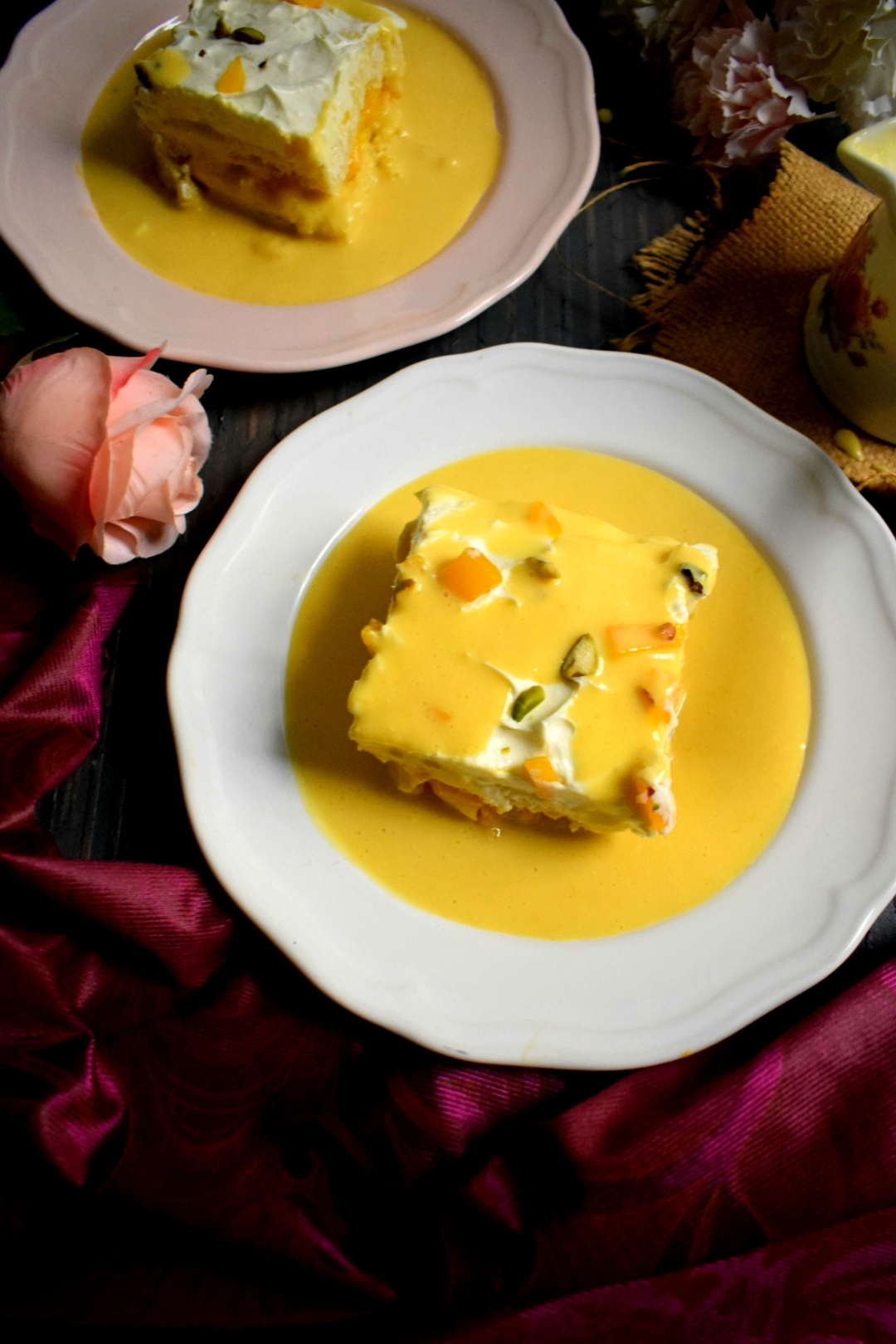 All you need is a sweet and good mango so that the recipe never fails! My family is a great fan of Milk cake and so made it with our family fav fruit and they enjoyed every bit of it!
Ingredients
12 Bread slices
4 sweet mangoes
3/4th cup evaporated milk
3/4th cup milk
1/2 can be condensed milk
3 to 4 tbsp butter
2 to 3 tbsp powdered sugar
For the cream
2 sachet whip cream powder
1/4 cup milk
100ml fresh cream 2 tbsp mango sauce from the milk sauce
vanilla
some chopped mangoes and pistachios for garnishing
Method
Cut the sides of the bread and keep it aside.
Finely chop 2 mangoes, in that add butter and sugar mix it well and keep it aside.
Puree 2 mangoes in a blender, then add both kinds of milk, condensed milk and blend again, the milk sauce is ready.
Pour it in a deep dish
Dip the bread in it and place it on a pudding tray as a base
Then put the chopped mango mix on top of the bread and then again dip the bread in the mango sauce and layer it on top of the chopped mango pieces.
Pour some more sauce on top by preserving some to use while serving!
Chill it,
  Prepare the whipped cream (refer video)and top it.
Refrigerate it at least 4 to 6 hours and then serve it! Relish!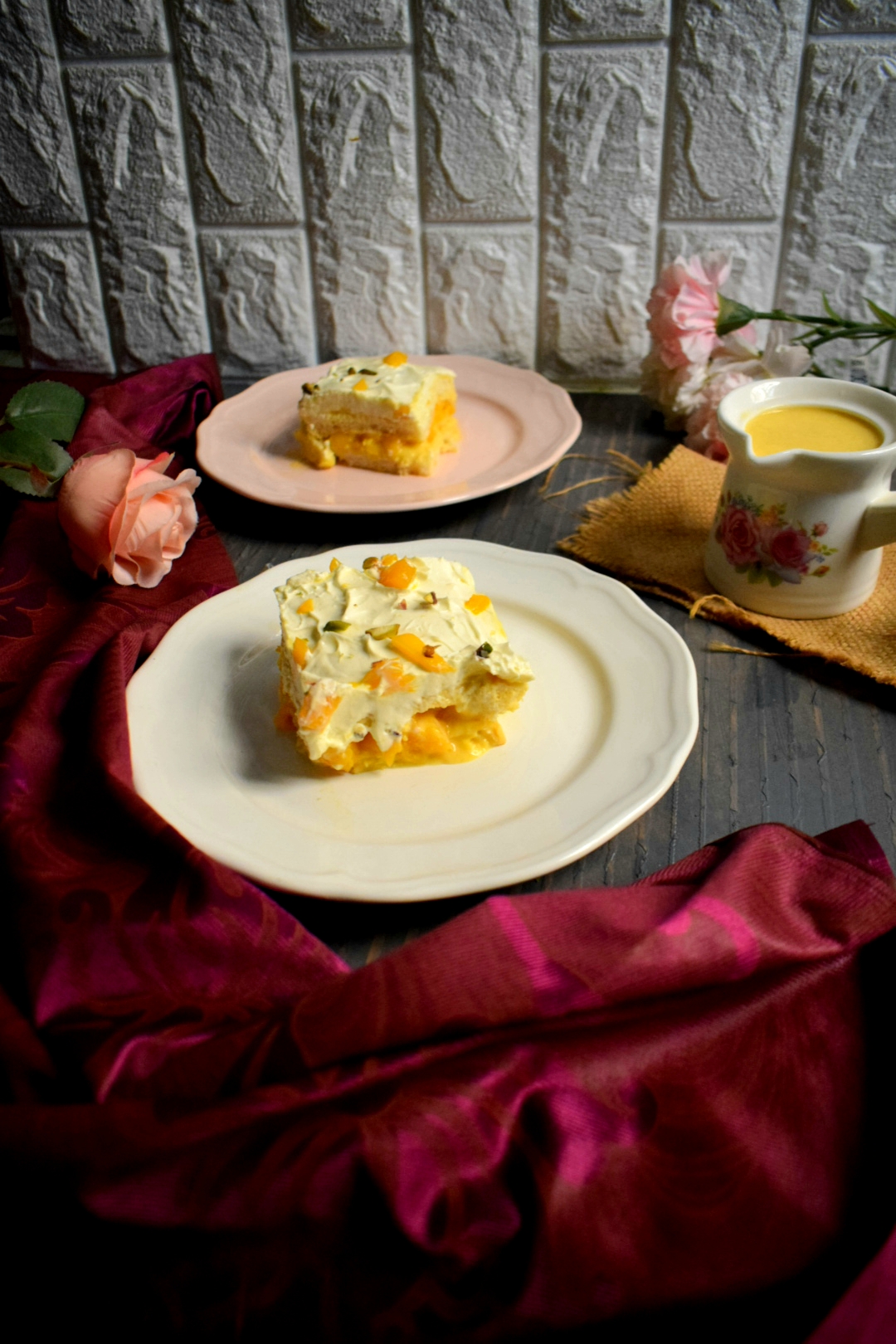 Happy Cooking!