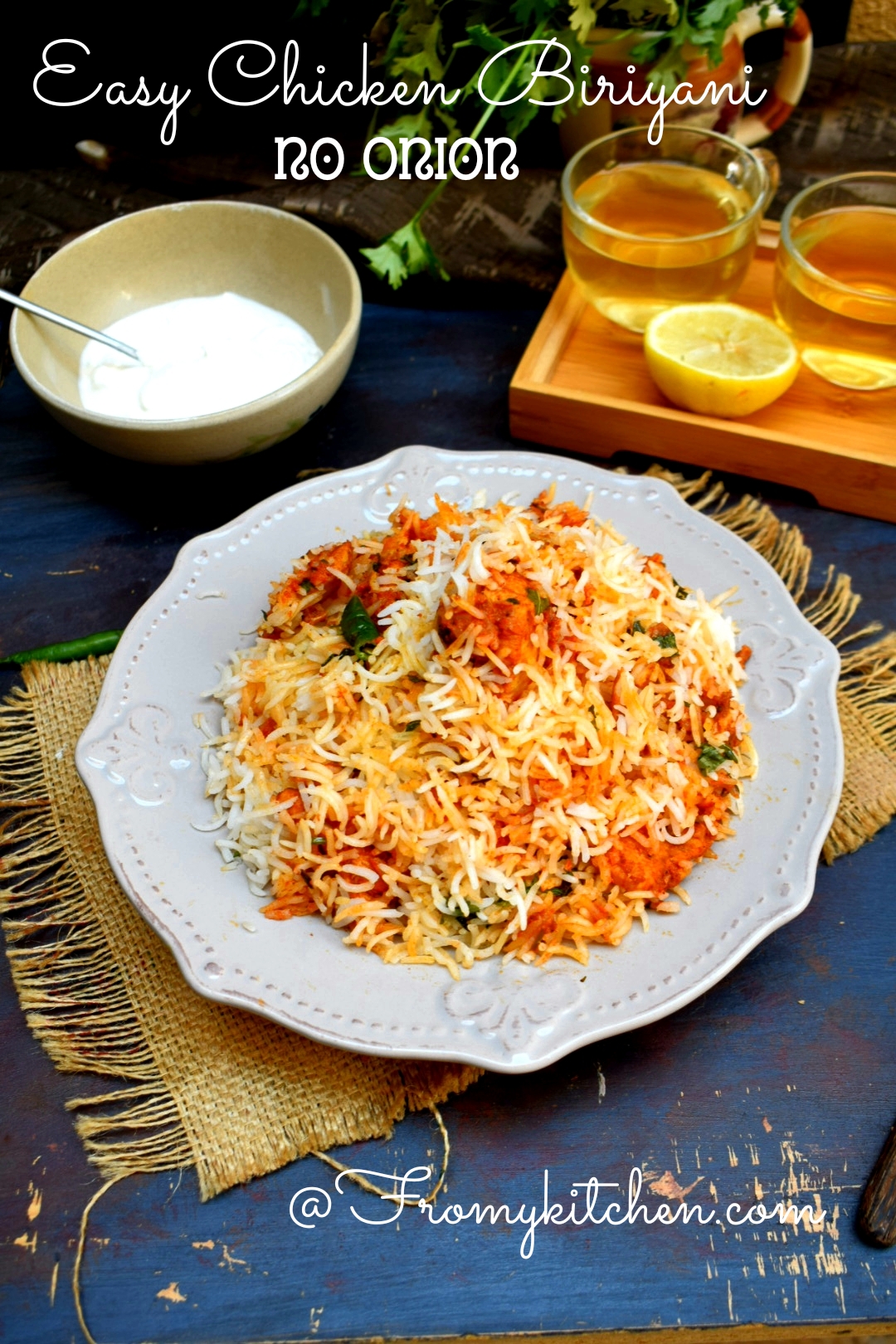 Biriyani is one such dish that kids to adults love alike! Agree or not? 😊So how about an easy peasy biriyani that does not consist of a single piece of onion without any compromise in the taste! Scrumptious, tangy masala and well-marinated chicken infused in the beautifully cooked basmati rice without much effort will be a treat for every homemakers!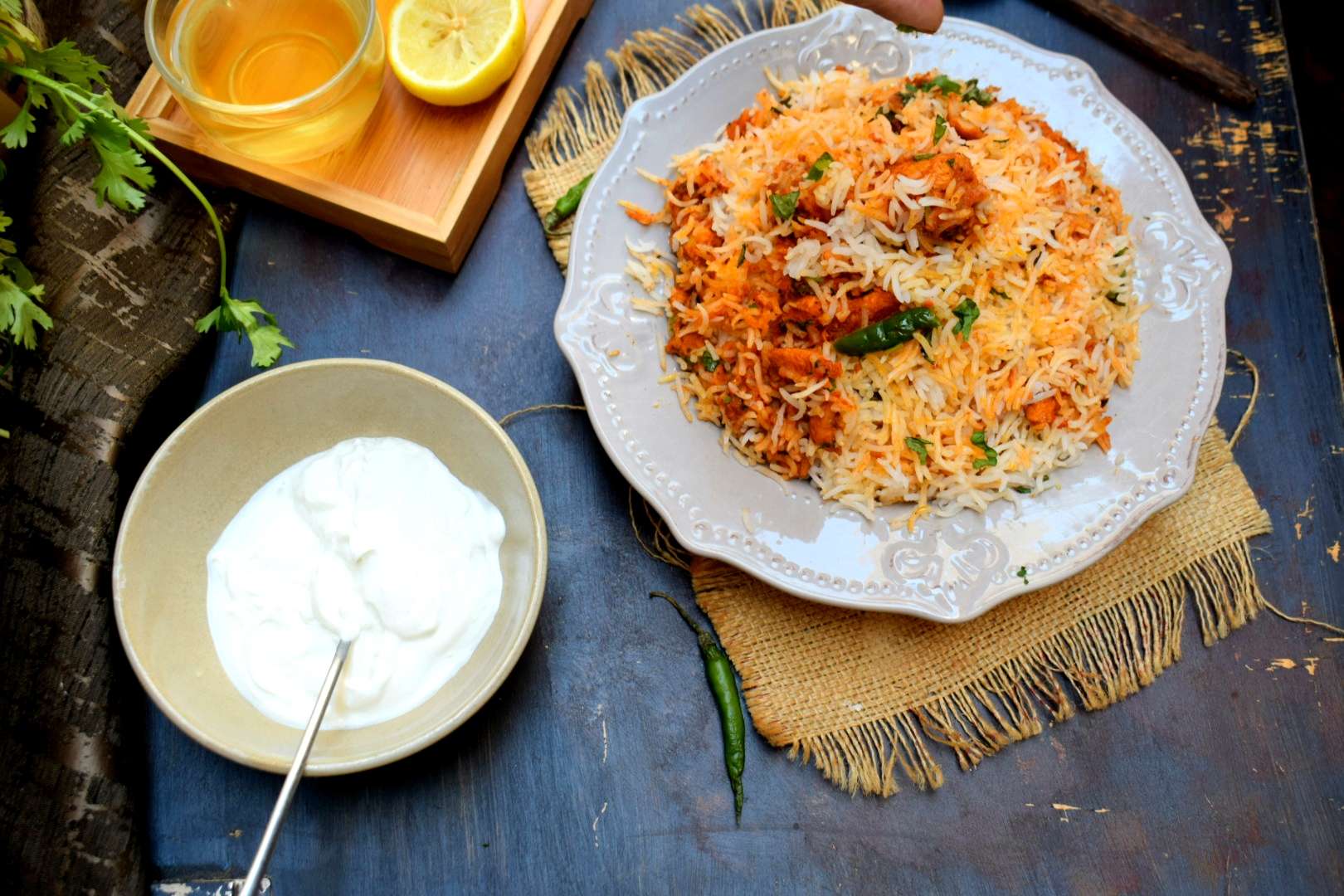 The most important and time-consuming part in making biriyani is always ONIONS, peeling, slicing, grinding ginger garlic green chilies and what not! Slicing somehow i like to do, but peeling is always a hectic task for me! hehe! SO here you go if you are in a hurry or if you have a sudden guest, or if you wanna spend quality time with your family on Fridays try out this easy and yummilicious Chicken Biriyani!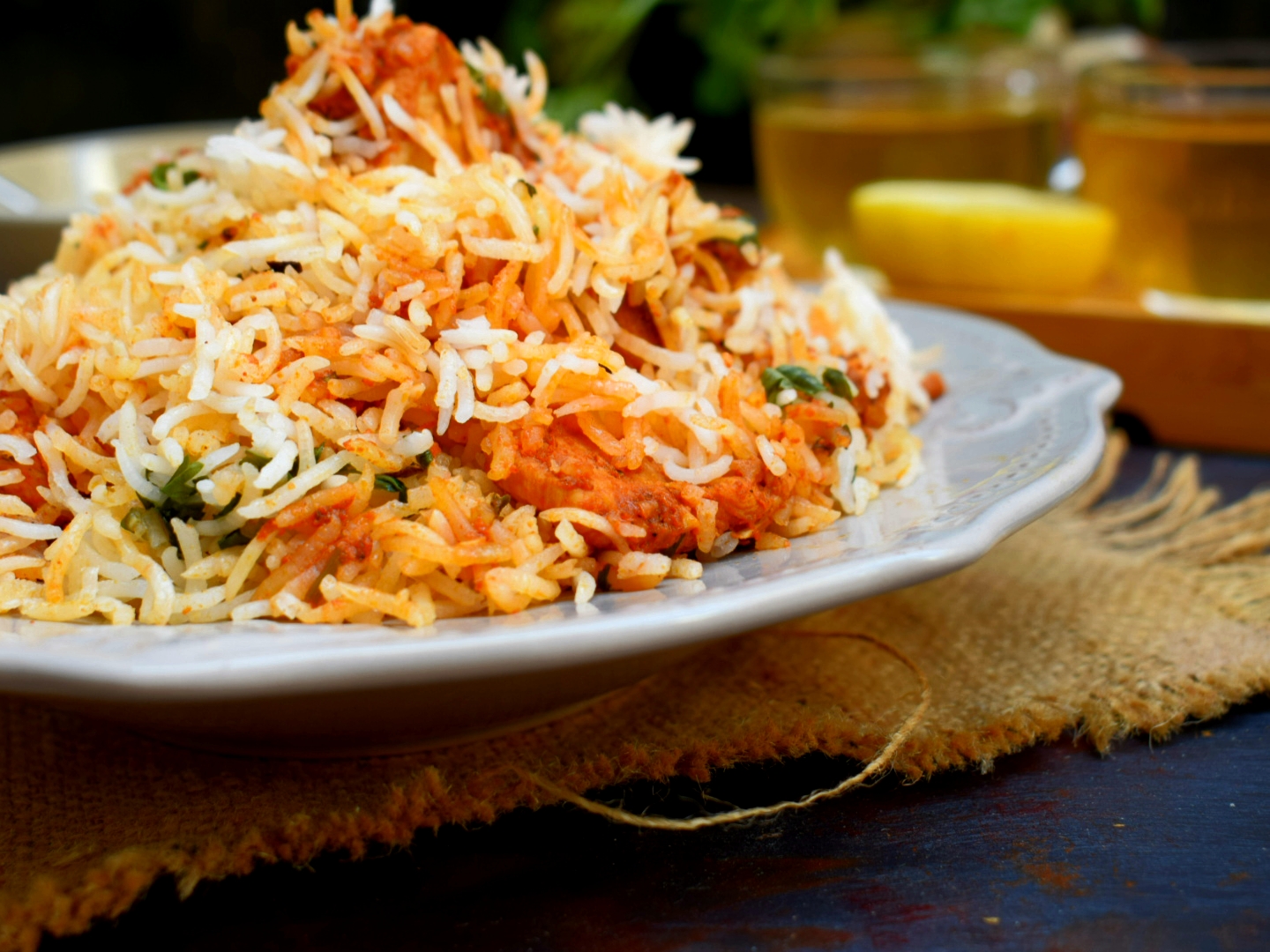 Here all the flavors are packed in marinating chicken. Even we are adding ginger garlic only in the marinade not in the masala. Hope you all will love this simple lazy day biriyani!
Ingredients
For Marination
1/2 kg chicken
1 tbsp chilly powder
1/2 tsp coriander powder
3/4th tsp garam masala
A pinch of cumin
2 tsp garlic paste
1 tsp ginger
3 to 4tbs yogurt
1/2 of a lemon juice
salt to taste
For Masala
5 to 7 green chilies
Chicken stock reserved while cooking it
2 heaped tbsp tomato paste or 2 medium-sized tomatoes
1/2 to 1 cup water
salt to taste
lemon juice
few mint leaves and lots of coriander leaves
1 tsp ghee
For Rice
2 & 1/2 cups Basmathi rice
Water to boil (if you don't wanna drain it the measurement of water is 5cups)
2 tsp ghee
bay leaf,2 cloves, cinnamon and cardamom
Method
Wash and soak the rice for 1/2 an hour.
To Prepare the rice, cook it until its 90 percent done drain it and keep it aside.
Marinate chicken with all the above-listed ingredients and let them sit for at least 1/2 an hour.
Pour oil in a kadai and add chicken. It will release moisture as we are adding along with the marinade.
When it releases a lot of liquid, reserve some for later use.  Then simmer the rest of the liquid and fry the chicken. Take it out when it's done!
In the same pan add a tsp of ghee and slide in the green chilly slits. Cook for few seconds and then add the chicken stock that you reserved earlier
Add in tomato paste or the pureed tomatoes and mix and cook well.
Then add water and lemon juice along with salt.
Throw in the coriander and mint leaves along with the fried chicken. Mix and let them boil for 1 minute.( If you like more gravy add water accordingly)
Dum- Some rice then a little of the prepared masala, Again rice and pour the whole masala and then cover it with the last portion of rice. Then on top add the herbs and green chilly cover and put on dum for 1/2 an hour on low flame!
Video!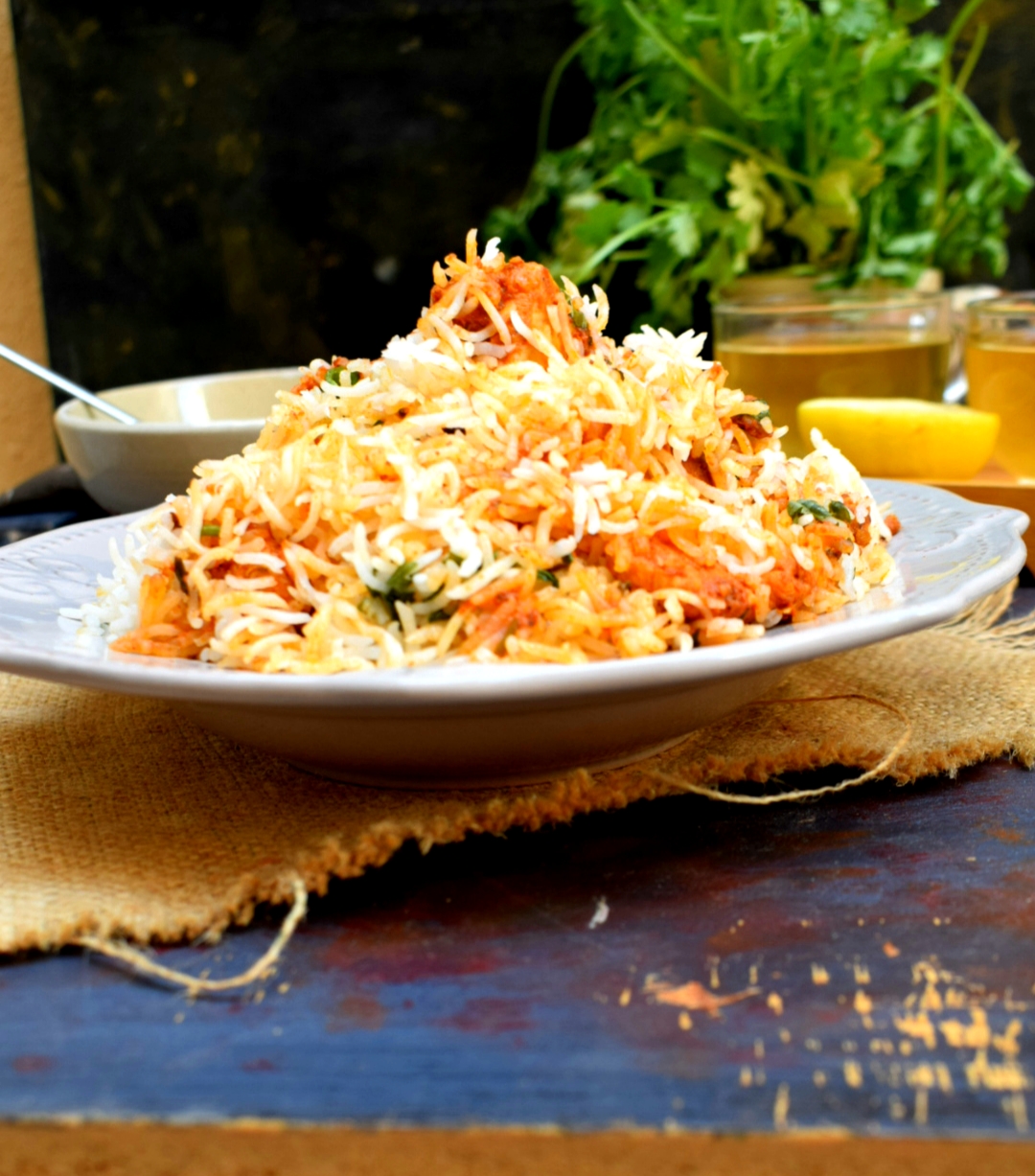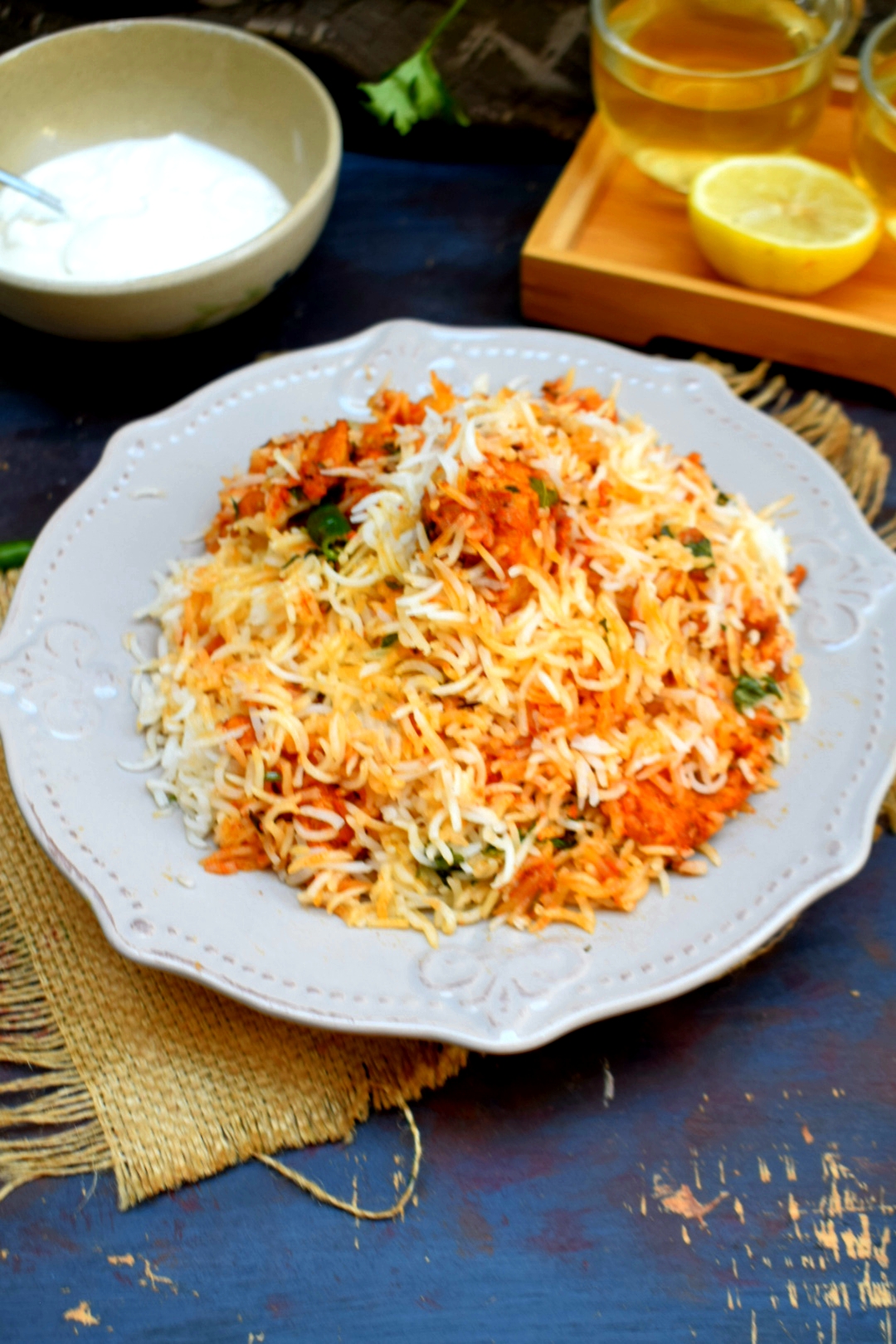 Happy Cooking!