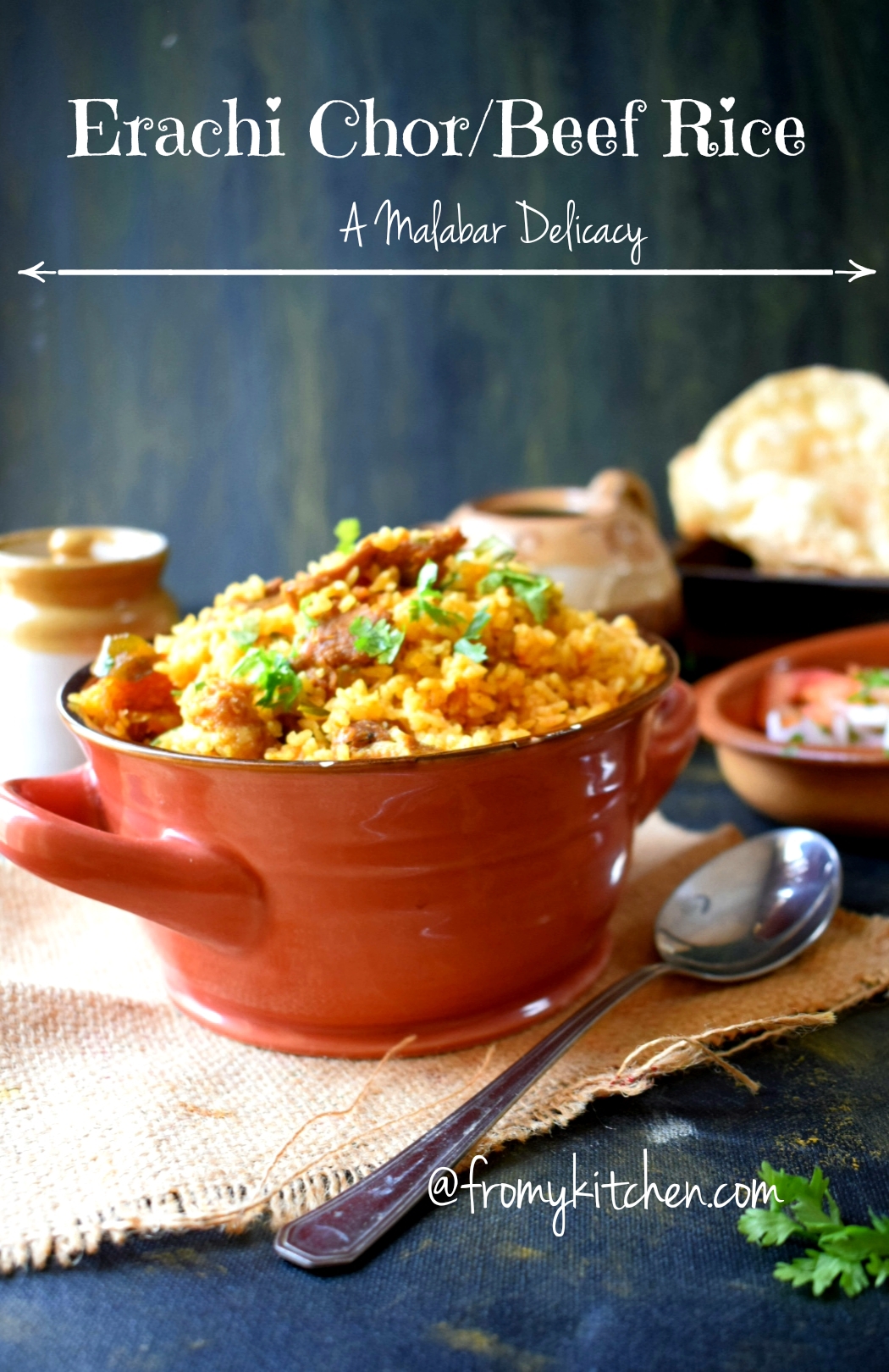 Erachi Chor or Meat rice is an amazingly flavored Malabar delicacy. This is so simple to prepare in which the rice is cooked along with the (cooked)meat gravy which makes it so flavorful and delicious! A simpler form of biriyani or a Malabar style pulao😉😊 If you are unaware of this dish, please do try it out and you will love it!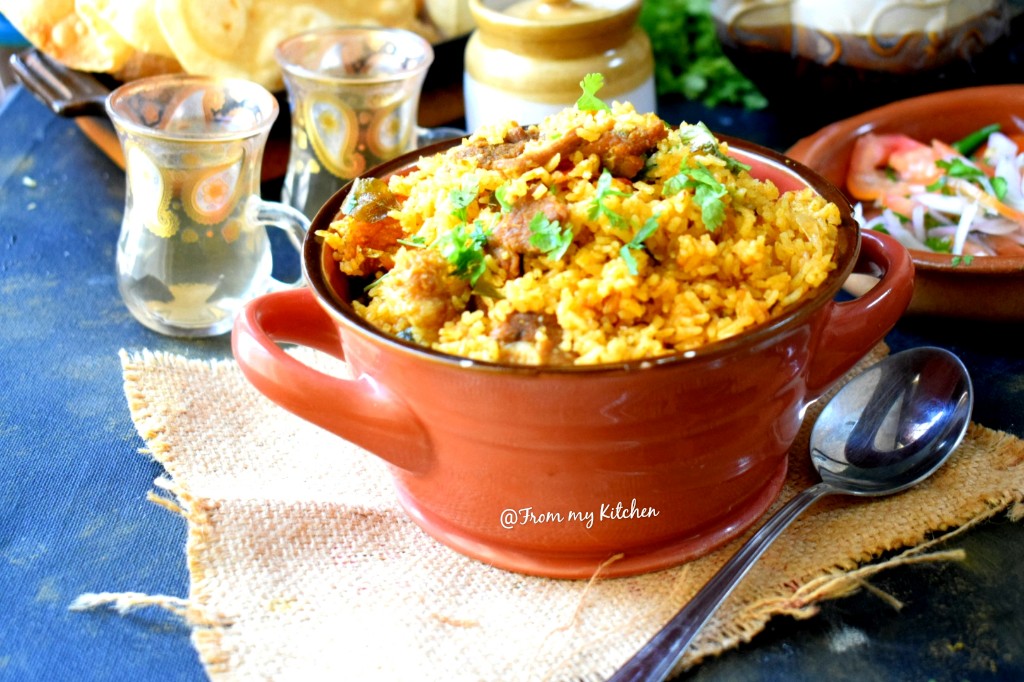 Many asked me if there is erachi chor recipe on the blog, so when i was making it hope to share it with you guys too! As Ramadan is around the corner every one starts prepping for Ramadan! This will be a great option for Iftar menu, you don't have to spend a lot of time in the kitchen yet a flavorful dish is here for you!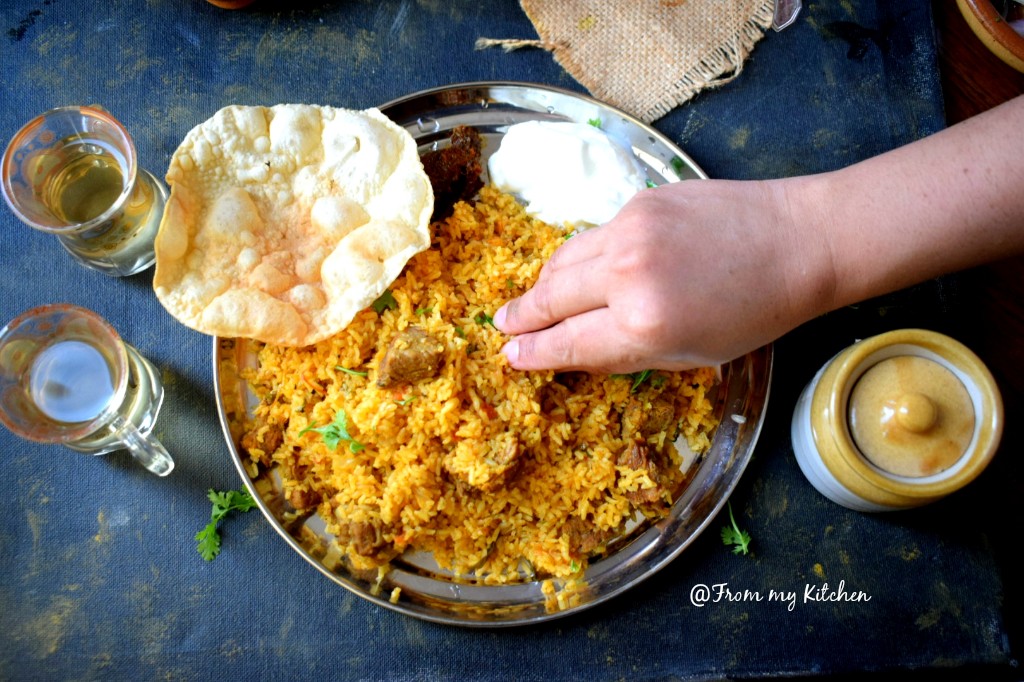 Malabar Area has a wide variety of food in their menu and all of them are equally good! In Sha Allah for this Ramadan, I will share some of them hopefully. If you have any recipe request pls do lemme know. So this is my first post for Iftar Menu 2019.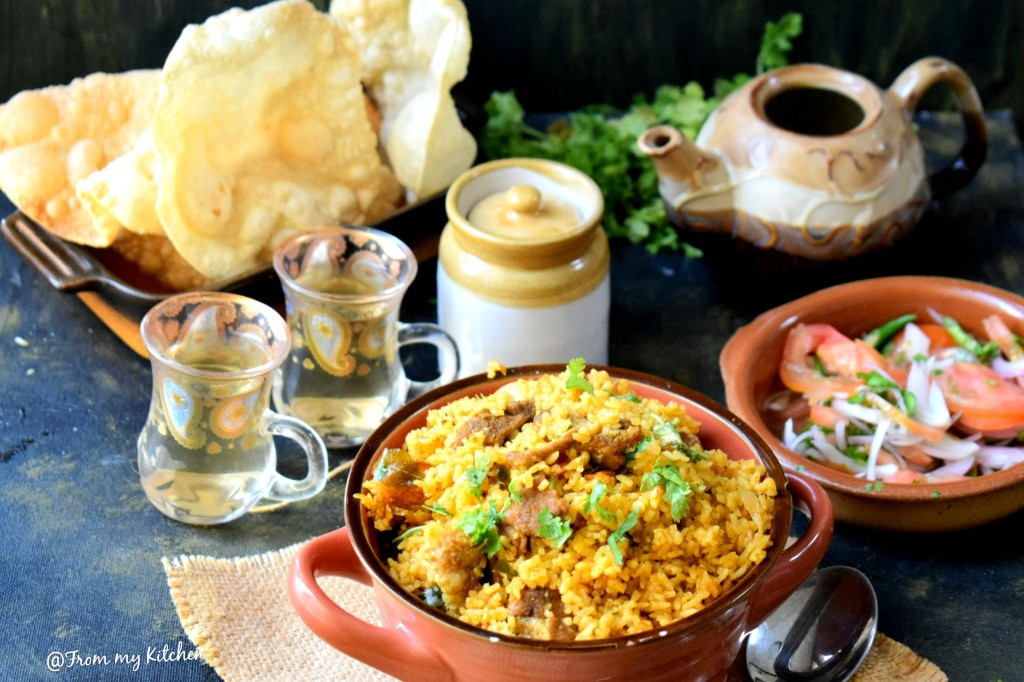 Hope you all will enjoy this Malabar delicacy! I have a similar Meen Chor/ Fish Rice too.
Ingredients
 500 gm beef
3 large onions sliced
3 tomatoes sliced
8 to 10 green chilies
5 to 6 cloves garlic
2-inch piece ginger
salt to taste
1 tbsp chilly powder(more or less as per your taste)
2 tbsp coriander powder
1/2 tsp turmeric powder
1 tsp garam masala
Juice of 1 lime
Curry leaves
Coriander leaves
2 &1/2 cup small grain rice(jeerakashala rice)
4 cups water, rest from the beef gravy
Ghee + oil
Method
Grind together green chili, ginger and garlic keep it aside.
In a pressure cooker pour some oil, when it's hot enough add the sliced onions and salt cook it for few minutes, add the ginger garlic mix and cook for few seconds, then add the sliced tomatoes mix and cook for few minutes.
Then add all the spices like chilly powder, coriander powder, turmeric mix and cook.
Then add the washed and drained beef mix well, add salt if needed and 1 cup water,1/2 tsp garam masala and then cover and cook it. I used to cook beef for 15 to 20 minutes after the first whistle.
Release the pressure and open it. It will have some gravy so be careful with water while cooking the rice.
Add garam masala, lime juice, coriander, and curry leaves mix and let them boil for few more minutes.
In another vessel keep some water to boil( i used 4 cups water)
For Rice – In a large pan pour ghee splutter curry leaves, small piece sliced onion and fry it for few minutes. Add a pinch of turmeric powder and then add in the washed and drained rice and roast it. Add salt.
Then add the meat gravy and enough water. While adding water be careful. In between, if you feel like it needs more water you can add. When water is simmered keep the flame on low and let the rice cook on dum for 15 to 20 minutes or until the rice is fully cooked. Add some more curry leaves and you are good to go!
Video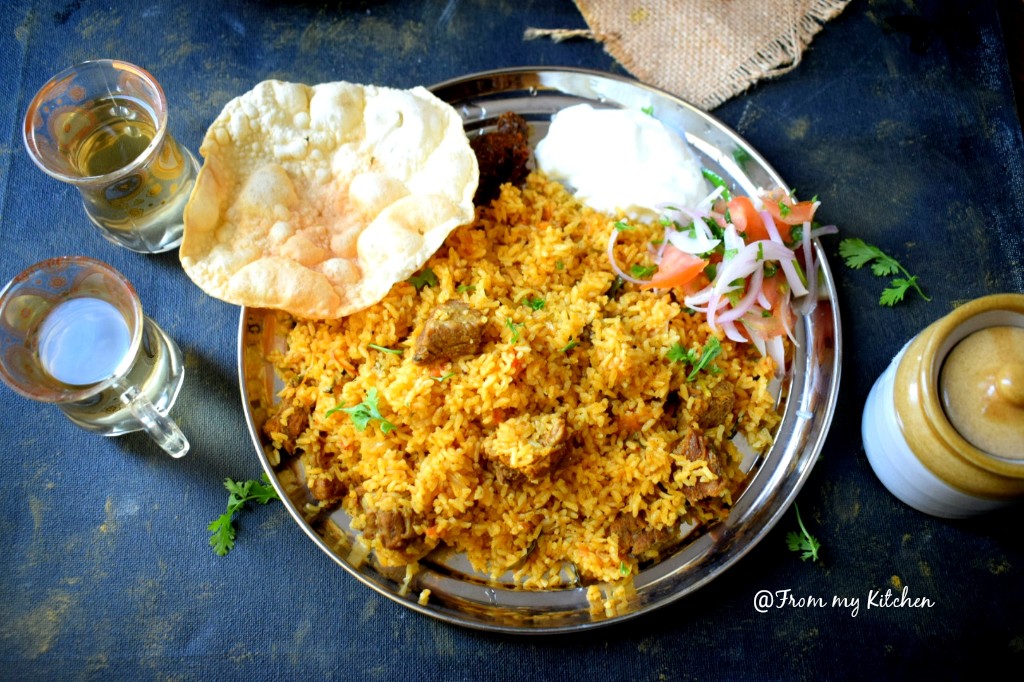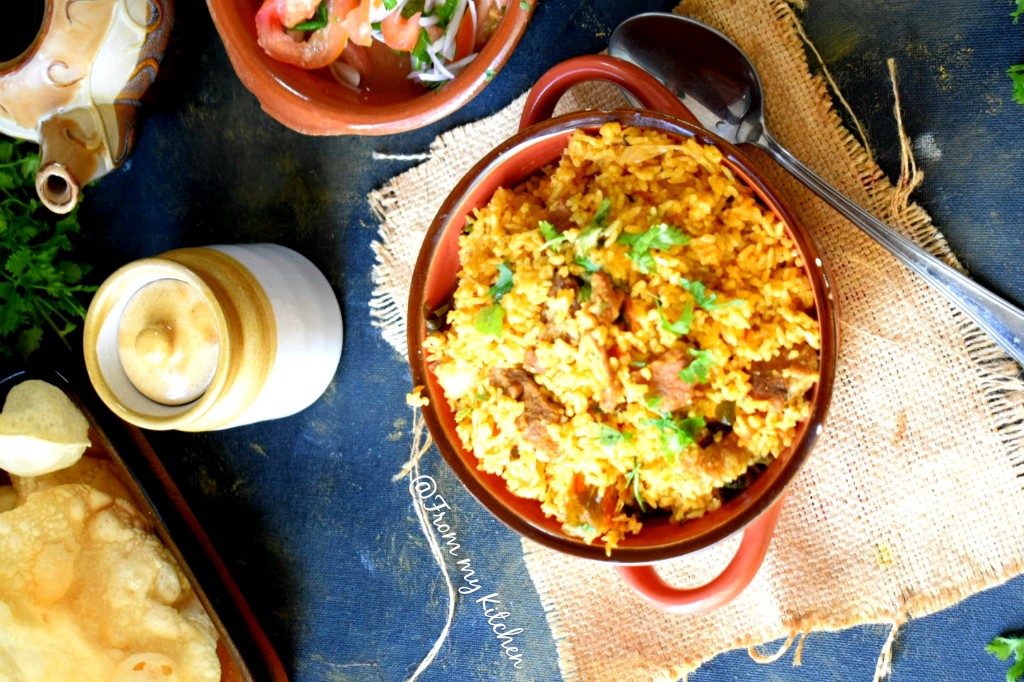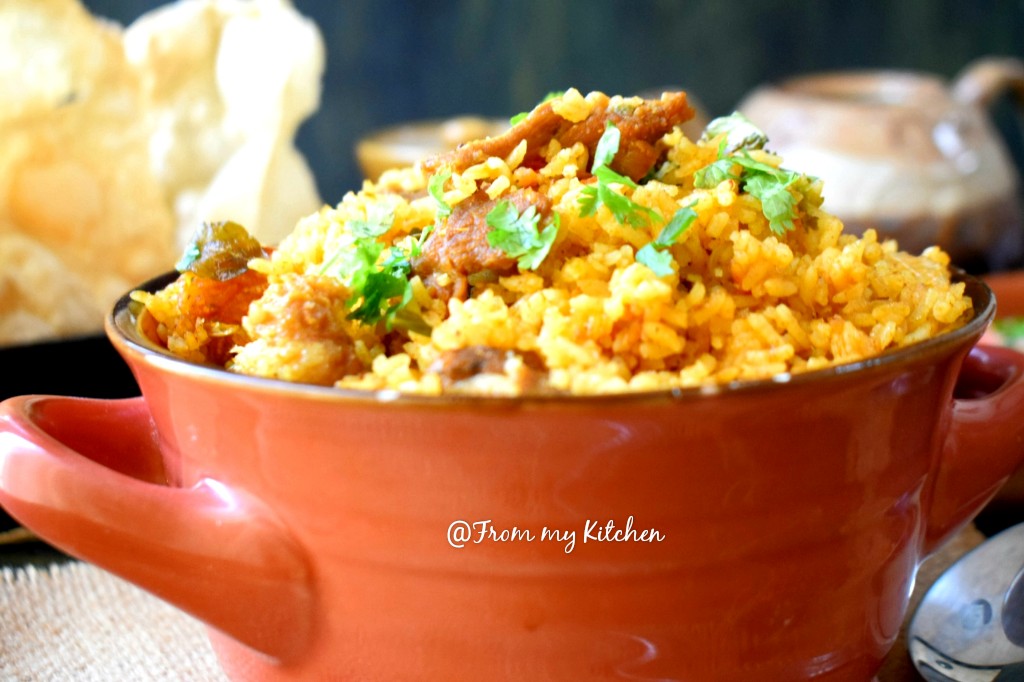 Happy Cooking!