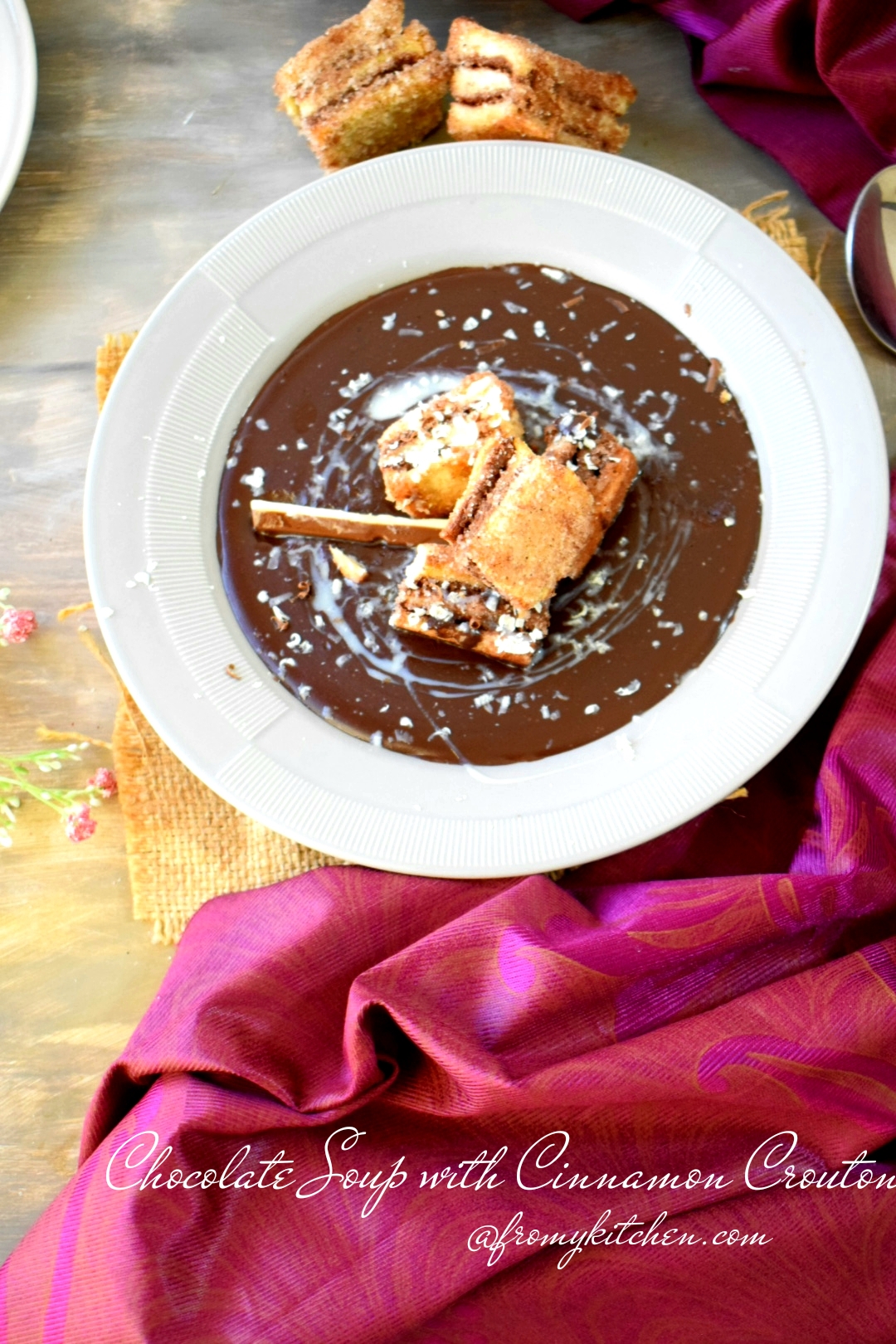 A call for all the chocolate lovers out there! Silky smooth Chocolate soup with crispy cinnamon sugar coated croutons! Yes, you heard it right this is chocolate soup and absolutely decadent with a rich chocolate flavor in it! And the bread is sandwiched with the extra chocolatey goodness of Nutella!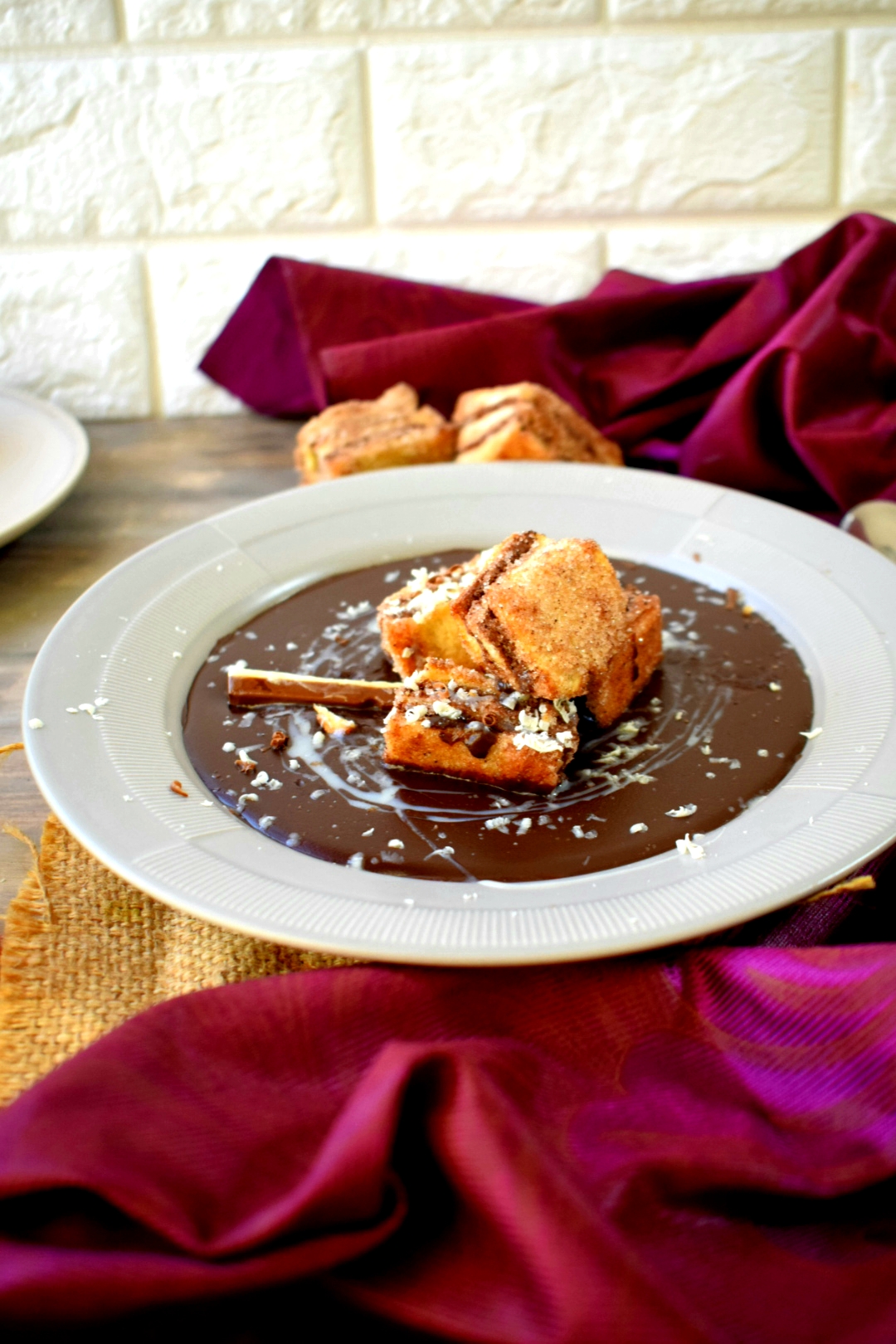 Well-Balanced flavors with slightly sweetened soup and sugar-coated croutons with an amazing cinnamon flavor in it! This is happiness and comfort for all the chocolate-loving mammas and kids who are tired and exhausted with exams and studies!  A warm bowl of chocolate soup is a treat to make your kids happy in this exam season! I know for many of you it's already vacation but here in Saudi Arabia, it's still going on!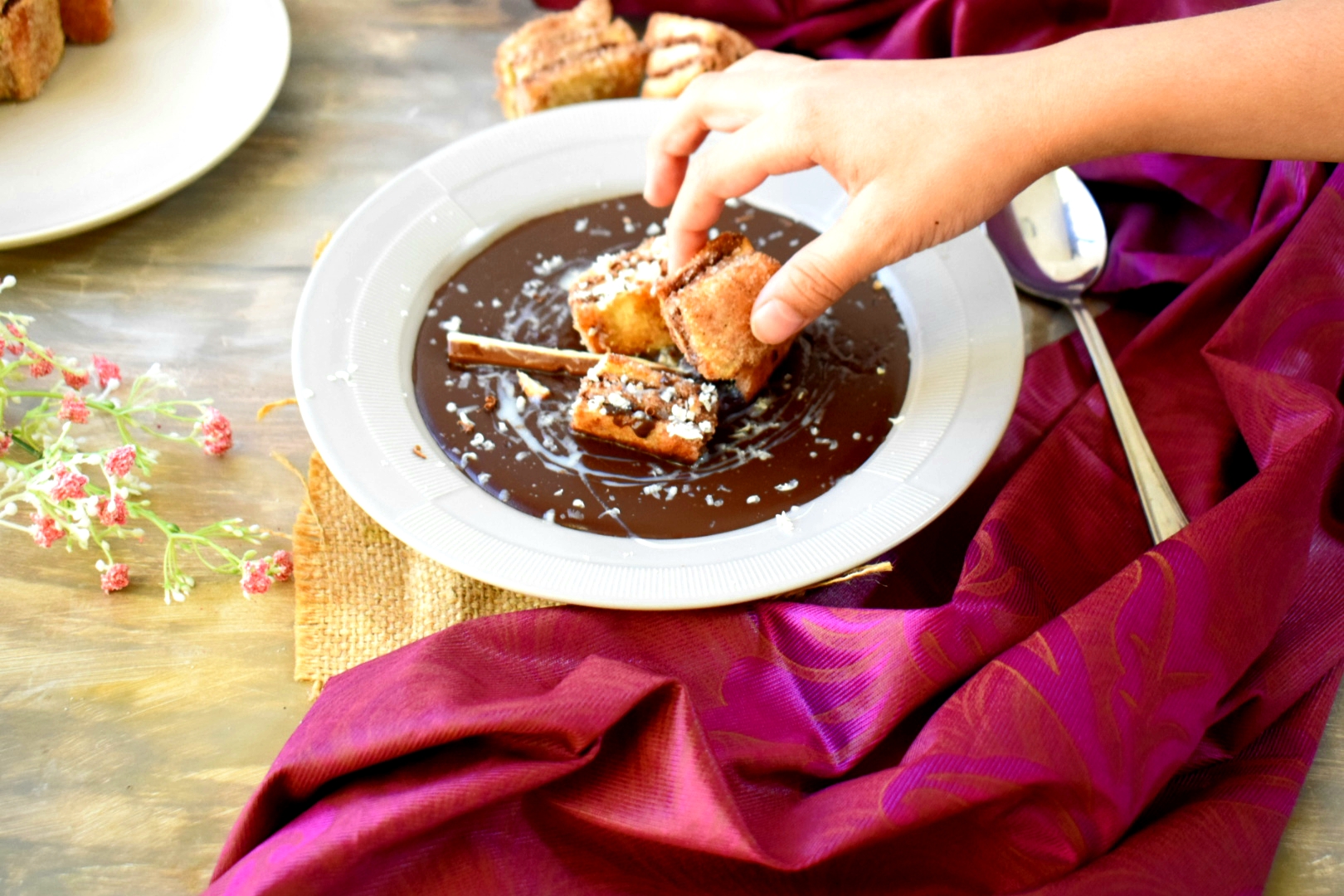 The idea is inspired by one of my fav youtube channel Sorted Food! I mean it's so simple yet a delicious thing to enjoy on any of your special occasion! In that recipe for croutons, they used brioche bread coated in cinnamon sugar. Here I sandwiched it with Nutella stacked with 3 pieces of bread together and then coated with sugar, which helps to create a lift while plating the soup! And I'm glad I added Nutella because it took the dessert to next level! You can simply make it and munch on with your kids.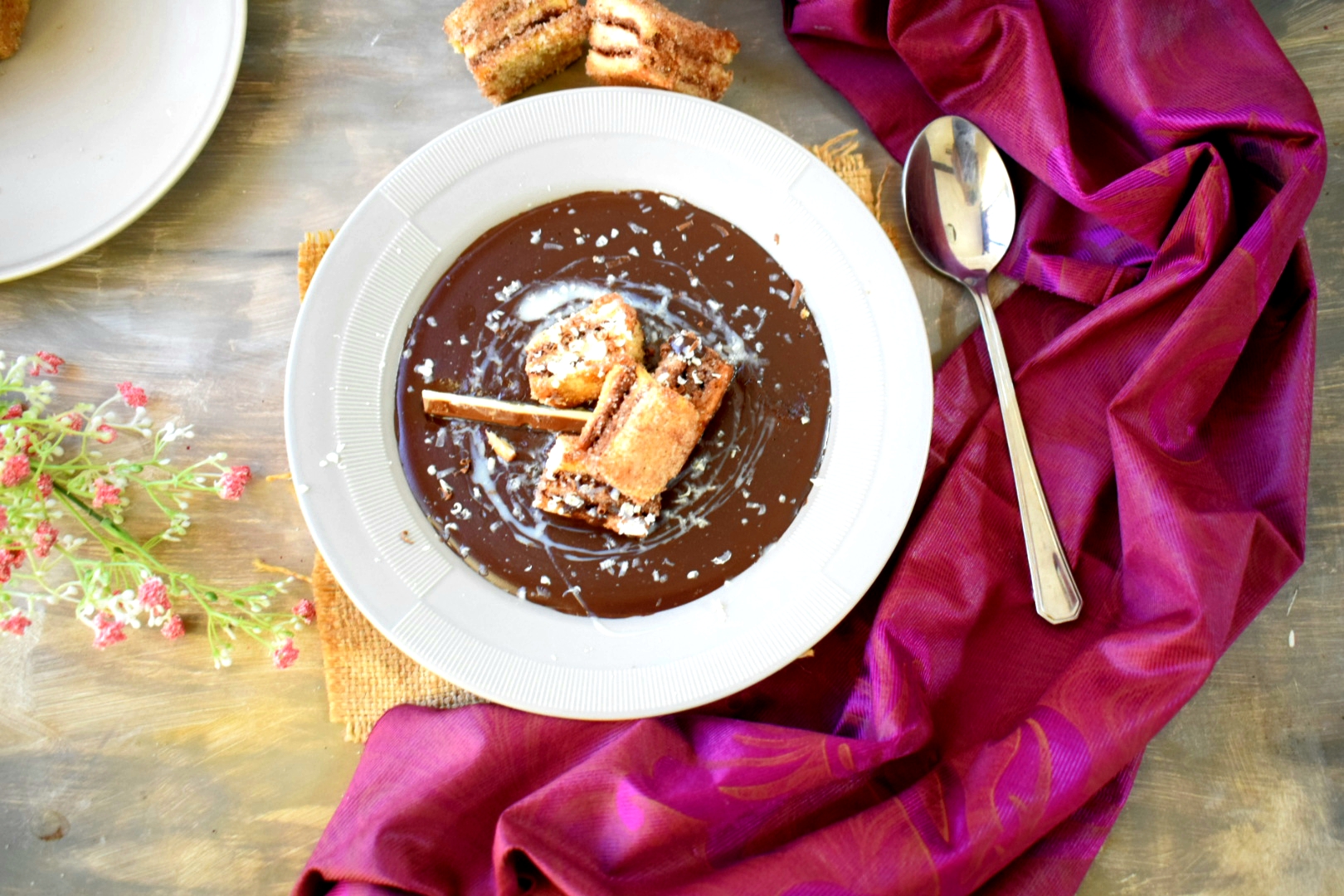 Ingredients
For Crotons
Bread slices 12
Nutella
3 to 4 tbsp sugar
1/4 tsp cinnamon powder
50 gm melted butter
For Soup
1 & 1/2 cups milk
3/4th cup heavy cream or whip cream or fresh cream
1 or 2 tbsp condensed milk or sugar
240 gm cooking chocolate i used a combination of milk and dark chocolate
2 tsp cocoa powder
2 tsp cornflour + few tbsp milk
A pinch of salt
Method
Spread Nutella on a bread slice and cover it with another slice, and then spread one more bread slice with Nutella and cover it. (stacking3) Similarly, do with the others. Cut it onto four cubes
Mix sugar and cinnamon powder together and keep aside.
Dip the bread cubes in melted butter and coat it in sugar
bake it @180 degree preheated oven for 10 to 14 minutes.
For Soup
Heat milk, cream and condensed milk in a pan and mix well.
When it starts to boil from the sides lower the flame and add the chocolates in it.
Mix well until it melts. Do not burn it.
In another bowl mix cocoa, cornflour with few tbsp of milk and pour it to the chocolate and stir it continuously until it bubbles up and thickens slightly.
Remove from the pan and pour it in a serving platter, garnish with cinnamon crouton and some chocolate shavings and dig in. I loved it when it was slightly warm
It will thicken up when it sits. Just dip the cinnamon crouton in the chocolate and enjoy!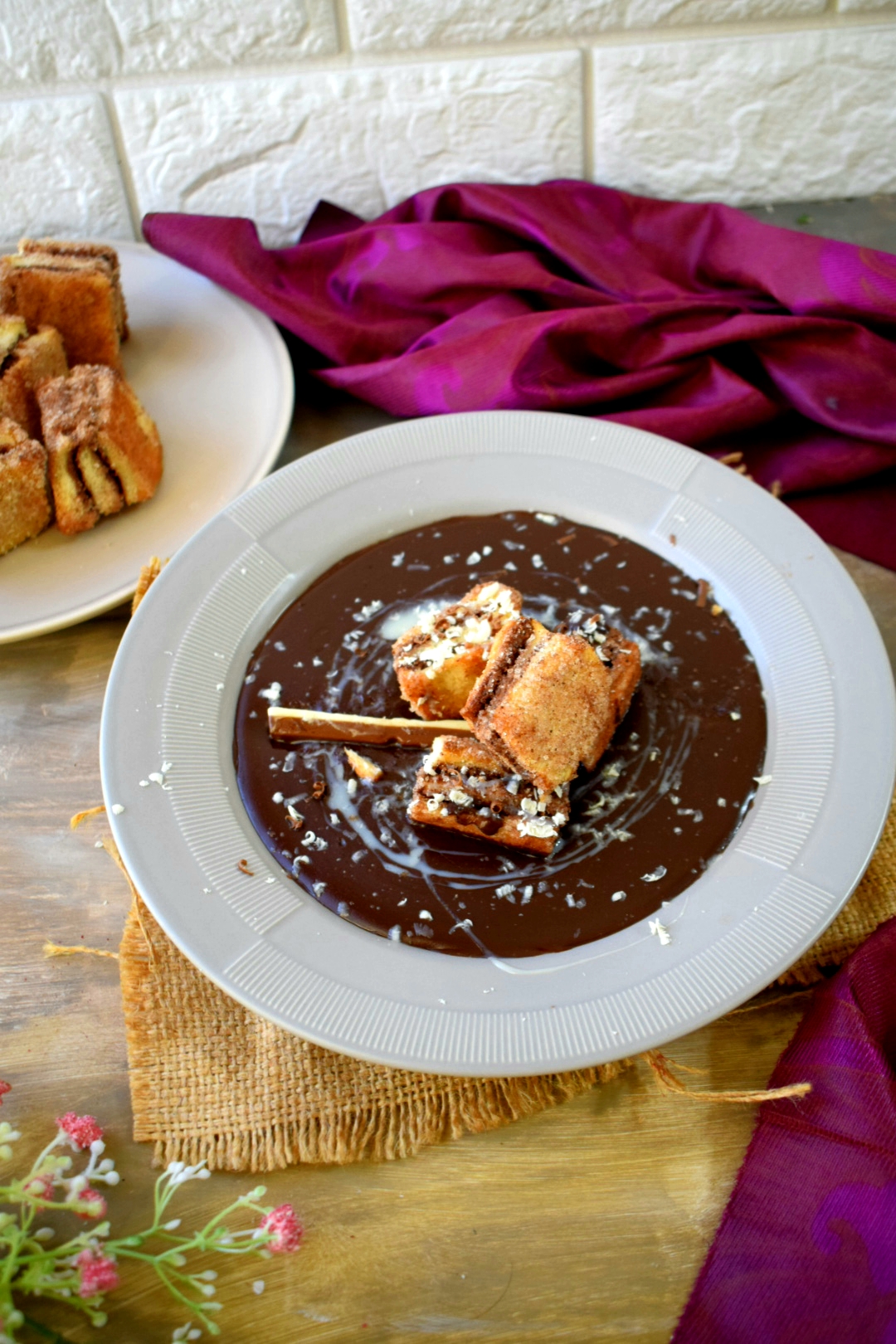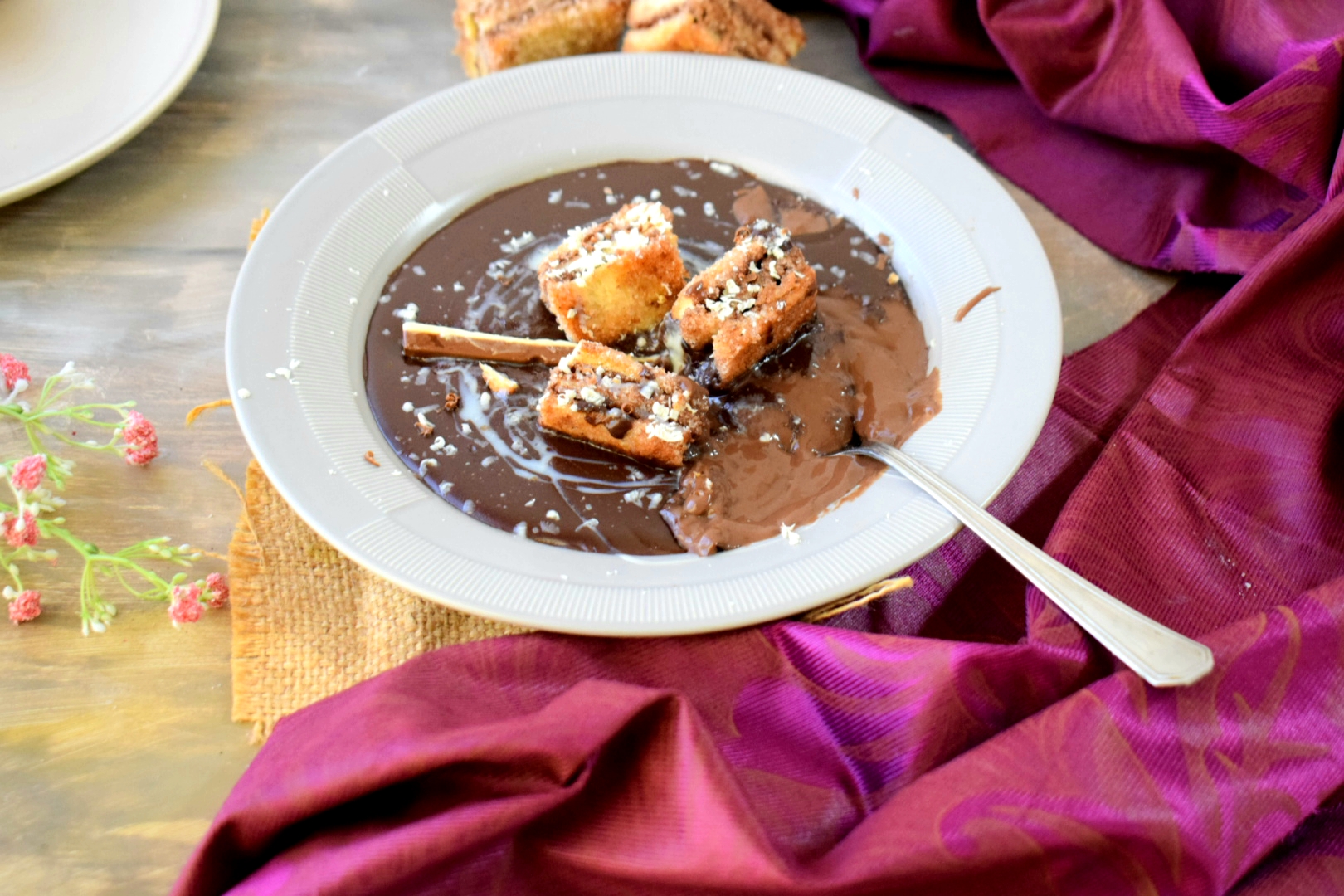 Relish it with your Family!