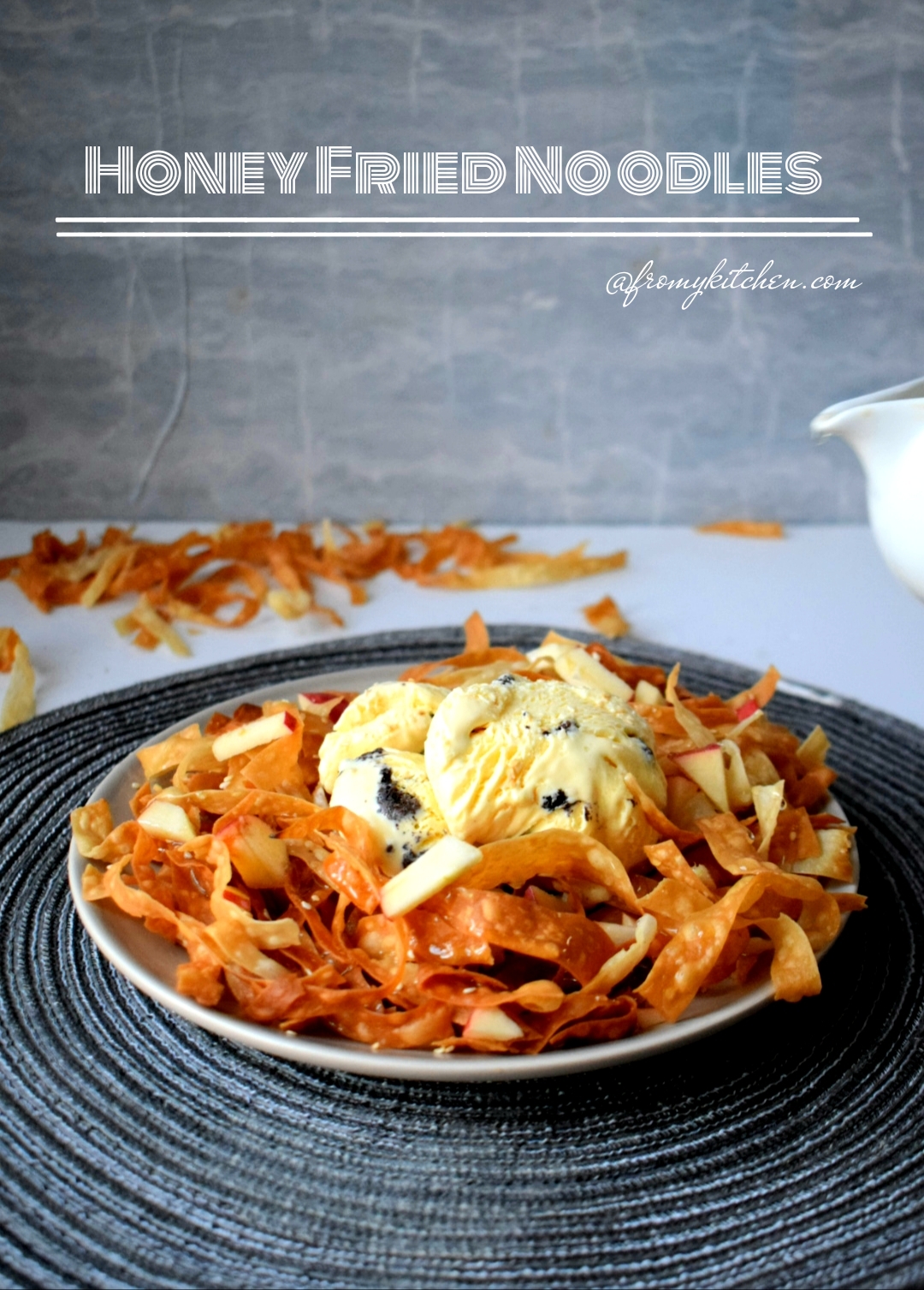 Honey Fried Noodles is a Chinese dessert which is so quick and easy to whip together. Yes, the crispy strips of noodles coated with simple honey syrup and served with a dollop of Icecream are worth trying!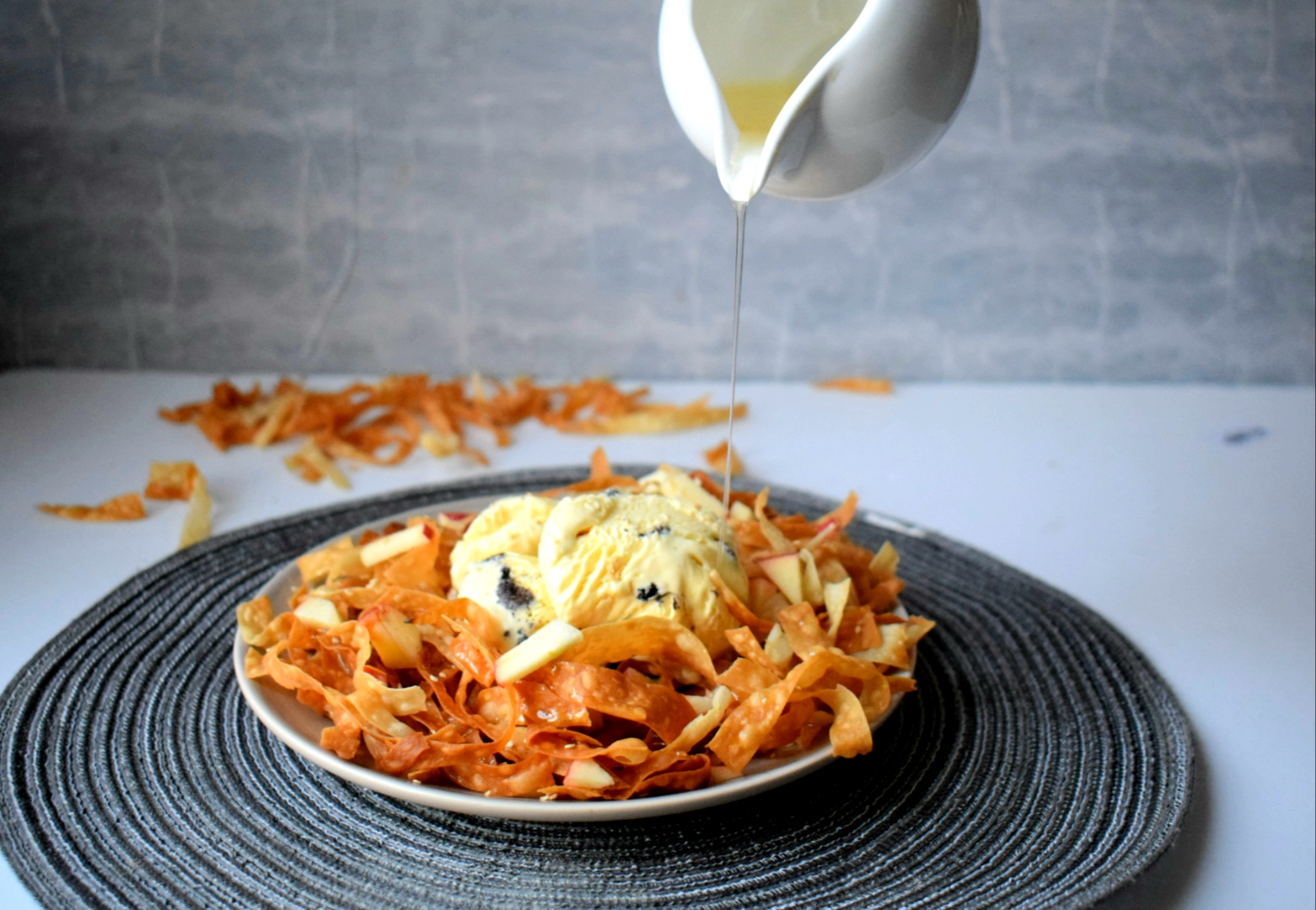 You can make the process simpler if you have some leftover samosa leaves! Yes, If you have leftover samosa leaves from Ramadan and you are trying hard to finish it off here you go a quick fix and extremely delicious recipe! The sugar syrup is made in 2ways one in caramelized form and other in simple sugar syrup with honey! I opted the simpler one by making sugar syrup. If you want the caramelized version check Sanjeev Kapoor's recipe.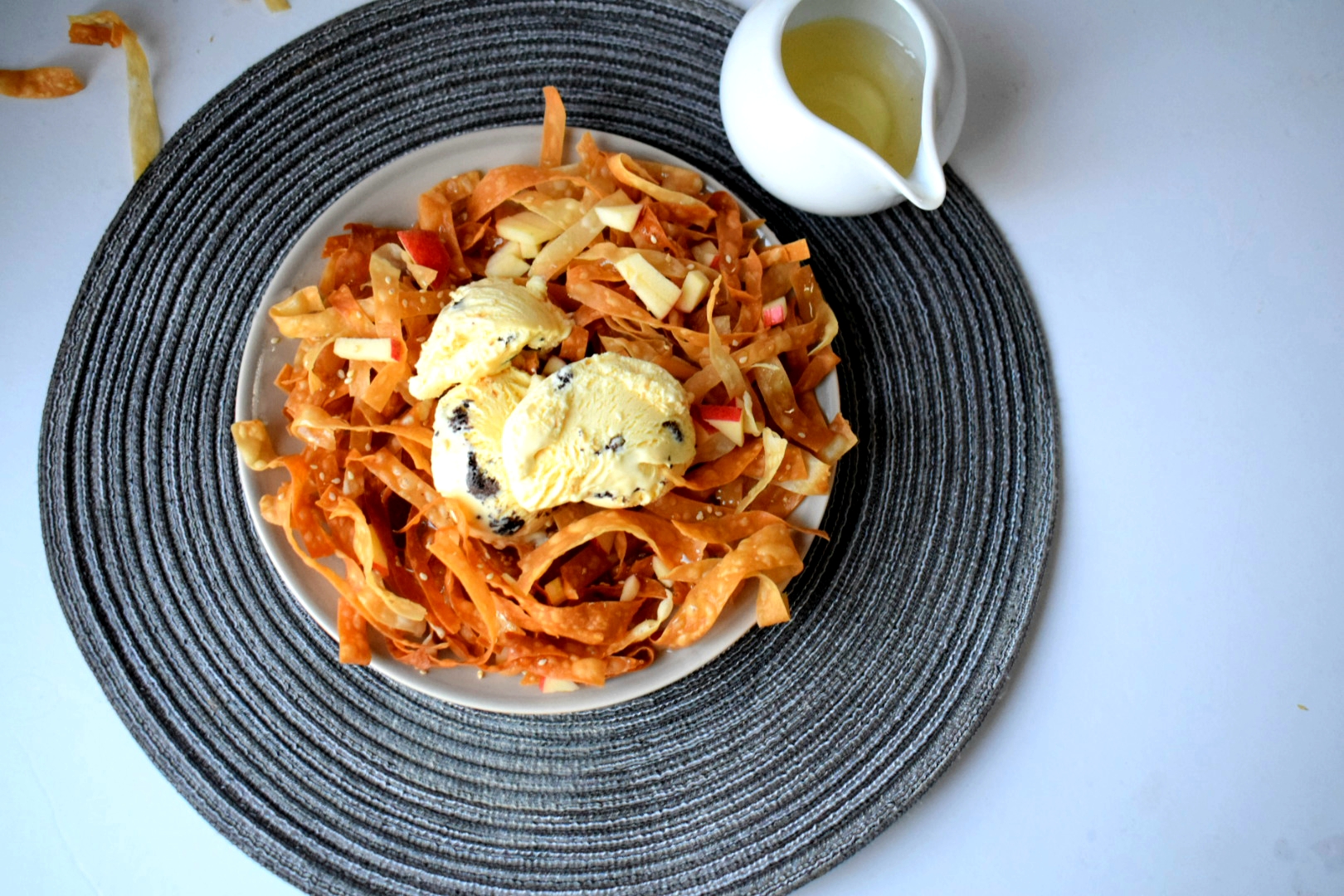 Just loved the textures of crispy, hot sugar coated noodles with melting ice cream! Vanilla ice cream is served along with this, but as i had some cookies and cream i used that and it was awesome too! Some toasted sesame sprinkled on top of it add an extra nutty flavor to the dish! For a dose of health add any fruit of your choice on top of it!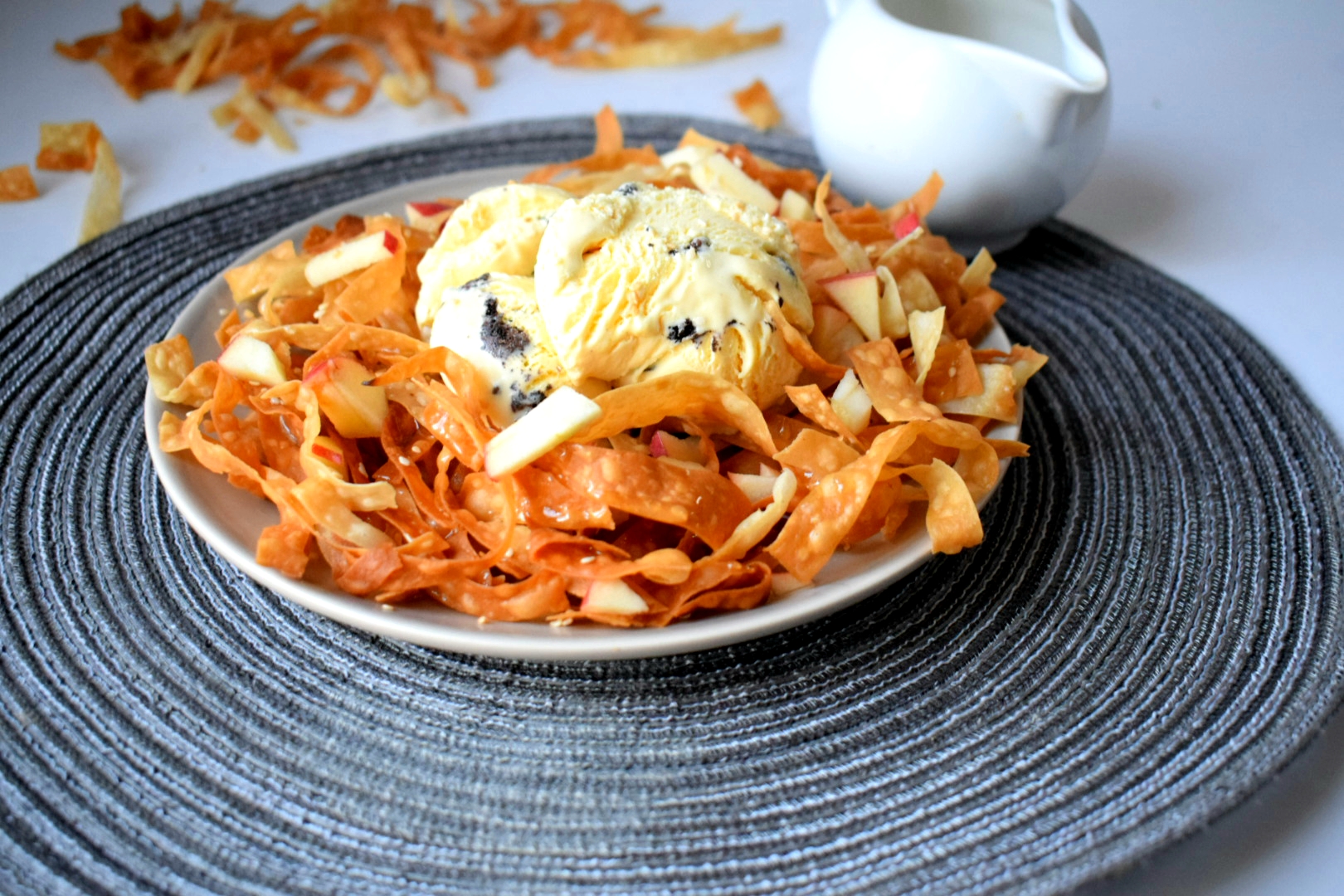 Let's get started!
Ingredients
1o t0 15 samosa leaves
Oil to deep fry
1/2 cup sugar
1/4th cup water
1 tbsp honey
2 to 3 tbsp sesame seeds toasted
Vanilla Ice Cream or any of your choice
If you don't have samosa leaves you can use flat noodles(fettuccine) see notes
Method
Take samosa leaves roll it tightly and cut it into thin strips.
Heat oil in a pan and deep fry it and strain it.
Toast sesame and keep aside.
In another bowl boil, sugar and water make a simple syrup. Not too thin not too thick
Add a tbsp of honey and mix well
Coat the fried noodles in it sprinkle sesame seeds and arrange it in a platter.
Top it with ice cream, for a touch of healthy twist add any fav fruit (chopped)of your kids'   and dig in!
It was really awesome!
Notes: If you are using noodles first boil it, strain it and then fry.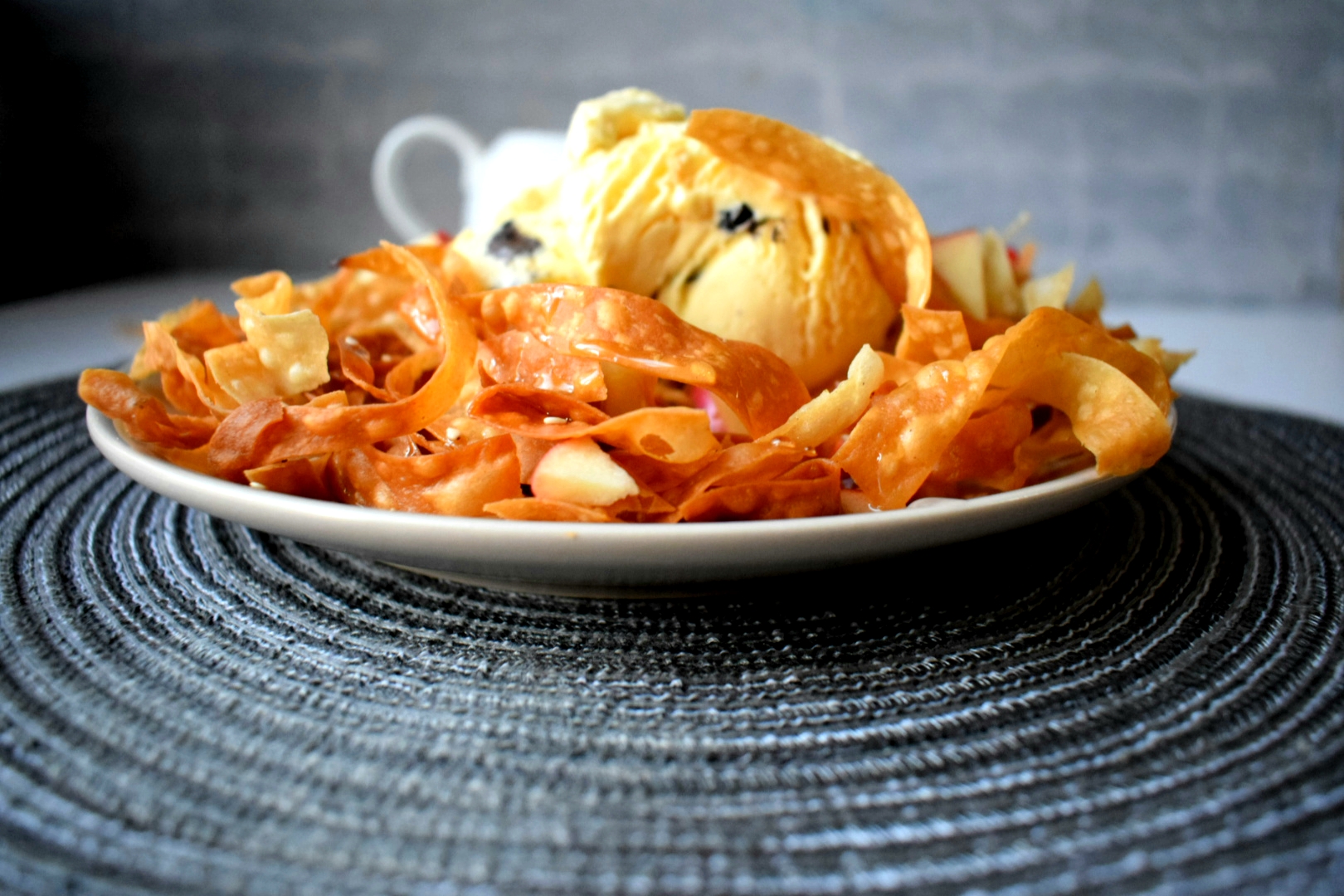 Check out this recipe too Chinese Toffee Banana A similar one!