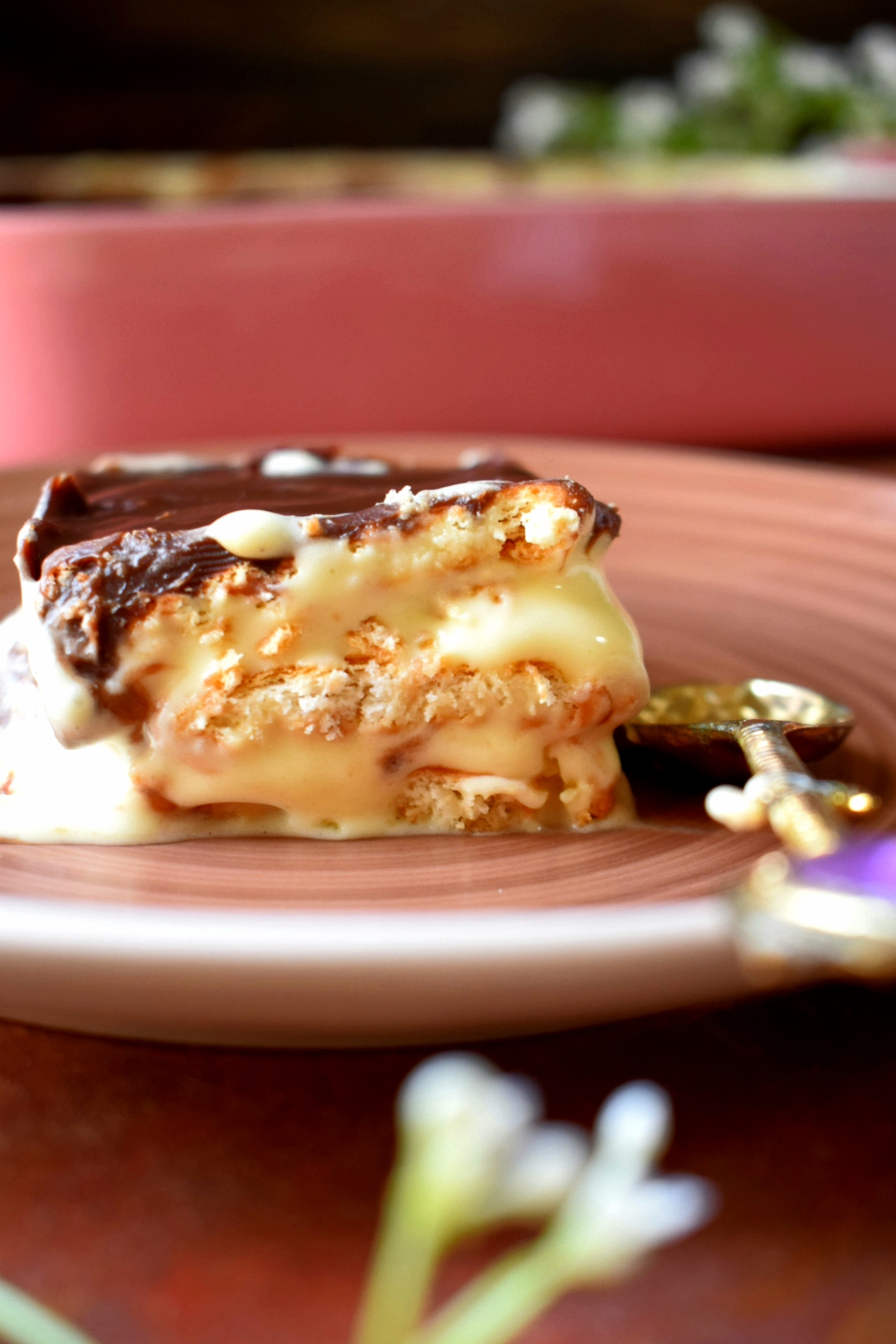 This No-bake eclair cake is such a breeze that you won't believe how good it is with very simple steps! It's very easy to put together and I'm sure this is gonna be a great option for your eid or any party table. It's loaded with all of the great flavors of an eclair in rich and creamy cake form. I know it's not a perfect looking eclair cake, but please don't judge it through the look as I didn't have enough time to set and couldn't slice it neatly.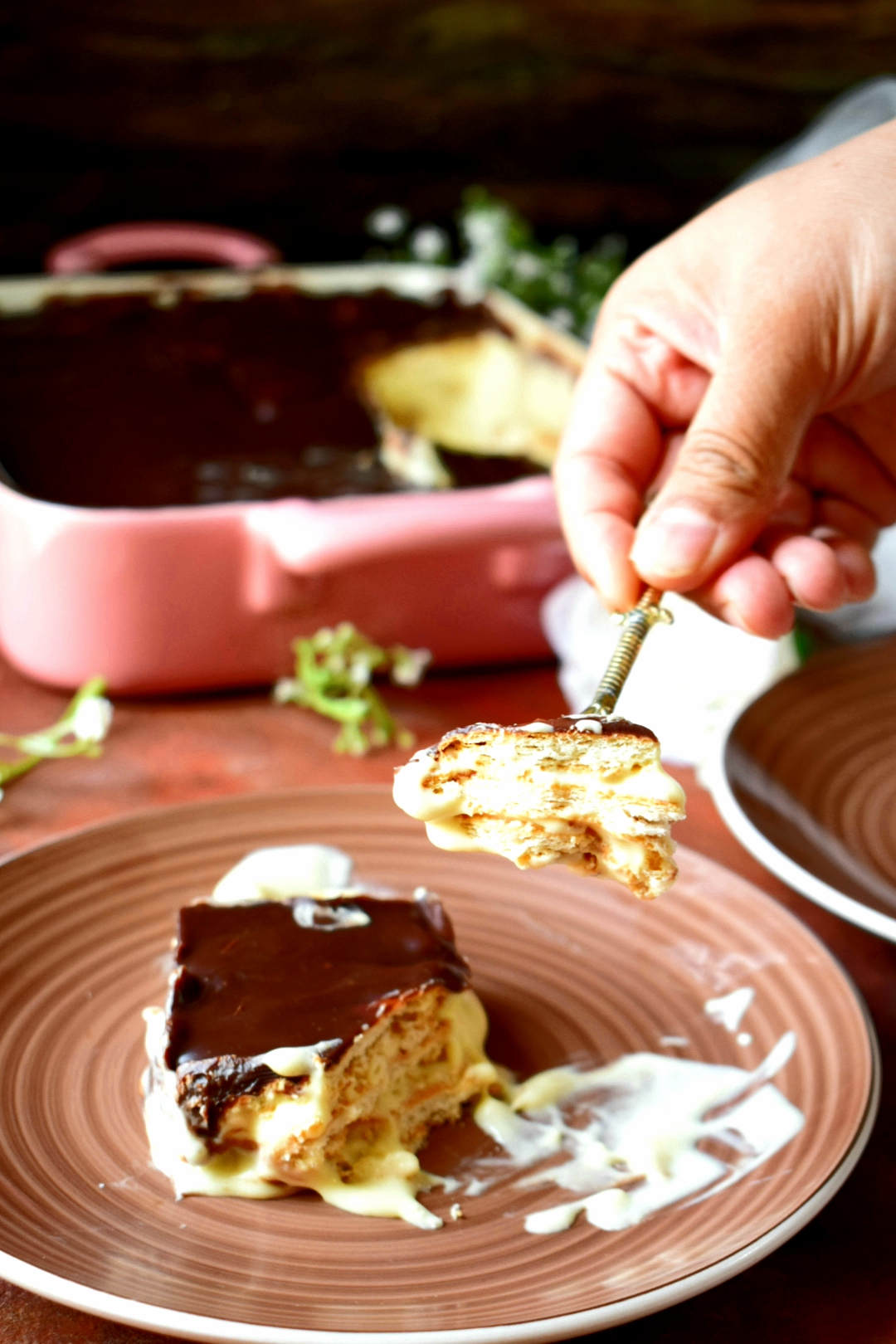 The biscuit base dessert with delicious vanilla cream layered beautifully with a  final touch of everyone's favorite chocolate ganache! Ahh! What an amazing combination! Vanilla and chocolate is always a hit, isn't it? In most of the recipes, the vanilla puddings are made using the readymade mix, Here i made it from scratch, an eggless version of vanilla pudding using custard powder. I remember we always skip the egg portion of any dessert recipe and I'm sure there are many like my family who doesn't like eggs in their puddings! So this one is perfect for you! Adding eggs never gives that eggy flavor in your dessert but still if you are doubtful, then no one can help it, hehe!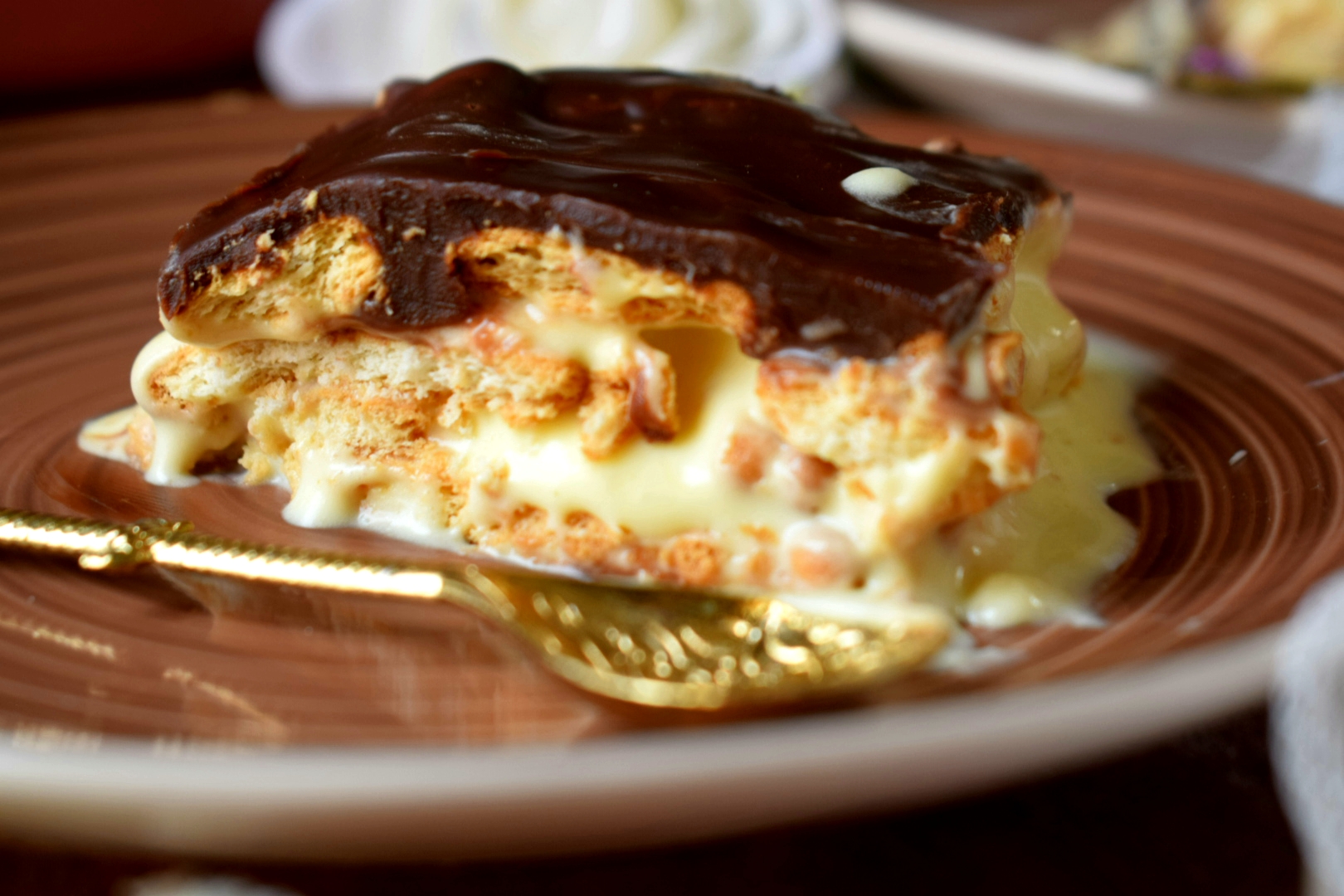 I made it today morning and i didn't get enough time for it to set. But if you chill it overnight u can slice it neatly. I wanted to share my Eid dessert with you all, so you could choose one just in time! This is the last minute post! Hope you all will enjoy!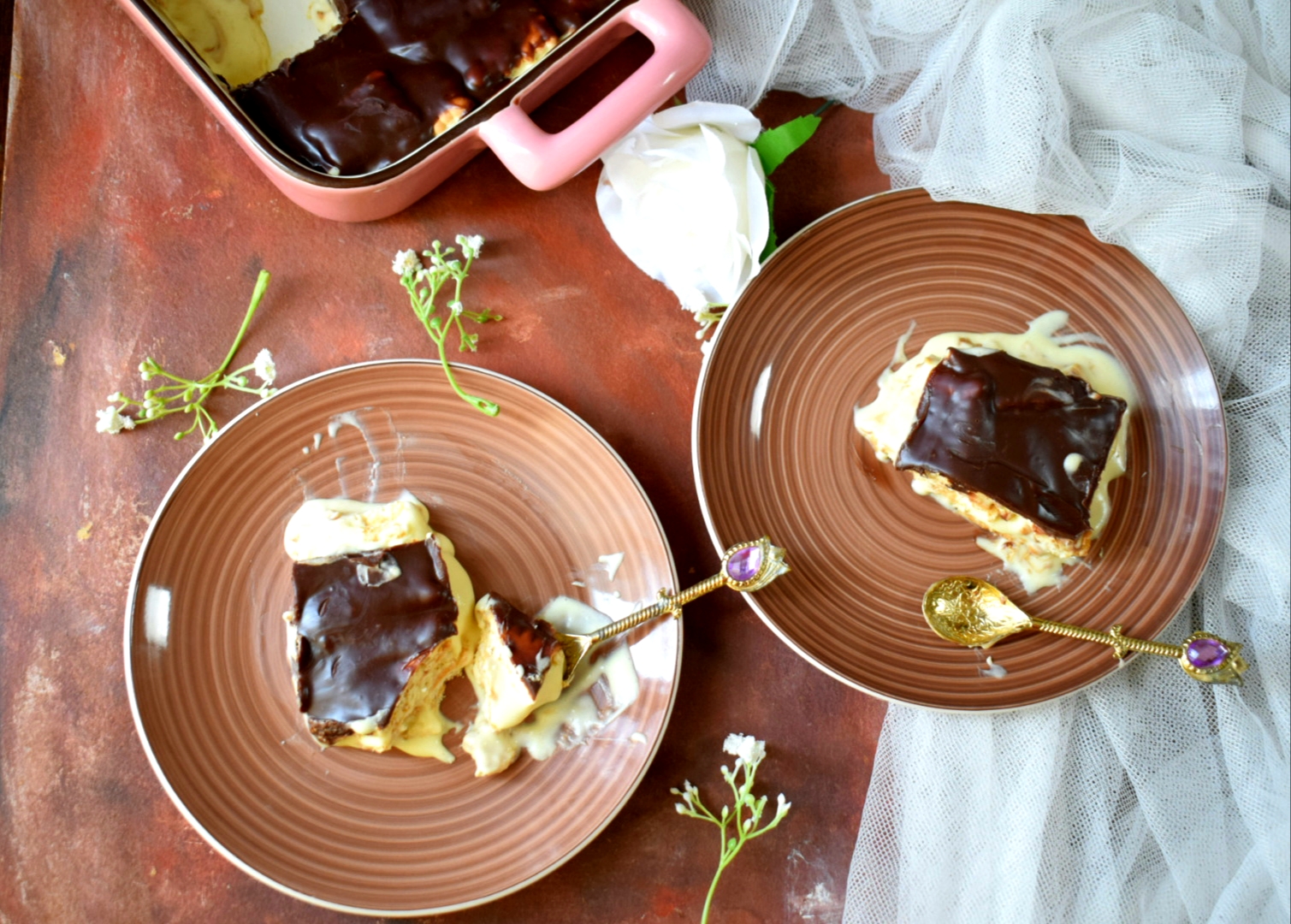 The only thing you need to make sure is that you have to chill the vanilla custard completely before folding it with whipped cream. Hope this dessert will be a hit in your family. So without further delay let's check out the recipe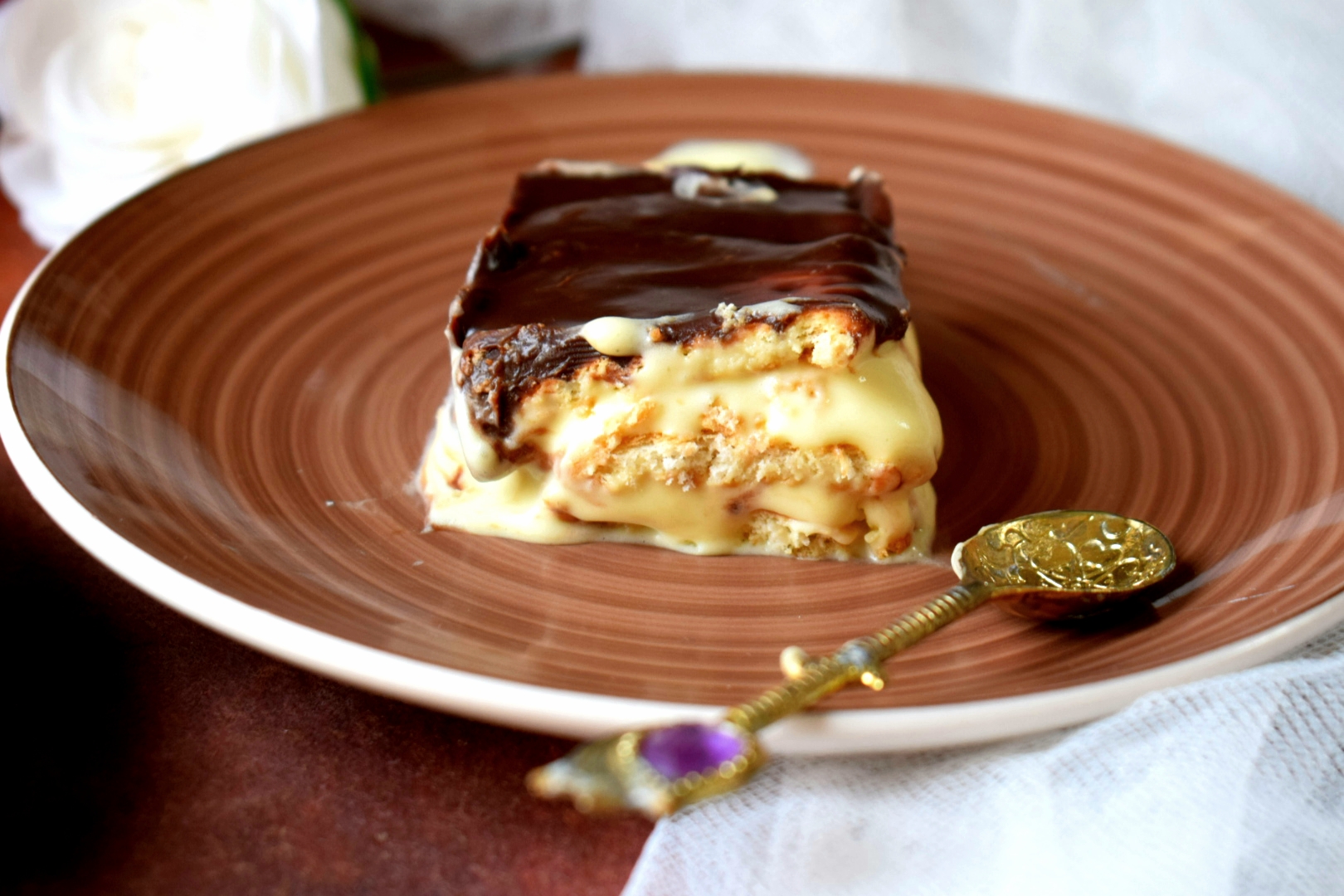 Ingredients
For custard
2 & 1/2 cups milk
1/2 to 3/4th tin condensed milk or you can use sugar accordingly
2 to 3 tbsp custard powder mixed with some milk
Vanilla essence
Whip Cream
1 & 1/2 cups whipping cream
5 to 6 tbsp icing sugar
Vanilla
For Ganache
1 cup or 225 gm cooking chocolate
1/2 cup heavy cream
Lots of Tea biscuits (i used 3 packets)or graham cracker if it's available
Method
First, make custard – boil the milk and condensed milk, then add the diluted custard in the boiling milk and stir continuously. When it starts to thicken up and boil switch off the flame and add vanilla, then cover and chill it before mixing with whip cream.
Whip the cream with icing sugar and vanilla, mix it with the chilled custard. The cream is ready.
Make the ganache by heating the heavy cream and mixing it with the chocolate.
Start layering – Biscuit base, half of the cream again biscuit and cream mix. Then one more layer of biscuit and pour the chocolate ganache over it. Set it overnight for the neat slice.
Note: You should give a good 5 to 6hours time to set, for the best result set overnight.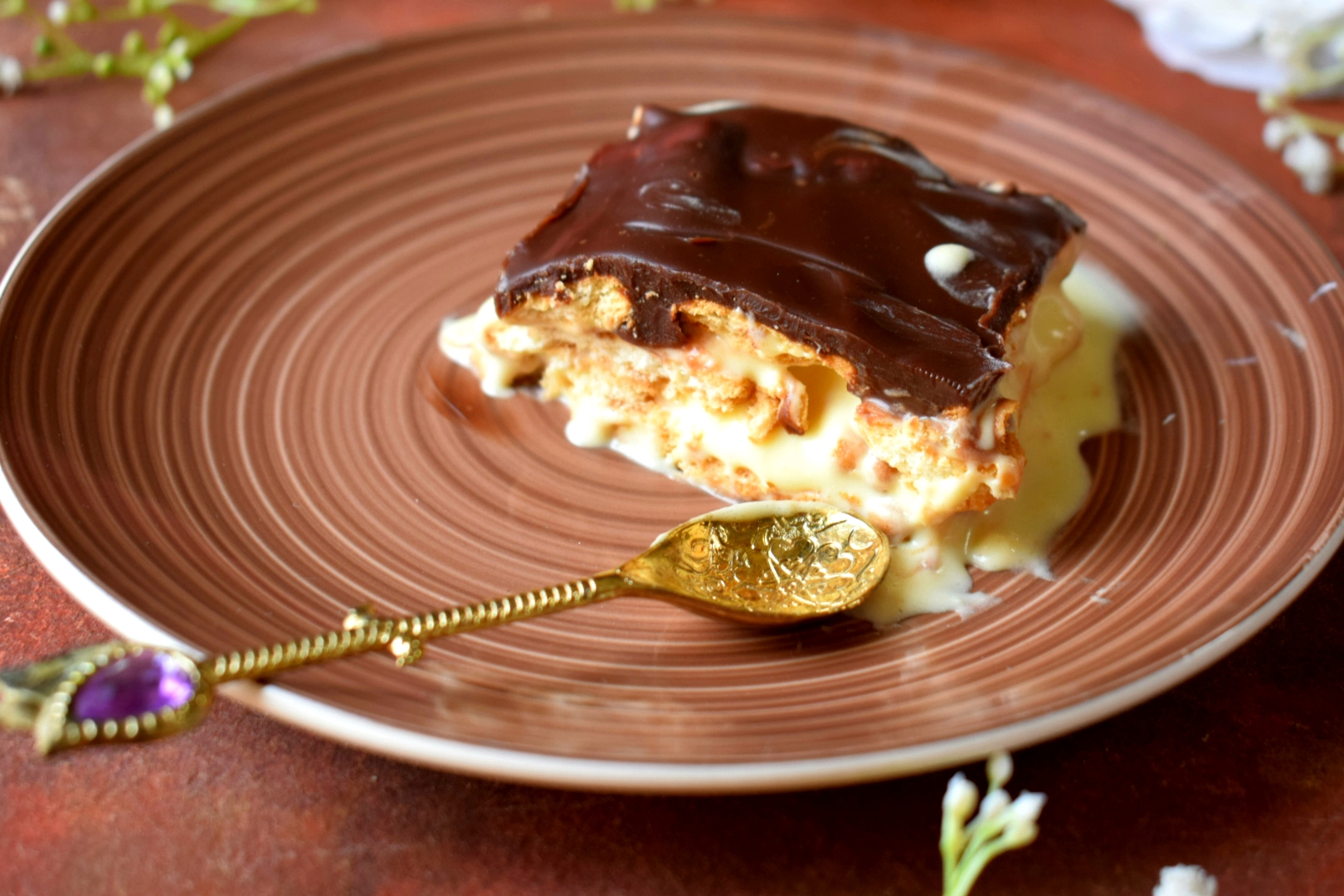 Happy Cooking!