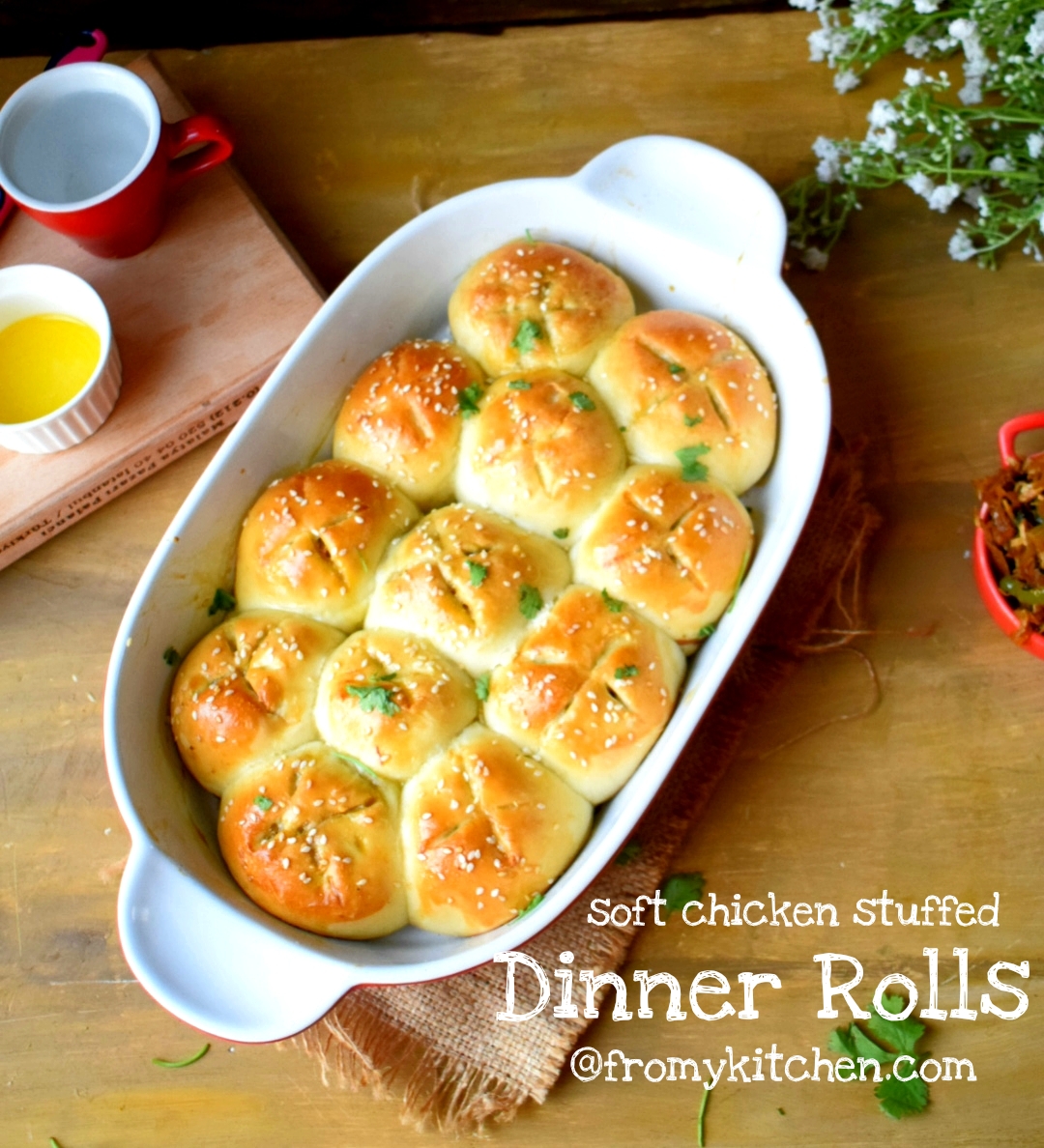 Fresh homemade dinner rolls are always a pleasure to have, isn't it? What if it's a delicious herby, chicken stuffed one! Droll isn't it? These dinner rolls are best served when it's warm!  The buns are pillowy soft and the filling has a spicy and herby flavor that goes well with this!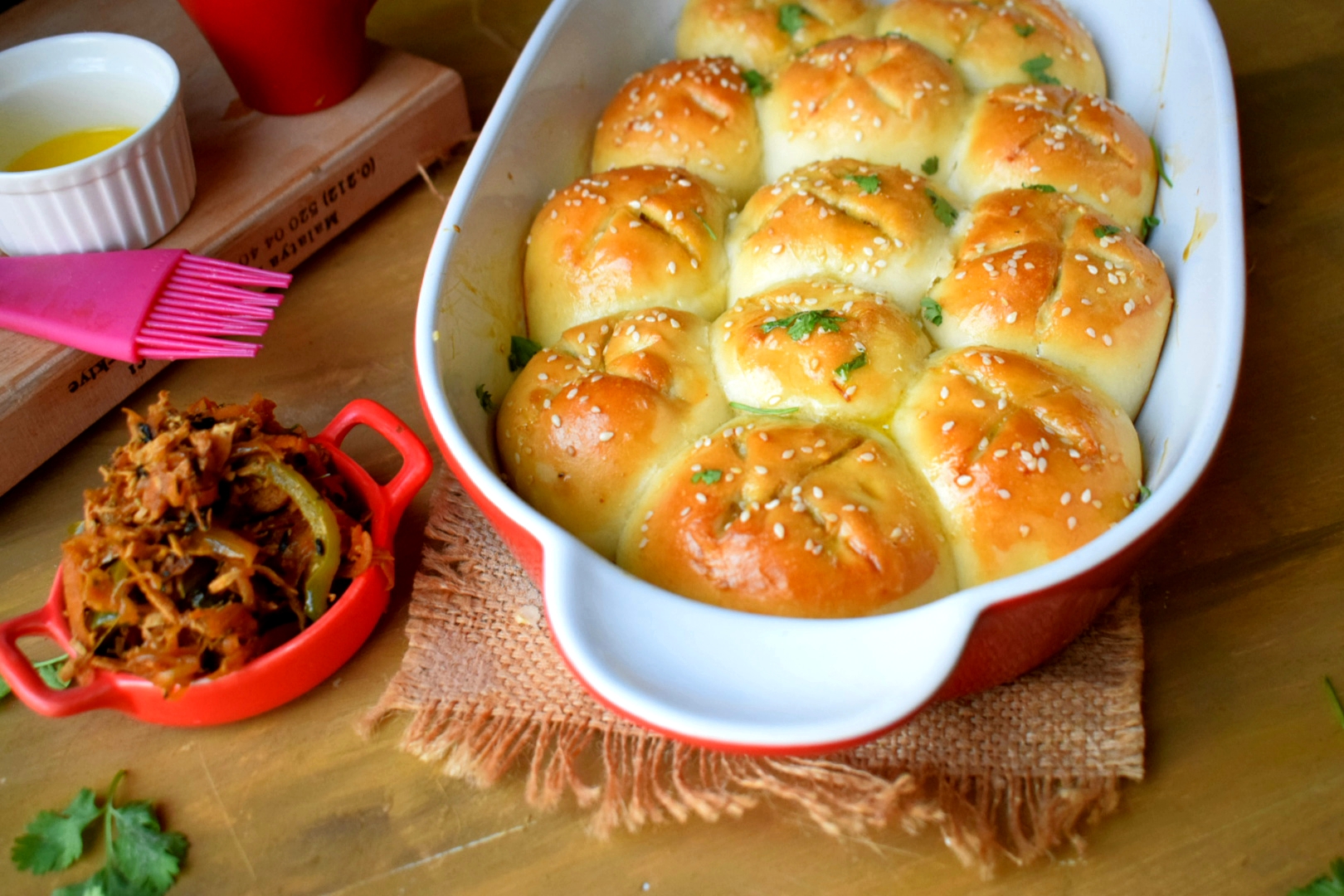 The reason why I love baked goodies are that, they are nonfried, just so easy to shape it and bake, and one more reason is I just love to see the end result of baked stuff! Is there someone like me? I mean that satisfaction when we see the things came out perfect from the oven, is like !! I can't explain!hehe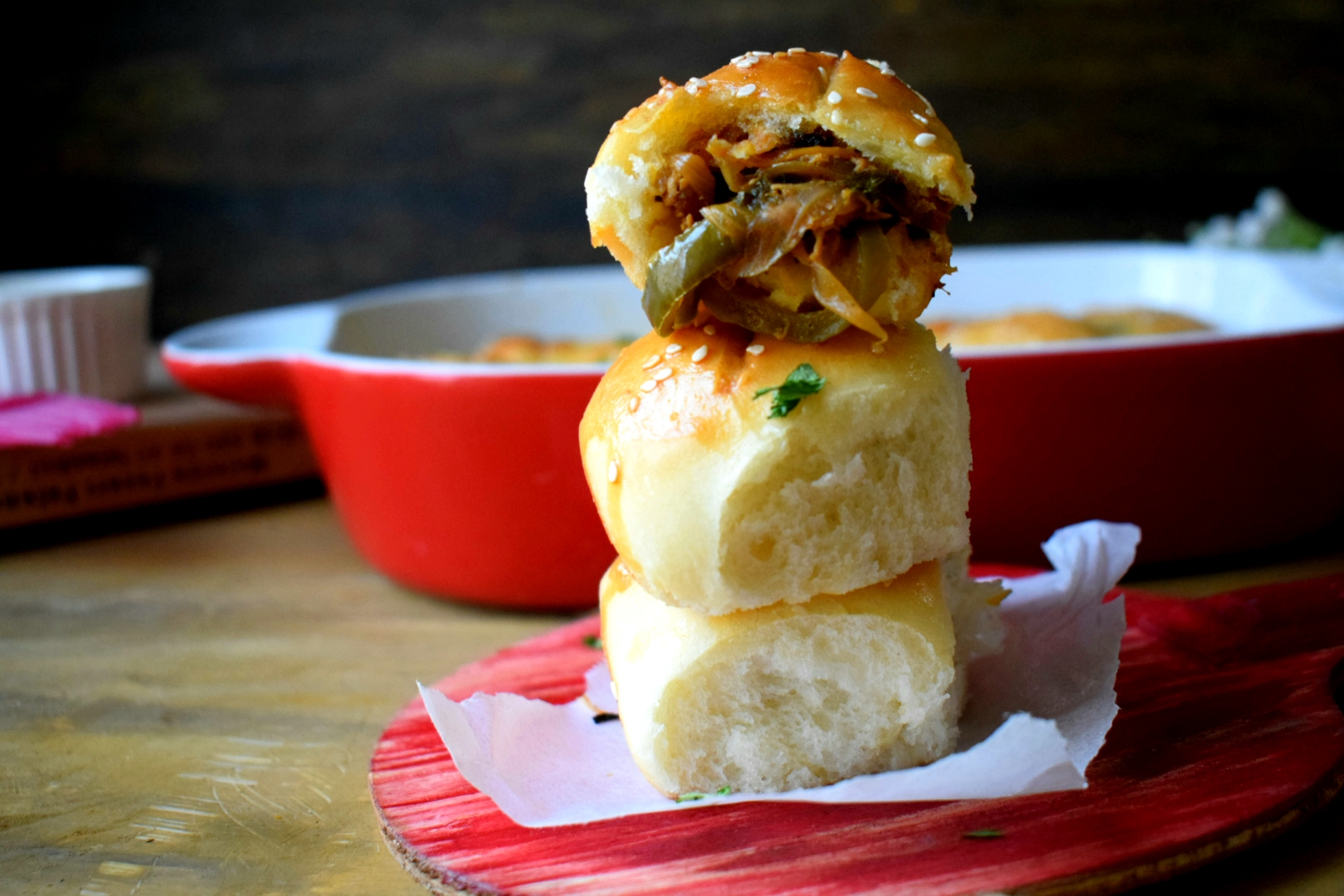 You can see how pillowy soft it is! This dinner rolls i took to a friend's party and they all loved it and are waiting for the recipe to be uploaded! So here is it for all those who are eagerly waiting for some baked stuff. One more recipe is coming with the same filling, as i had some leftover filling after making this. That's a baked sandwich tray, so stay tuned! If you are lazy enough to knead dough and stuff that recipe will be perfect for you!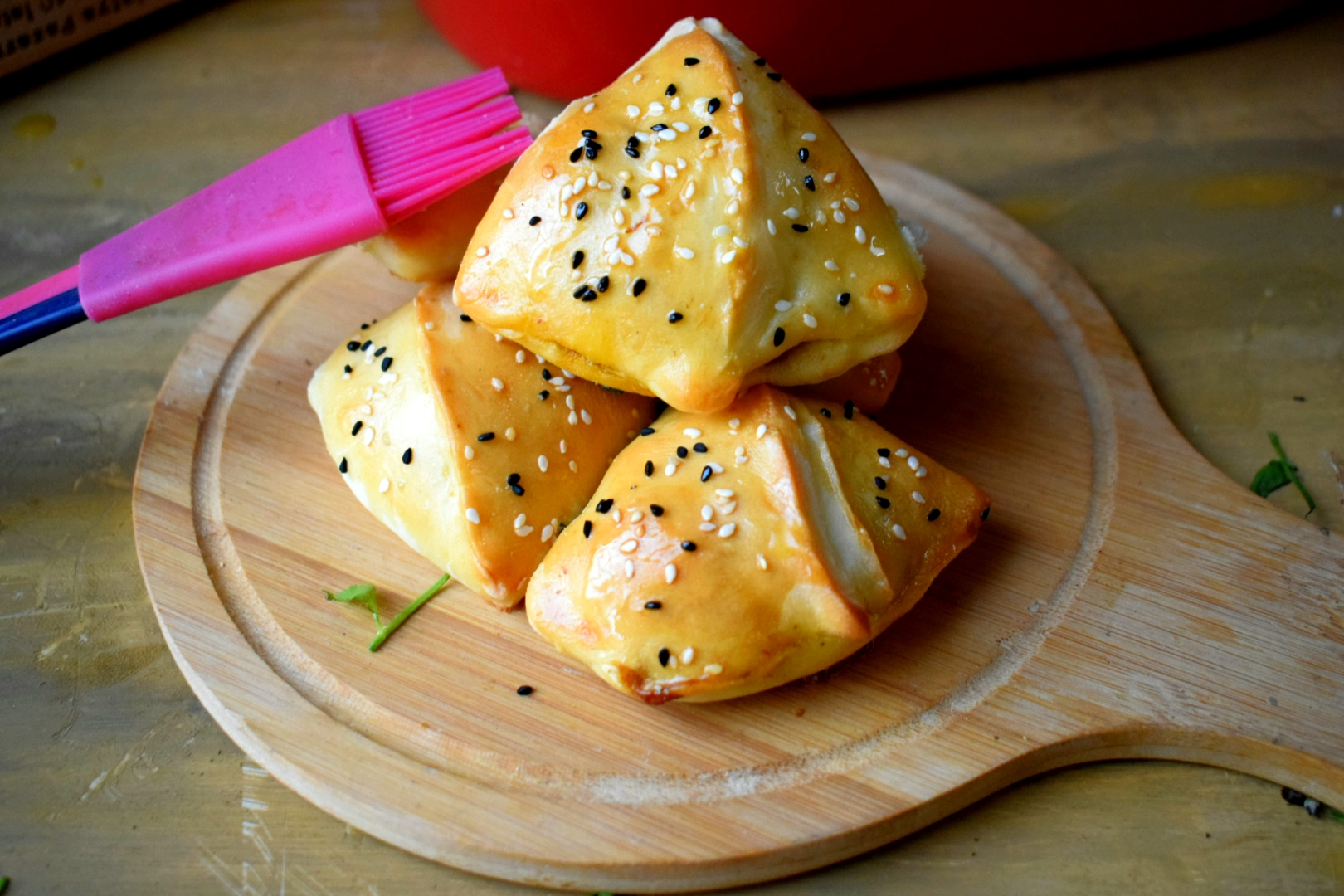 This shape looks pretty good, right?? Watch the video till the end to see how to make this shape. Try it out guys it's super yum and soft!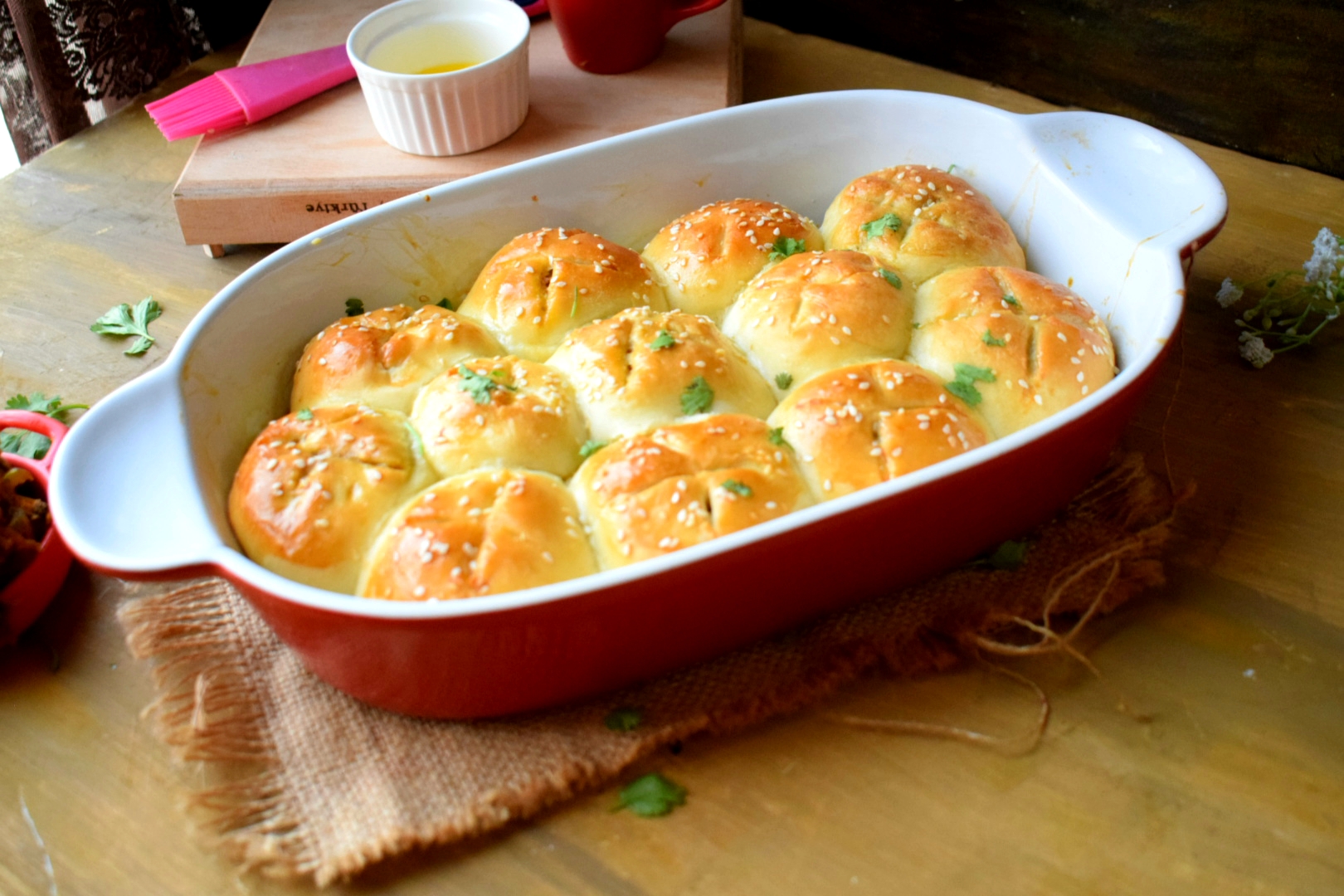 Ingredients
For dough
3 cups all-purpose flour
1 tbsp sugar
salt to taste
2 tbsp yeast
3/4 th cup water
1/2 cup milk + 2tbsp
3 tbsp oil
For marinating chicken
300 gm boneless chicken
Salt to taste
1 tsp ginger garlic
1 tsp chilly powder
1 tsp heaped sriracha sauce
Some lemon juice
2 tsp yogurt
For Filling
2 large sliced onion
1 carrot grated
1/2 of a bell pepper
1/2 of a tomato
salt to taste
1 tbsp ginger garlic paste or chopped finely
1 tsp sriracha sauce
2 green chilies
lots of Cilantro
Few sprigs of mint leaves
1 tsp pepper powder
some sriracha sauce
chopped cilantro
A squeeze of lemon juice
Method
Knead the dough by mixing dry first and then pour the wet. Knead well to a soft and pliable dough. My dough was so soft that the end result was super soft buns. If the ratio of dry and wet is 1; 1/2  you will get super soft buns. It will stick to your hands at the beginning but after kneading well you will get a soft dough(you will need some more flour for dusting, that's it)
Let them sit in a warm place for proofing by covering.
Marinate chicken with above ingredients and let them sit for at least 15 minutes.
Shallow fry it and take it out.
In the same pan add the sliced onions and ginger garlic paste along with salt. and cook it until soft, then add grated carrots and cook it by stirring in between.
Add bell pepper and tomato,
While that is happening in a chopper add mint, coriander and green chilies chop it. Then add fried chicken and mince it too.
When the veggies are cooked add pepper powder, sriracha and mix well, then add the chicken and greens mix well, cover and cook it for few more minutes.
Check the seasoning and adjust accordingly,
Lastly a squeeze of lemon juice and some cilantro, the filling is ready.
Assembling
When the dough has risen divide it into equal size balls. I made mini buns.
Gently spread it with your hands fill it and shape it to a neat ball. (refer video)
Grease the tray and place the rolled buns by leaving some space in between.
Cover and let them proof again( space will be covered by this time)  for 30 minutes.
Preheat the oven to 180 degrees.
Make some slits on top, egg wash it and sprinkle some sesame seeds.
Bake it for 15 to 20 minutes, until it's brown and cooked.
Taking out from the oven the crust will be a little hard, what you have to do here is cover it with damp cloth or tissue and you can see the magic after some time! Lightly butter it with a brush and dig in.
See the video for other triangle shaped bun!
Video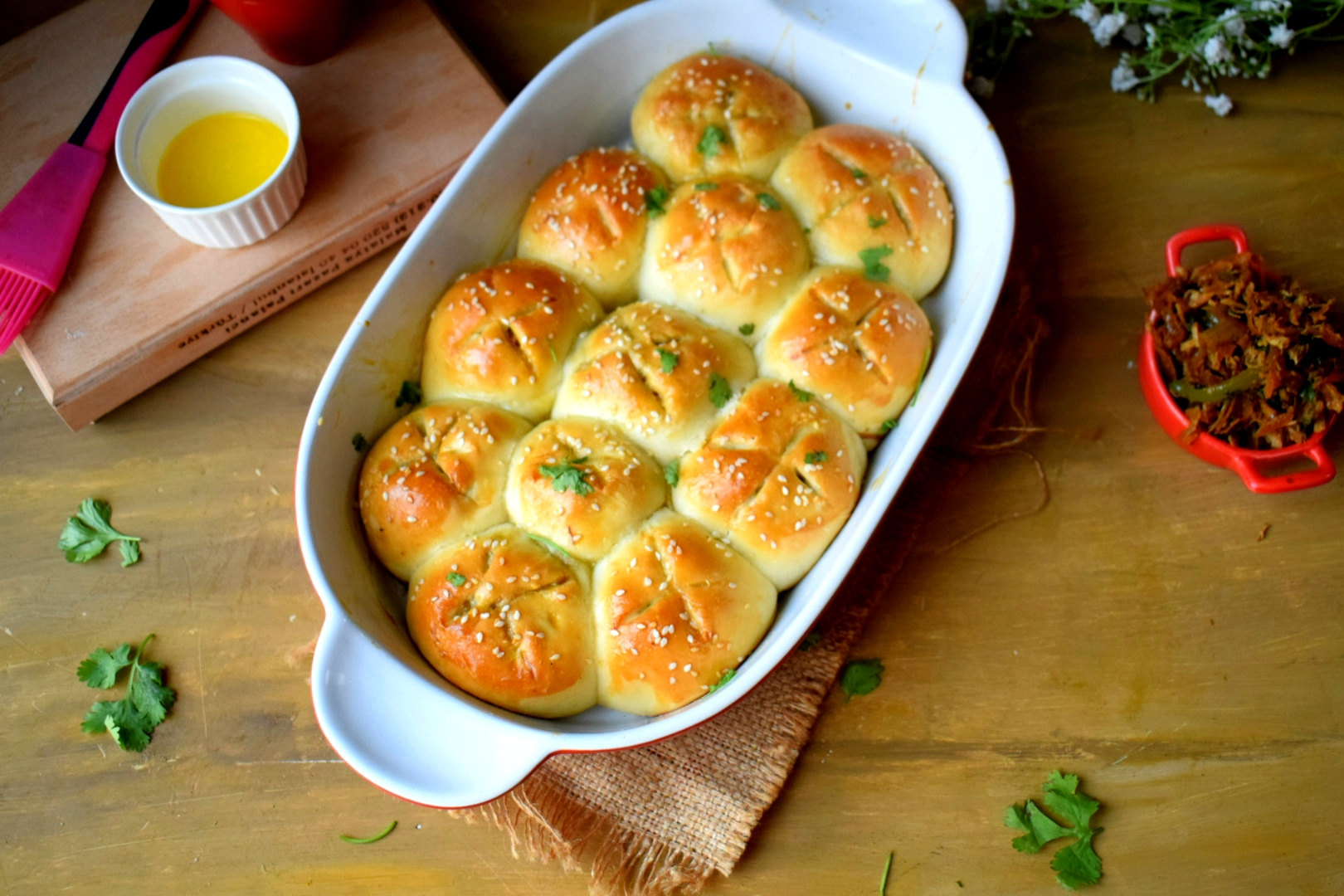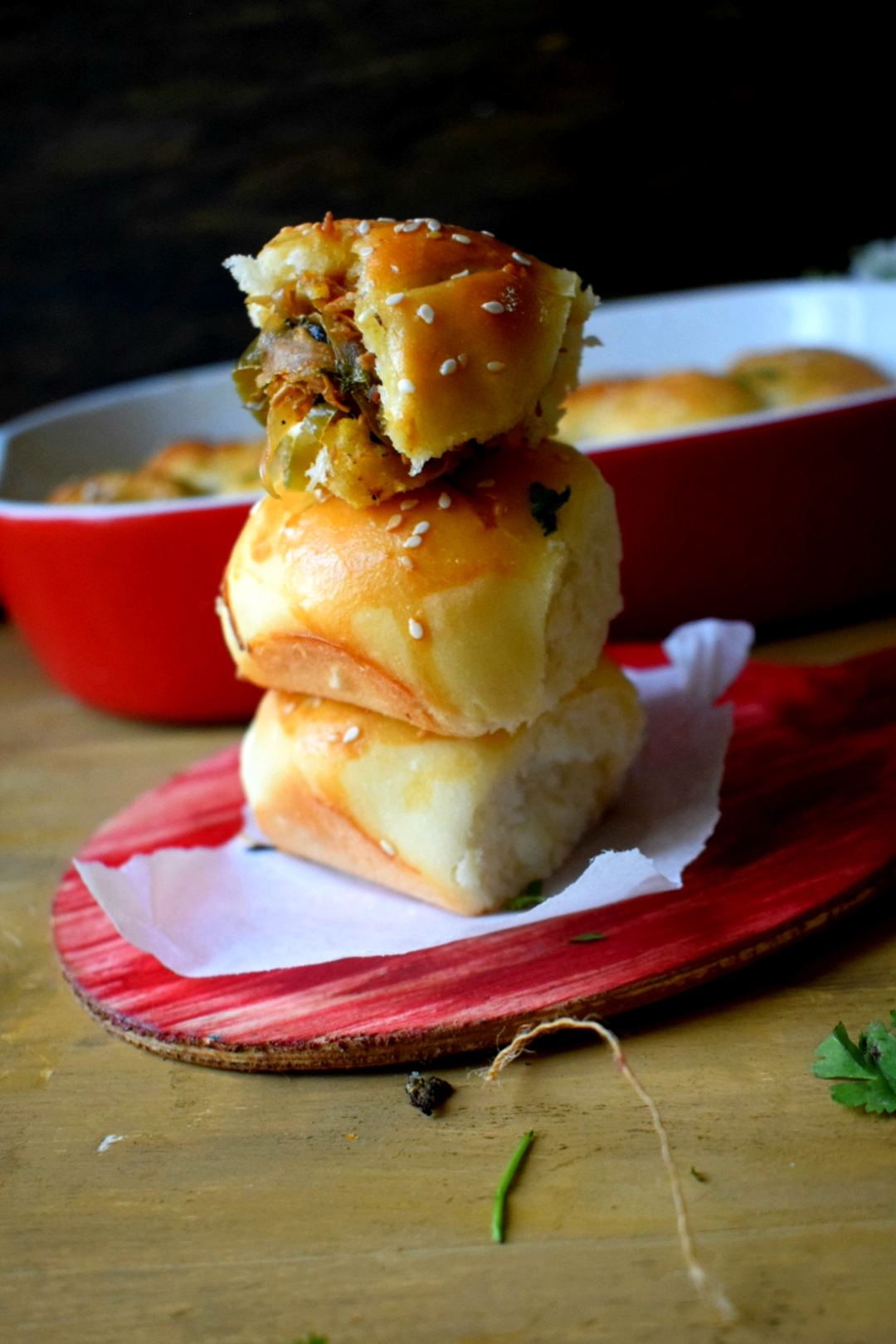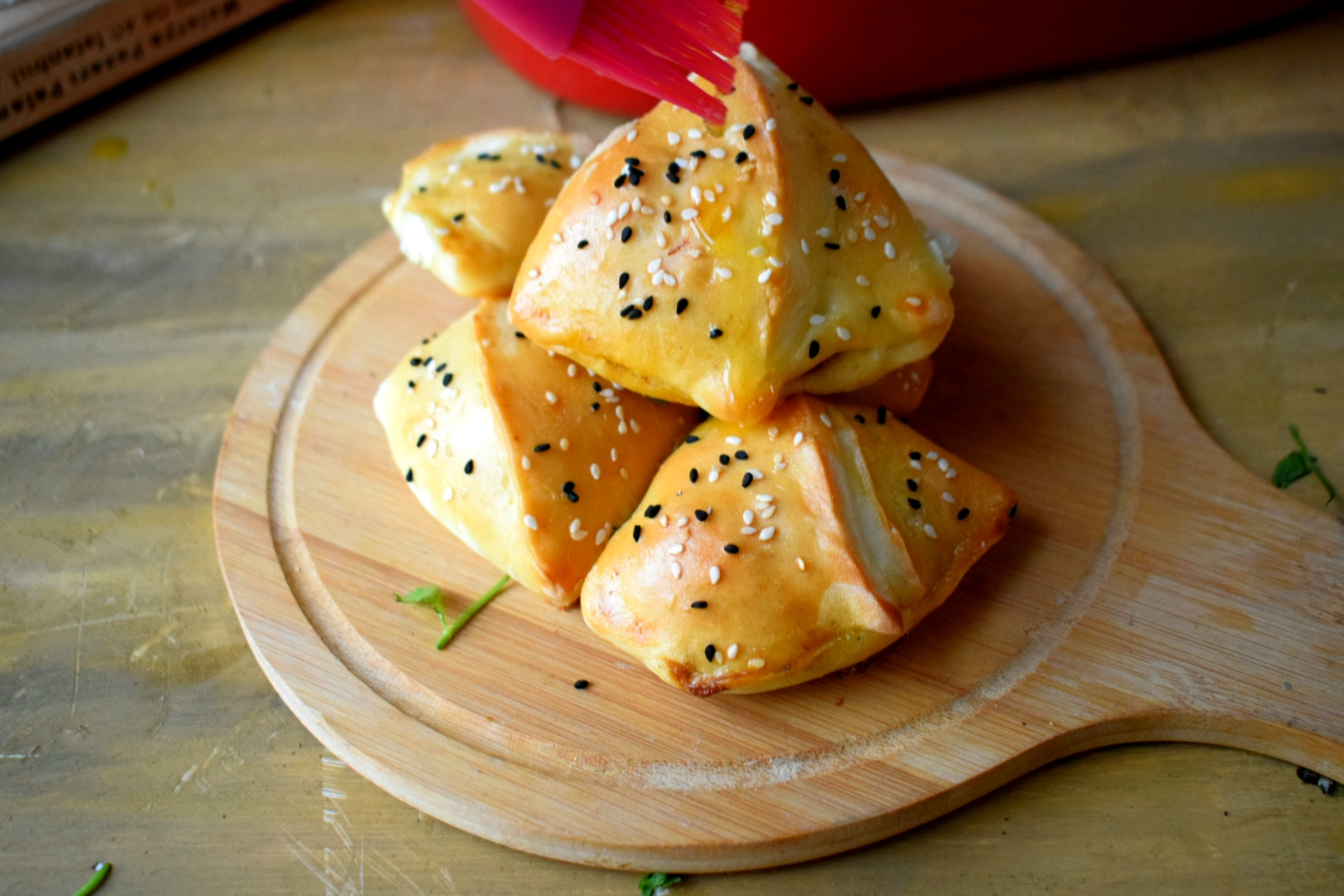 Happy Baking!