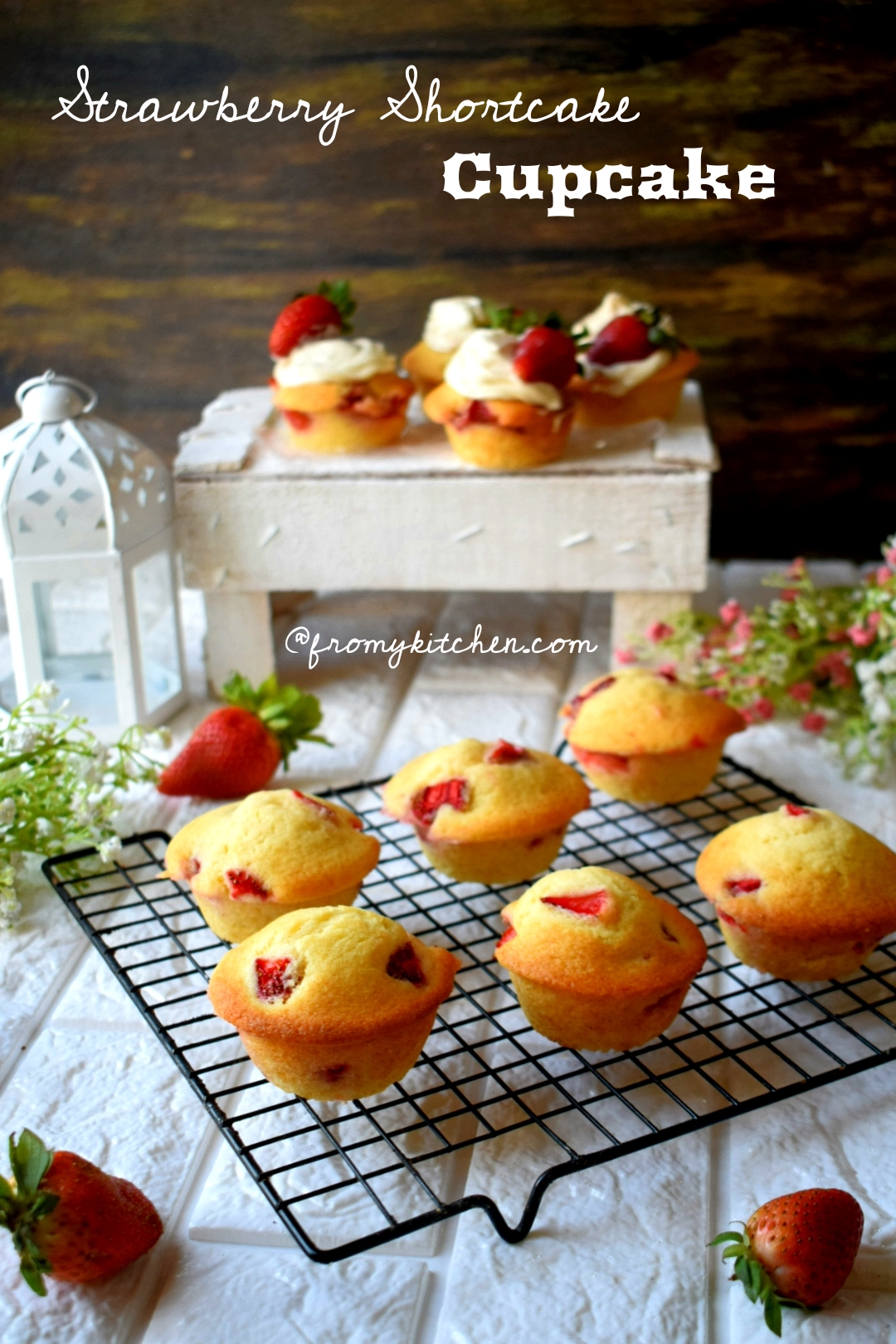 Strawberry shortcake cupcakes are simple, delicious and beautiful strawberry flavored cupcakes with fresh strawberries in it. Yes, the macerated strawberries are sandwiched between cupcake batter and then baked to perfection!!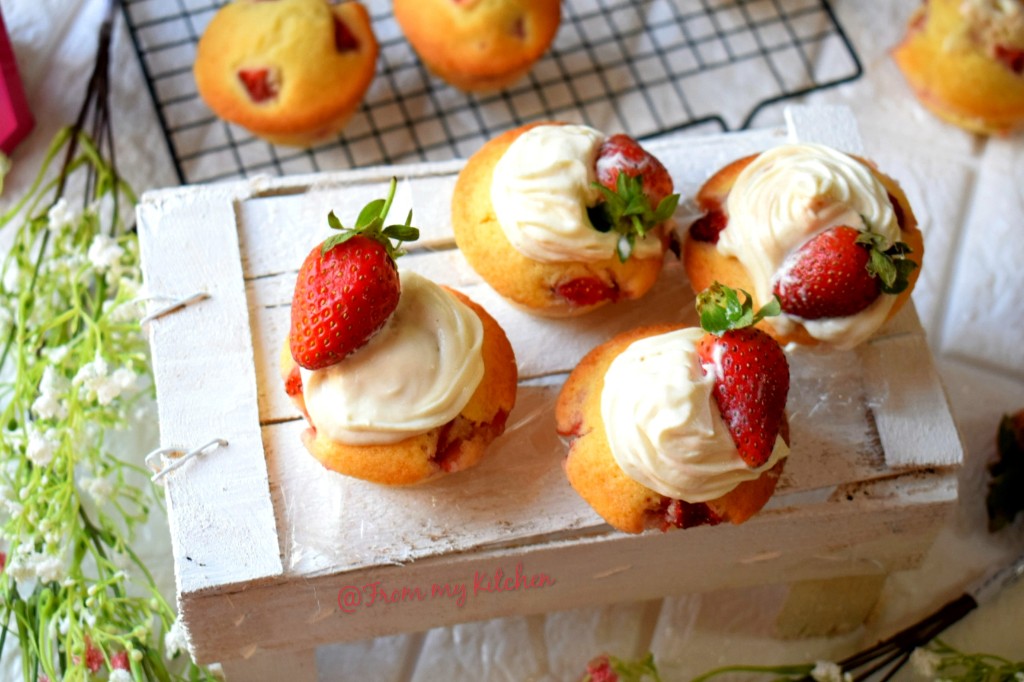 The buttery cupcakes with fresh strawberry jams with a dollop of whipped cream is a bliss to have during this strawberry season, right? That strawberries in between the cupcakes seem like red lights flashing throughout it!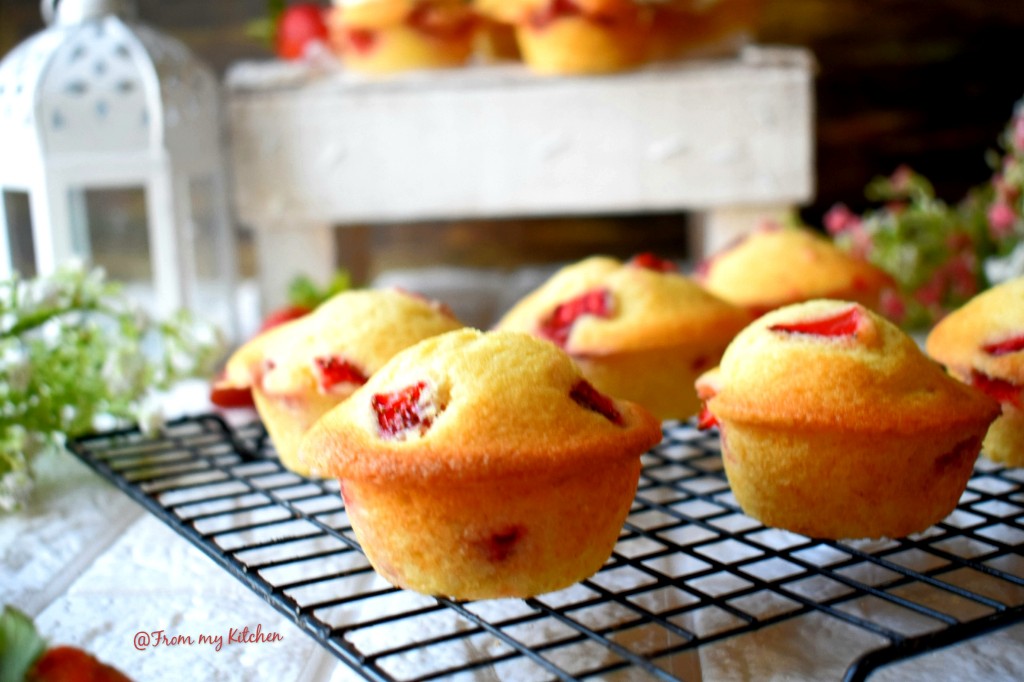 This holiday was super busy with friends and family! My bestie is leaving Saudi Arabia and we organized a surprise party for her which was super thrilling and memorable thing happened during this vac! Will attach some pics at last of this post!  Alhamdulillah had a great time with ladyloves and finally back to routine! She will be leaving by April mid and we are gonna miss her a lot!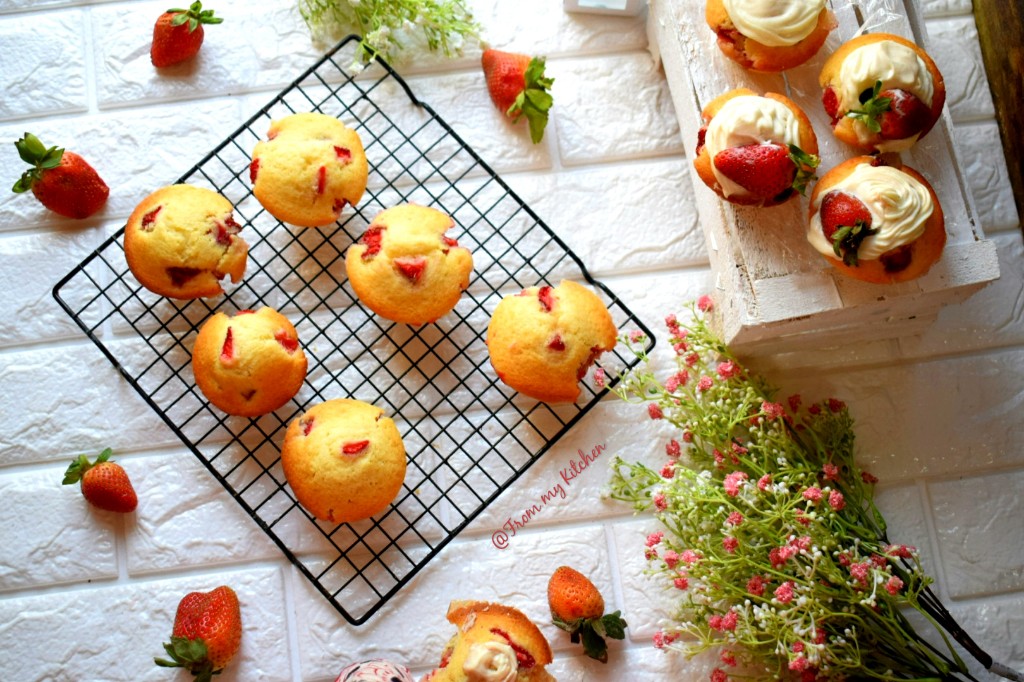 Schools reopened today and kids are so excited for their new academic year! Especially my younger one who is so happy to wear a uniform and going to L.k.G!hehe May Allah bless our kids with the best!!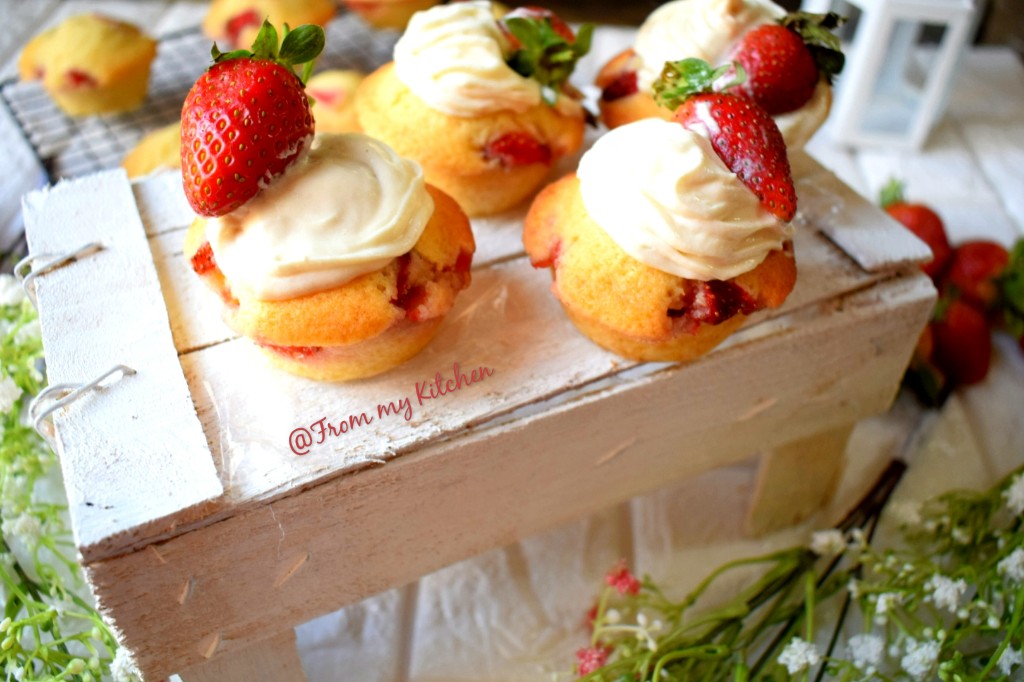 So this will be a great option as an afterschool or tiffin box snack!😊👍
Ingredients
1 and 1/2 cups chopped strawberries
3 tbsp sugar
100 gm butter
3 tbsp oil
2 eggs
1/2 cup milk
1 tsp vanilla
1 & 1/2 cups all-purpose flour
1 tsp baking powder
3/4 cup powdered sugar
Method
Mix chopped strawberries with 3 tbsp sugar and keep it aside
Melt butter and mix all the wet ingredients together.
In a large bowl add flour, baking powder and a pinch of salt. Mix well.
Then add the wet to the dry and combine well until incorporated.
Now grease a cupcake mold and pour 1 tbsp batter in it. (if you are not confident about cupcake leaving the mold use cupcake liner)
Then put the strawberries and then cover it with the batter.
Bake it for 15 to 20 minutes or until done on 180 degrees preheated oven.
Cool it on a wire rack and frost it with whipped cream.
Youtube video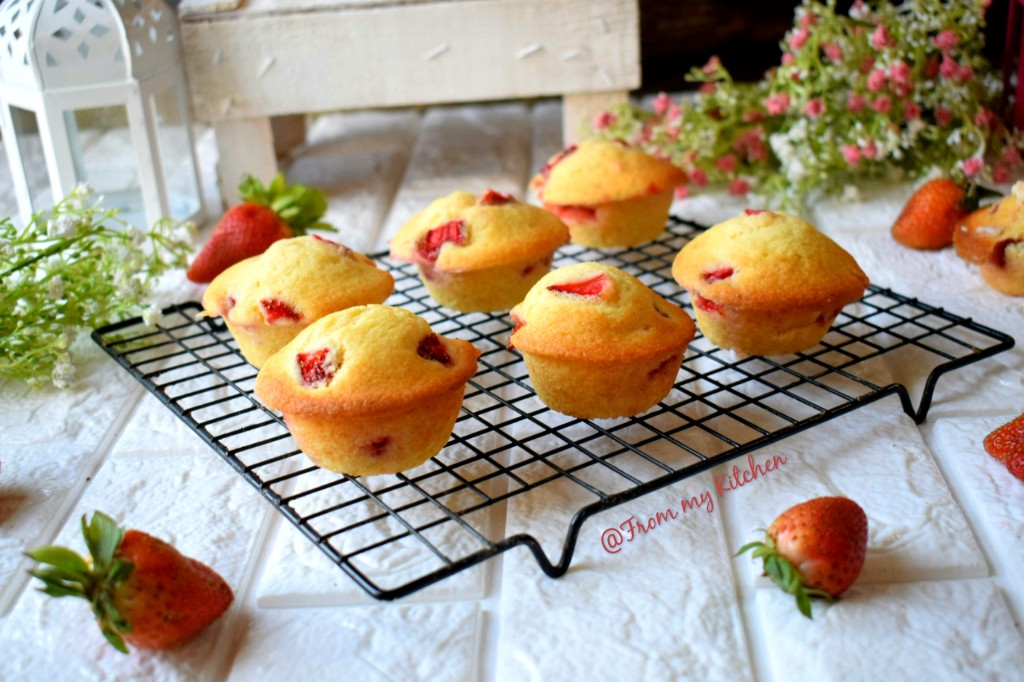 Happy Bking!
Party Snaps
Table goodies by me! Chocolate Cake with chocolate mousse filling, Meringue Tower, Vanilla Cupcakes, Strawberry Mojito, Edible Bouquet with chocolate coated strawberries fresh flowers and Oreos, Strawberry Mojito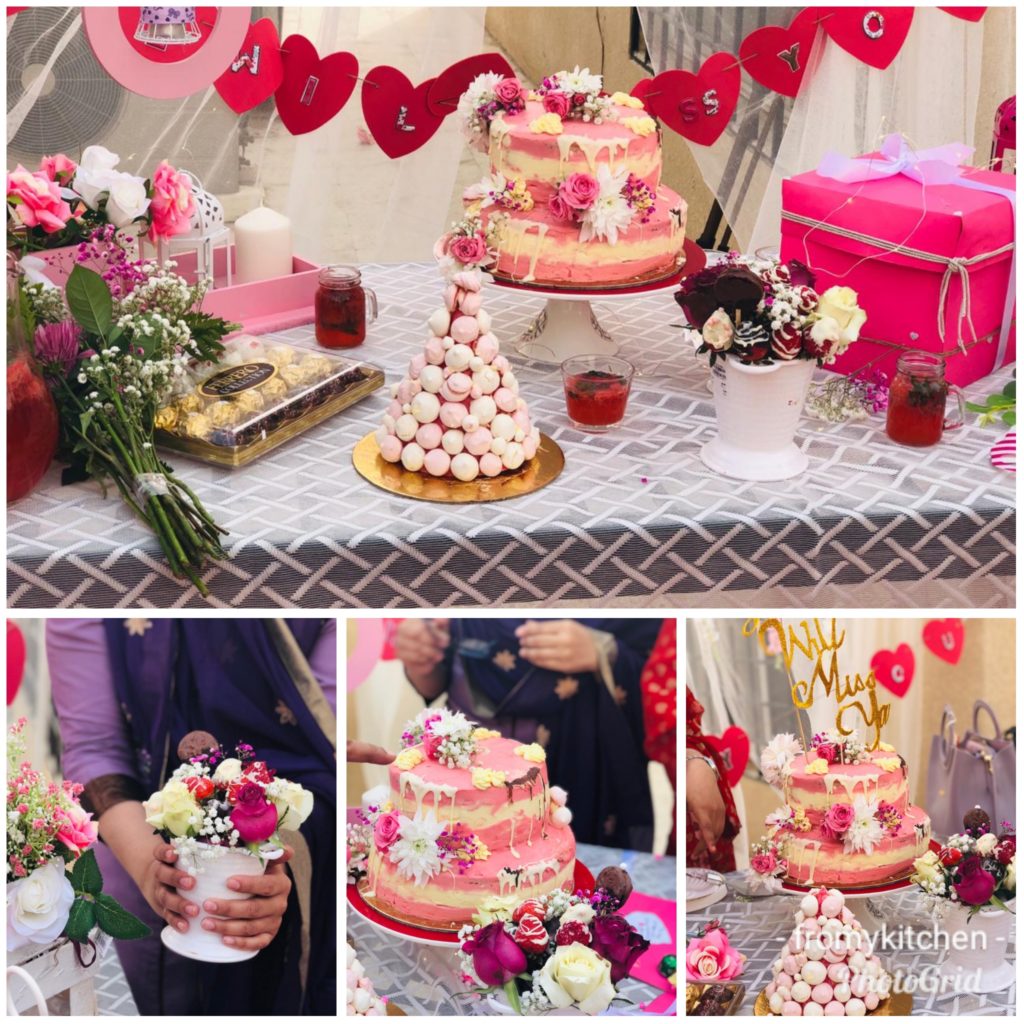 Decor Teamwork with friends!💕💕