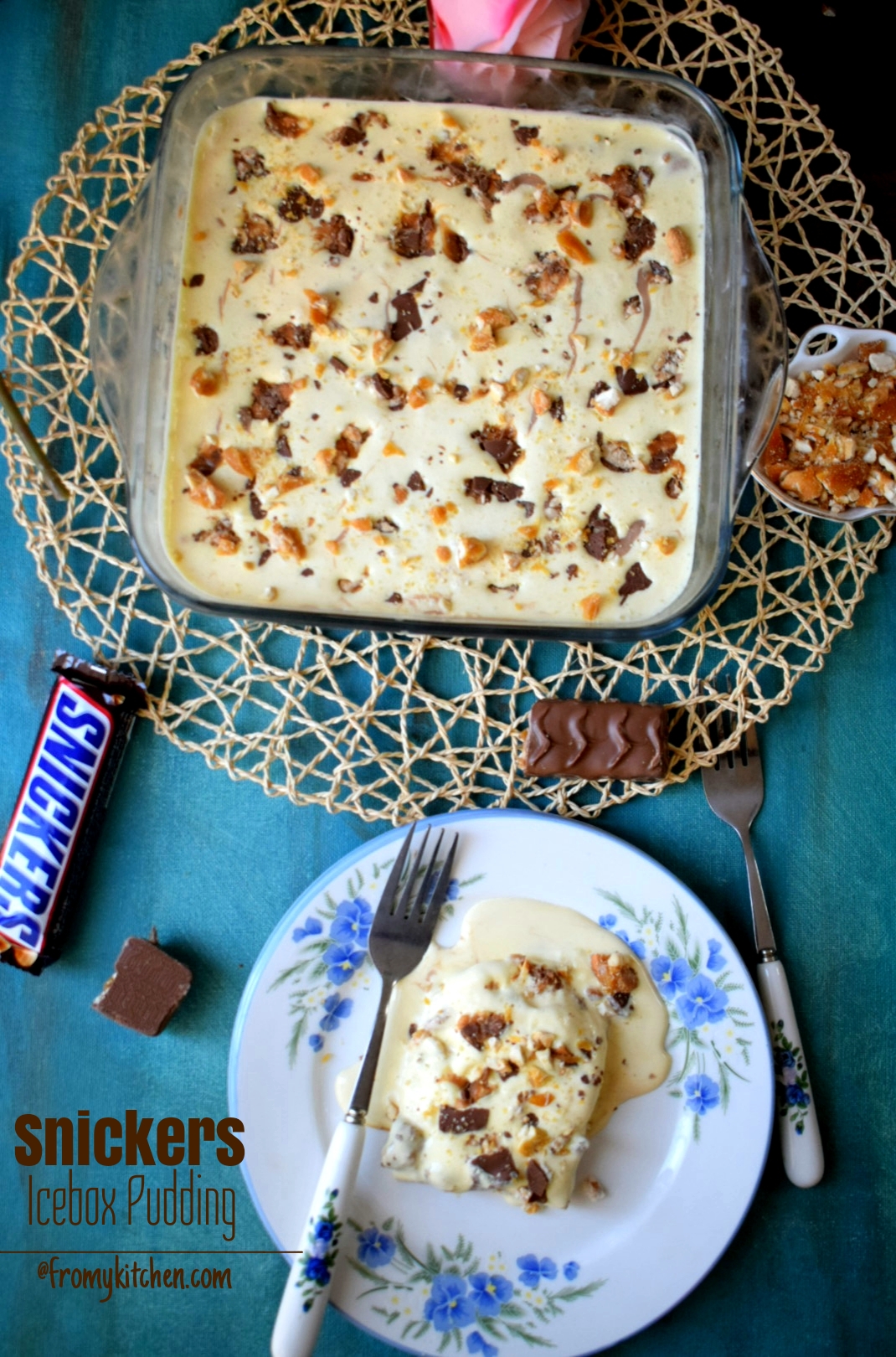 A quick fix dessert that takes hardly 5 to 8 minutes to prepare and the end result is so fab! Yes this snickers icebox pudding is a delicious combination of snickers ganache and butterscotch ice cream with a thin layer of cake or biscuit topped with crunchy praline!! If you are a Snicker fan then this one is a must try! Something different from the cream based dessert!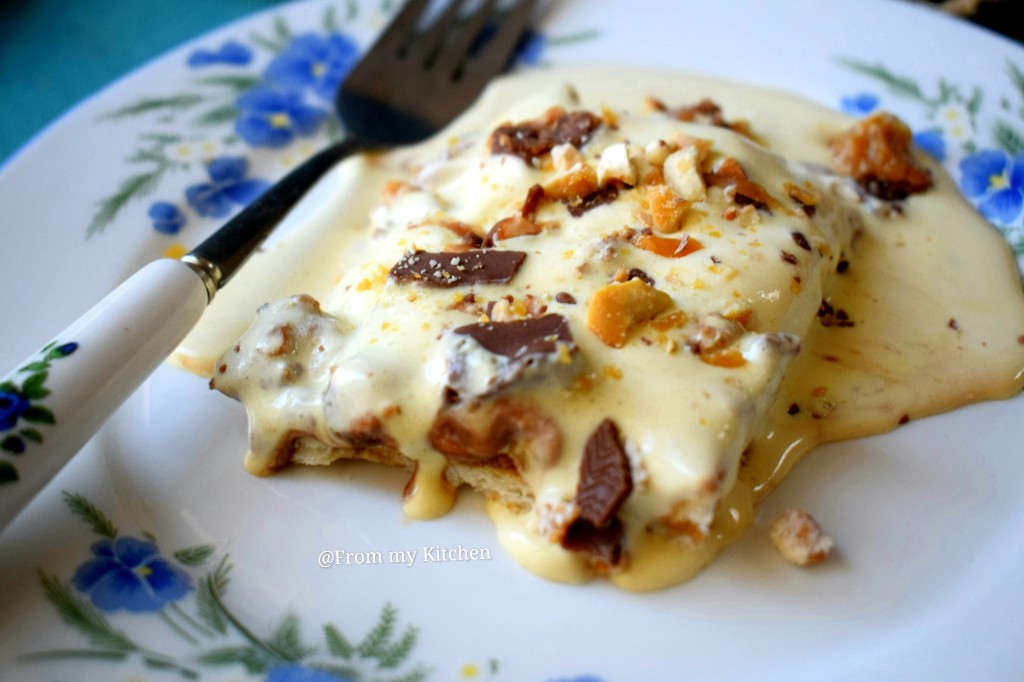 This easy peasy dessert was shared to me by my cousin Haneeya (hantata)! She has many such quick-fix dishes on her menu which is equally delicious!! I was drolling when she was describing the pudding! hehe! From that day I know I'm gonna definitely try this one soon and was waiting for an opportunity to make it! Thanks a lot, hanida for sharing this one!!😘 I took it to a friend's place and every one loved it! That snickers chunks, crunchy praline, soft biscuits along with butterscotch ice cream is too good!!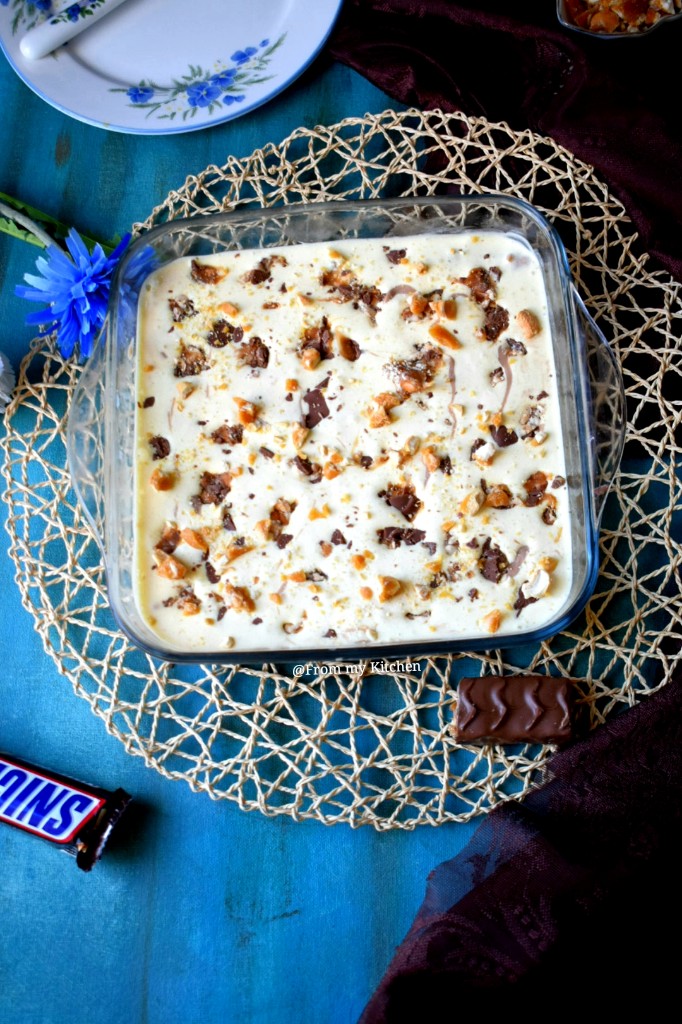 This is a frozen dessert. So 10 to 15 minutes before serving take it out from the freezer and let it sit on room temp to make it a little soft and creamy pudding-like consistency! I'm so lazy nowadays to update the recipes!  I have many posts pending!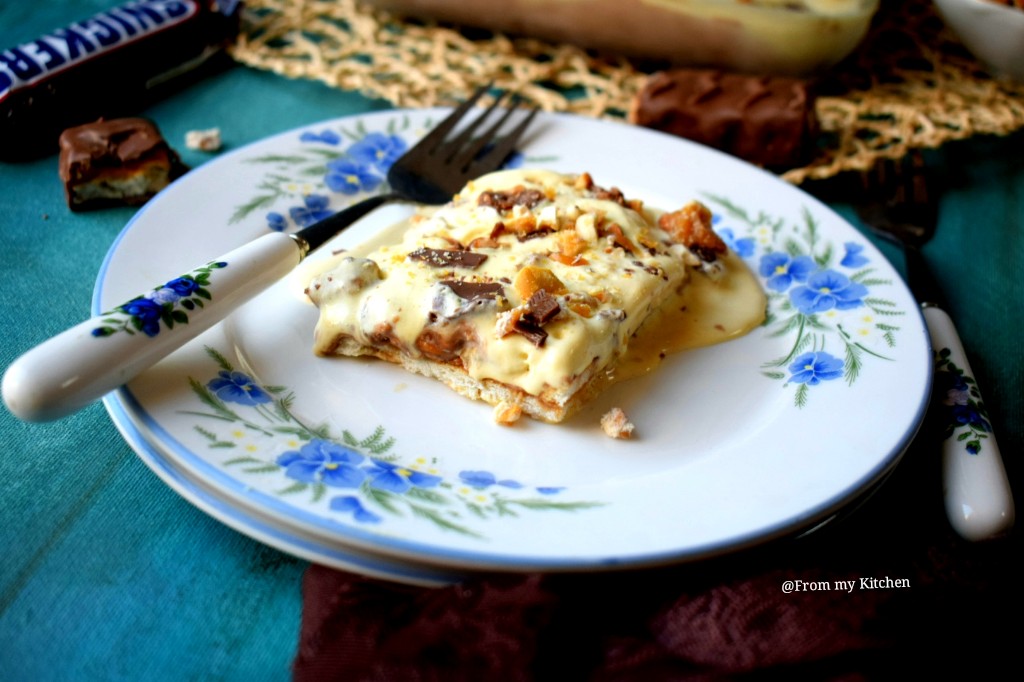 Ingredients
5 to 6 bar snickers
200ml fresh cream
Tea biscuits or you can use vanilla pound cake
Milk to dip the biscuit
3/4 to 1-liter butterscotch ice cream
Cashew praline for crunch
MEthod
Dip the tea biscuit in cold milk and place it on the tray as a base.
Melt the snickers in the microwave.
Then add fresh cream in it and mix well.
Pour it over the biscuit.
Then pour the semi-frozen butterscotch ice cream on it and even it well.
Garnish with small snicker chunks. Freeze it for 6 to 8 hours.
Let them sit on room temperature for 10 to 15minutes before serving.
Enjoy every bit of it!!
Note: You can layer it again, but for that, you will need the double qty or small pudding tray!
Video!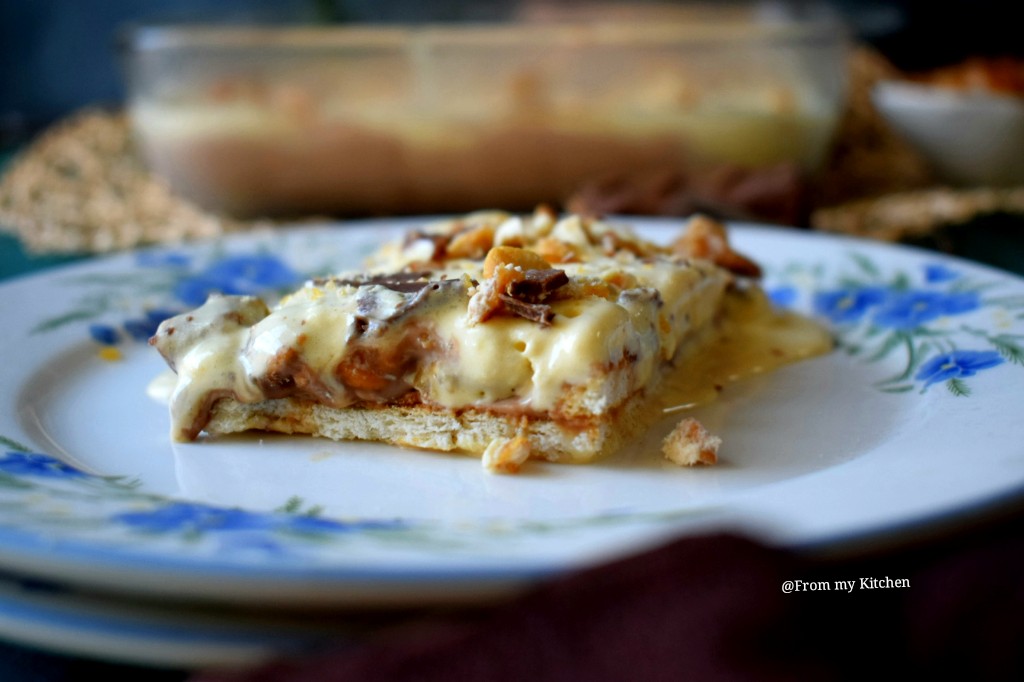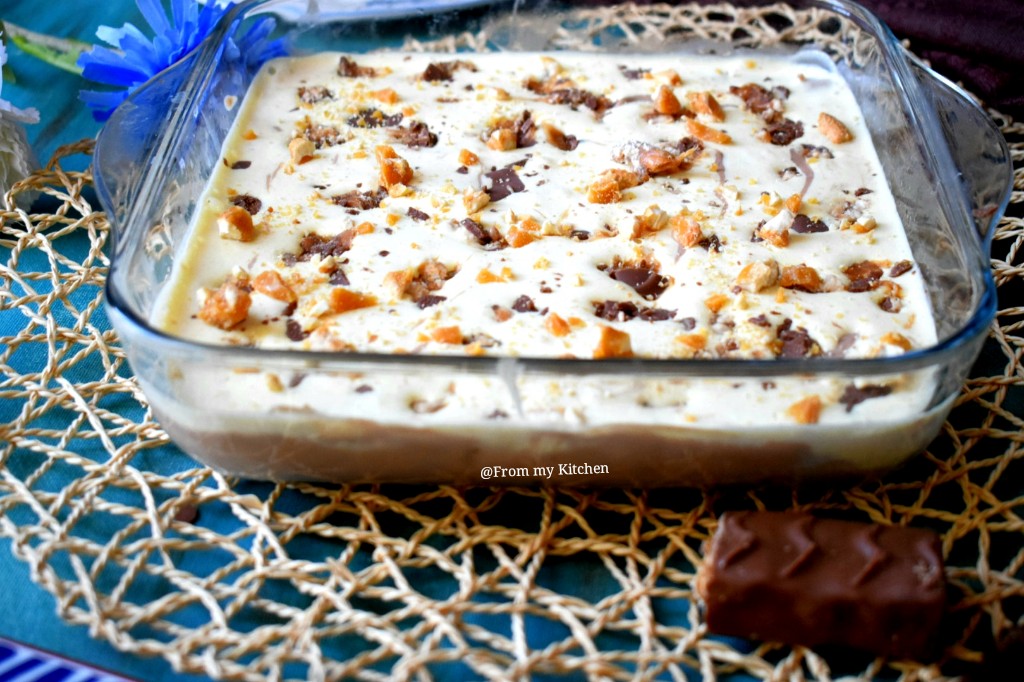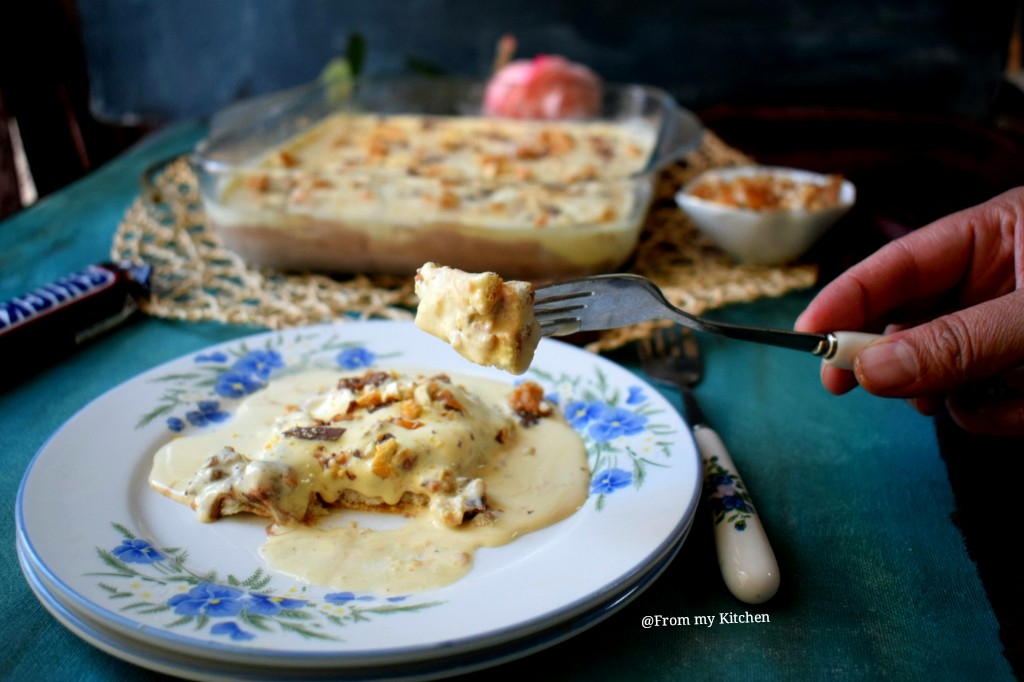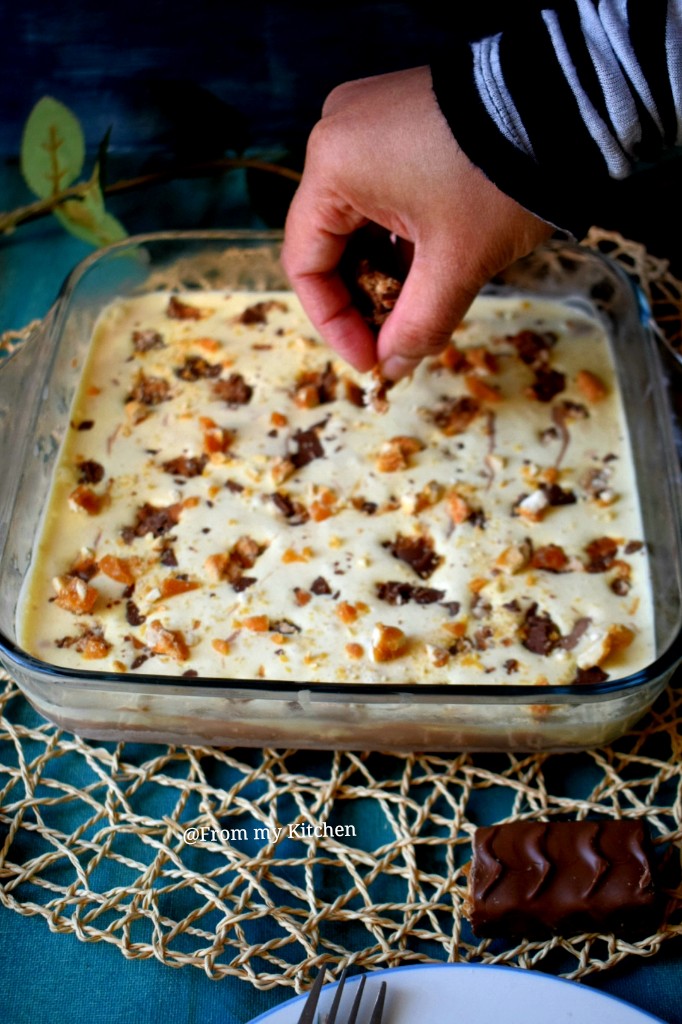 Relish it!
Happy Cooking!!