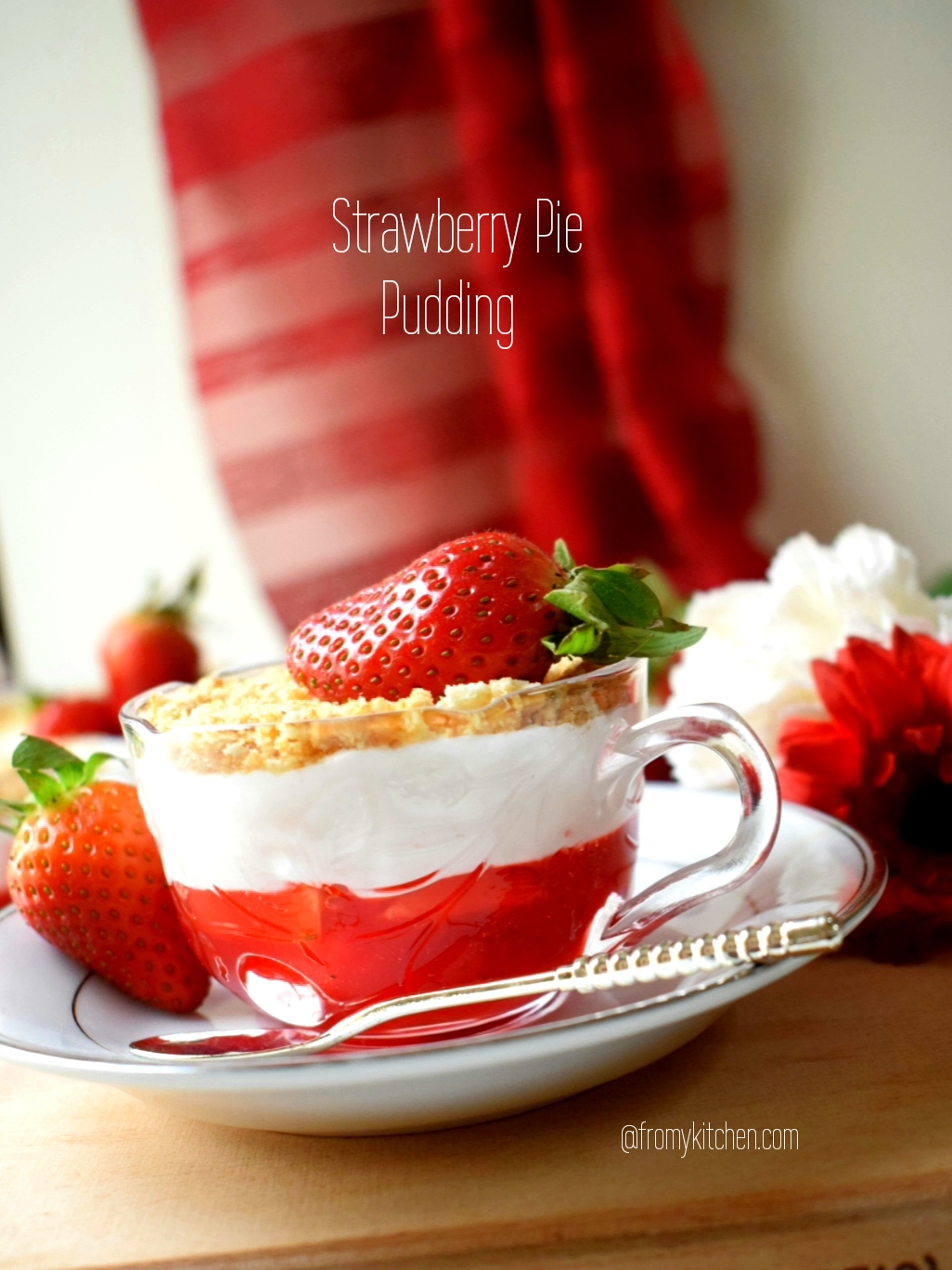 The beautiful strawberry is in season and my heart dance with joy all the time when i see this red little berry cheaper in the market!hehe! I love anything and everything with strawberry, from the simple chocolate coated strawberries to complicated desserts, ice creams, milkshakes and all! This dessert is a must try if you are a strawberry lover like me!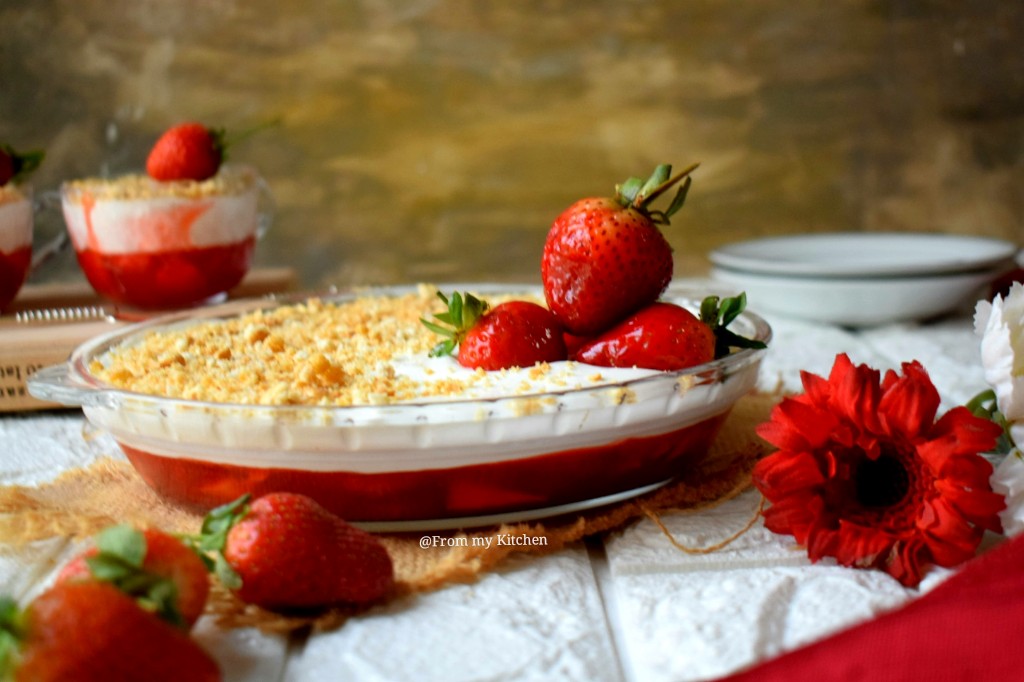 This dessert is so simple to prepare with mild sweet cream paired with a little tang from the fresh strawberry coated with glazy jelly mix along with those crunchy bits of buttery biscuit sand! Should i say anymore! My family just loved it and it finished in no time. I thought that Kashif won't like this as strawberry is not his preference, but to my surprise he loved it!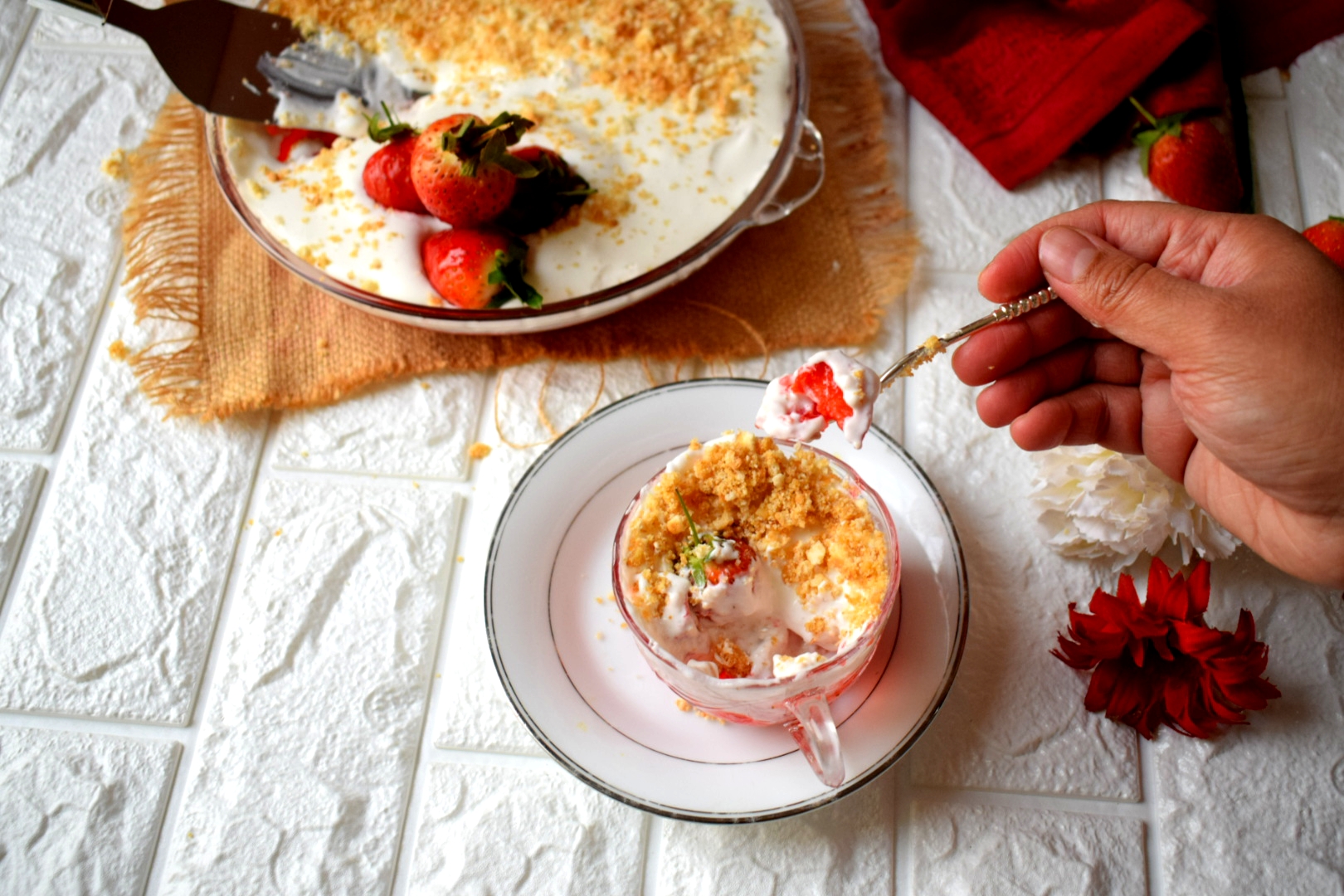 My younger one is a choosy eater, and to impress him is very difficult for me! Actually, every element in this pudding is his fav like strawberry, cream, biscuits, jelly but when i served it in dessert form he doesn't want it!hehe! Why its so difficult to make kids eat anything, by the way, he loves plain desserts without any fruits nuts.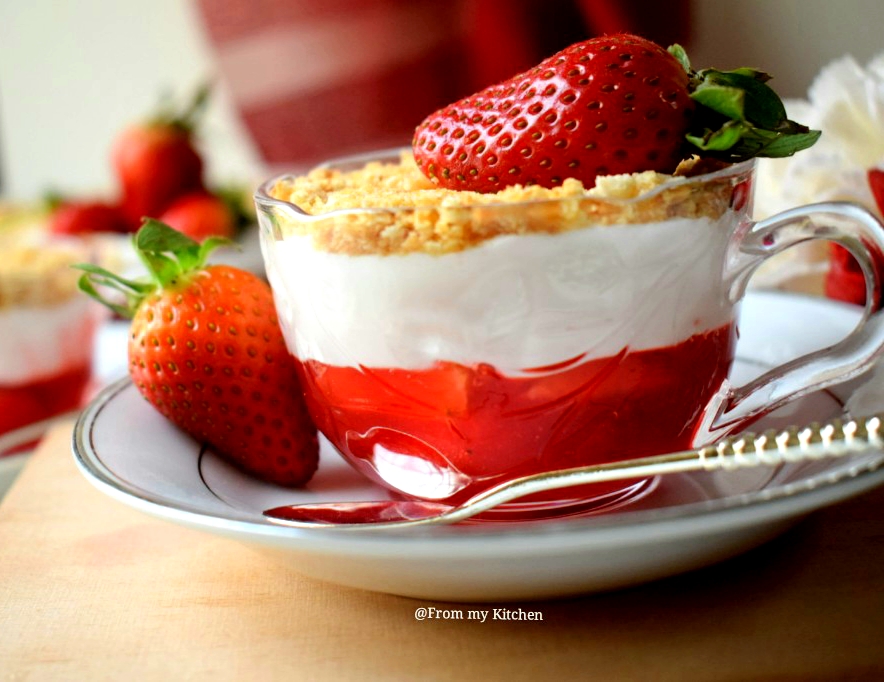 So I decided to bake something with strawberry but in my IG stories when i asked "what they want to see with the strawberry" majority of them respond with desserts, so I made my mind that first I will share dessert and then something else! SO here is an easy peasy dessert with strawberry! I have a  Strawberry Tiramisu on the blog which tastes equally good do check it out!
Ingredients
Strawberry pie Jelly
2 1/2 to 3 cups Strawberry chopped
2 tbsp cornflour
3/4th cup water
1/2 cup sugar
1 sachet jelly (strawberry or any pink colored)
For Cream
1 sachet whip cream blend with 1/4 to 1/2 cup milk
200 gm fresh cream
4 to 5 tbsp Powdered sugar or icing sugar (i added more. check it and add again if you want more)
3 to 4 tbsp cream cheese
1 tsp vanilla essence
For Biscuit sand
1/2 to 3/4th packet Marie biscuits not finely powdered
2 tbsp Butter
Method
Chop strawberries and keep it aside.
In a pan add water, cornflour, sugar and mix well. Cook it by stirring constantly until it becomes transparent. (If you feel like the mixture is too thick sprinkle a dash of water.
Then add the packet jelly and mix it well until it dissolves and becomes glossy. Then switch off the flame and dump in the chopped strawberries. Mix well until all of them are coated.
Layer it as a base on a pudding tray or short glasses. Let them chill and set completely.
Meanwhile, prepare the cream. When you get a soft whip cream peaks add the fresh cream blend, then add powdered sugar and blend again.
Add the room temperature cream cheese and blend again. Check for the sugar and add as per your likings. Add vanilla and top it over the jelly only when it's completely set.
Then crush the biscuits( not too fine) mix it with melted butter and keep it aside.
Just before serving top it with the biscuit crunch and dig in!
Tip: If you do not get strawberry or pink color jelly use plain gelatine and add some strawberry Hershey syrup for the color. If so adjust and add the sugar by tasting it. You can make it with any seasonal fruits like mangoes or any of your fav. Mango will be great!
Video