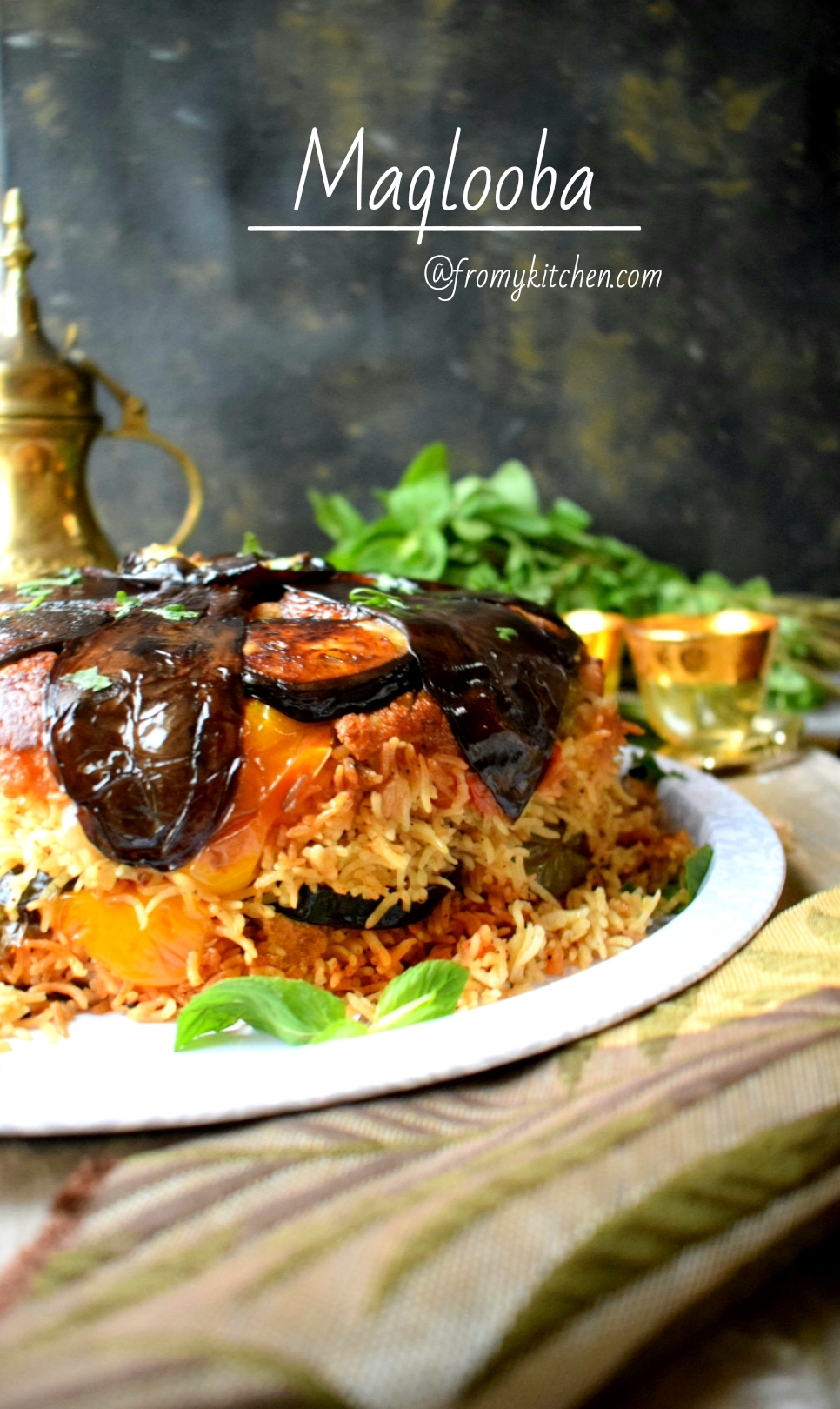 Maqlooba means "upside down" in Arabic! Yes, you can see how the rice is beautifully flipped over the plate! It is so flavorful and comforting Arab dish which is popular in many countries! Maqlooba is a perfect treat to celebrate any festival or occasions in your life. This dish has beautiful and lovely flavors which contain chicken, fried veggies, and rice cooked in a pot by layering neatly and then flip it to a plate while serving!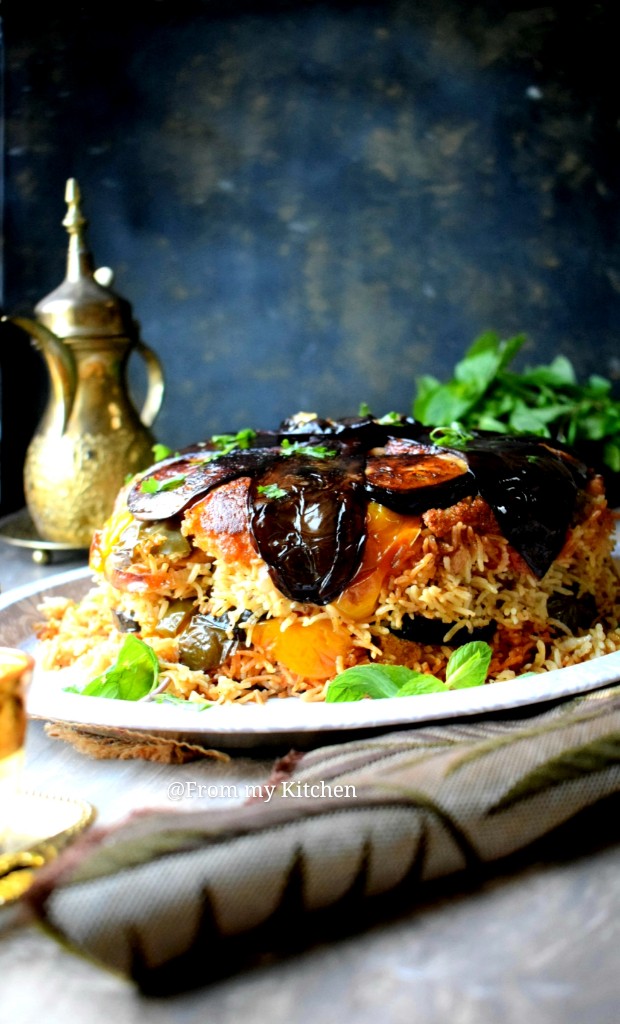 It is cooked differently in various countries. But here as I'm residing in Saudi Arabia I tried it like how Saudi's cook it! Yes, the recipe is adapted from "Saudi Food by Eman" and was perfect for us! The only complicated part in the recipe was frying each veggie, but it really worth the effort. If you don't want to use more oil and fry it u can roast or bake the veggies by spraying some oil on it. Just loved every bit of it! That eggplant, soft potatoes caramelized onions along with chicken and rice was soo good!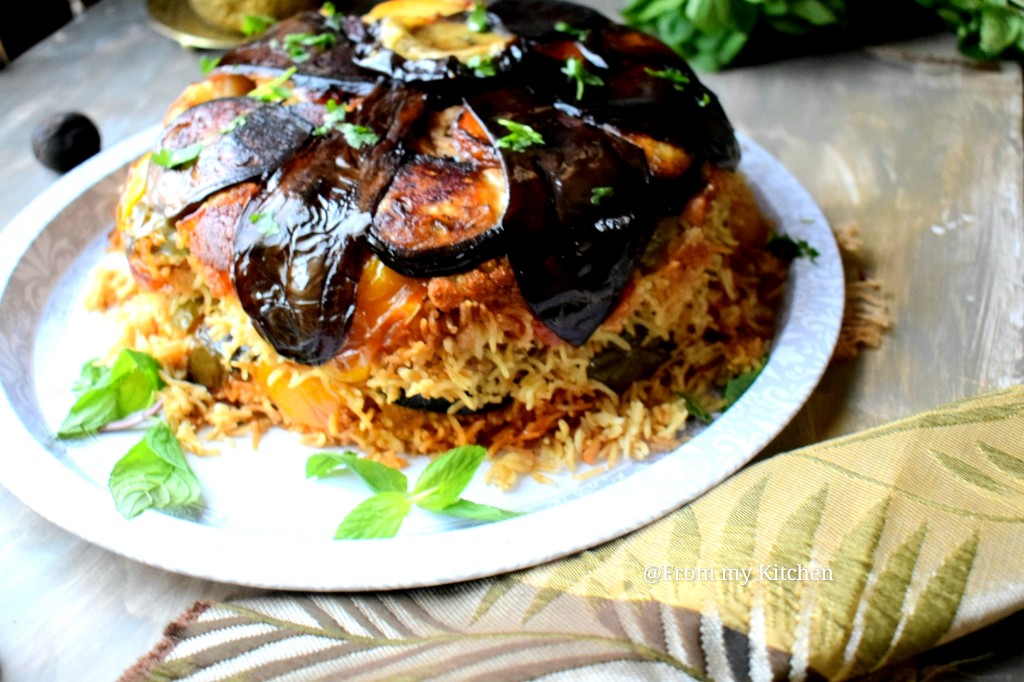 Now a little about my eggplant love. Actually, I was not a big fan of eggplant before, but once I tried the eggplant dips like mutabbal, baba ganoush and also achari baingan I literally fell in love with all other eggplant recipes. Even I love the one which is inside the falafel sandwich! So I'm sure you will also love it if you try such foods!hehe! Ok but still if you don't like it you can skip it and stick on to your fav veggies!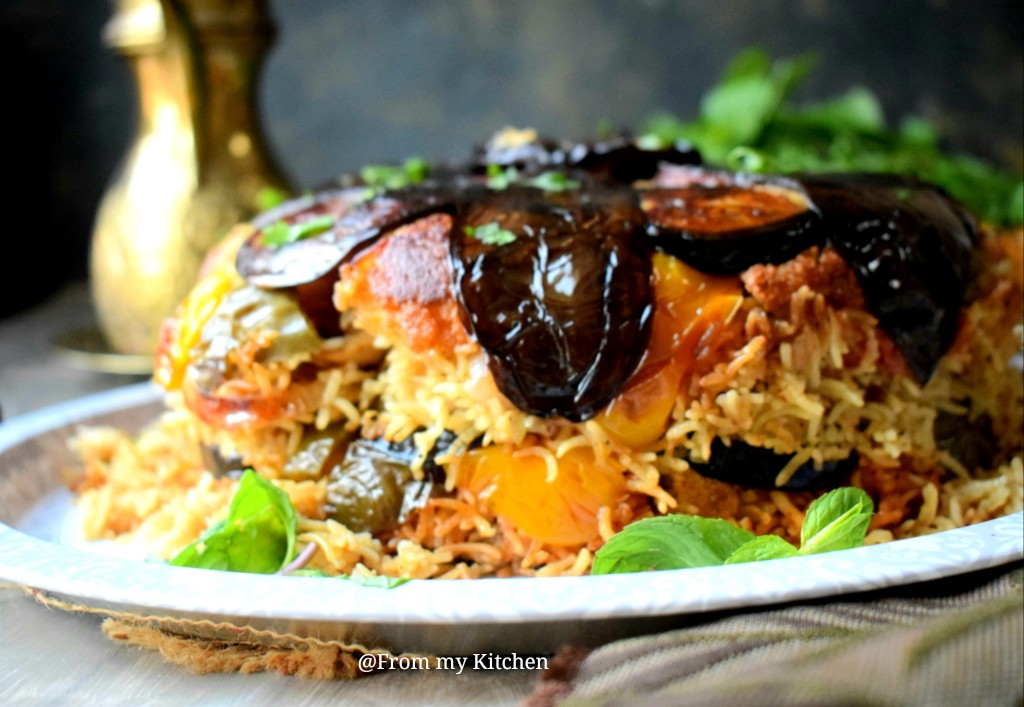 So let's check how to make maqlooba in Saudi Style
Ingredients
2 cups basmati rice
4 cups of water
500 gm chicken
1 small onion chopped
3 cloves garlic
2 tsp pepper powder + some more
1 tsp Saudi spice or Bezar Spice mix + some more (check the link for it)
Salt to taste
2 loomi (dried lemon)
2 tbsp olive oil or any oil
Veggies
2 big eggplant
1 big potato
1 big tomato
1 onion
Bell peppers
Some cauliflower florets
Some oil to shallow fry
For Tomato puree
2 tbsp tomato
1/4 cup water
salt and pepper
Method
Step1 – Preparing chicken and rice
Soak the rice for 15 minutes.
Meanwhile, in a large pan pour olive oil add the chopped onion and garlic along with some salt and cook it until lightly brown.
Then add the chicken pieces with pepper and bezar spice. Mix well and add some salt saute it on high flame for few minutes.
Then add four cups of water check for seasoning and add. Let the chicken cook for 20 to 30 minutes.
When the chicken is done transfer it to another bowl. Add loomi, some more salt, pepper and spice mix.
Add the rice and cook it for 7 minutes until the rice is 90 percent done. ( no need to drain the water, it will dry out by that time)
Step 2 – Preparing Veggies
Slice the veggies in one-inch thickness. Try to cut the eggplant skin side lengthwise so that you can layer it neatly. (check the video)
Now in a pan pour some oil and fry all the veggies one at a time. If you don't want to fry it you can roast or bake it by spraying a little oil on the veggies.
You will not need to cook the veggies completely, the rest of the cooking process will be done on dum.
In that same pan lastly pour 2 tbsp tomato paste, water, salt, and pepper mix and cook until it reduces.
Step 3 – Assembling
Now that all the components are ready let's start assembling!
Divide the rice into 2 equal portions. In one portion mix the prepared tomato sauce and mix well.
Sprinkle some salt on the veggies.
In a pan neatly layer the eggplant then some potatoes, tomato, onions. bell peppers and chicken. Then layer the white rice on top of it.
Then again layer the remaining veggies neatly and add the red rice pack it tightly and cover it with a lid.
Keep it on medium-low flame for 30 to 45 minutes. (The steam should come way up, after 15 minutes just poke some holes here and there and again keep it on low flame.
Before serving gently flip it on the serving platter and dig in!
Video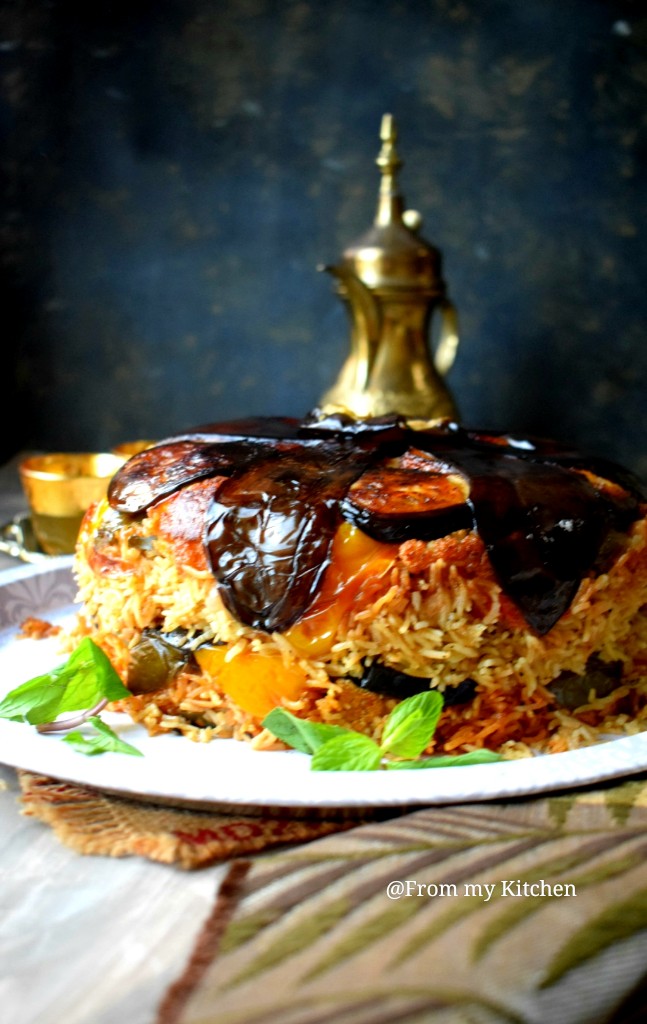 So try this beautiful upside down rice and enjoy with your family!
Happy Cooking!