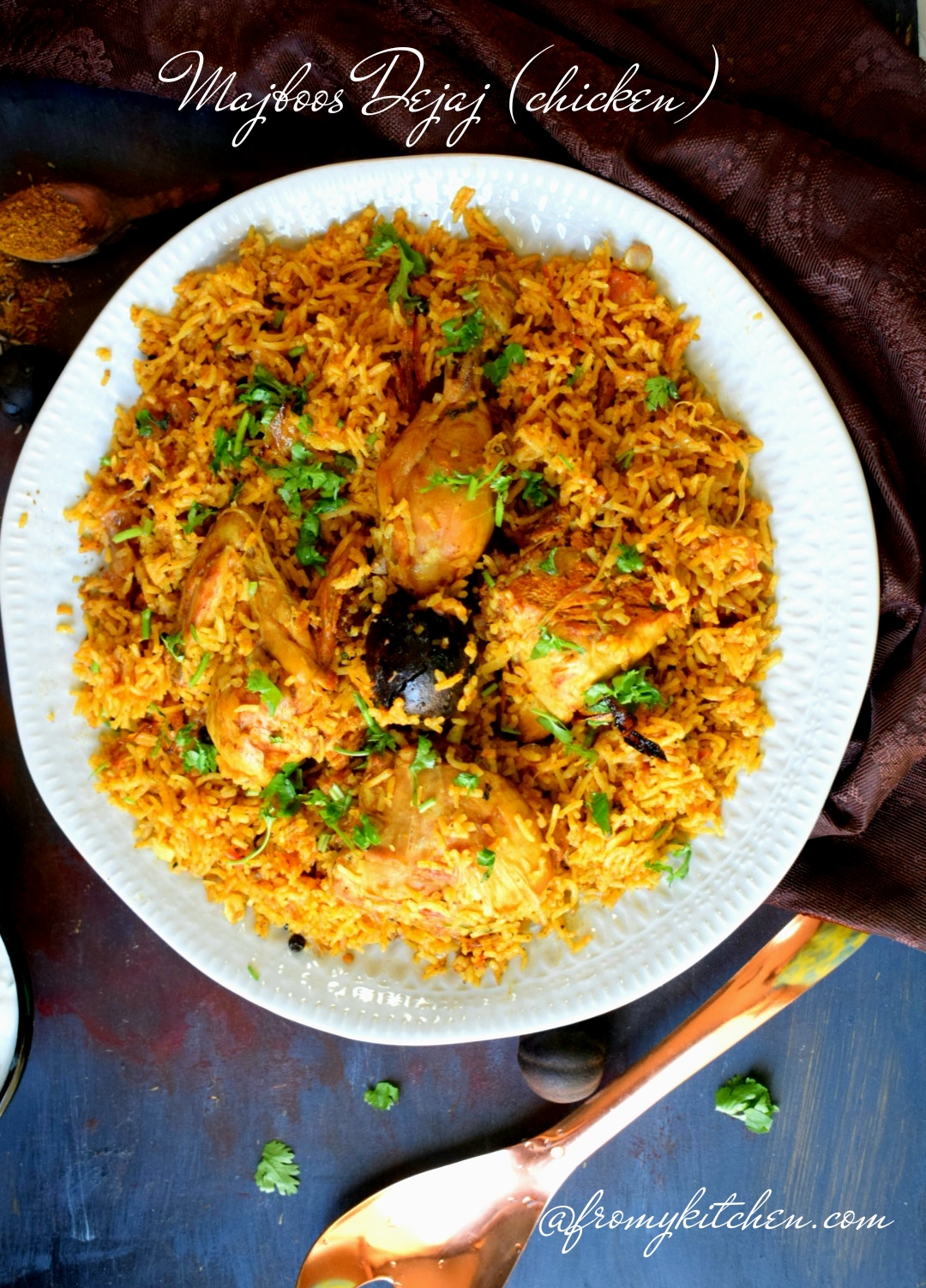 Majboos is a flavorful and aromatic Arabic Rice made with meat and mild spices! Even though Arabic cuisines use a limited amount of spices the flavors here are always outstanding, isn't it? Weather its grills, kebabs, dips or rice varieties I'm a big fan of this cuisine!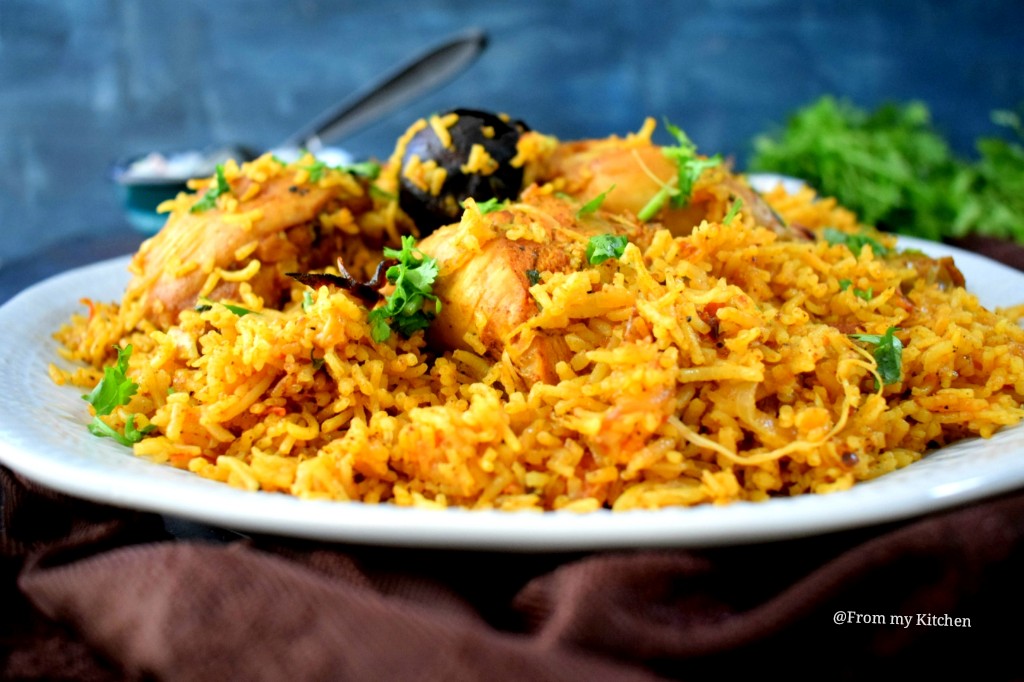 This is a mildly spiced rice which is cooked along with the chicken which is well marinated with a special blend of spices called Bezar Spice Mix from where all the flavors are coming. For Bezar you will need a handful of ingredients which is always handy in your pantry. Check out the recipe for it, also loomi dried lemon plays an important role too.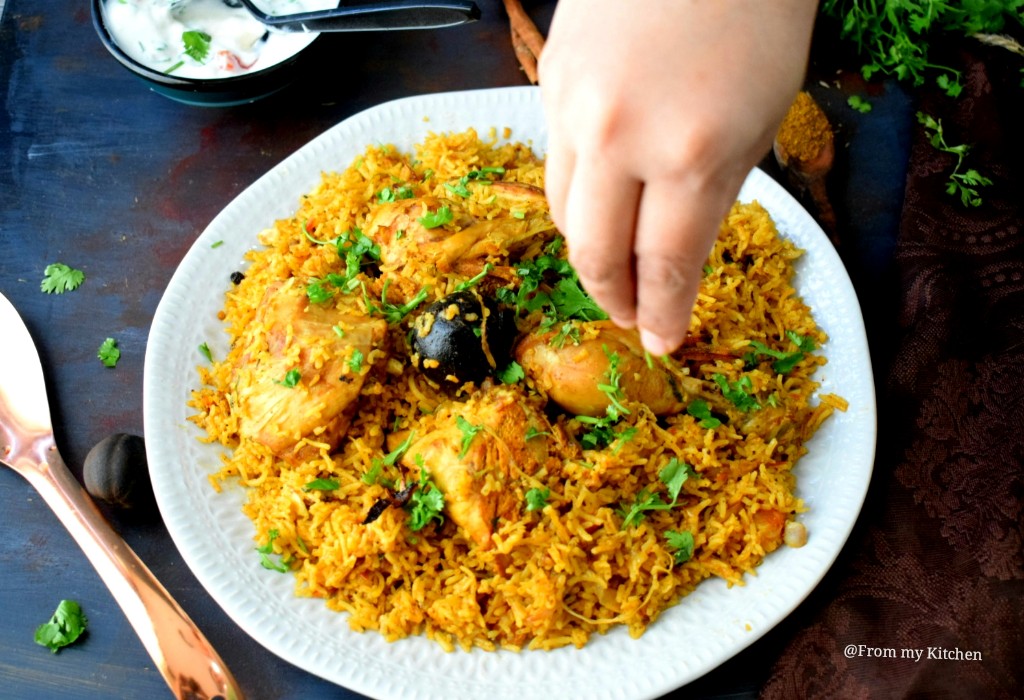 The recipe is adapted from my dear friend Rafeeda's blog! From the day she posted it on her blog, I wanna try it and the time has come! I'm so glad that I chose the best recipe and like she said I wouldn't want to try any other recipe for this dish. Yes it has the best authentic flavors in it. I changed some measurements from hers but all others are same.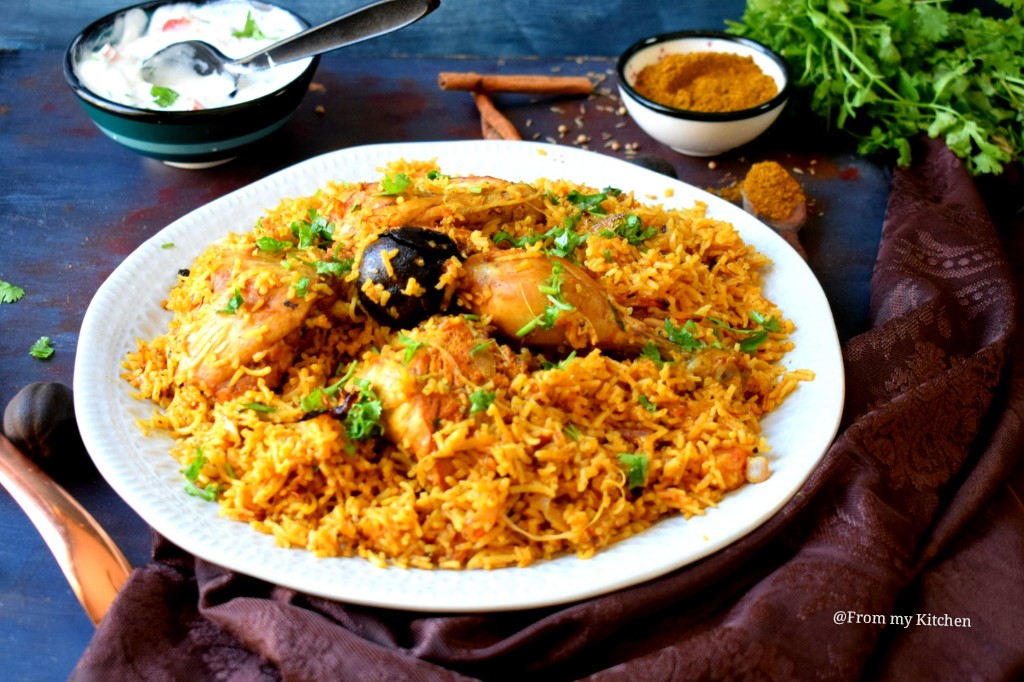 Ingredients
For Bezar Spice mix
1/4 cup coriander seeds
1/4 cup cumin seeds
1/4 cup fennel seeds
3 tbsp fenugreek seeds
3 dry red chilies
3 tbsp turmeric powder
1 small stick cinnamon
Dry roast everything except turmeric powder. Switch off the flame when its done, Now add turmeric powder when the spices are still hot. Then mix everything. Blend it all to a smooth powder when it's cool enough. Store it in an airtight container and use when need.
For Majboos
1/2 kg chicken, cut into medium pieces
FOR MARINADE:
1/2 tsp cumin powder
¼ tsp clove powder
1 tbsp bazaar spice mix
1/2 tsp turmeric powder
4 cloves garlic, minced
3 tsp Kashmiri chili powder
Juice of 1/2 lime
Salt and pepper to taste
FOR REST:
2½ cup basmati rice
¼ cup olive oil + more if needed
2 large onions, sliced
2 large tomatoes, chopped
2 large loomi (dried lemon), holes made
3 cinnamon sticks
4 bruised cardamom
2 bay leaves
1 tbsp black peppercorn
4 cups water
1 chicken stock cubes
1 bunch coriander leaves, washed and chopped (leaves and stems included)
2 tbsp ghee
Method
Combine all the ingredients under "for marinade" into a bowl and give it a good whisk.
Add the chicken in and coat well. Set aside till use.
Wash the rice well. Soak in water for 15 minutes. Drain and set aside.
Heat the oil in a large saucepan. Add the onions and fry them on medium-high flame till golden brown, caramelized. Drain and set aside.
Add more oil if required. Add in the marinated chicken and fry both the sides till golden brown, it is not necessary that the chicken is cooked.
Add in the tomatoes, whole spices, loomi and half the fried onions. Sprinkle in salt and pepper. Toss up the mixture to coat the chicken.
Allow the mixture to cook for around a couple of minutes.
Add in the water and stock cubes, close the lid and allow it to come to a boil. Adjust the seasoning and cook till the chicken is 70% cooked.
Add in the rice and give a soft stir. Allow the water to boil with the rice.
Reduce the flame to the lowest and cook till the rice absorbs the liquid and is almost cooked.
Sprinkle in the remaining half of the fried onions, coriander leaves, and ghee, cover the lid and keep it tightly closed for another 10 minutes.
Switch off the flame and keep the rice undisturbed for 10 minutes. Open the lid, give a good mix and serve hot!
Note: Keep the quantity of water between 1½ cups to 1¾ cups for 1 cup of rice. The former quantity will give you dry and long looking grains while the latter will give you well-cooked rice.
Video
Happy Cooking!