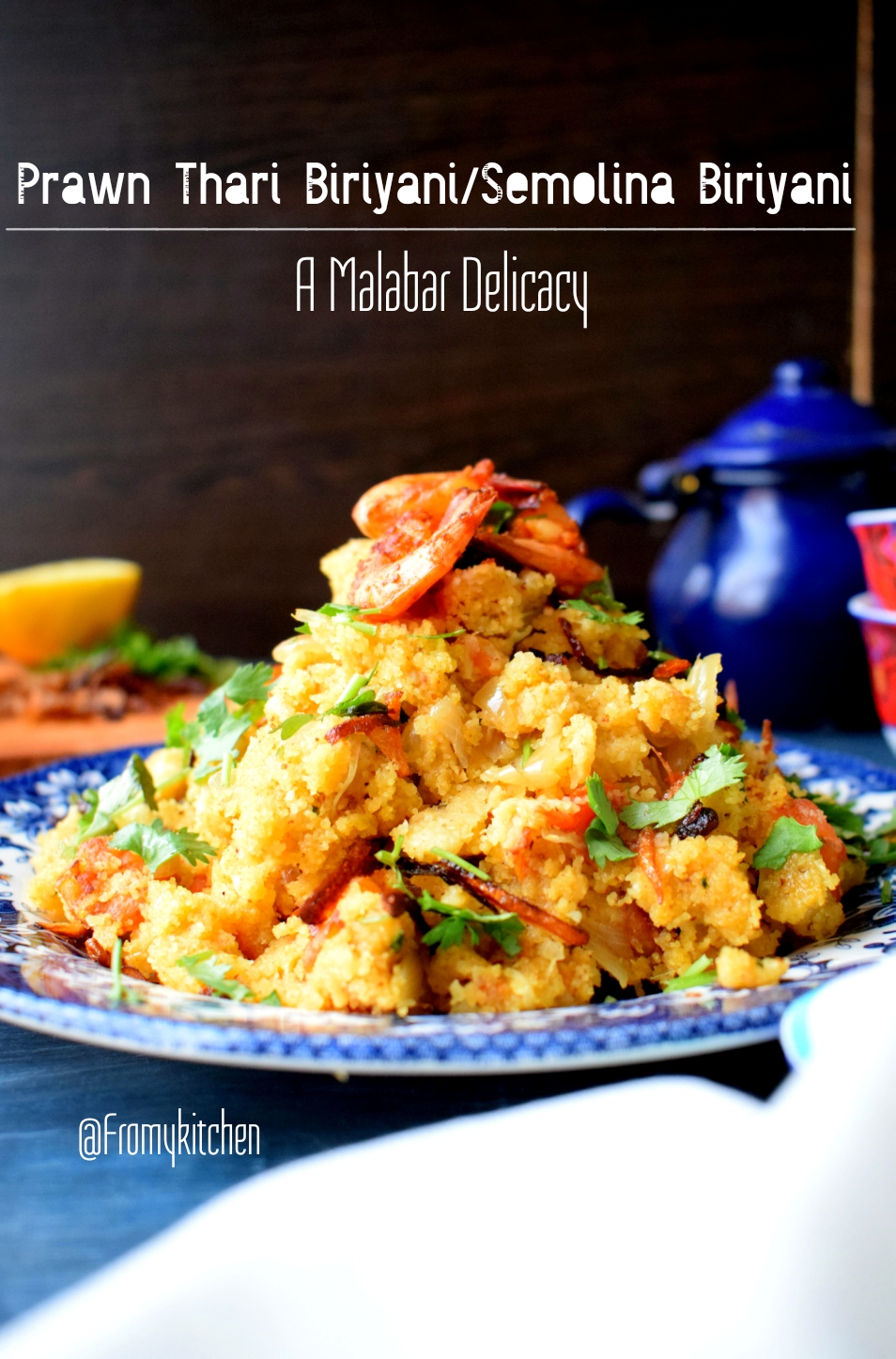 Here I'm with one more Malabar delicacy!The most favorite Thari Biriyani aka semolina biriyani.Semolina is cooked in nice spicy masala!The dish that takes less time to cook and flavor blend is amazing!As i said before we have many such delicious recipes to be shared with you all!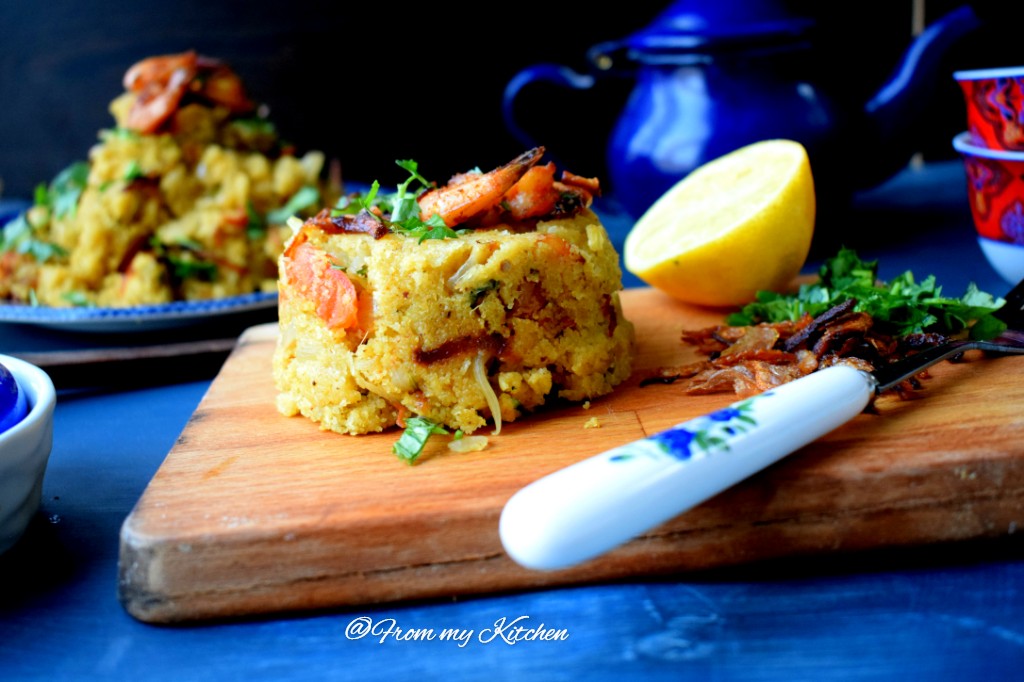 From my home, this dish is always made with beef, and i love ummas thari biriyani the most.But here i used to make it with chicken and the prawn version i had it from hubby's place and just loved it.For Prawn Thari Biriyani the masala is cooked almost like biriyani masala, but for beef and chicken, it's different.Will share it some other time.I like to have it with papad and achar.The combination is divine.Hope you all will love this.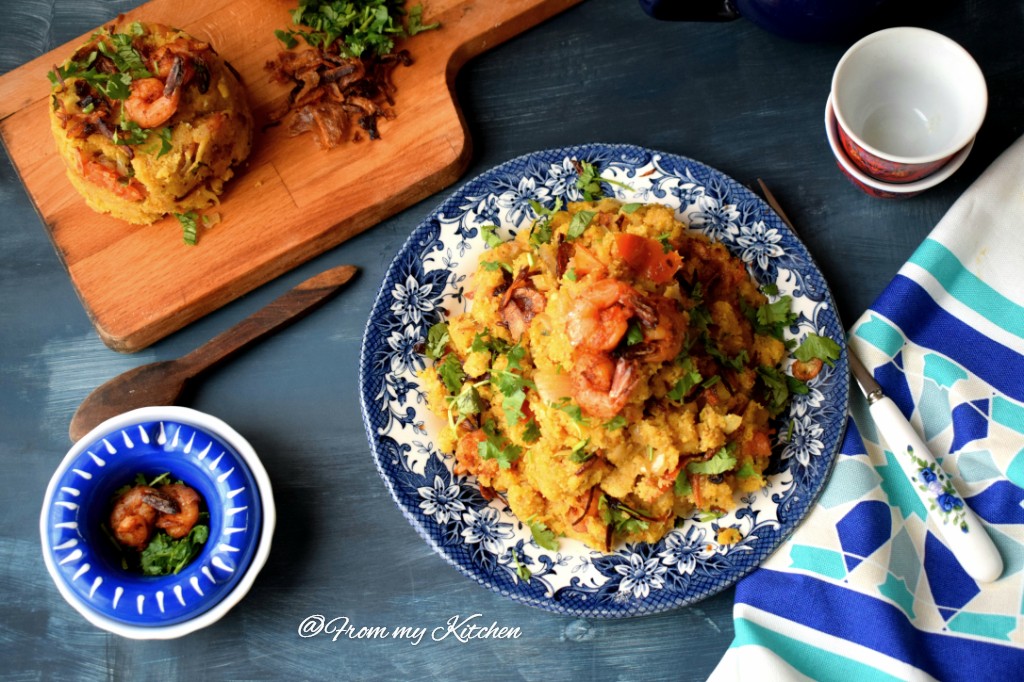 This is a quick dinner and breakfast option too.If you don't have time to cook any roti or if you feel lazy to cook complicated stuff.just make masala and mix it with roasted semolina and you are done.My lazy day dinner is always macaroni, pasta, or this one.hehe!So have you all started gearing up for Ramadan?Ramadan is almost here, time is flying, isn't it?I started to pile up some easy recipes for you guys for coming Ramadan I.A.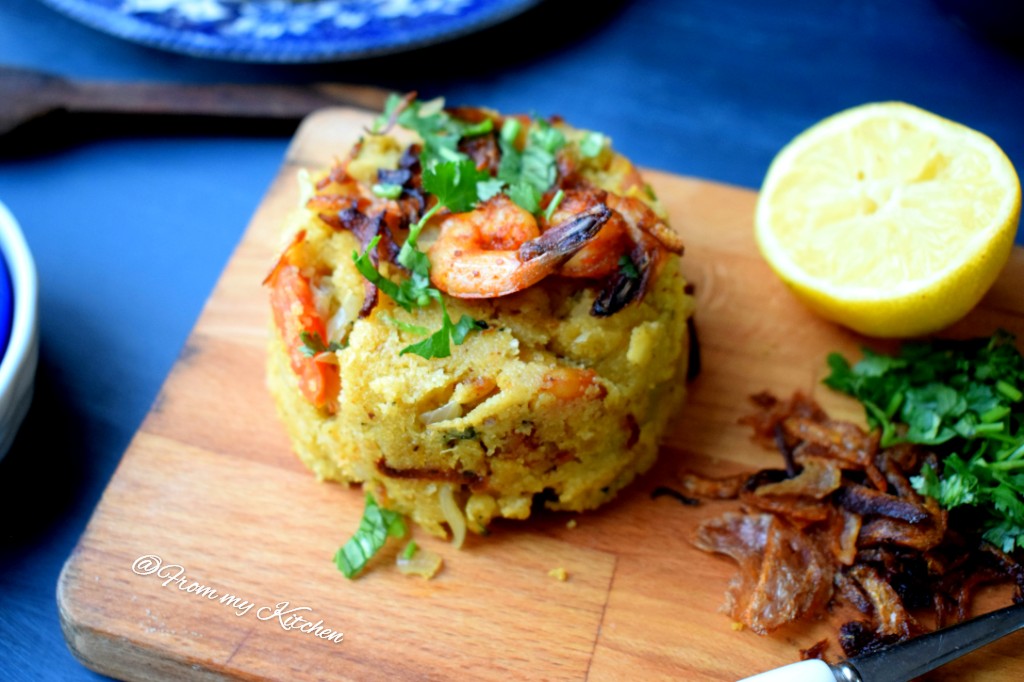 So let's check the recipe.Don't forget to fry some papad!
Ingredients
2 cups roasted semolina
3  & 1/2 cups water
For Prawns
1/2 kg prawns
1 tsp chilly powder
1/2 tsp turmeric powder
Salt to taste
3 tbsp oil to shallow fry
For Masala
3 onions
2 tomatoes
5 to 6 green chilies
1 tbsp ginger garlic paste
1 /2 tsp turmeric powder
1 tsp chilly powder
1/2 tsp coriander powder
1 tsp garam masala
1/2 of a lemon juice
Salt to taste
Lots of coriander leaves
Some fried onions(opt)
Method
Marinate prawns with salt, chilly powder and turmeric powder.Fry it.
Slice onions, tomatoes and keep it aside.Grind ginger, garlic, and chilies and keep aside.
In the same pan along with oil add a tbsp of ghee and then add sliced onions and salt saute it until soft, In between add the green chilly ginger garlic paste.When the onion is half done add sliced tomatoes and cook it until mushy.
Add all powders and cook until the rawness os the masala disappears.
Add fried prawns and mix well.Add lemon juice, coriander leaves and mix well.Now add 3 cups water in the masala, check for the seasoning and add.
When the Masala is boiling add semolina by continuously mixing it.Mix well and put on the lid and simmer the flame for 5 to 8 minutes.Don't forget to stir in between.Garnish with some fried onions and cilantro.
Your flavorful Thari Biriyani is ready to serve.
Notes: I used roasted semolina here if you don't have roasted Rava roast it until it changes the color.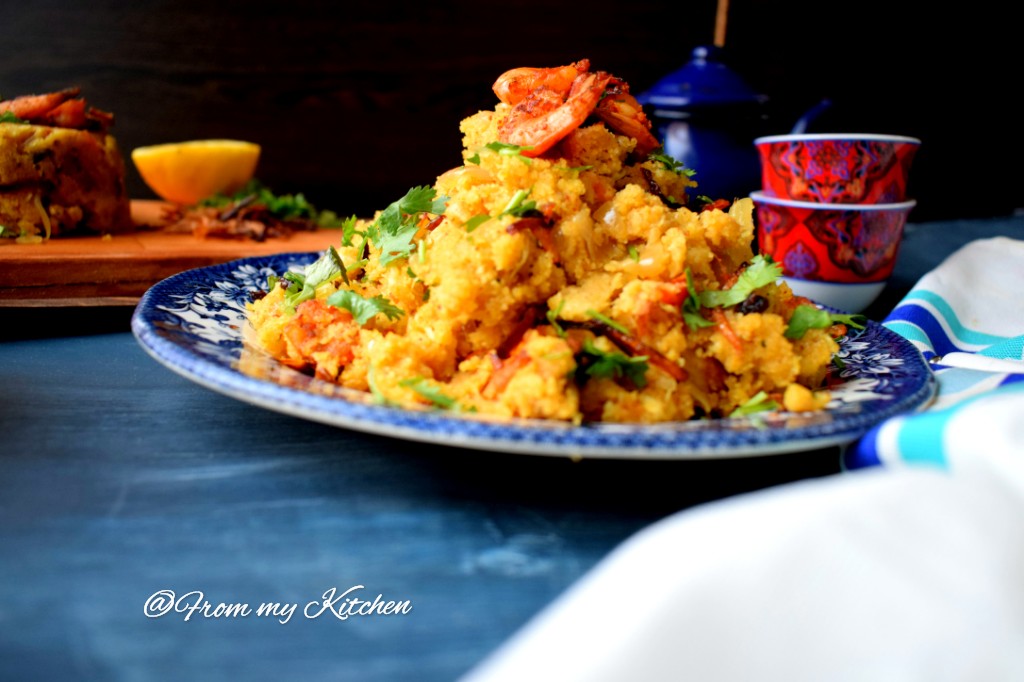 So let's cherish the Malabar food!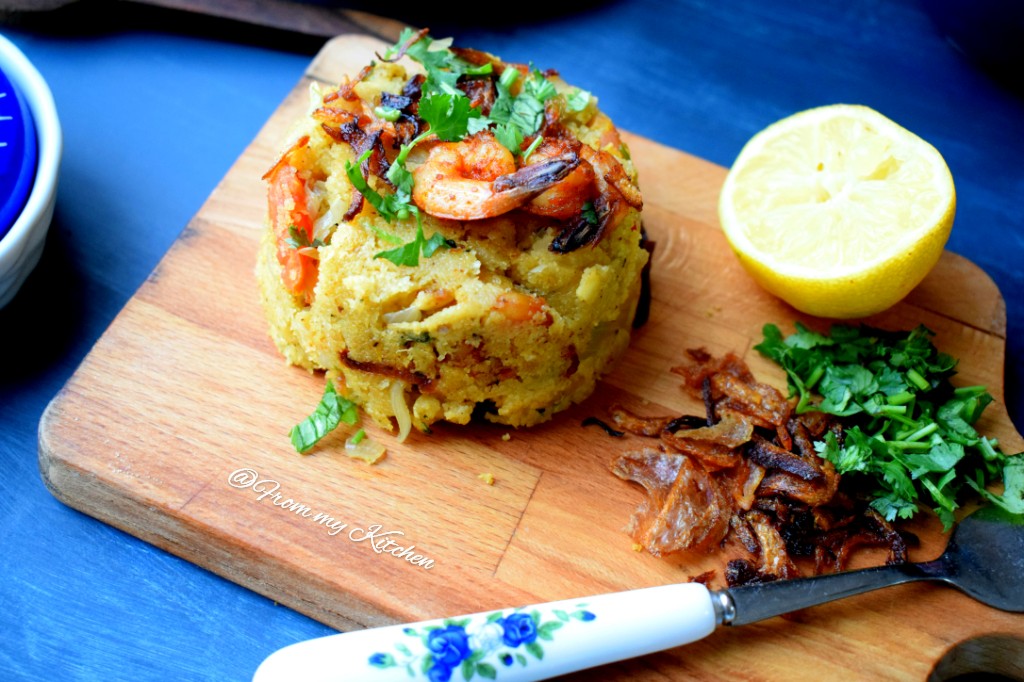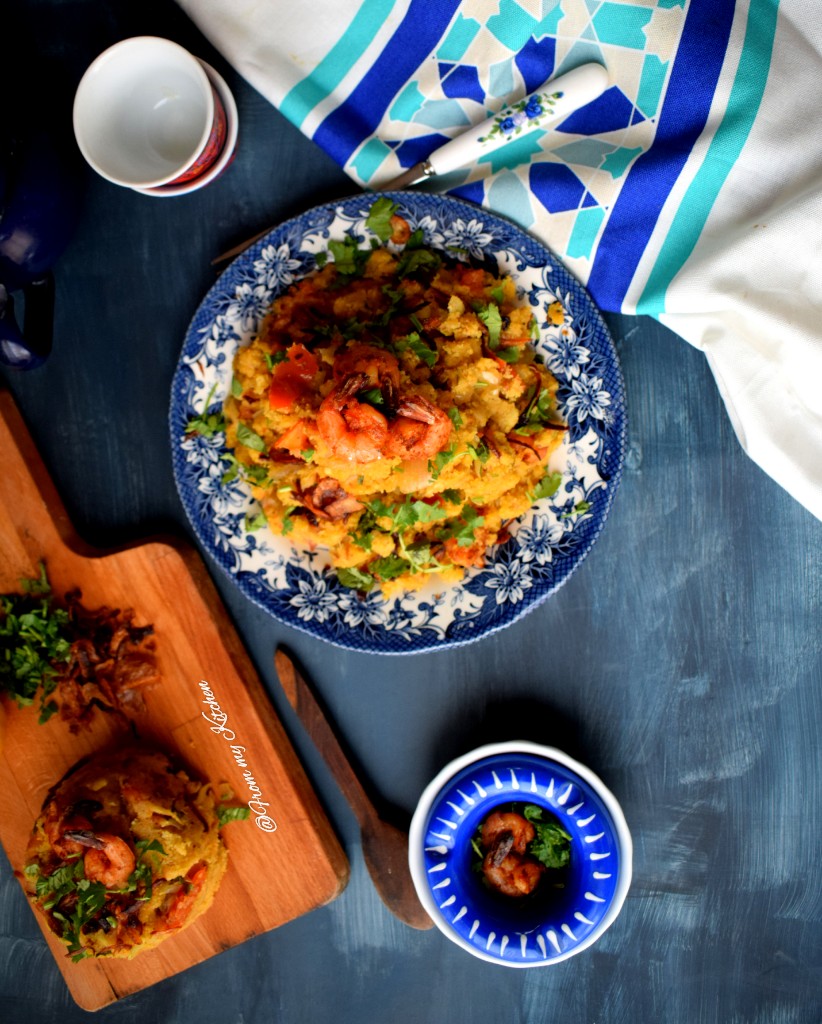 Happy Cooking!