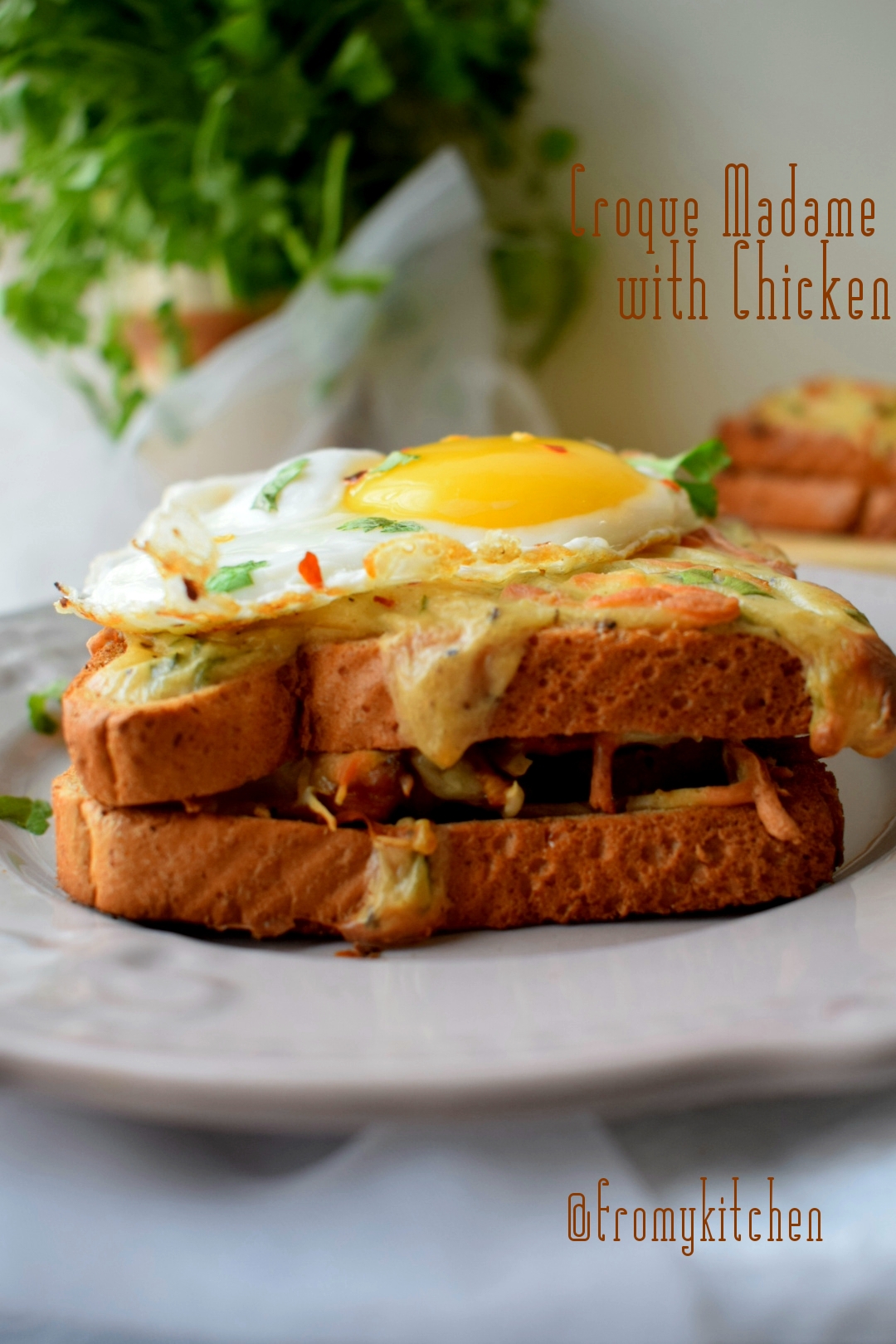 Croque Madame is originated in French Cafe the version of the dish topped with a fried egg. This is a simple Cheese sandwich with luscious chicken filling and topped with gooey white sauce and a fried egg. Traditionally it's a ham and cheese sandwich, but here i made my own twist and made a delicious filling out of chicken and then followed the recipe.
You do not even need to make a filling, you can either use chicken sausage or salami here if you like it. But here my hubby doesn't like all those stuffs so made a quick filling with leftover chicken and then made this yummy cheesy gooey sandwich. It's so simple to put together and lip-smacking!
The bread is first grilled and then a touch of mustard paste, filling, mozzarella and another slice of bread. Then top it with white sauce and then bake it to perfection. This makes a quick breakfast or kids tiffin box option! A complete, filling and unique breakfast if you feel like having something different!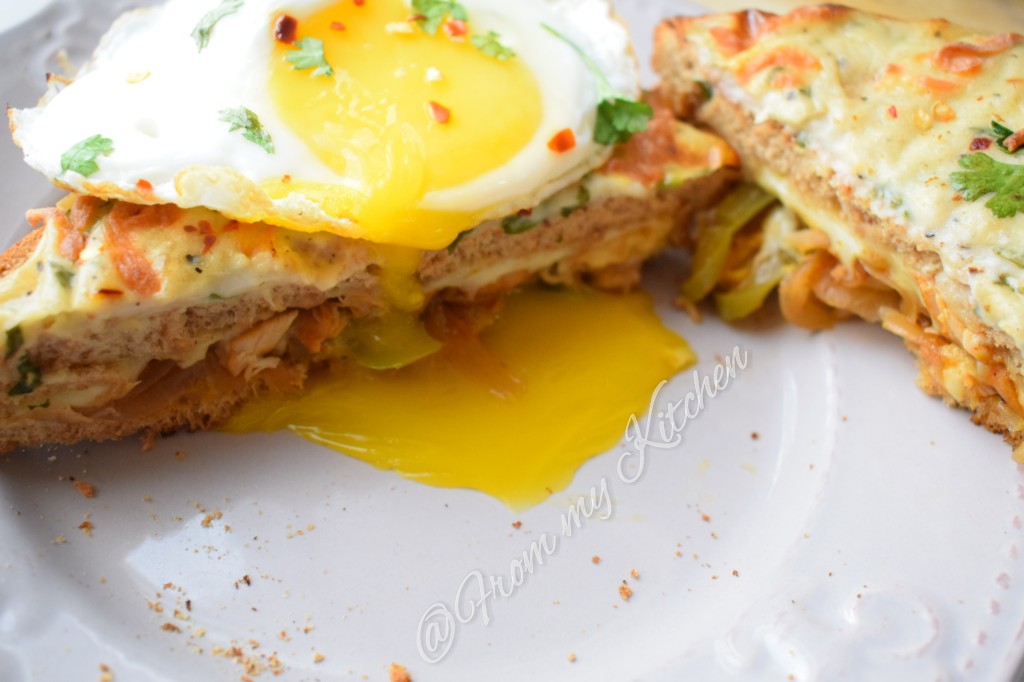 This will be a dreamy breakfast for egg and cheese lovers! My hubby doesn't like runny egg so served one without egg, and the other one for kids!If you are craving for this, go and make it right now and indulge in!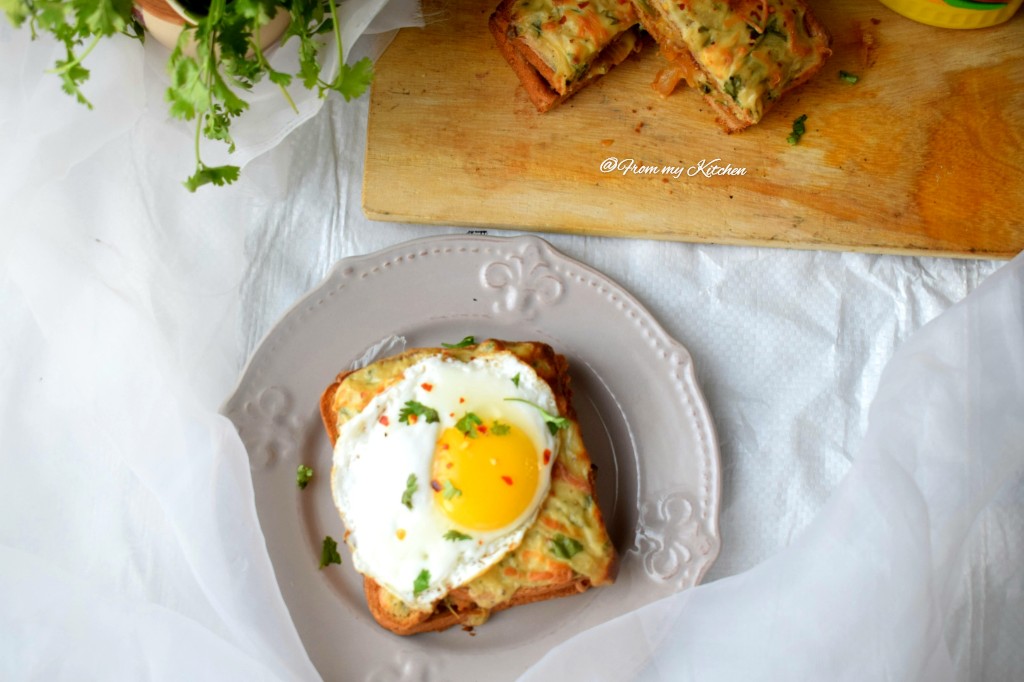 Ingredients
4 bread slices
Any chicken filling/sausage/salami
Mozzarella Cheese
Mustard sauce
White sauce
2 sunny side up eggs
For Filling
Chicken boiled with salt and pepper /any leftover chicken
1 onion
1 bell pepper
3 cloves garlic
Salt to taste
1 tsp paprika
1/2 tsp pepper powder
A touch of ketchup and soy sauce
2 tbsp oil
Method
Slice the veggies and garlic thinly. Shred the chicken'
In a pan on high heat pour oil and then saute garlic and then the veggies. the idea here is to just to toss the veggies, it should retain its crunch. then add seasonings and sauces mix well. Lastly, add shredded chicken and mix.
2nd and simpler option
Take a chicken breast butterfly it and make it thin, then add seasoning of your choice and grill it. Place it on top of the grilled bread and then follow the instructions or you can simply use chicken salami or sausage. But I like some drama in my sandwich so made the filling!hehe
Assembling
Preheat the oven to 2o0 degree
Keep toasted Bread on a baking tray
Brush some mustard paste (if you don't like its taste you can add mayo)
Heap the filling and mozzarella
Cover it with another slice of the bread
Spread the white sauce evenly and bake it for 10 minutes or until the top is browned
Make a sunny side up and place it on top of the sandwich.
Video Tutorial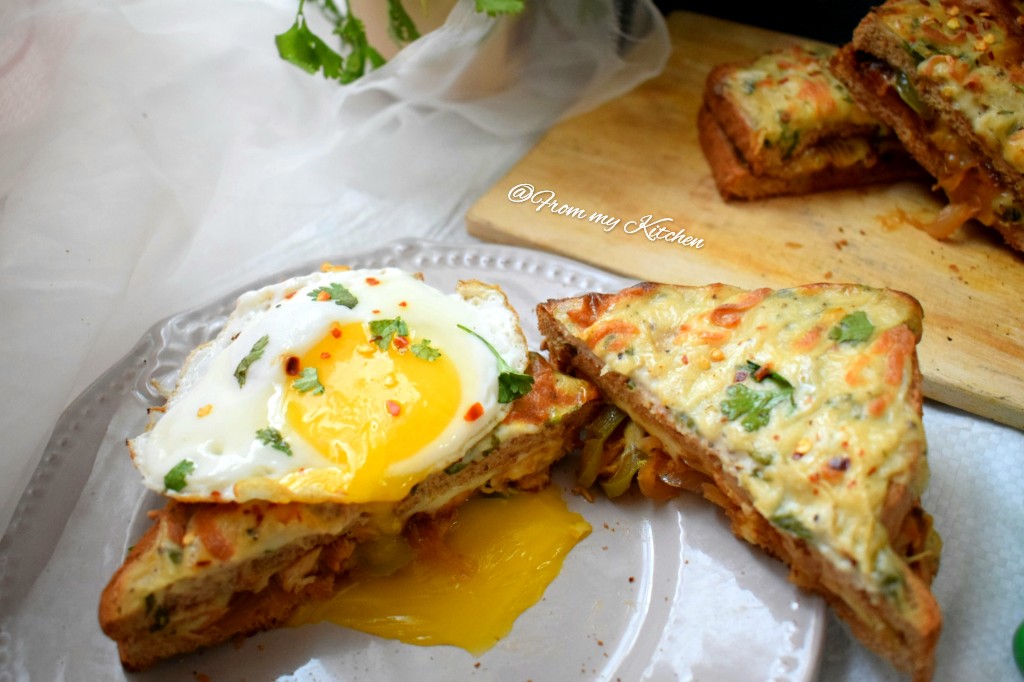 Hope you will enjoy this!