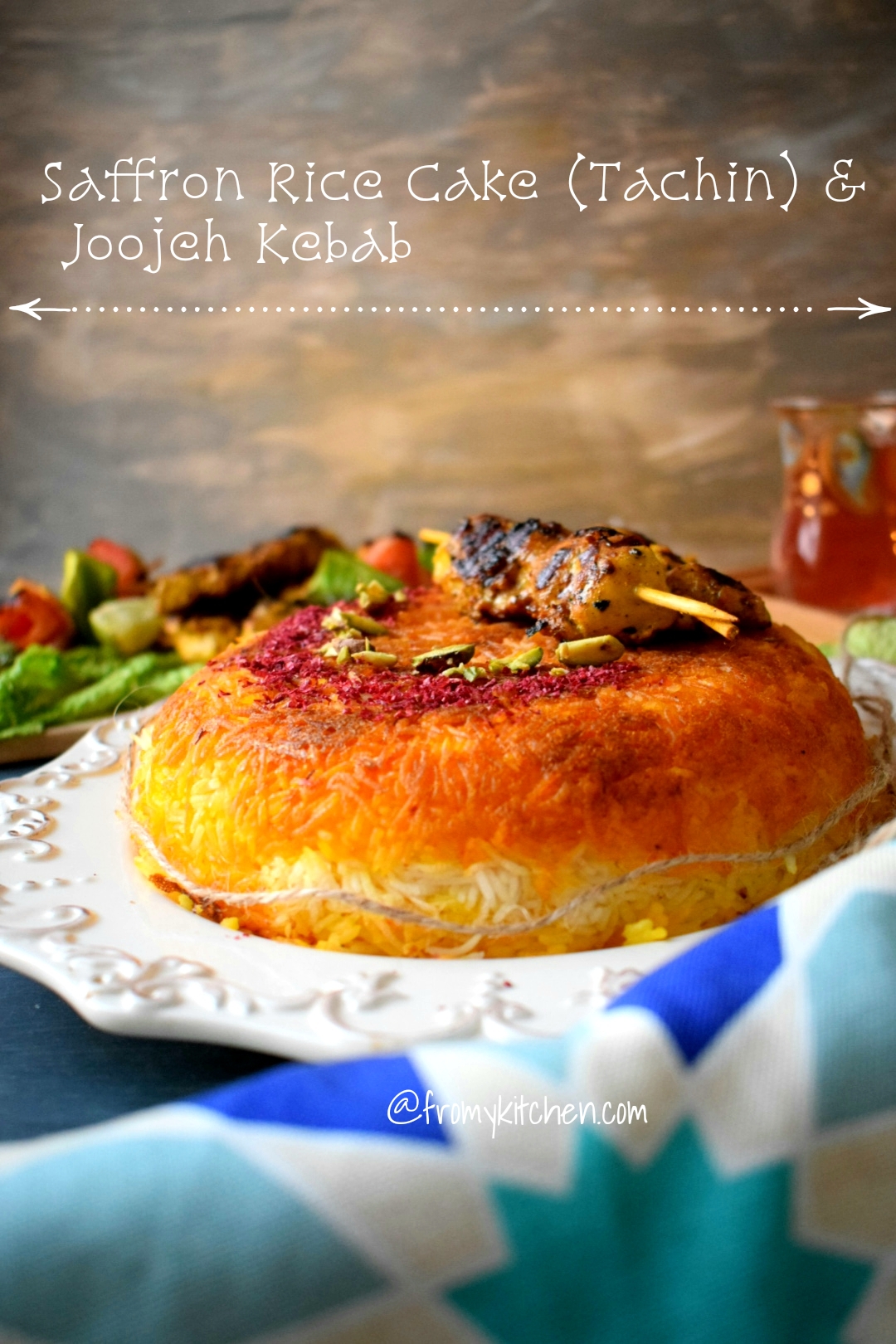 Tachin with Joojeh kabab, that's my dish today! Now, what's that? It's Iranian cuisine in MFB challenge today and my dish is saffron flavored rice cake with grilled kebab that tasted heaven! Joojeh kebab is a well-marinated chicken with some selected spices and grilled to perfection which is served hot with this saffron rice.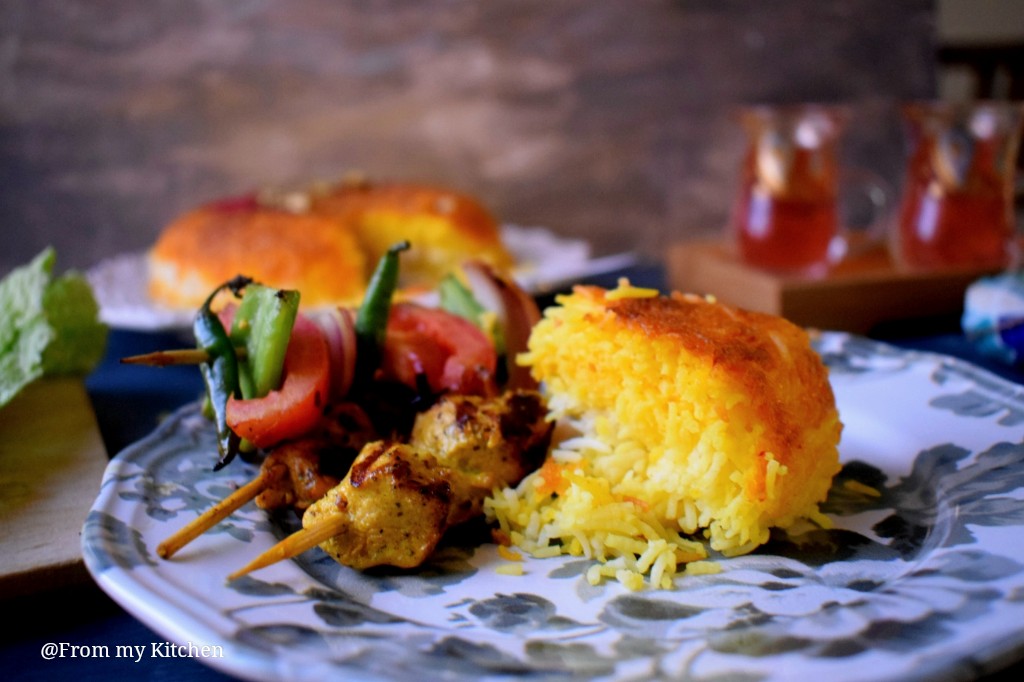 I made it yesterday, that is I pushed myself because I don't wanna miss the challenge! I really don't like this last minute rush, coz after cooking we need to edit and have many other things to do before coming into the blog! But some other things going around that I can't focus much on blogging these days! Still, I managed to do this Alhamdulillah!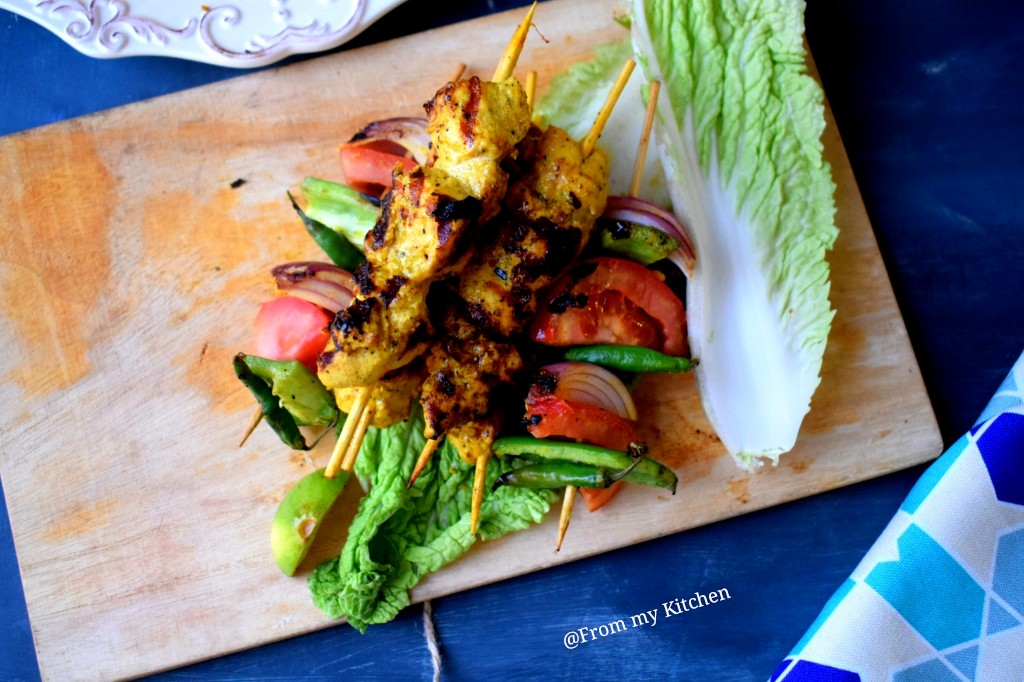 Juicy & Succulent Joojeh Kebab
Thanks, Rafeeda for selecting Iranian cuisine, it's like I came out from my comfort zone and cooked this dish! Really enjoyed making it, especially the rice! At the same time, I'm worried too, what if the folks here didn't like it?🙈 hehe! I know the kebab will surely be a hit, but doubtful about the rice! Tachin is saffron flavored rice which has a crunchy crust that is baked or cooked on a pan for a long time to get that golden thin crust which they call Tahdig! So waited fingers crossed till they had it and yes they enjoyed it! Specially kebab and hubby said its nice and something different to enjoy once in a while!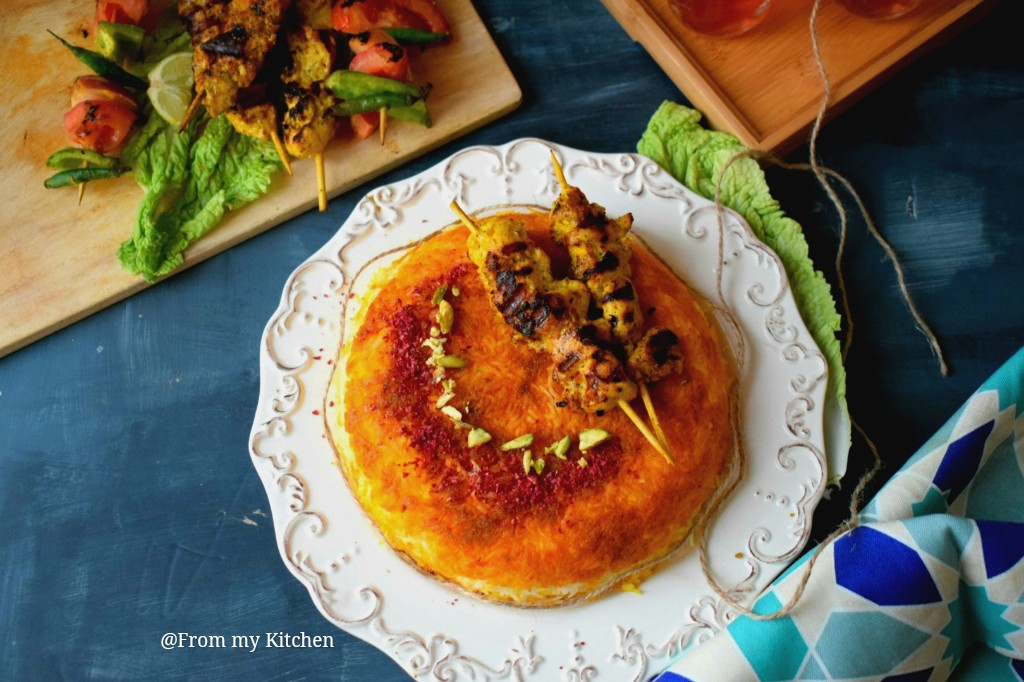 I made a gravy with leftover marinade to have with rice and kebab and we thoroughly enjoyed our dinner yesterday! If you love the saffron flavor this is surely a must try recipe!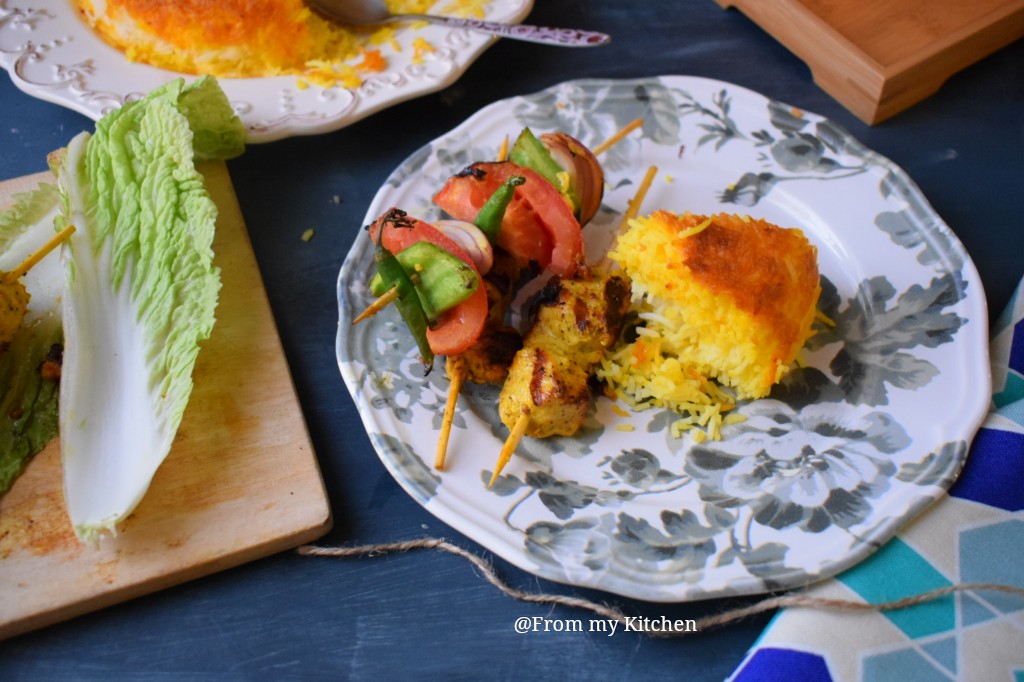 Tachin is actually layered with barberries sauteed in butter, but I skipped that part because I don't have it!
Ingredients
For Joojeh Kebab
300 gm boneless chicken
salt to taste
1 tsp pepper powder (add more if u like it spicy)
1/2 tsp turmeric powder
1 small onion grated
1/2 tsp saffron
3 tbsp hot water
2 tbsp olive oil
For Tachin
1 & 1/2 cup basmati rice
1 tbsp soaked saffron water (see kebab part)
4 tbsp yogurt
1 egg yolk (trust me it didn't taste eggy)
salt to taste
3 tbs melted butter
Water to cook the rice
Method
For Making Kebab
Cut chicken into bite-size cubes.
In a motor and pestle add the saffron and a pinch of salt make it to a powder. Add 3 tbsp of hot water in it and mix well.
Grate the onion and squeeze in the juice of the grated onion to add in the marinade. Also, add 1/2 of the grated onion to the marination.
Then marinate chicken with all the above ingredients along with 2 tbsp of saffron water(preserve the other 1 tbsp for rice)  and let it rest at least for 2 hours. Longer it rests better the taste.
Skewer it and grill it on a grill pan until its done and grilled. Do not overcook the kebab! Preheat the pan and make sure to grill it on high heat first and then lower the temperature to medium!
For Rice
Soak rice with some salt for 1/2 to 1 hour.
Boil water in a large vessel and add the rice with salt in it.
Let them cook for 5 t0 6 minutes until the rice is soft but not fully cooked.
Drain it in a colander.
Mix the yogurt, egg yolk, butter, saffron water and salt with a whisk.
Mix the rice with this saffron yogurt and dump it on a greased nonstick pan or a baking tray.
Then on low flame by covering the lid with a cloth cook the rice for 1 hour by keeping an iron pan as the base to ensure that the crusting does not burn. After 1 hour switch off the flame wait for 10 minutes and gently flip it on a platter.
Serve it with the kebab hot!
Video Tutorial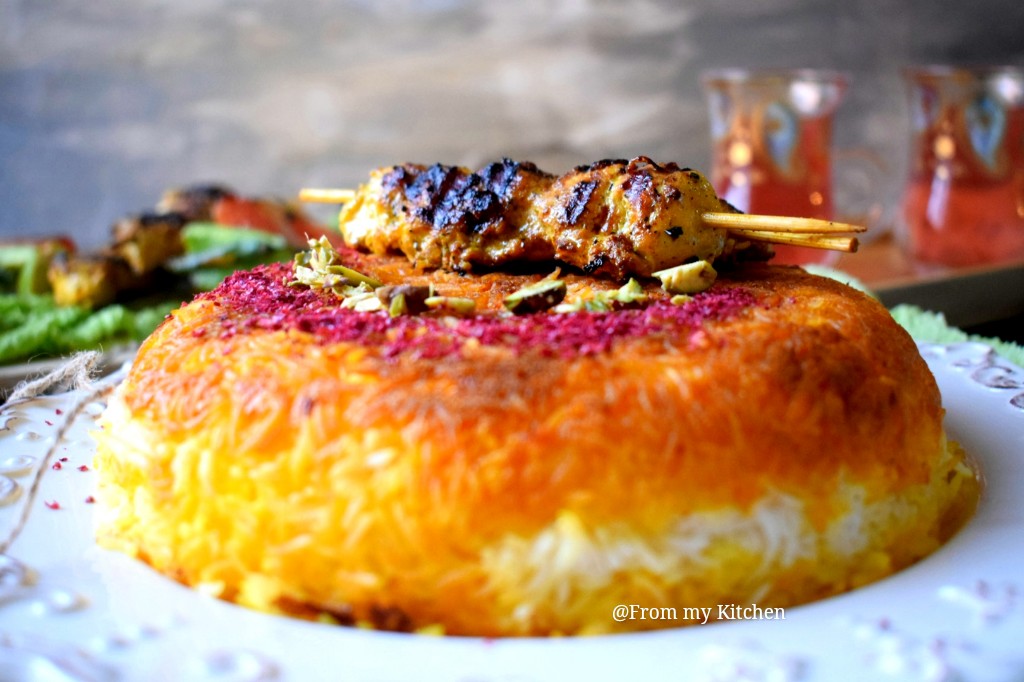 How nice it looks, isn't it? Just like a beautiful orange cake!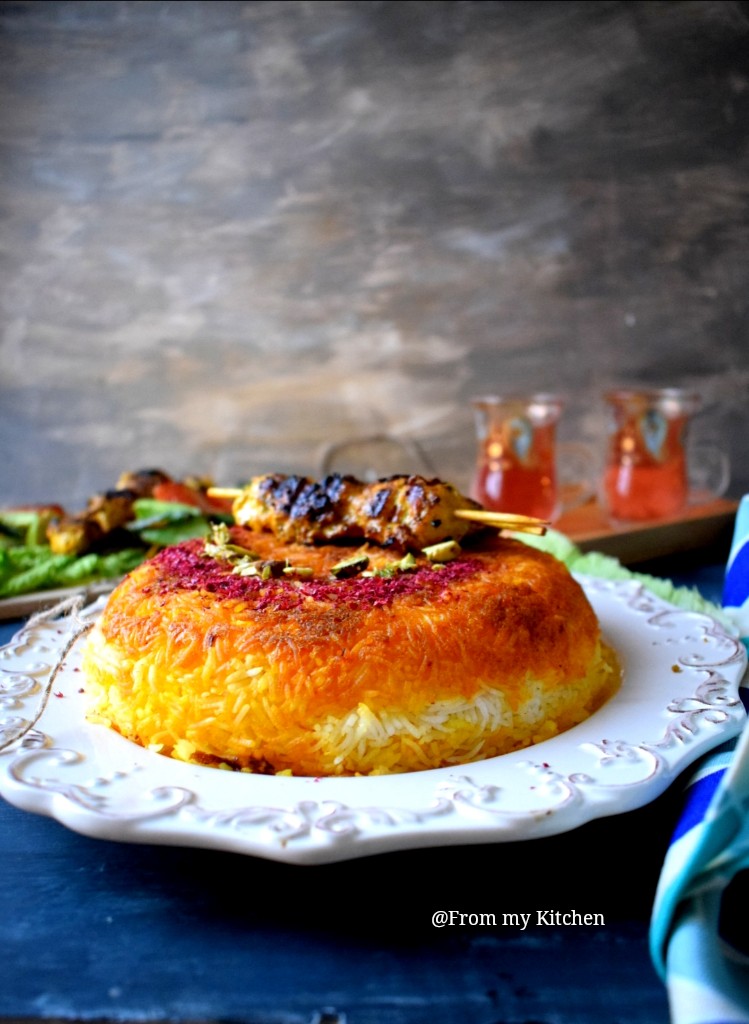 Hope you all will enjoy this as much as we did!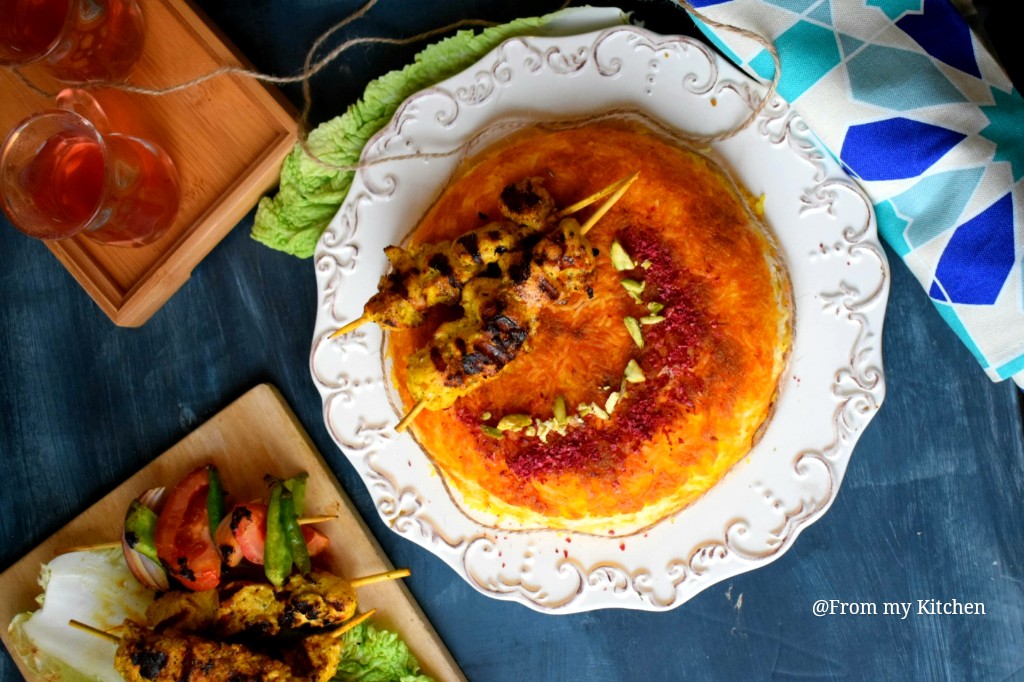 Happy Cooking!
">Check out what others have for this challenge!