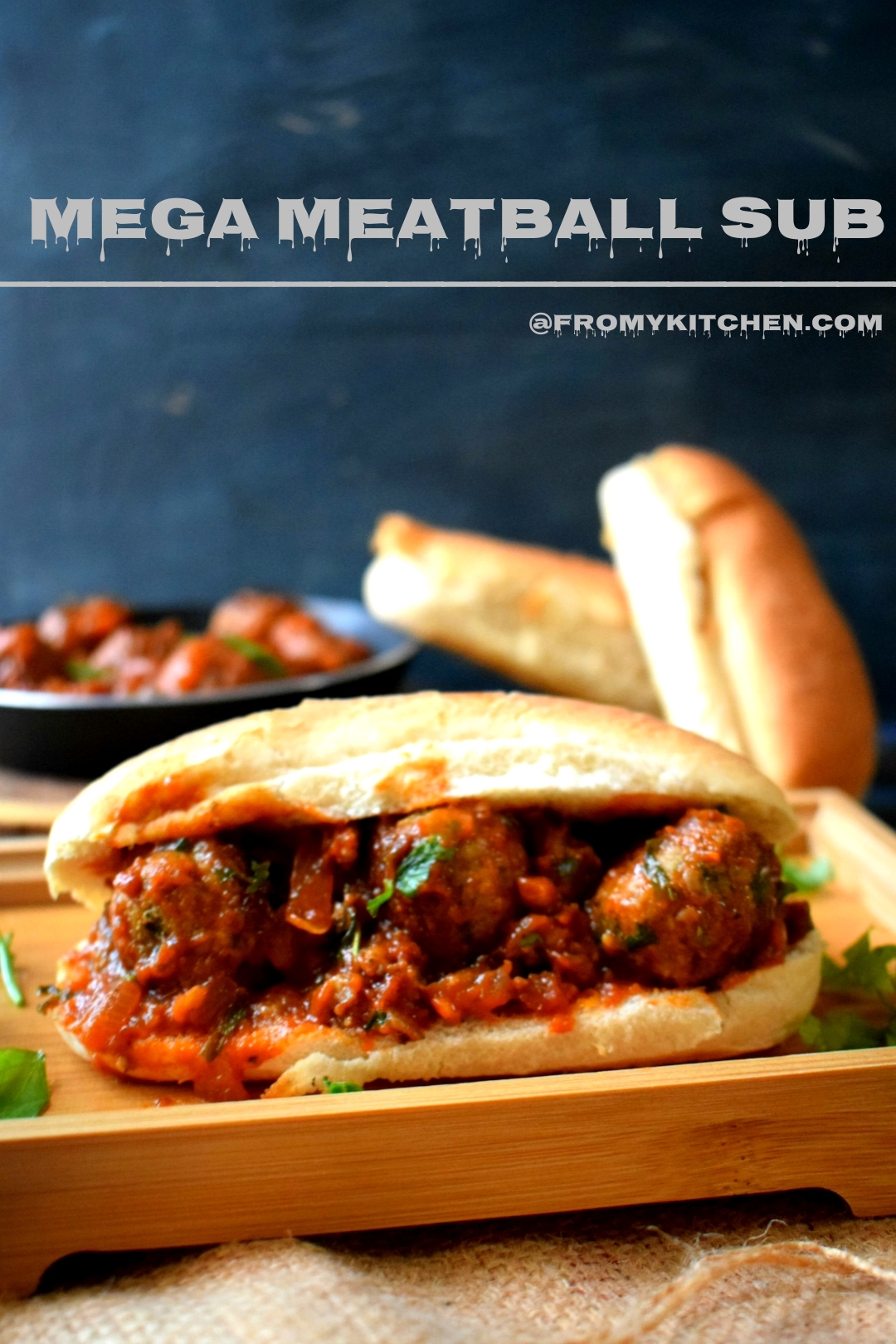 This extreme comfort food will knock your socks off!!! Scrumptious meatball filled sandwich is a perfect dish to treat your family and friends! Succulent and juicy meatballs in that perfectly flavored chunky meat sauce is a killer combination with some bread cheese and herbs!
Make it and feel it! A perfect treat for a winter evening! The recipe is inspired by one of my most favorite chef Jamie Oliver! When I saw his video of making this and tasting it I'm like I want to eat it right now hehe and yes I did it! The recipe has surely my touch in it, but I tried making the sauce the same way.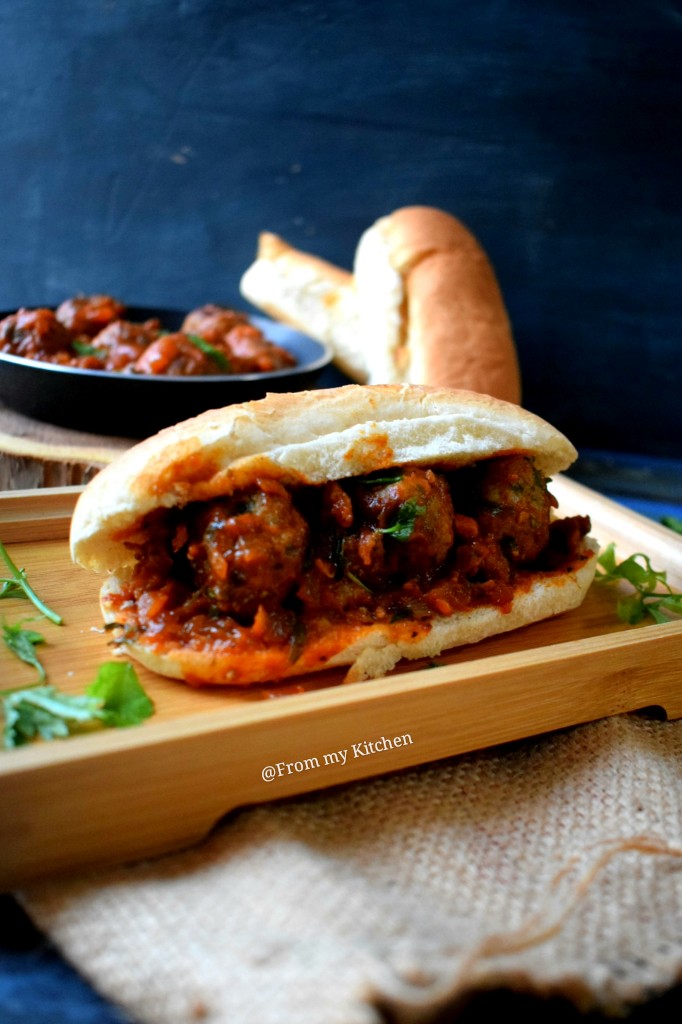 In this recipe, the grilled meatballs are sunk in a delicious meat sauce! The bread is then nestled along with the sauce! If you would like to add cheese then go for it with some lettuce leaves! Kashif and hubby loved it! I added some flavorings to the meatball too and grilled it in the pan. The original recipe added grated potato along with the mince and baked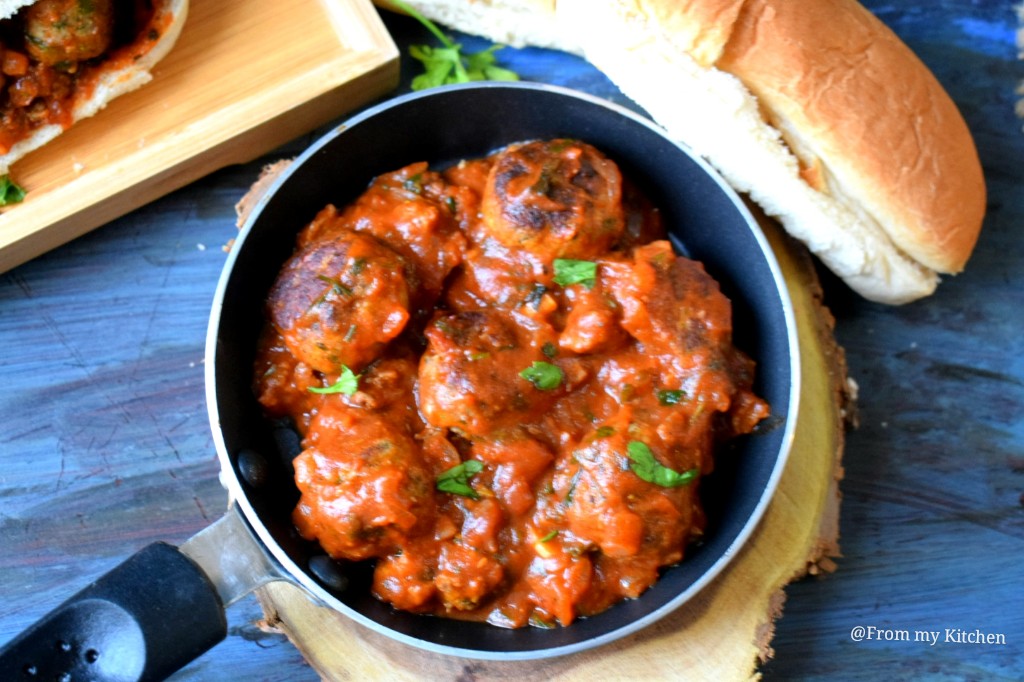 Ingredients
For MeatBalls
400 gm chicken mince
3 cloves garlic
some parsley or cilantro
salt to taste
Pepper to taste
1/2 cup breadcrumbs
1 tbs oil
Note: Preserve 1/4 portion of this mix for meat sauce
For Sauce
1 medium oni0n finely chopped
2 clove garlic finely chopped
Celery finely chopped
Pepper to taste
1 tbsp all purpose flour
1 tsp tomato paste (optl) I added
1 tsp mustard paste
1 tbsp ketchup
1 & 1/2 to 2 cups chicken stock or water
1/2 tsp dried rosemary
some cilantro
A touch of parmesan cheese or any of your favorite cheese
Method
Mix all the ingredients listed under meatball and make a medium-sized ball out of it.
Bake it or grill it on the pan by drizzling some olive oil. I pan seared it.
Take out the meatballs and add some more olive oil add the preserved meat mix fry break and fry it.
Add finely chopped onion and celery to it cook for a while then add the all purpose flour and cook it for few second by scraping the pan.
Add chicken stalk and mix well. Add rosemary and simmer it for 8 to 10 minutes.
Add the cooked meatballs and mix well. Add cilantro cheese and switch off the flame.
Grill your bread and fill the meatballs along with sauce add some greens and dig in!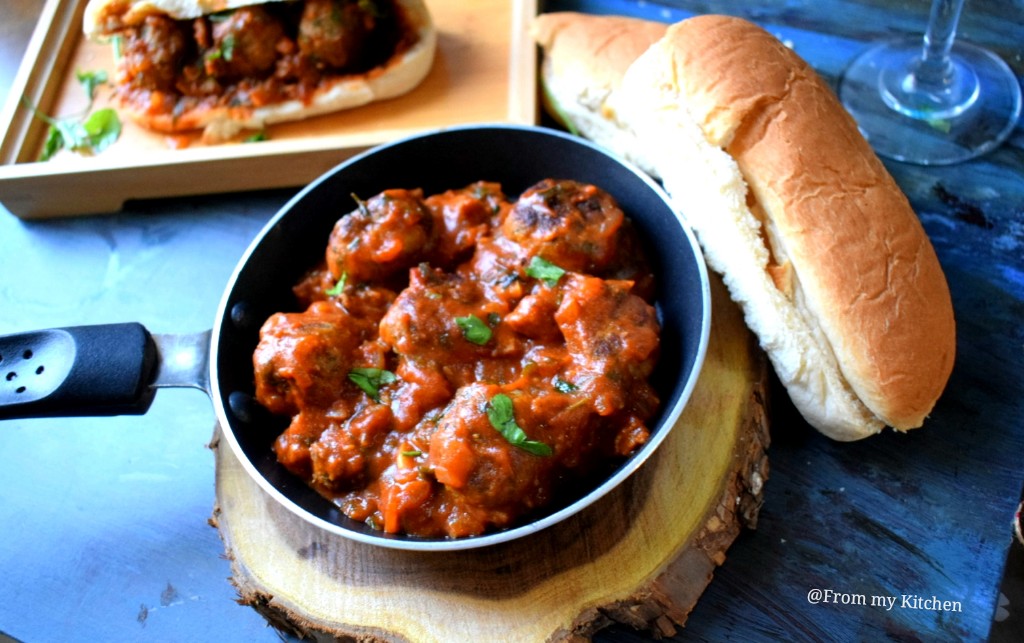 Make sure you try this! It's yummilicious!
Happy Cooking!