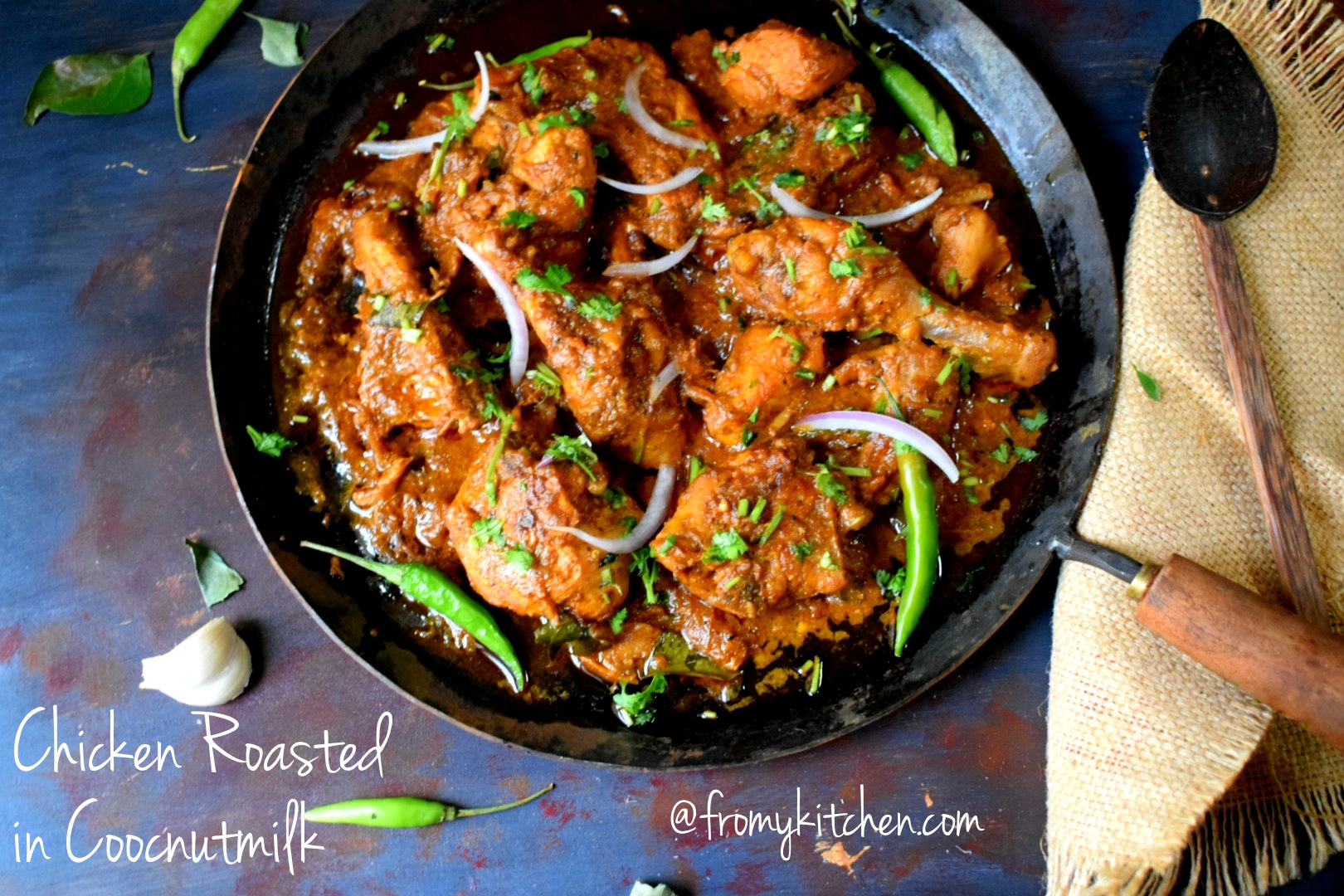 The climate here is changing!! Finally, it's winter and raining here and who would reject a spicy Chicken roast with some hot puris during  a chilly day! This Chicken Roast is a must try peeps!! Seriously this is just too good with all the flavors of coconut milk! Chicken is well marinated and then simmered and roasted it along with coconut milk! In brief, we can call it a delicious Kerala style Chicken Roast simmered in coconut milk! It has mild flavors of other spices too!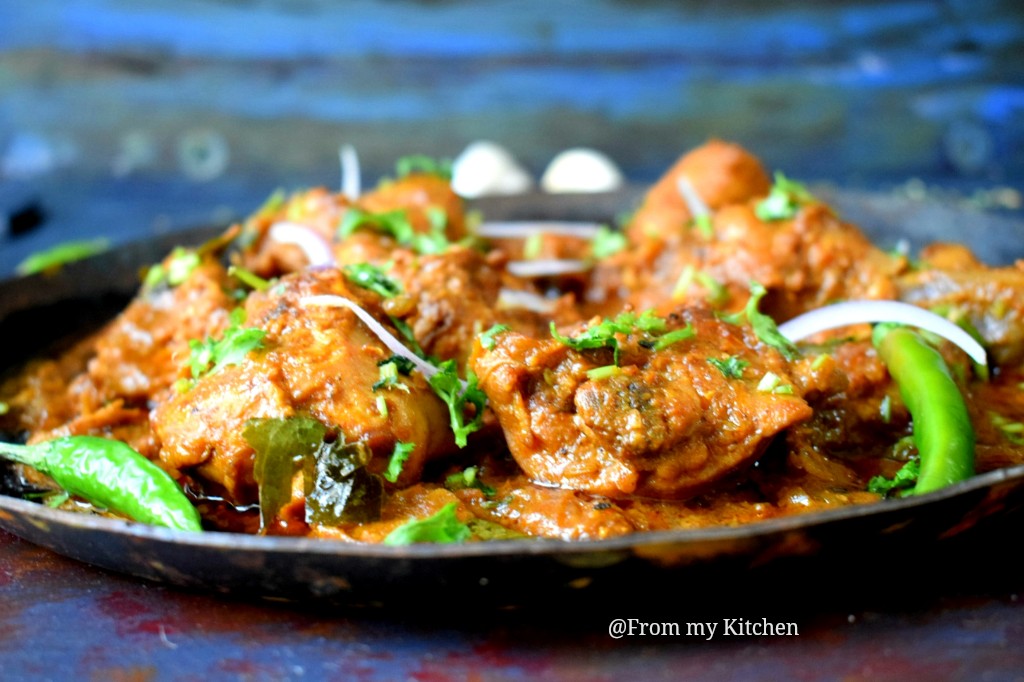 Hubby said he had a feeling of having it from a typical Kerala Restaurant that makes me so happy! His approval is always a pleasure for me!hehe! Everyone love effortless and lip-smacking dishes, isn't it? To extract coconut milk is the only tough task here all other processes are simple. I used readymade coconut milk so it was easy for me😉 hehe! You can also use coconut powder to make coconut milk (fresh is the best)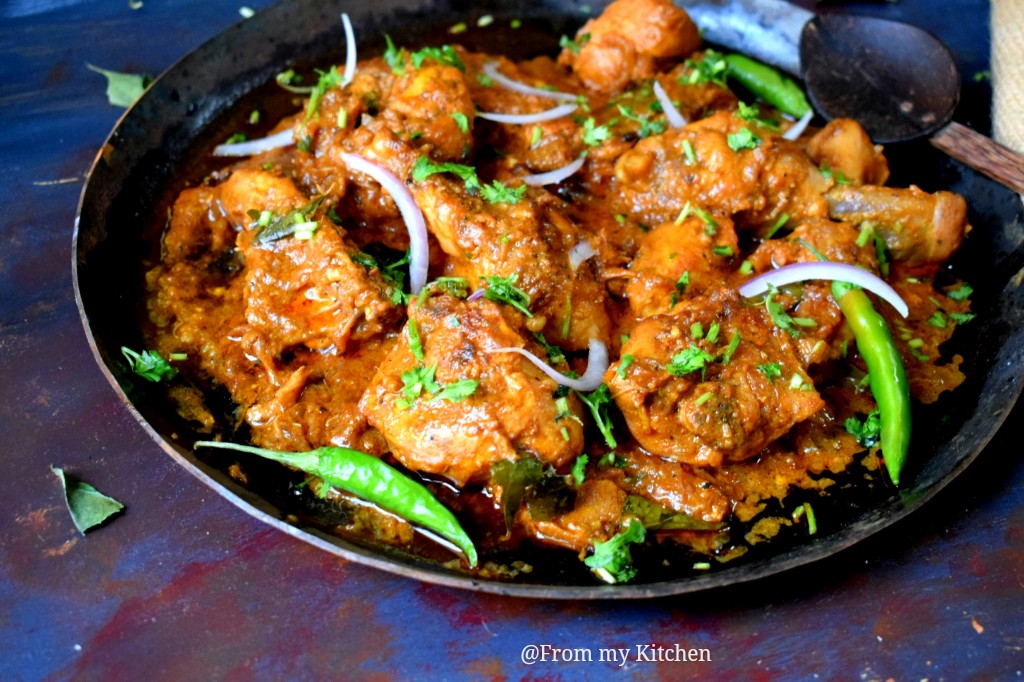 If you are making this one get ready for some tap on your back!hehe! Surely a showboat on a party or dining table. You can pair it with nan, chapati puri or with any other flatbread! Will surely try to add some grill and soup recipes which are apt for the changing climate!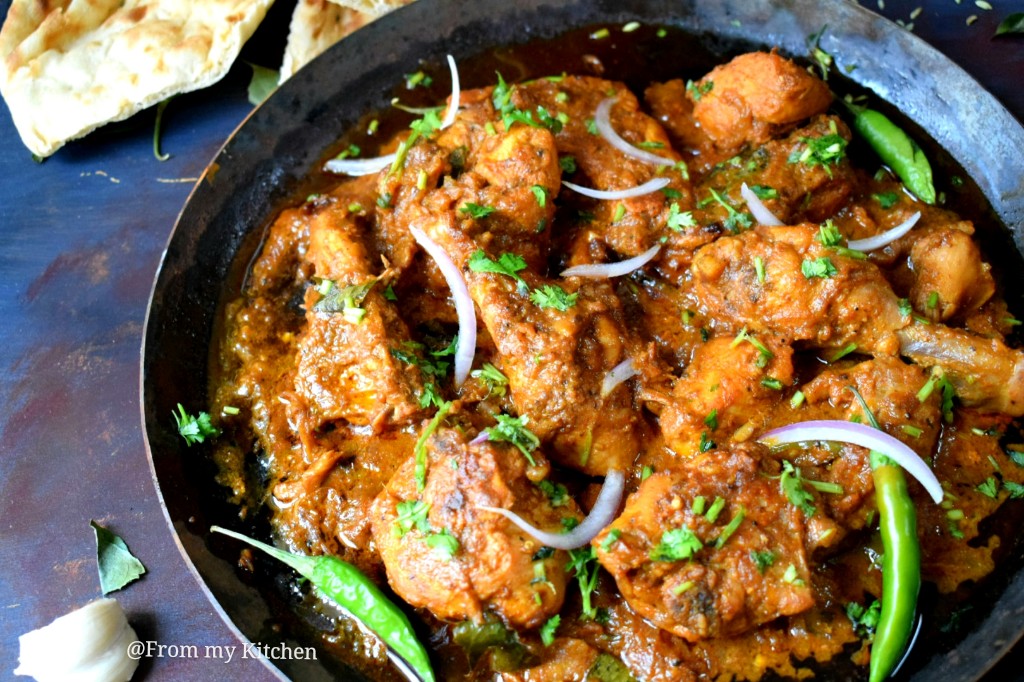 So without further delay lets check out the recipe!
Ingredients
For Marinating the Chicken
1/2 kg chicken
2 tbsp chilly powder
1/4 tsp turmeric powder
Salt to taste
1/2 tsp pepper powder
1 tsp garam masala
1 tsp ginger garlic paste(see note below)
2 tbsp coconut milk powder
1 tbsp thick coconut milk
1 tbsp lemon juice
some curry leaves
Note:6 to 8 cloves garlic 1 medium size piece ginger 1 & 1/2 tsp fennel seeds ground together use this in marination and gravy.
For Gravy
1 large onion
Salt to taste
ginger garlic and fennel paste
1 tsp chilly powder
few curry leaves
1 cup coconut milk
1/2 cup water
3 to 4 tbsp oil or coconut oil
Method
Marinate the chicken with all the ingredients listed under marination for 1/2 to 1 hour.
In a large tawa or kadai pour oil when it's hot enough add sliced onions and cook until soft. Add few curry leaves and then cook the onion until slightly brown.
Then add prepared ginger garlic fennel paste mix and cook for a second
Add a tsp of chilly powder and mix well.
Now add all the chicken pieces and the marinade sear the chicken on both sides on high flame to make it brown. (for 5 to 8 minutes)
Add the coconut milk and some water and mix well. Cover the lid and cook on medium-low flame until the chicken is tender.
Now open the lid and simmer the gravy on high flame until you get a thick roast type chicken and gravy by tossing it frequently.
Finally, add two green chilly slits and curry leaves and simmer for 3 minutes and switch off the flame. Note that the chicken is roasting in coconut milk u can see plenty of oil oozing out from the gravy. (You can either leave it or stir and mix in the gravy.
Tip: You can also make it a curry type without simmering much. You can make coconut milk from the powder or can use readymade coconut milk. (Best is always fresh)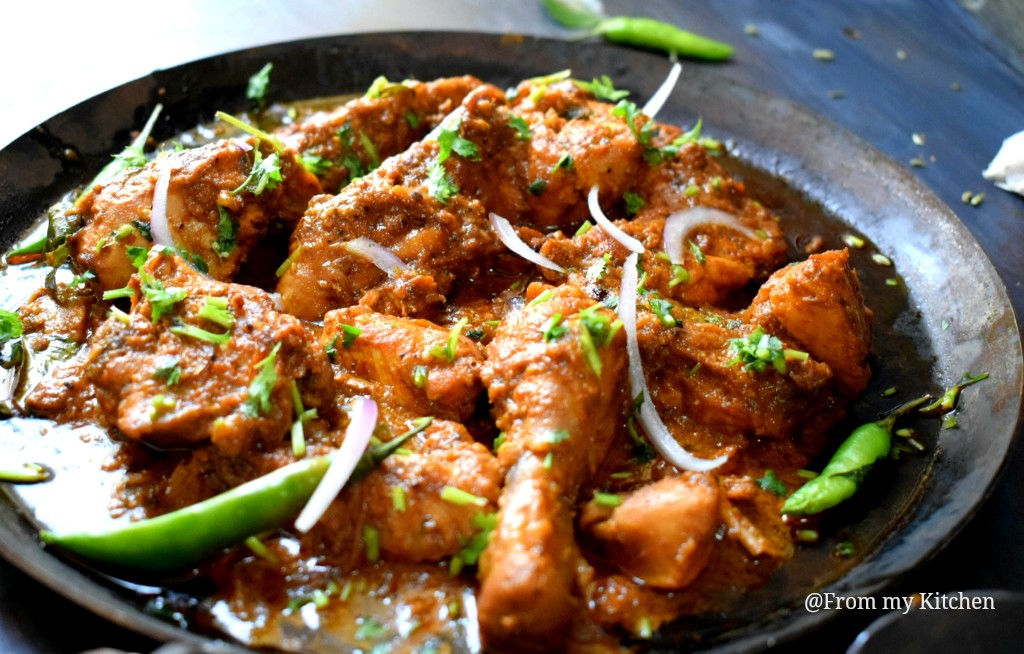 Happy Cooking!