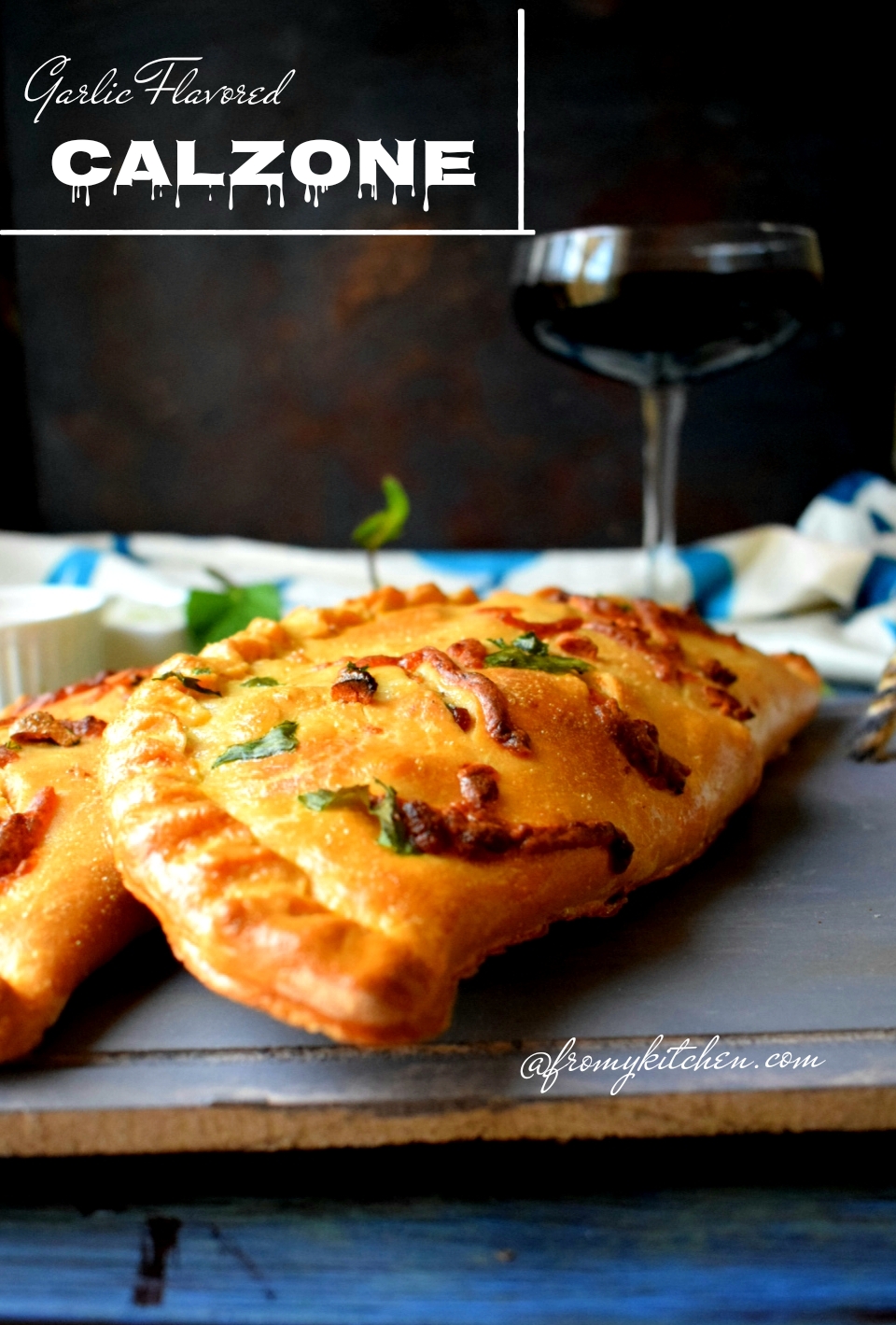 Calzones are cheesy gooey goodness! It's an Italian folded pizza that is very easy to prepare and delicious to have! In this calzone, it has a delightful garlic tomato spread with loads of cheese some leftover chicken and fresh veggies that tasted heavenly! Toppings are simple here yet it was soo good!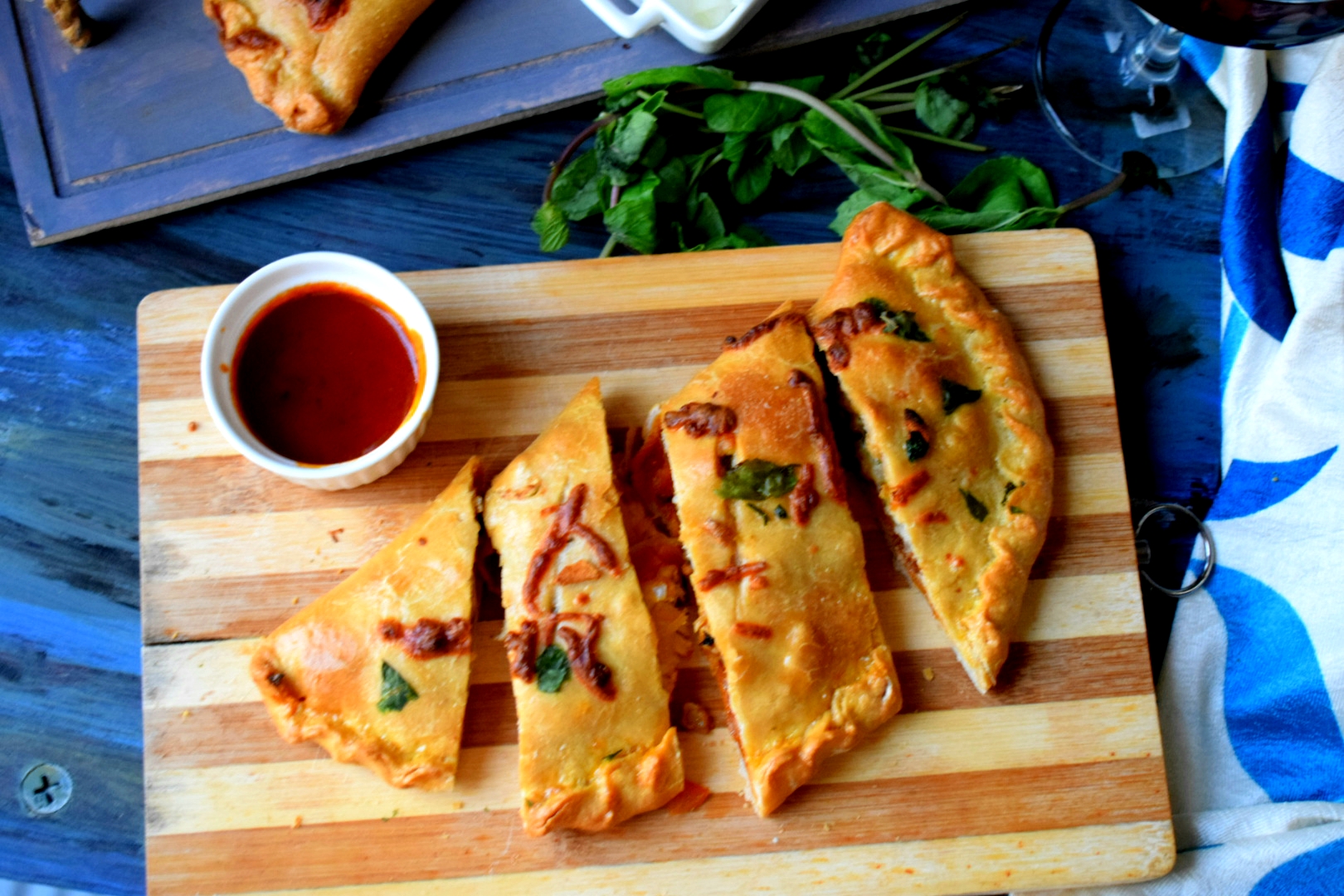 I'm so happy that hubby relished every bit of it! The dough here is a regular pizza dough( i used half wheat and half white flour) and that easy to cook sauce was spot on! You can stuff it with any of your favorite veggies, salami, sausages or even egg along with mozzarella or ricotta.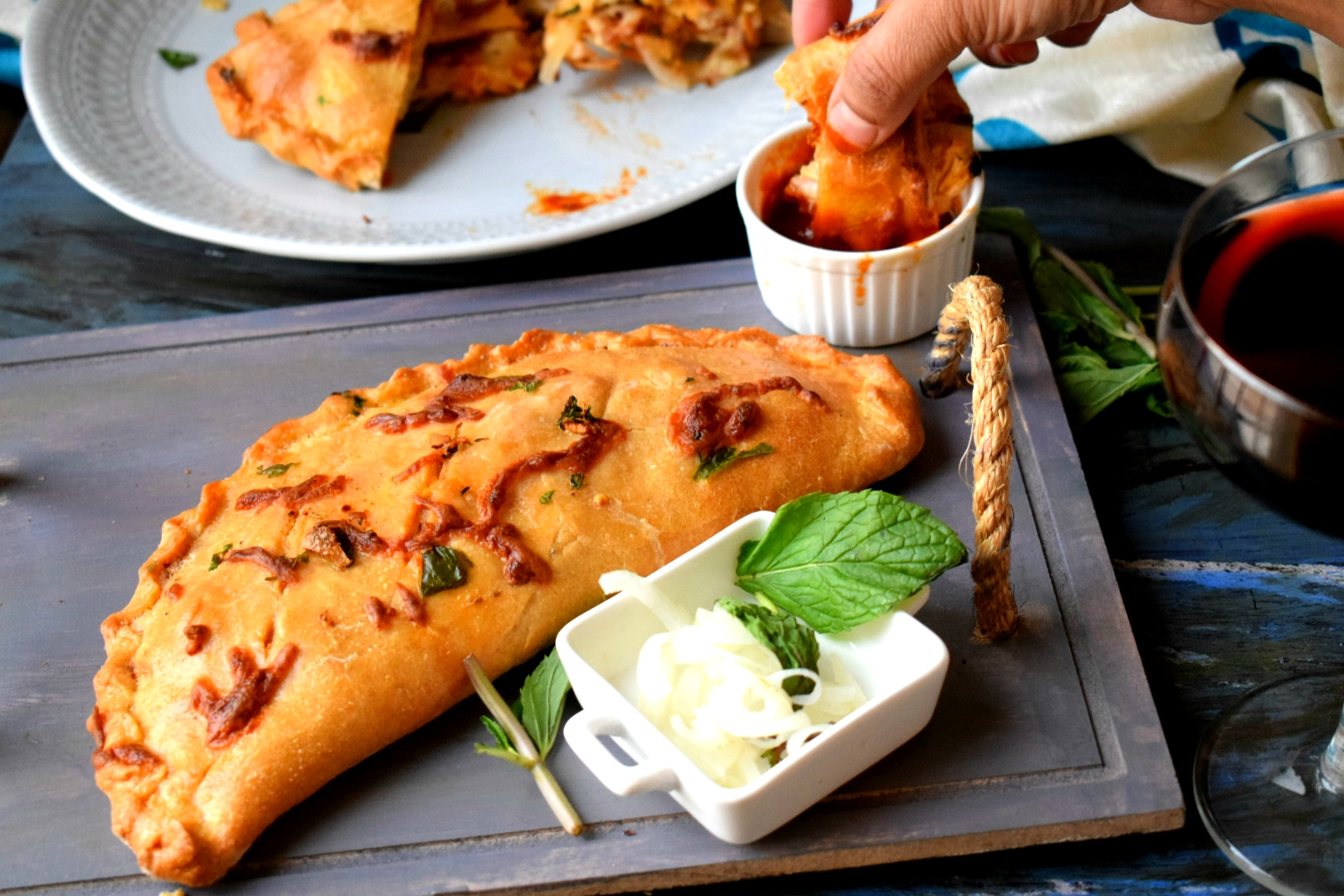 I'm sure cheese lovers are gonna love this simple and cheesy pocket pizzas! This will be so comforting on a winter evening with a cup of hot coffee! It's a bit crispy on the outside and gooey succulent inside. As it is folded one it's very easy to carry in the tiffin box or to pack it for a picnic box! Enjoy folks!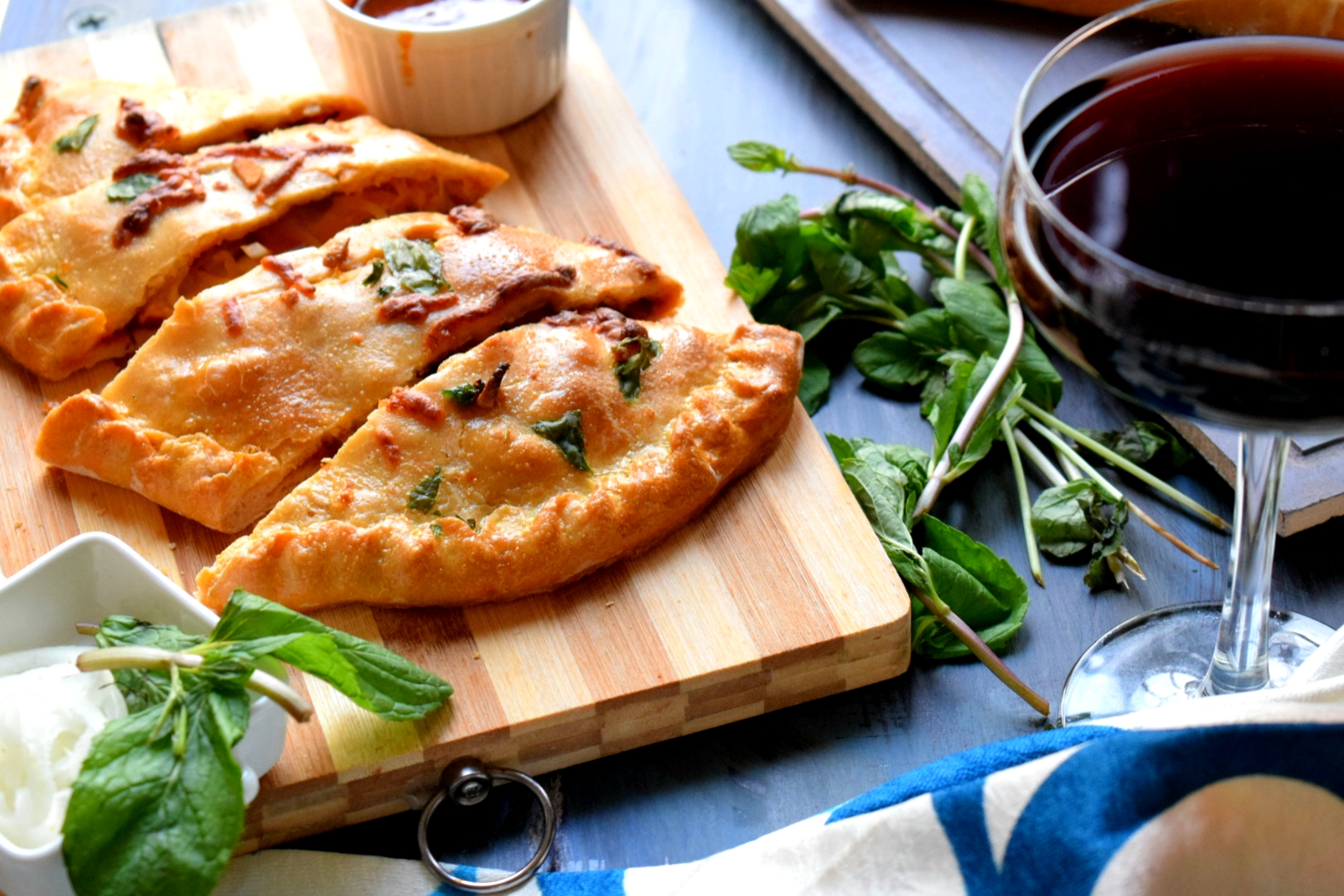 You can make it cover it and freeze it for the other day, so it will be easy for you to bake the next day and pack it in the tiffin box or to enjoy for your sudden cheesy cravings!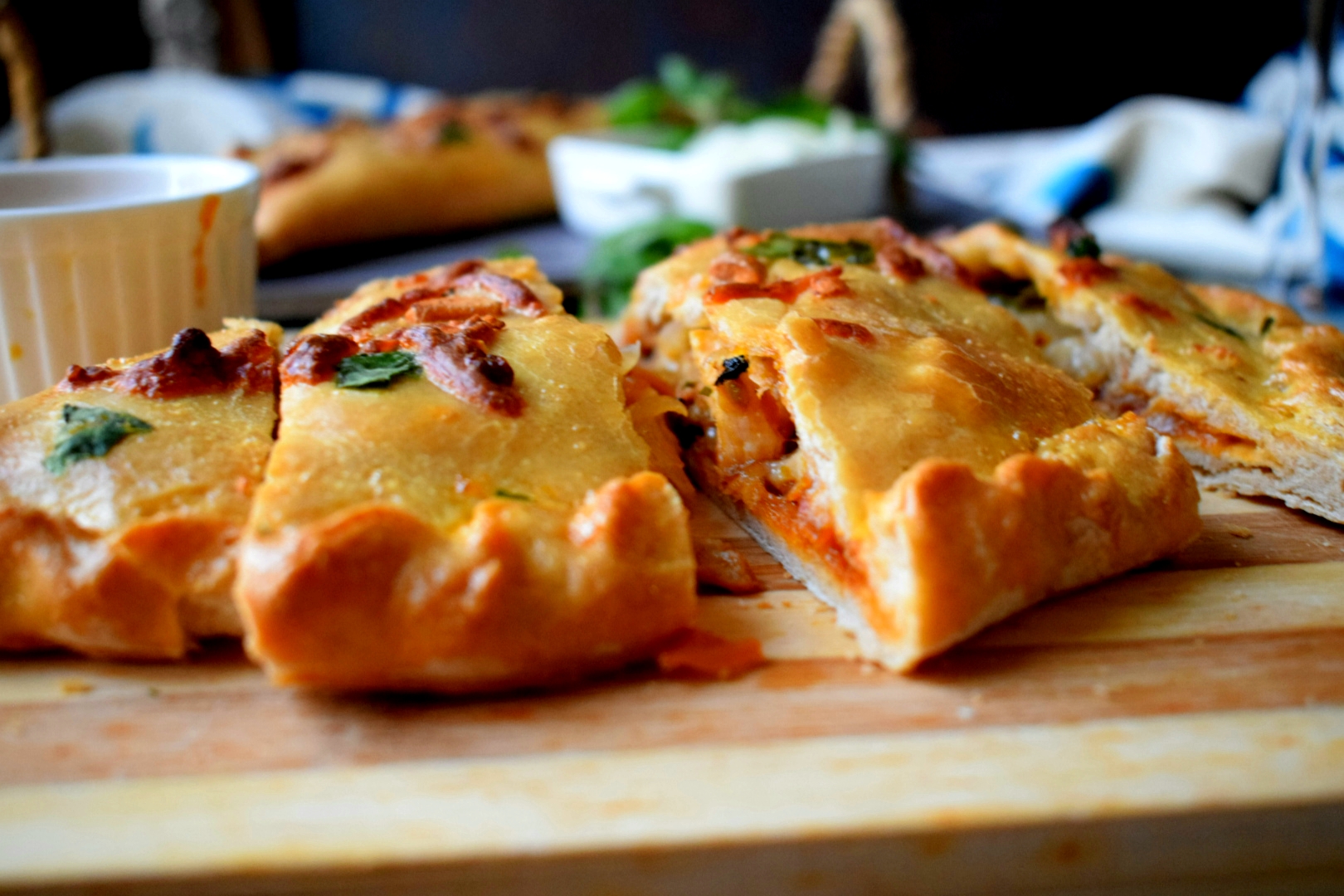 Ingredients
2 cups all-purpose flour (i used 1:1 wheat and all-purpose flour)
Salt to taste
1 tbsp sugar
1 tbsp instant yeast
1/2 to 3/4th cup warm milk
3 tbsp olive oil
Extra flour for dusting
For Sauce
1 tbs butter
8 to 10 cloves garlic chopped finely
Some chilly flakes
Parsley or cilantro finely chopped
2 tbsp tomato paste
1 tbsp tomato ketchup
1 tsp hot sauce
Some Italian seasonings
salt to taste
1/2 cup water + more if needed
A pinch of sugar to balance
For Toppings
Chicken boiled and shallow fried with chilly powder, salt, and turmeric.
Sliced onions
some fresh mint or basil leaves
You can use any veggies here
Mozzarella Cheese
egg for egg wash
Method
Mix the ingredients for the dough in a bowl and knead it well for 8 to 10 minutes until it becomes soft and pliable. Keep it covered in a warm place to proof.
For the sauce in a pan add butter when it melts add chopped garlic and cook until it slightly changes its color. Then add chilly flakes and some cilantro mix well and preserve a little for later use.
Then add tomato paste and mix well. Then add water and cook for a few minutes. Add tomato sauce and sauce mix and cook until it becomes a thick spreadable consistency, add a pinch of sugar to cut the sourness of tomato paste and switch off the flame.If you don't have tomato paste take a ripe tomato puree it and then use it.
Shred the chicken.
Preheat the oven to 2o0 degree
Assembling – divide the dough into two equal portions. (if you want it small divide it accordingly)
Roll it into a big thin base spread the prepared sauce on half of the circle, place the mozzarella cheese evenly, then put the chicken, sliced onions and mint along with the preserved garlic butter.
Fold it gently by making a shape of half moon and then seal it with the help of your finger as a guide. (Check the video)
Put some slits on top of it for the steam to come out.
Bake it for 15 to 20 minutes at 200 degree Celsius or until it becomes golden brown. (Keep an eye on it as each oven temperature varies, so check in between and adjust the temperature)Serve it hot
Note: If you don't like it crisp don't roll it too thin.After baking cover the hot calzone with a damp cloth and place it inside a hot pot for some time to make it soft.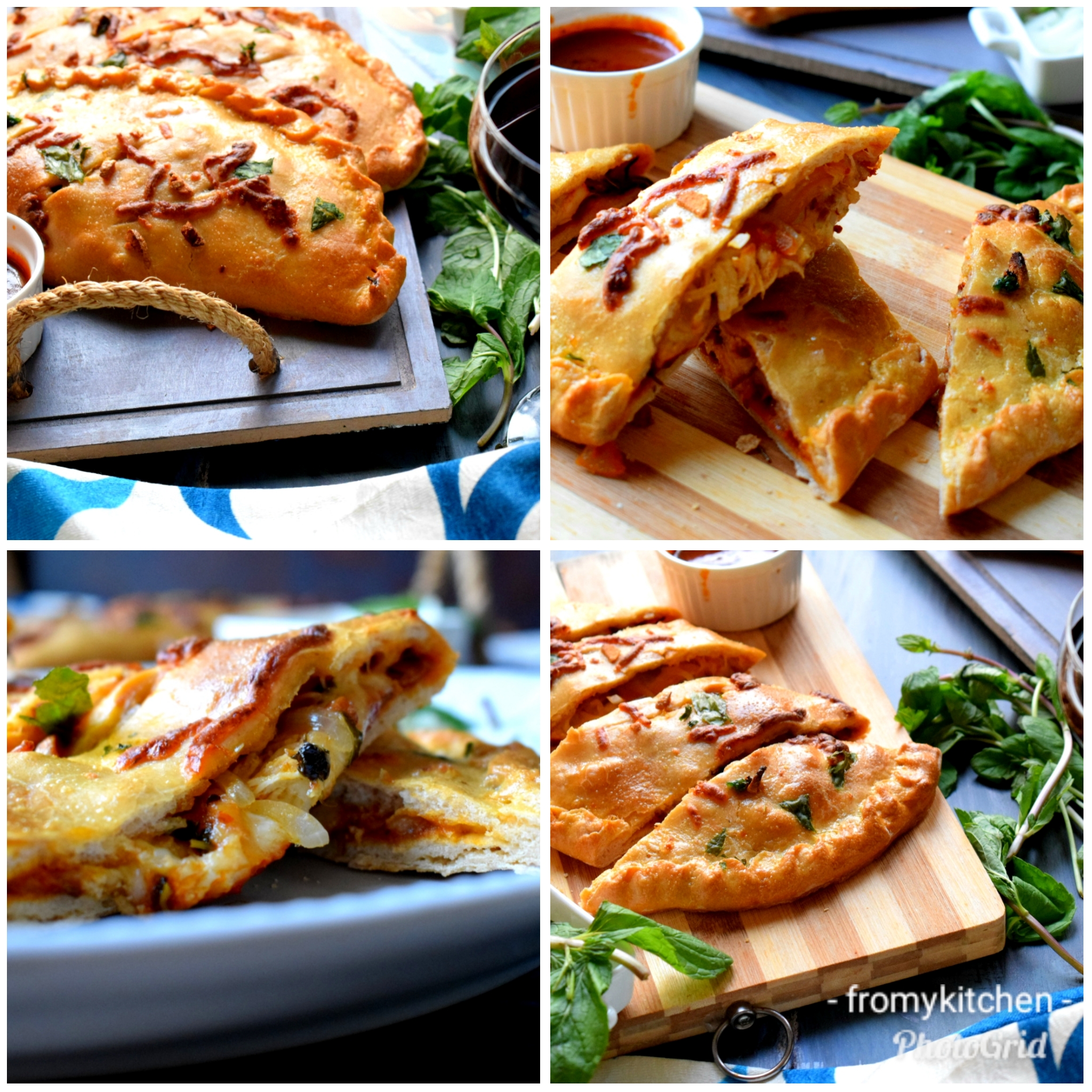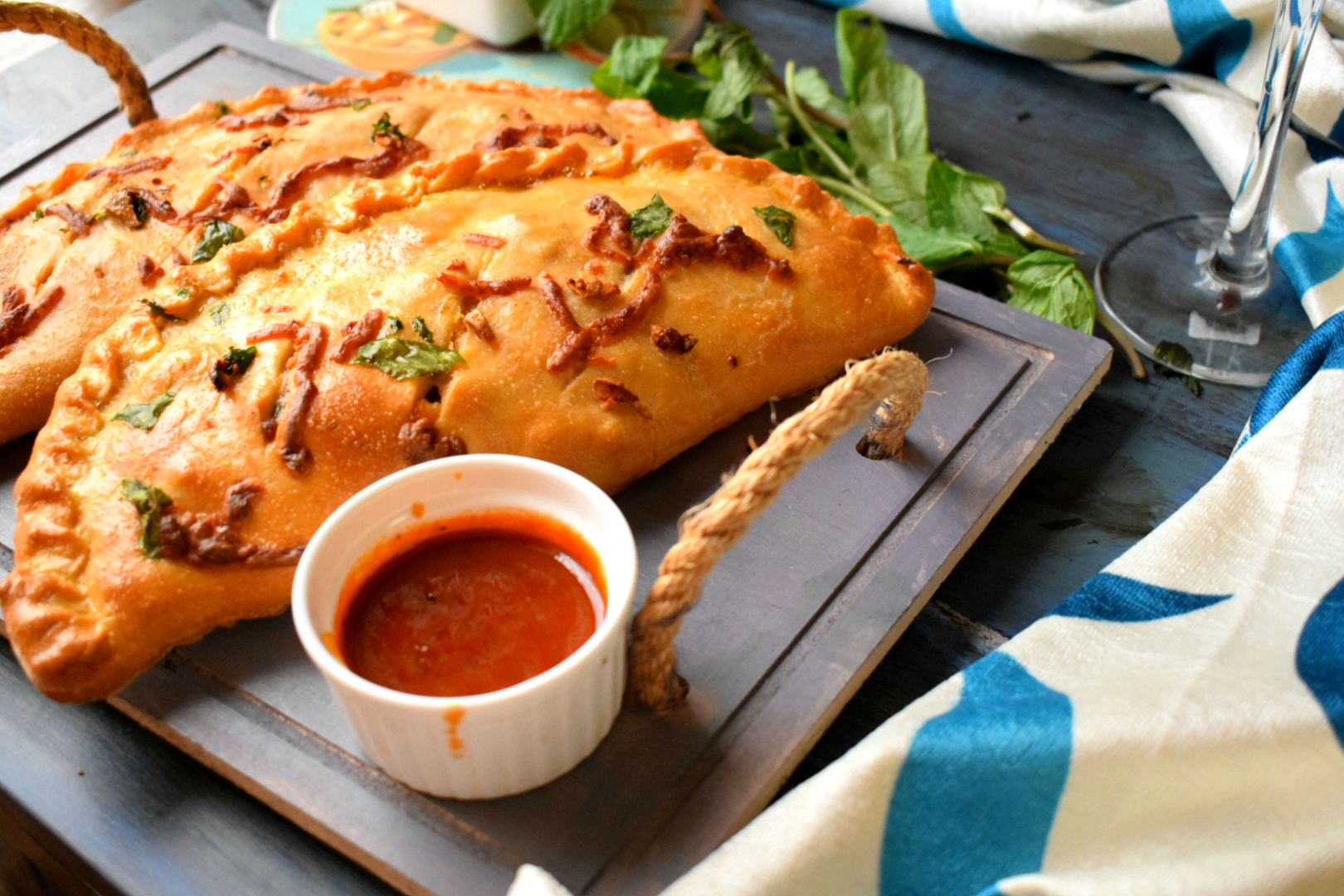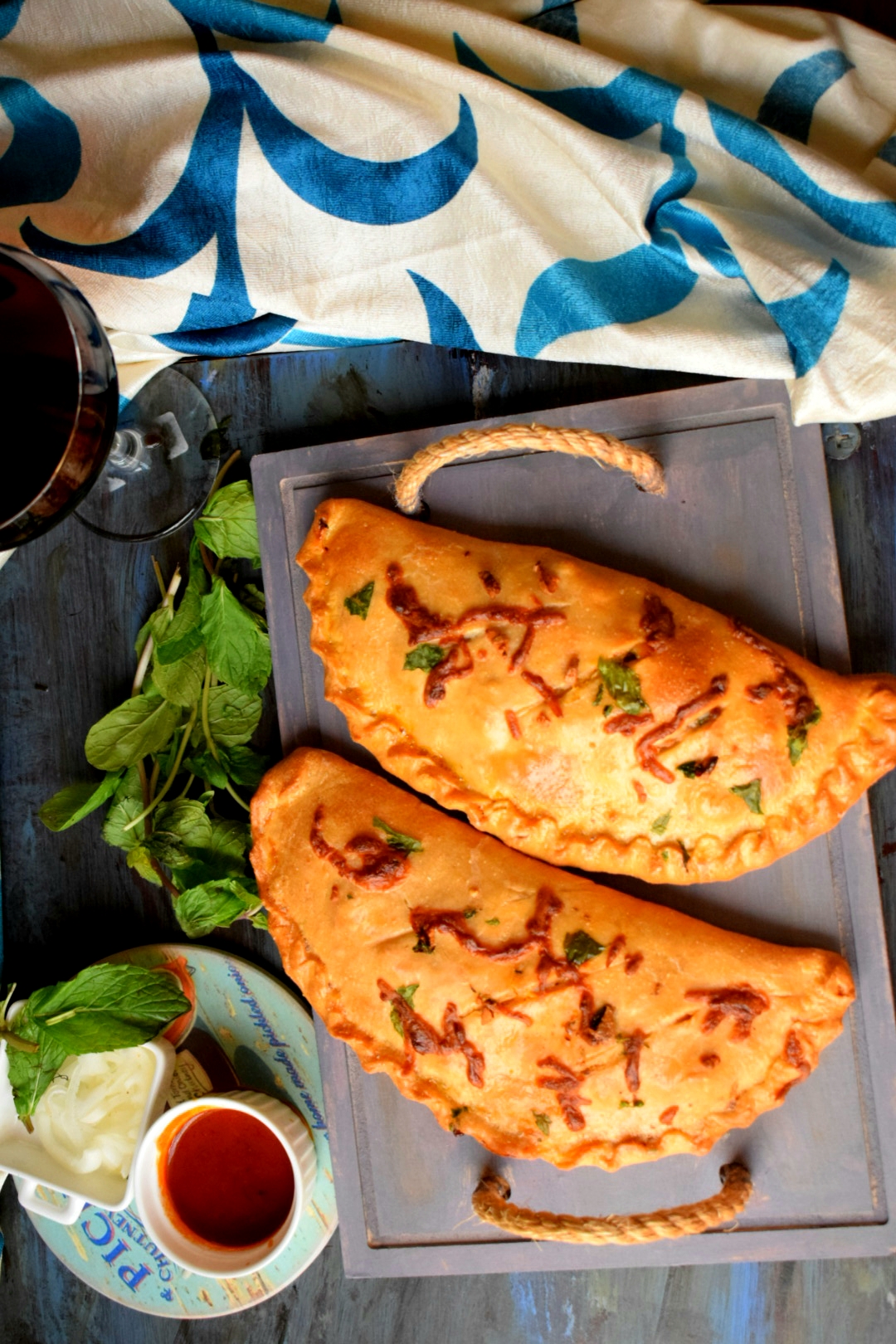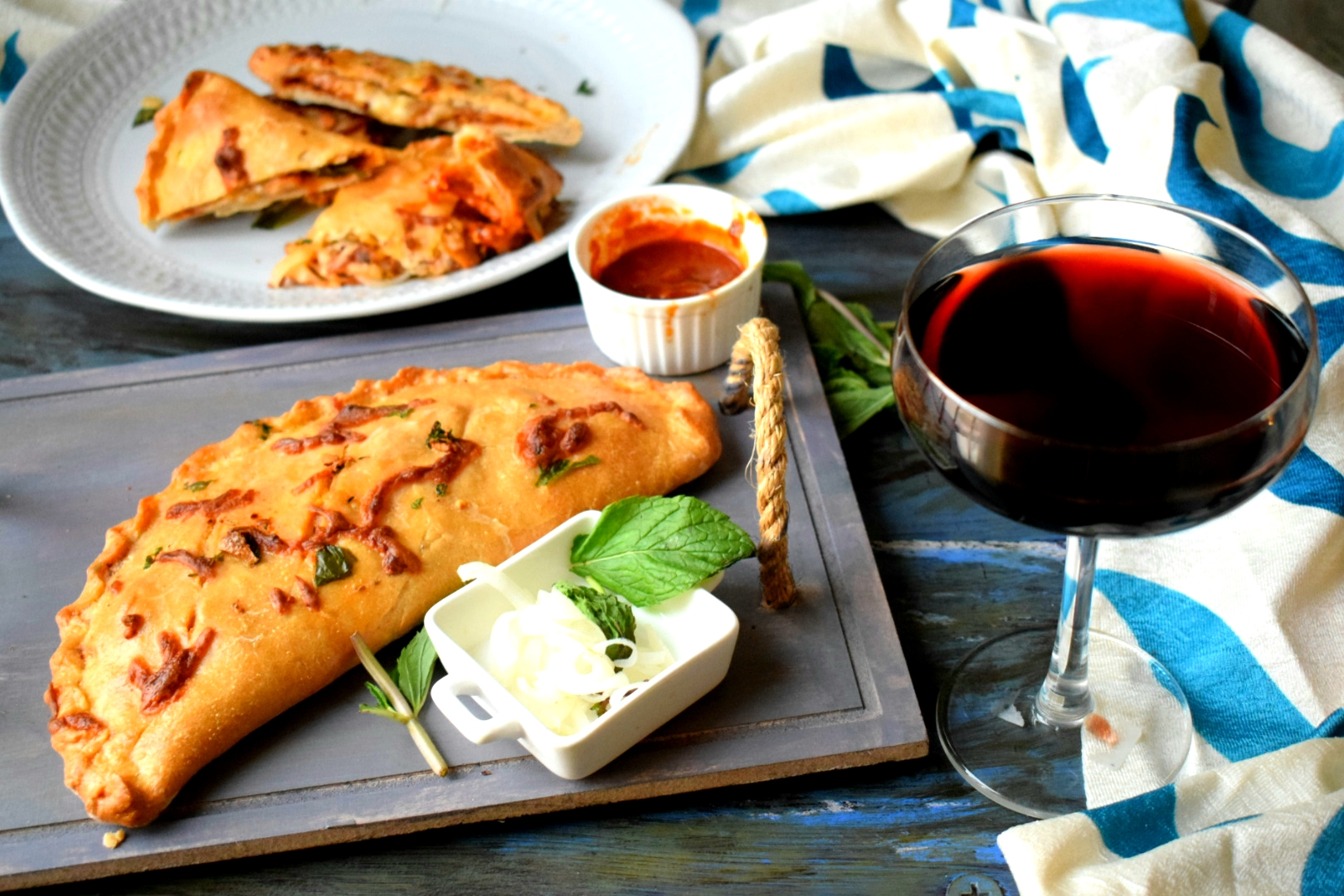 Happy Baking!