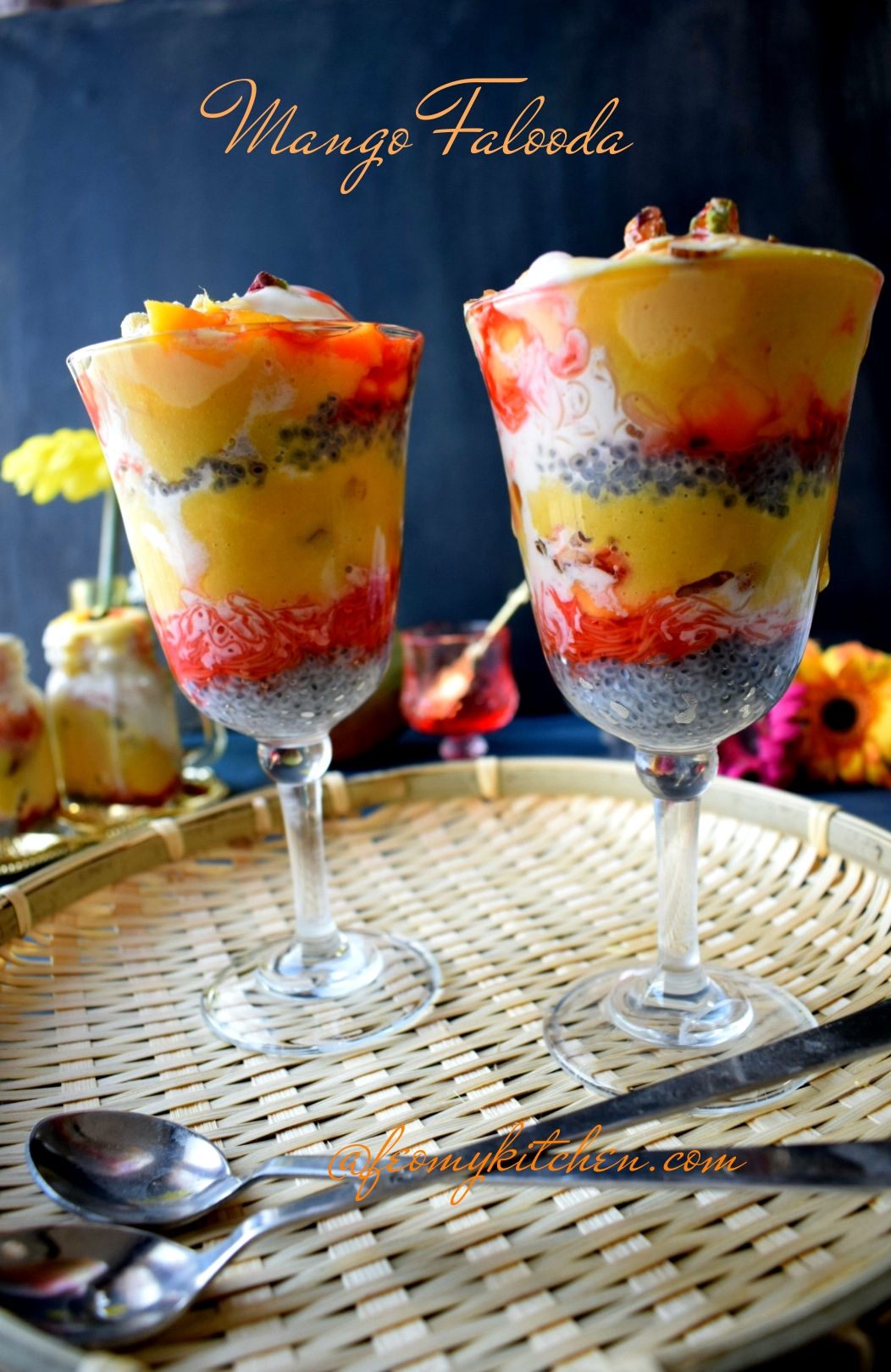 Mango Falooda is a real feast for mango lovers! That delightful layers of mango cream or custard followed by vermicelli, sabja seeds, mango pieces, dry fruits and ice creams are heavenly! Faloodas is not only attractive with their beauties but also tastes awesome! Mango falooda is a trending recipe when mangoes are in season!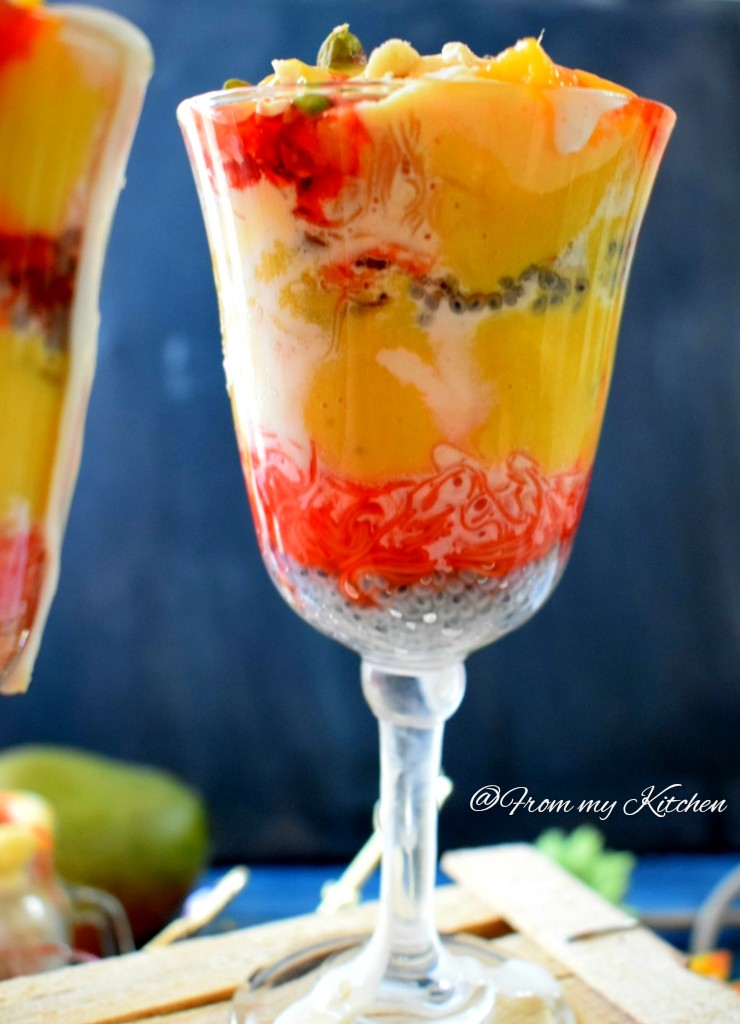 Today i'll share 2 ways in which you can prepare this beautiful dessert. One is by preparing mango custard (need cooking) and the other way is by preparing mango cream (no cooking needed). Mango cream was a trending recipe in Jorenq by Naaz Zooni last year and it's really awesome by itself. I made it many times as my hubby and son are a great fan of it. The other recipe was inspired by Asiya Raheem's mango falooda. Thank you so much for these recipes chefs!
Both way it's yum, but if you are planning for an easy and no cook recipe go for mango cream option.I'm sure this will be a big hit! I really felt like having some Royal Falooda from an ice cream parlour in Tellicherry!hehe!Here we can make according to our preferences, so it will be better than any other ice cream parlour right ?hehe!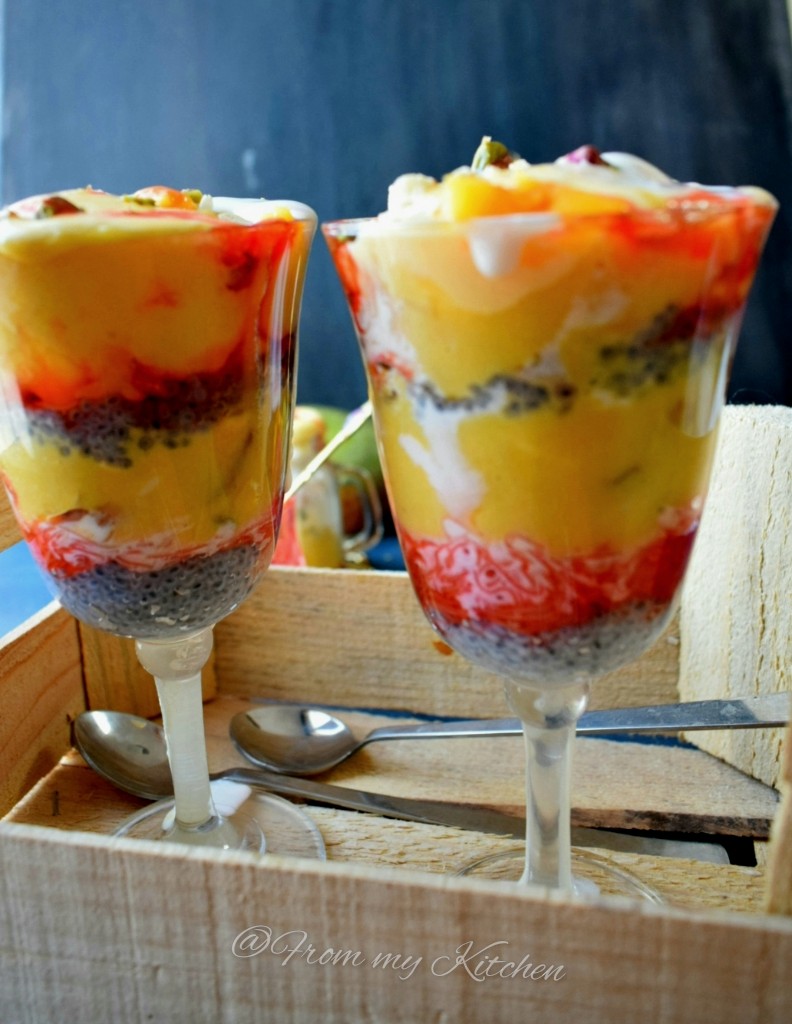 Here all we need to do is prep work, like prepare cream and chill it, Cook vermicelli, soak sabja seeds, cut mangoes and dry fruits and then start layering.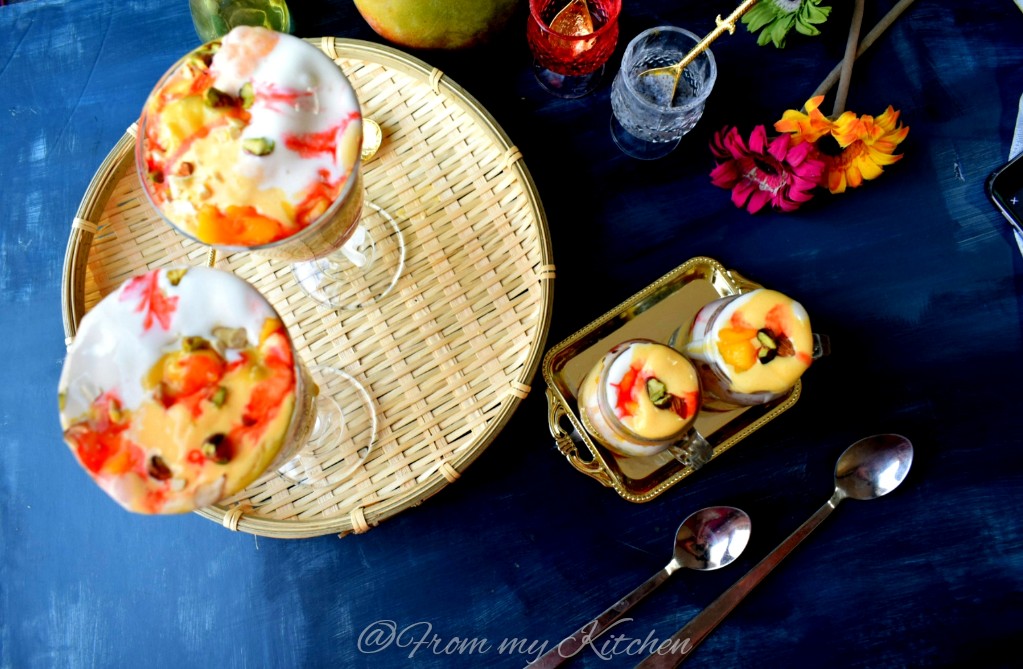 Ingredients
For Mango Cream
1 big sweet mango
1 tin cream
Condensed milk as per your sweetness (4 to 5 tbsp )
For Mango custard
1 big mango pureed
2 cups milk
Sugar or condensed milk as how sweet you want your custard to be
3 to 4 tbsp cornflour
1/2 tsp vanilla essence
Other Ingredients
3 tbsp sabja seeds
1/2 to 1 cup Vermicelli or falooda sev boiled
Mangoes chopped
Dry fruits like cashew, badam and pistachios chopped
Dates and figs chopped
Vanilla and Mango IceCream
Rose Syrup (i mixed 3 tbsp strawberry syrup and 2 tbs roohafza) (You can add any one of your choices.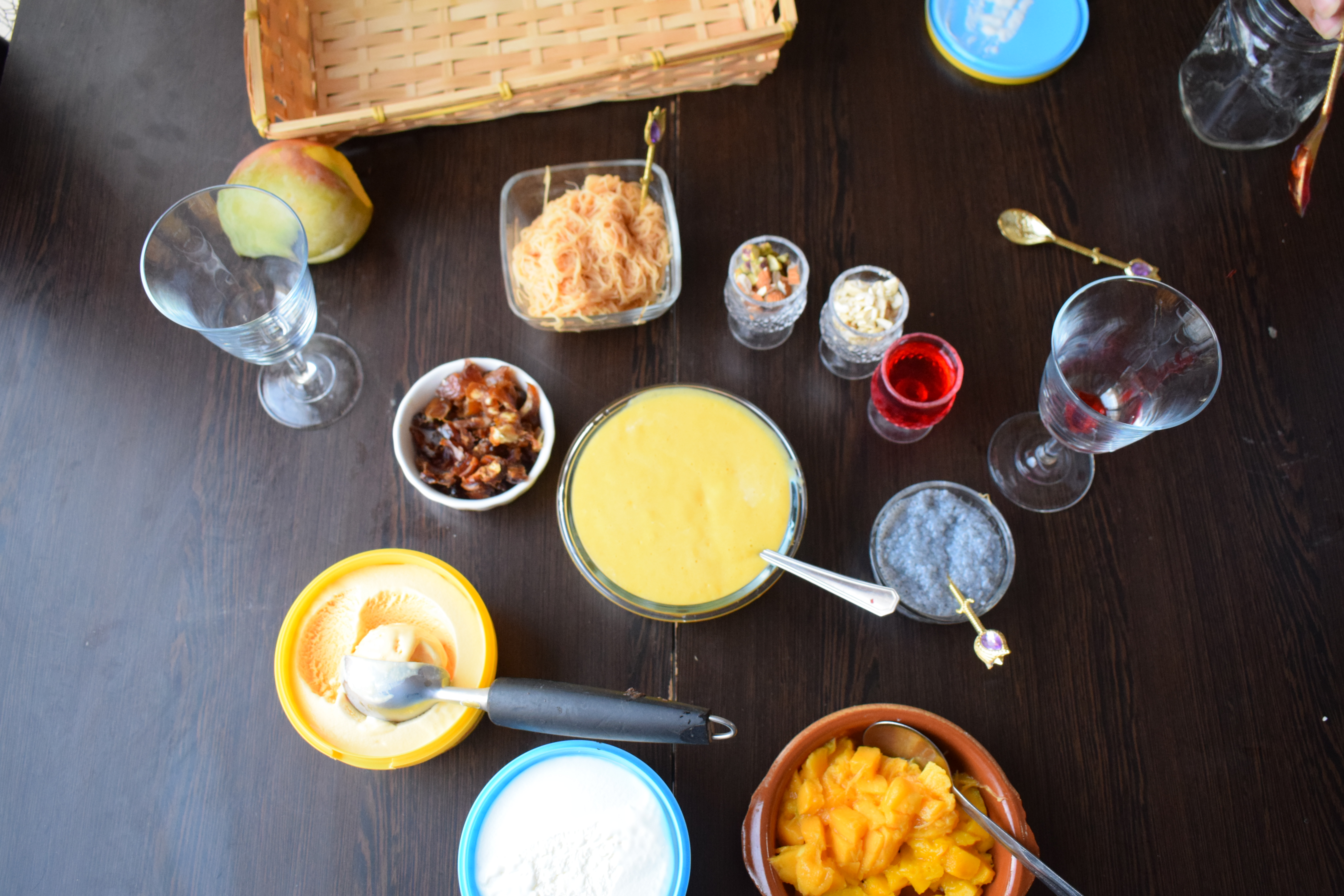 Method
For making mango cream cut the flesh of mango, put mango condensed milk and cream in a blender and blend it smooth. Chill it until you are layering. (Add some milk if you feel if it's too thick)
For making mango Custard-
Puree the mango and keep it aside.
Mix all the ingredients for custard-like milk sugar and cornflour and cook it until it becomes thick. Switch off the flame and add vanilla. Take some of the custard and blend it with the mango puree, and then mix it all together and let it cool and chill in the refrigerator.
Soak Sabja Seeds
Cook Vermicelli
Chop mangoes and dry fruits.
Layering
In a tall glass add some soaked sabja seeds, vermicelli, rose syrup dry fruits, vanilla icecream, mango custard and then repeat the layers with some more mango and vanilla ice cream. Chill it and enjoy!
You will get 4 to 5 tall glasses from this!
Tips: Try to use sweet mangoes for this.If your mangoes are not that sweet add some sugar to it and leave it aside use this for layering. Here I didn't add the amount of sugar or condensed milk because that's your preference.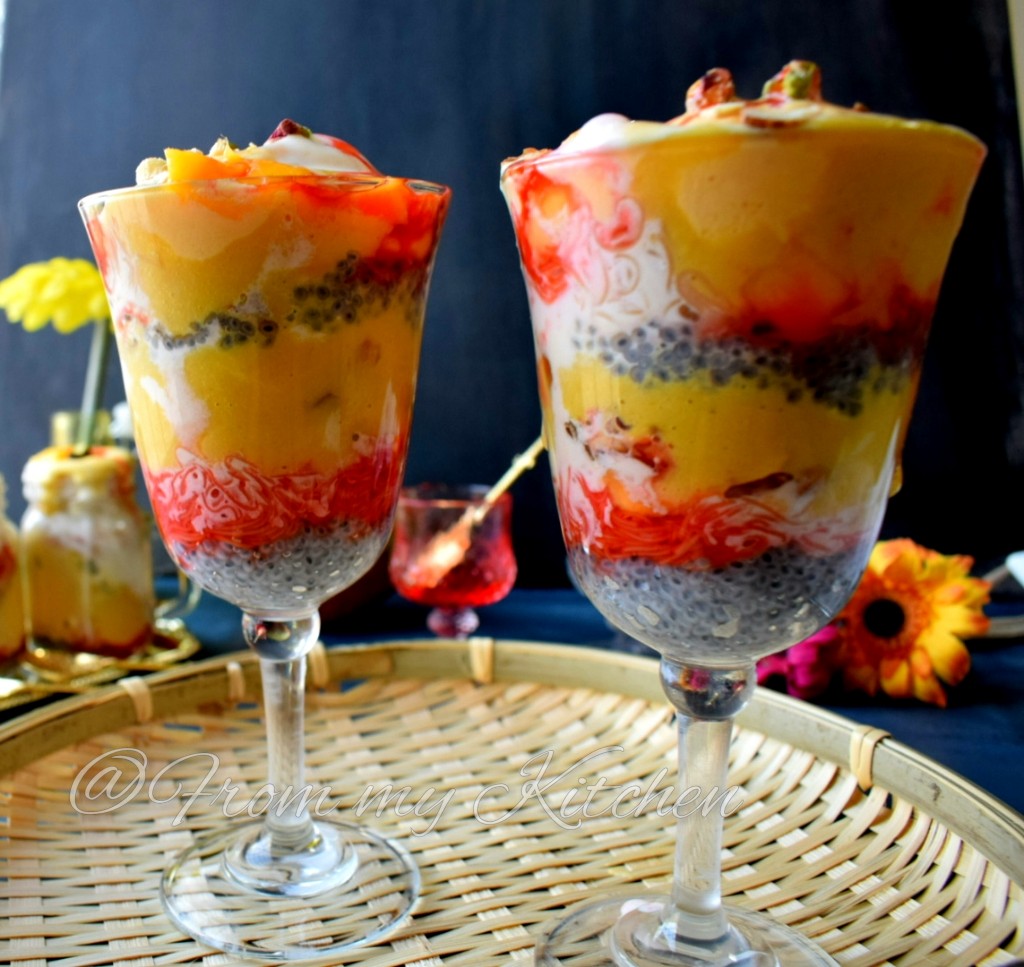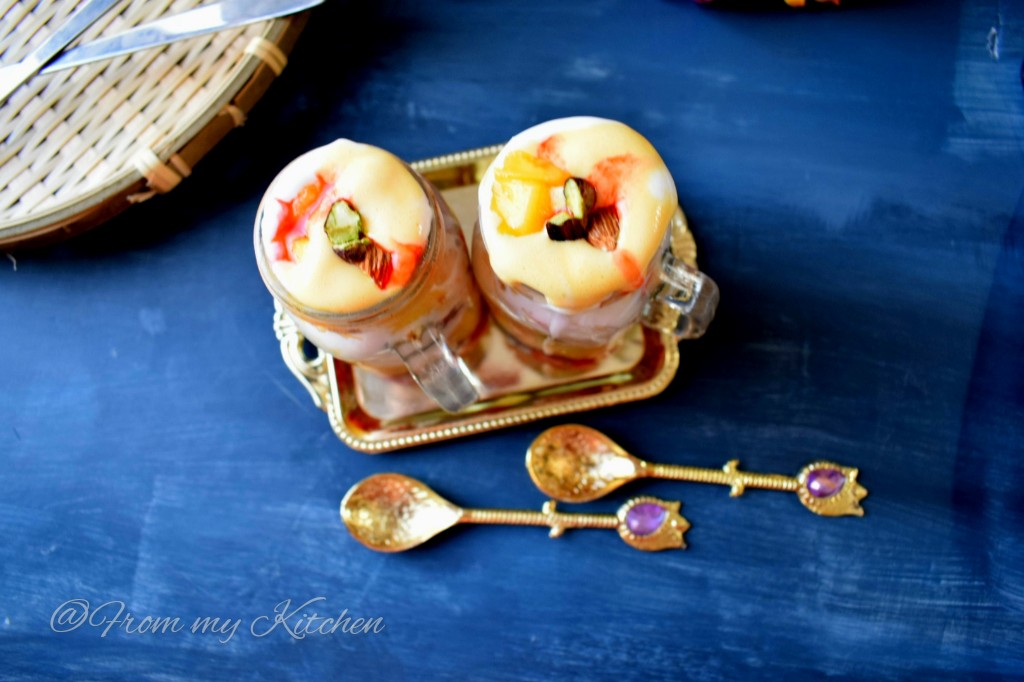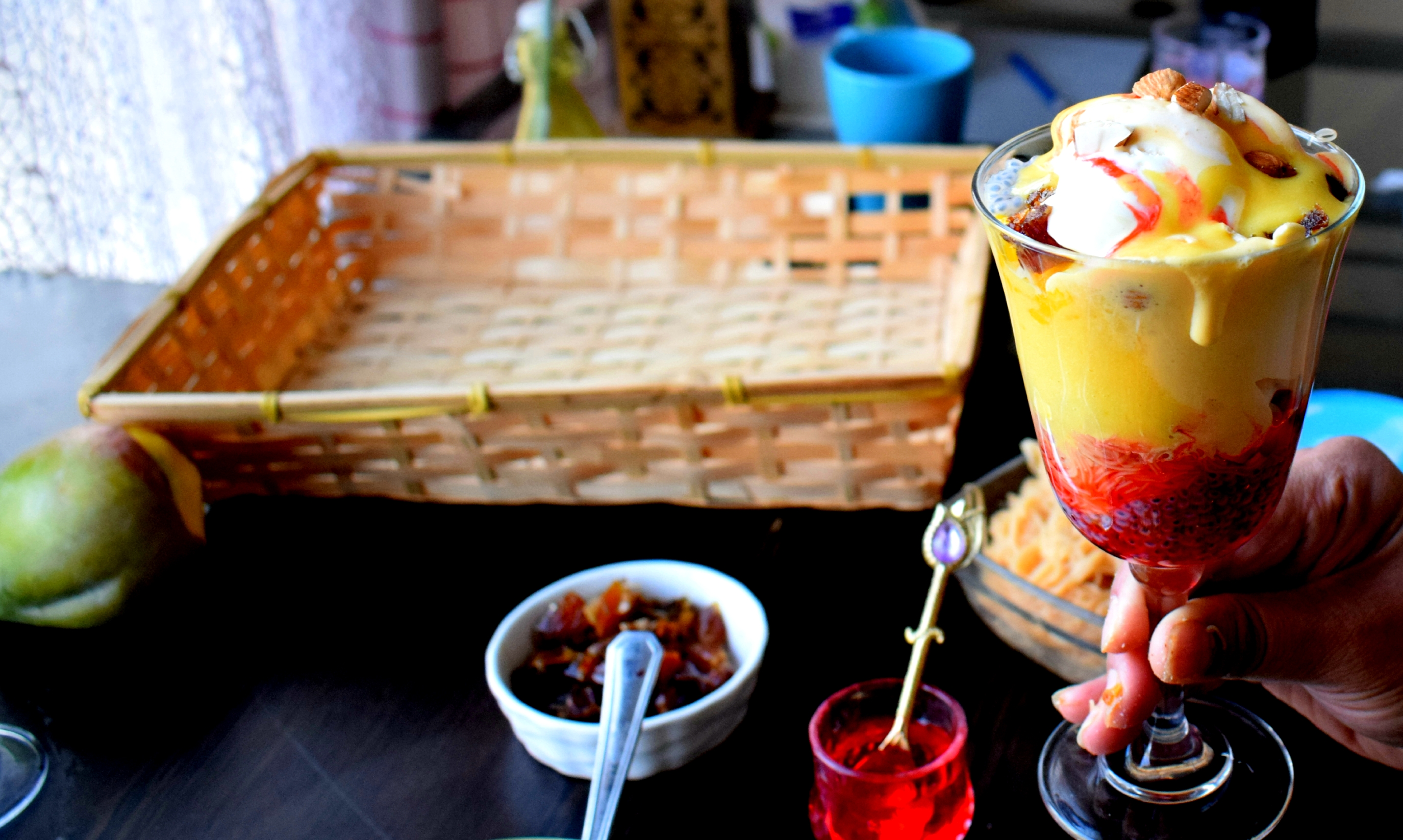 Happy Cooking!