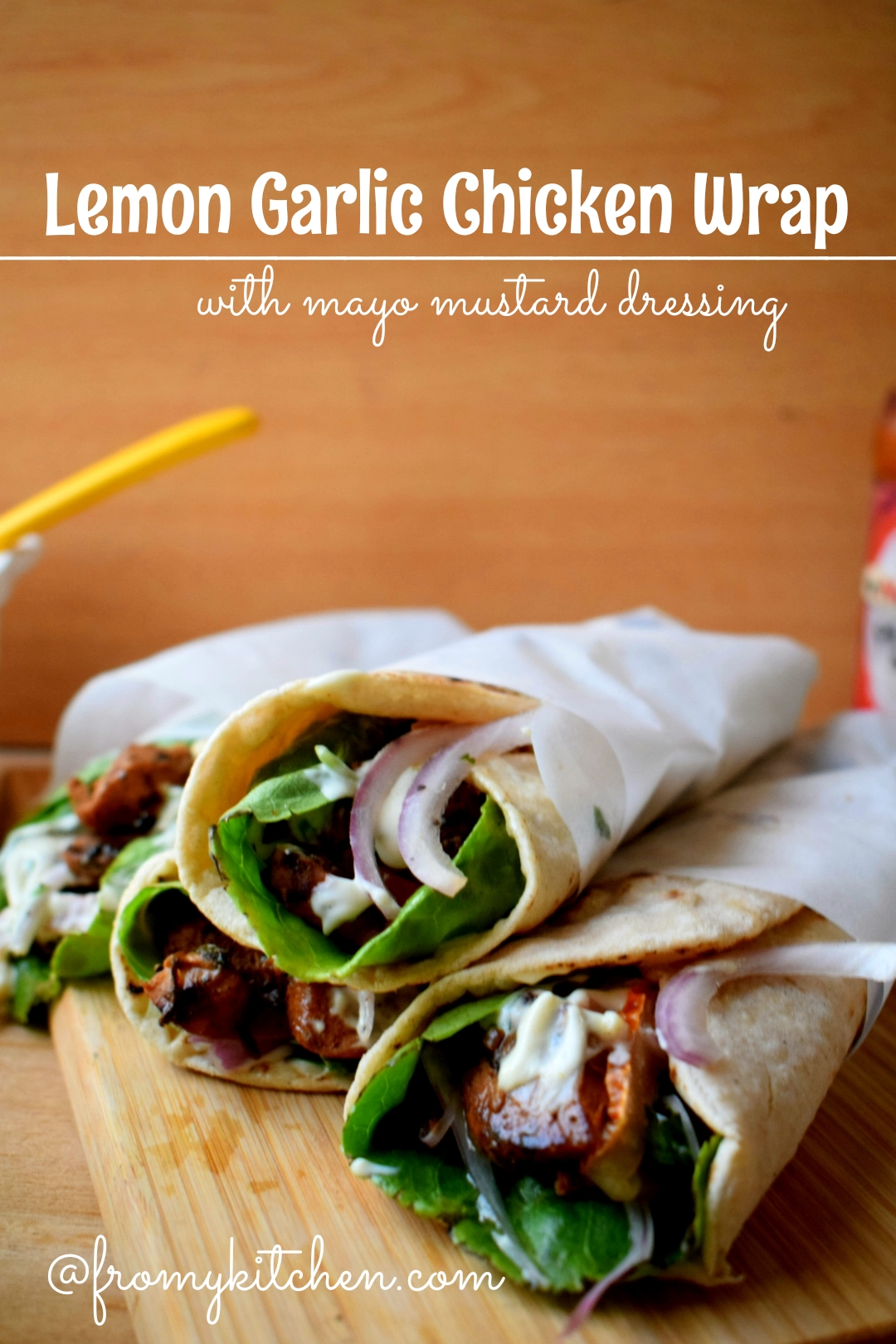 Yes!! This is the yummiest roll with many different flavors in a bite!! Tang and spice from the chicken, crunch from the lettuce and veggies moistness from the mayo-mustard dressing along with that soft delicious bread is overall a blockbuster combination!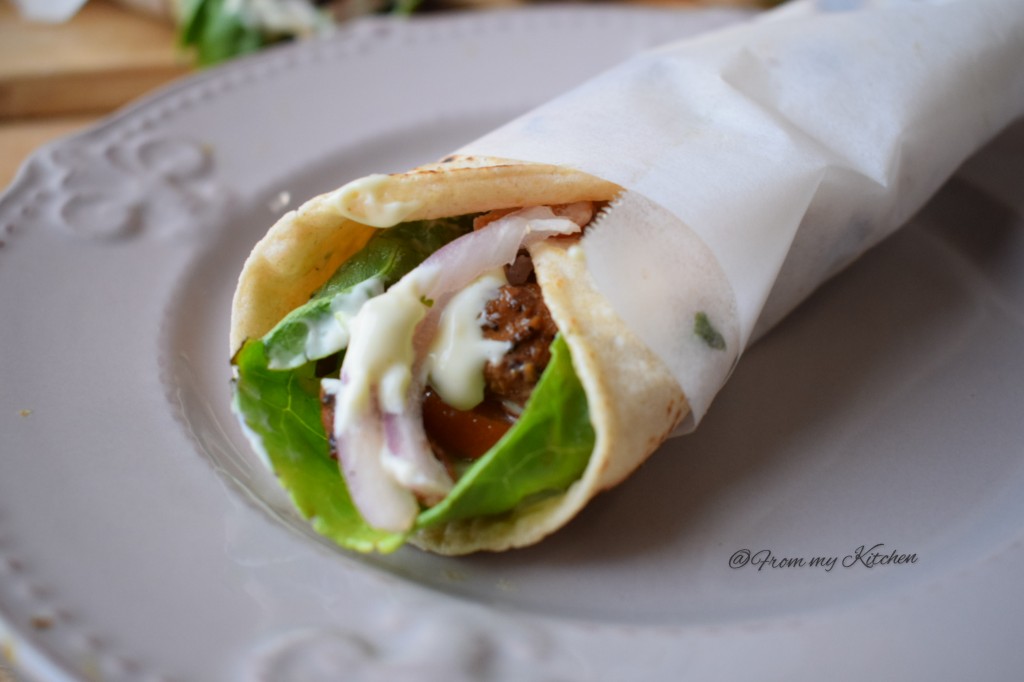 I'm sure rolls and wraps are favorite for many because it's a guilt-free recipe with most interesting flavor combinations! It's a full meal in itself, isn't it? This is the dish which adults and kids love alike. So an oil-free delicious wrap is here for you today! To make it healthier you can skip the mayo and use yogurt dressing instead.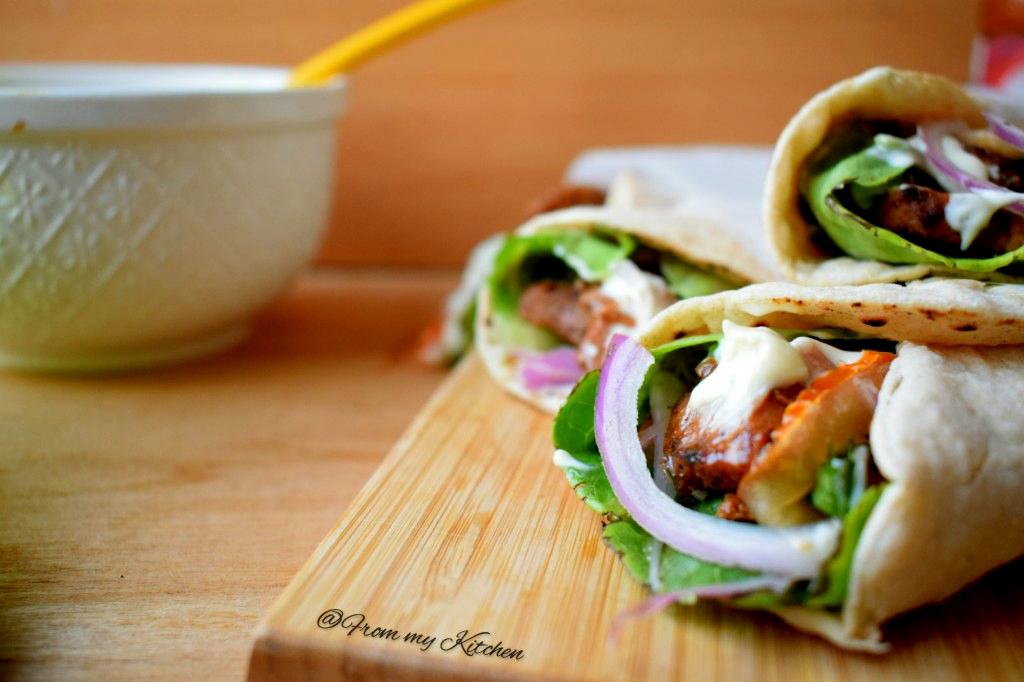 You will fall in love with this lemon garlic wrap on every single bite! Hope you and family enjoy this as much as we did. So let's check out the recipe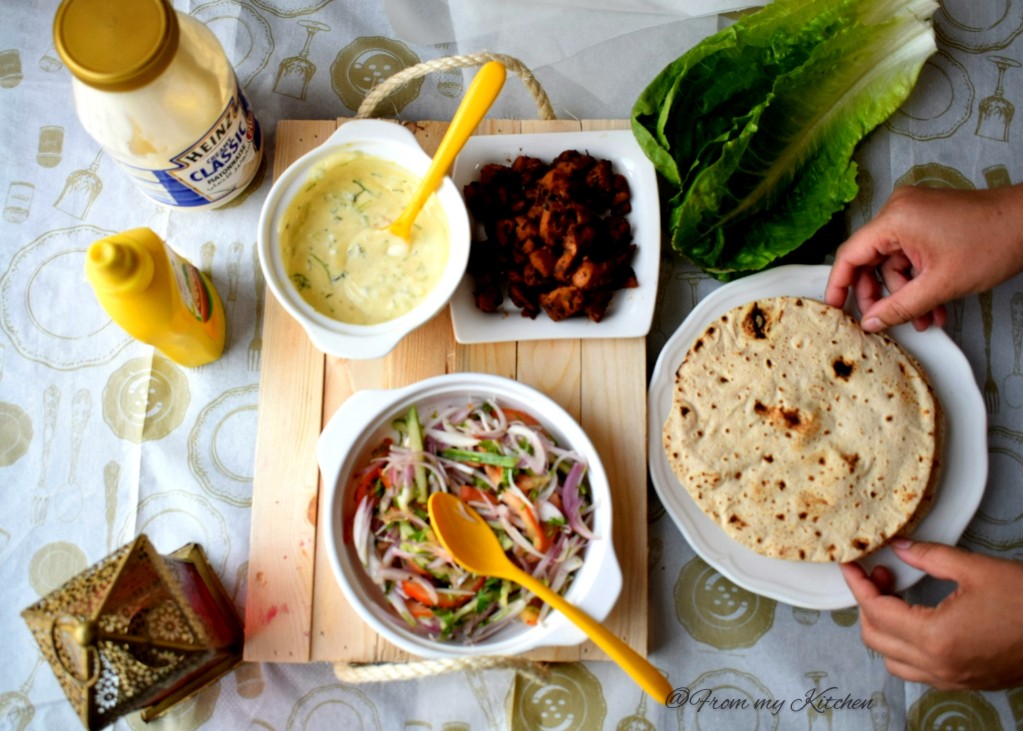 I'm in love with this shot!! Hubby Clicked it! Top view is always the best!
Ingredients
For Dough
1 & 1/2 cups wheat flour
1 & 1/2 cups all purpose flour
1 tsp baking powder
2 tsp yogurt(opt)
3/4th cup milk and water as needed for kneading
2 tbsp butter or oil
Salt to taste
For chicken
2 chicken breast fillet
1/2 of a lemon
5 cloves garlic
1 tsp soy sauce
1 tbsp hot sauce
1 tsp pepper powder (more or less as per your taste)
salt to taste
1 tbsp Nandos peri peri sauce
Finely chopped cilantro
Veggies and seasonings
Lettuce leafs
Onion finely sliced
Tomato finely sliced
Cucumber thin juliennes
Lemon juice
salt to taste
Cilantro
Pepper powder
For dressing
4 to 5 tbsp mayo
1 tbsp mustard paste (more or less according to your preference)
2 small cloves garlic finely chopped or crushed
1/2 to 1 tsp chilly flakes
1 tbsp finely chopped chives or parsley
Method
1st step-
Knead the dough with all the above ingredients to a pliable soft dough like a chapathi dough.
Cover it and let it sit in a warm place for 1 to 2 hour.
Make small balls out of it, roll it thinly, cook it and keep it aside.
2nd Step-
Marinate chicken with all the ingredients listed above. Grill it until its cooked and charred. The aroma is heavenly. Keep it aside.
3rd step
Slice all the veggies mix everything except lettuce add all the seasoning and mix well.
4th step
Mix all the ingredients for the dressing and keep it ready.
5th step
Assembling the wrap
Take a prepared bread spread the dressing evenly, arrange the lettuce, then the veggies and chicken add some more dressing and fold the wrap from both sides and then cover it with a butter paper. Hurray, your wrap is ready to go. If you like it warm just microwave it for 30 sec and enjoy!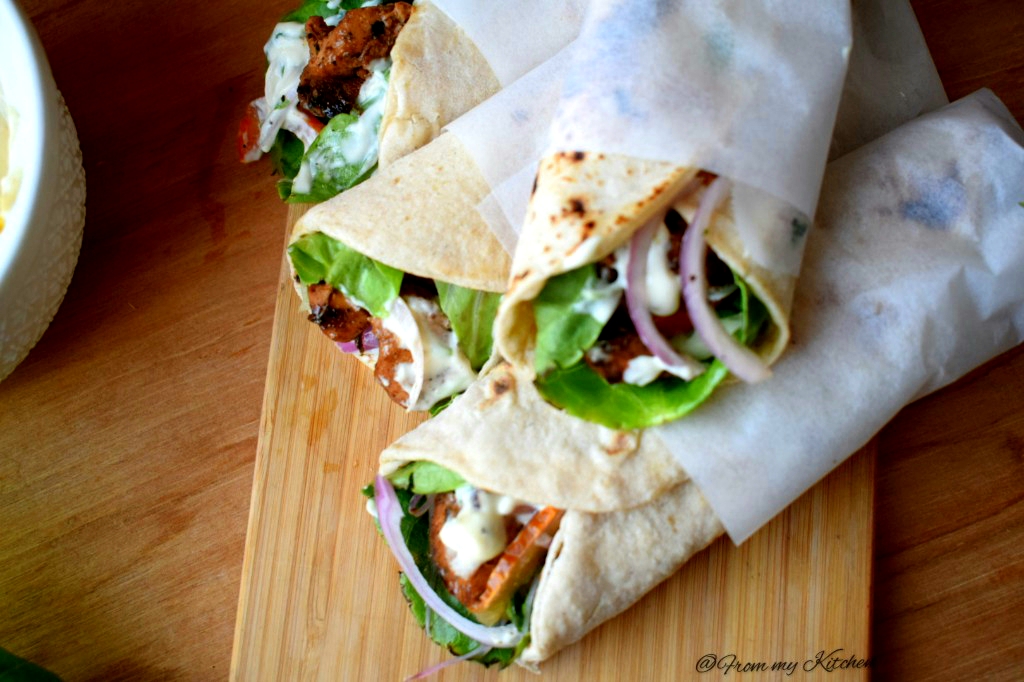 So what are you waiting for?? Come on go for it! Let it be your iftar menu today!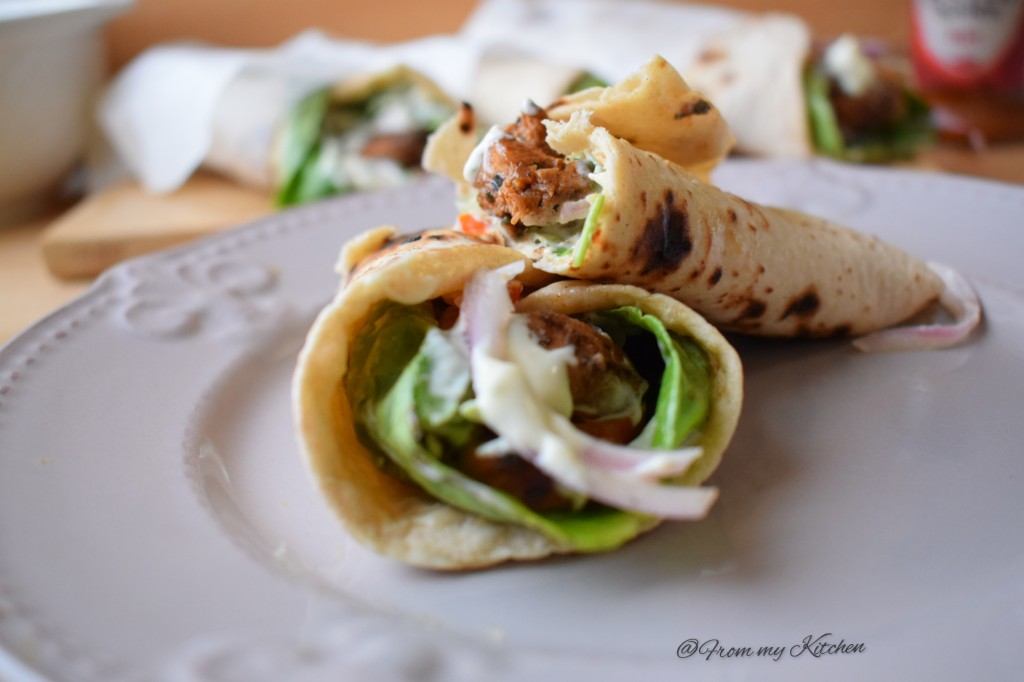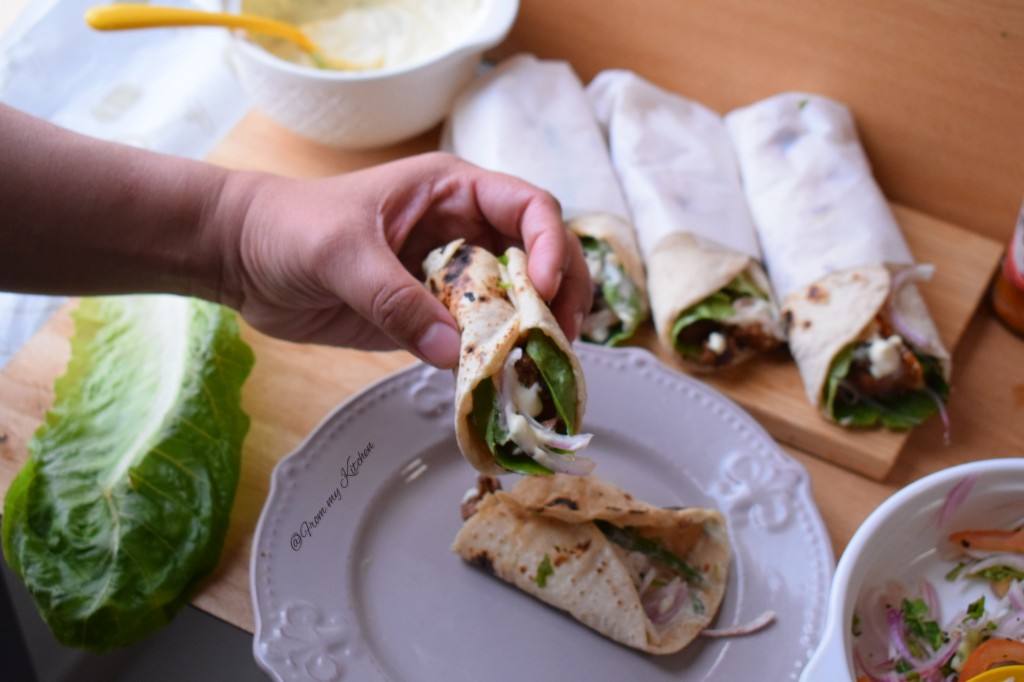 Happy Cooking!