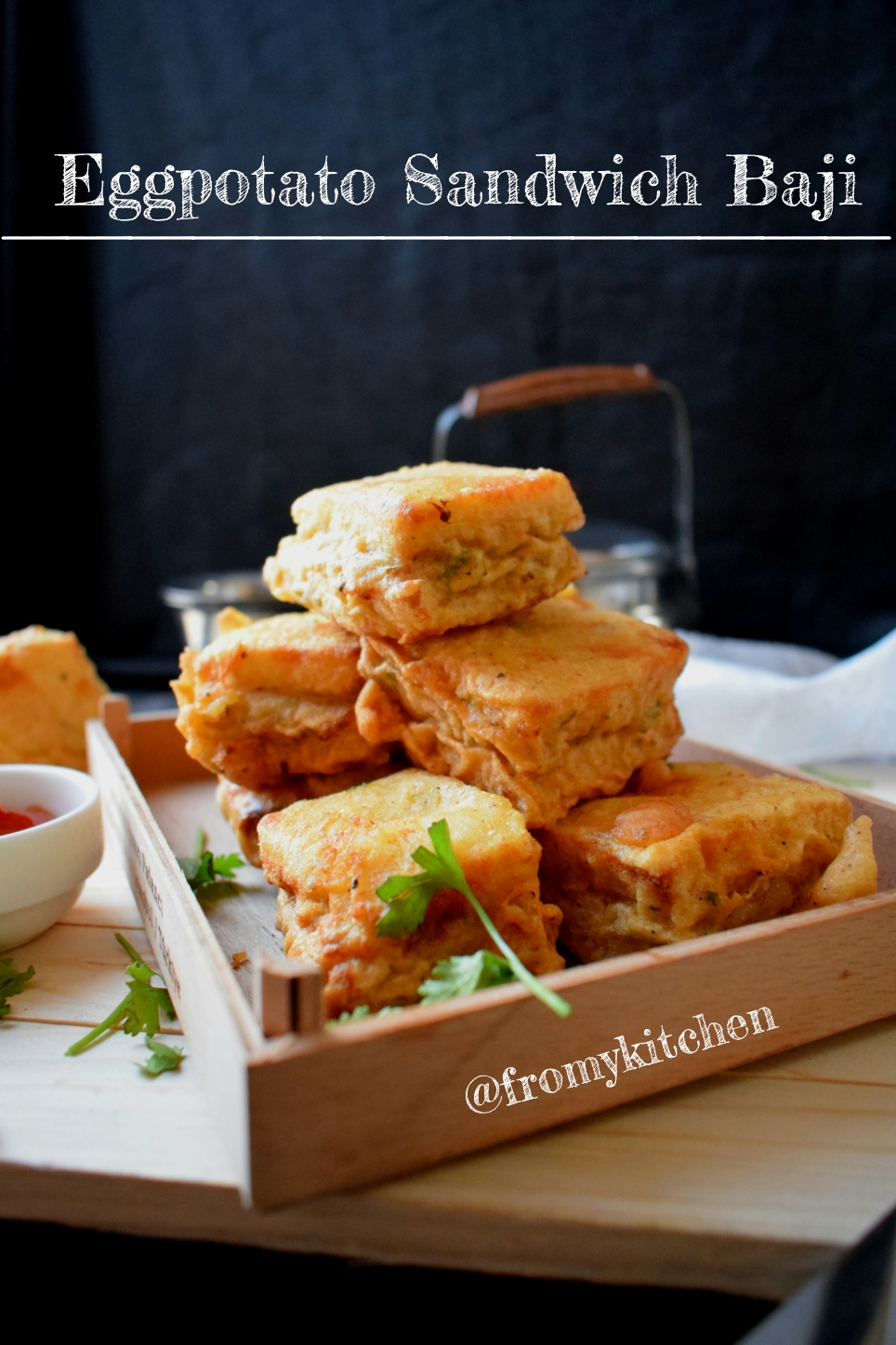 This is the simplest dish made out of the ingredients which are always handy in our kitchen. Flavorful potato masala and boiled egg sandwiched between bread then coated it in a chickpea batter and deep fried it by cutting it into bite-size squares. Yes, it's so simple yet flavorful dish when you are in a rush.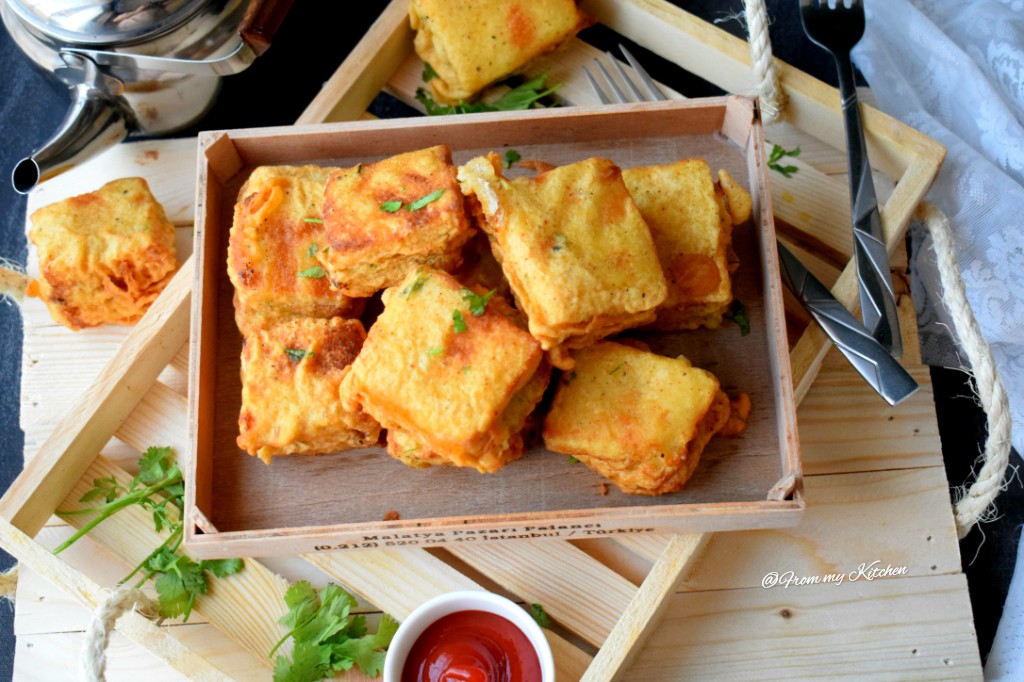 This recipe was passed to me by my bestie Febina Shaheen(febi) which we all loved it! She has many such easy recipes that prep in no time. Here in Riyadh, I have two febis as besties(Alhamdulillah), both of them love spreading variety stuff on their dining table, best company for me right? Food and friends are always best companions, isn't it? hehe Thank you dears for always being there!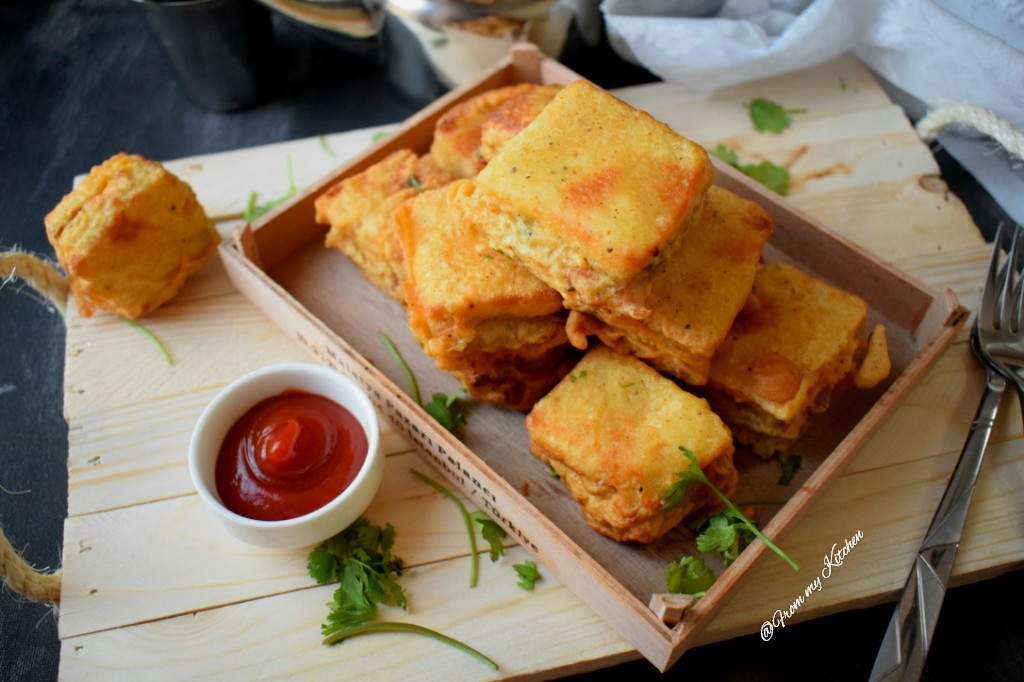 This recipe is obviously kids friendly as it has interesting ingredients like potato, egg, cheese and bread, so what's here to say no! You can also add some minced keema or chicken filling in the boiled potato to make it more interesting and delish. I added some of my leftover minced meat filling along with potato and it was really scrumptious.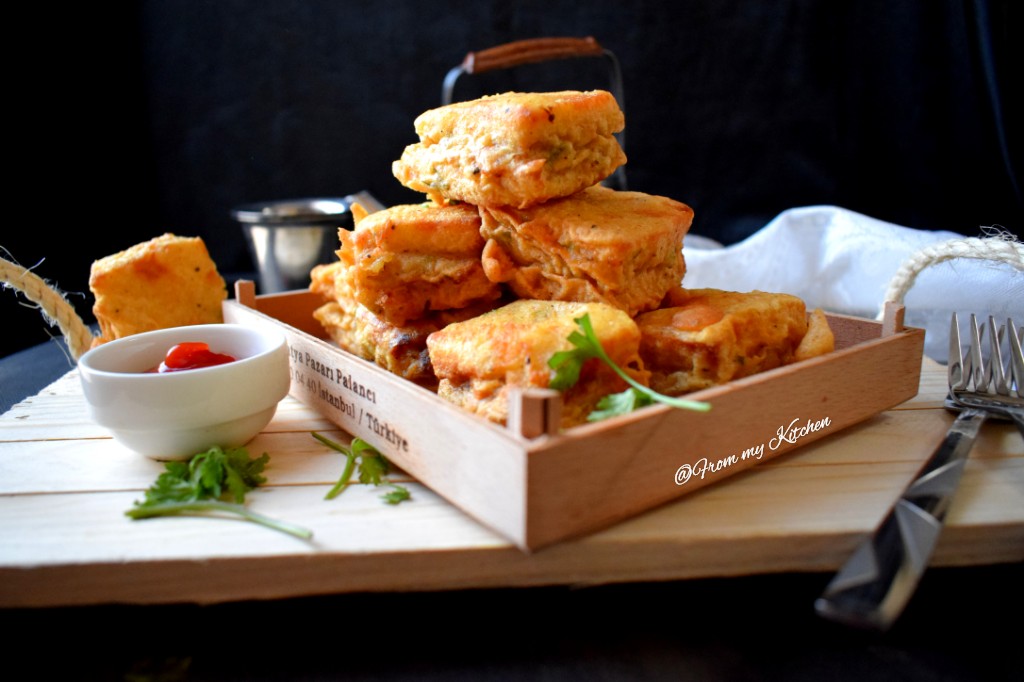 Indians always love pakoras and bajis so this one is surely a keeper.
Ingredients
For Filling
2 Boiled and mashed potato
1 onion
1 tsp garlic paste
2 green chilies
1 Maggi chicken cube
Lots of cilantro
2 0r 3Boiled eggs
6 Bread slices
2 tsp oil
For batter
1/2 cup chickpea flour
1/2 cup all-purpose flour
1/2 tsp chilly powder
1/4 tsp turmeric powder
Salt to taste
2 tbsp rice flour(for crispy texture)
Water enough to make a medium thick batter
Method
In a pan pour 2 tsp oil add garlic and green chilies cook it until it releases its heavenly aroma. Add chopped onion and cook until soft.
Add Maggi chicken cube and mix well. Add mashed potatoes and mix well until everything is well blended. Add cilantro and switch off the flame.
Slice the boiled eggs into 4 or 6 portions
Take a piece of bread spread the potato filling and keep 4 pieces of sliced egg on 4 sides of the bread and then on other piece of bread spread some cheese and close it. Cut the bread into 4 equal squares. Prepare every bread like this and set aside.
Mix all ingredients for batter and make a medium thick batter.
Dip the small bread squares in the batter and deep fry it.
Fry it until golden brown and crisp, enjoy it with ketchup.
Tip: As it is Ramadan you may have many filling ready in your freezer. Mash the potato and add the required amount of filling to this and then follow the steps. Instead of cheese spread, you can add any other spread of your choice like green chutney, mayo or ketchup.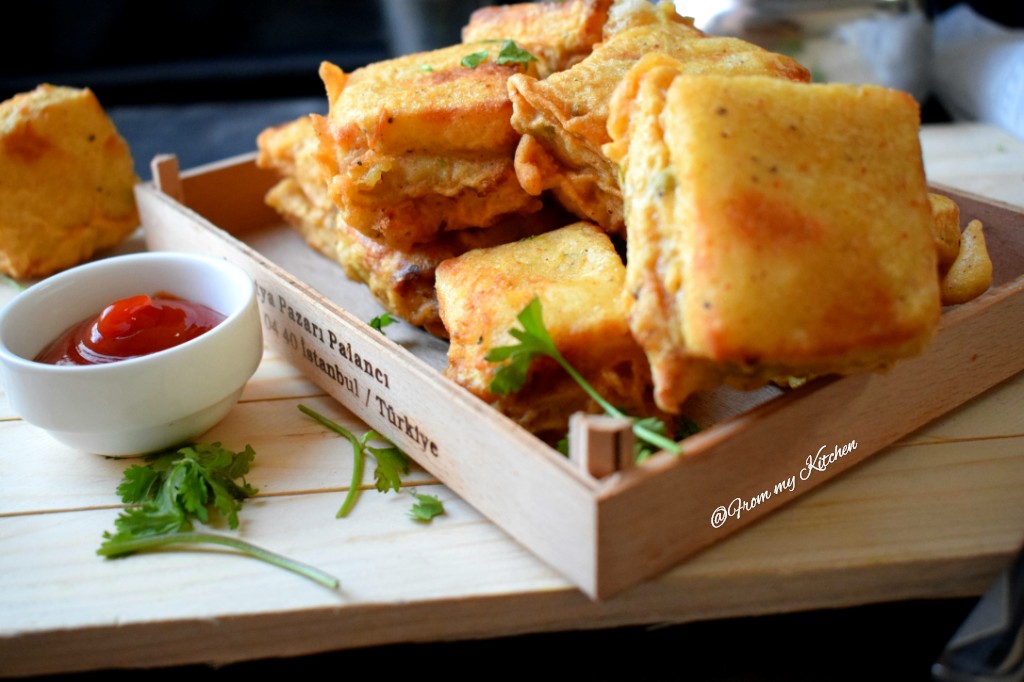 My kids and hubby love them……hope you all will love them too! Perfect to go with a hot cup of tea!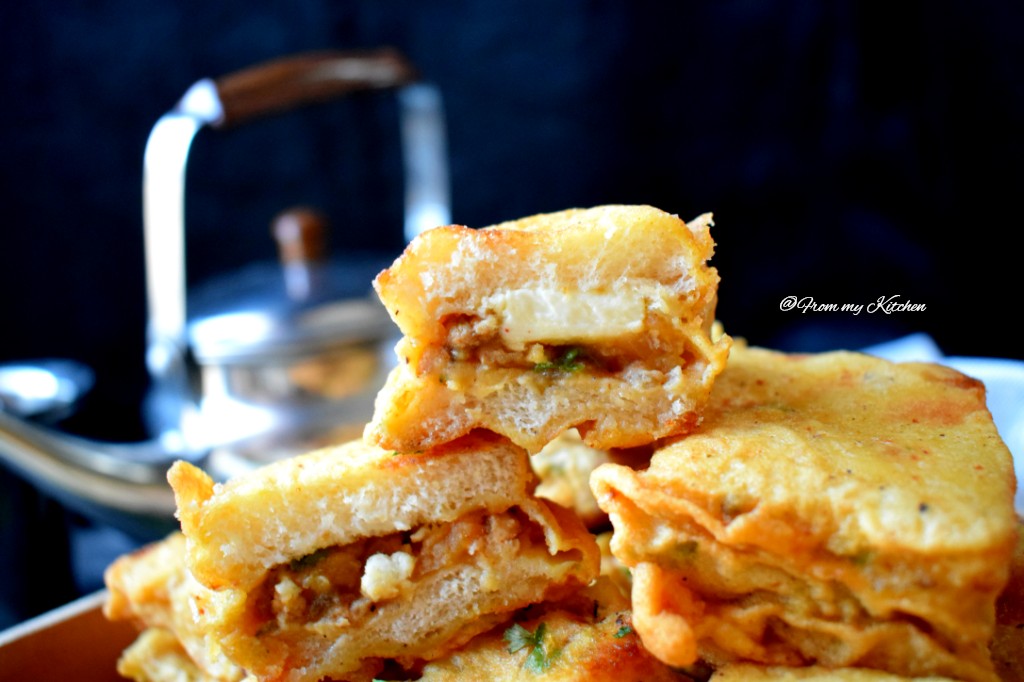 In some slices, i added cheese too instead of  egg!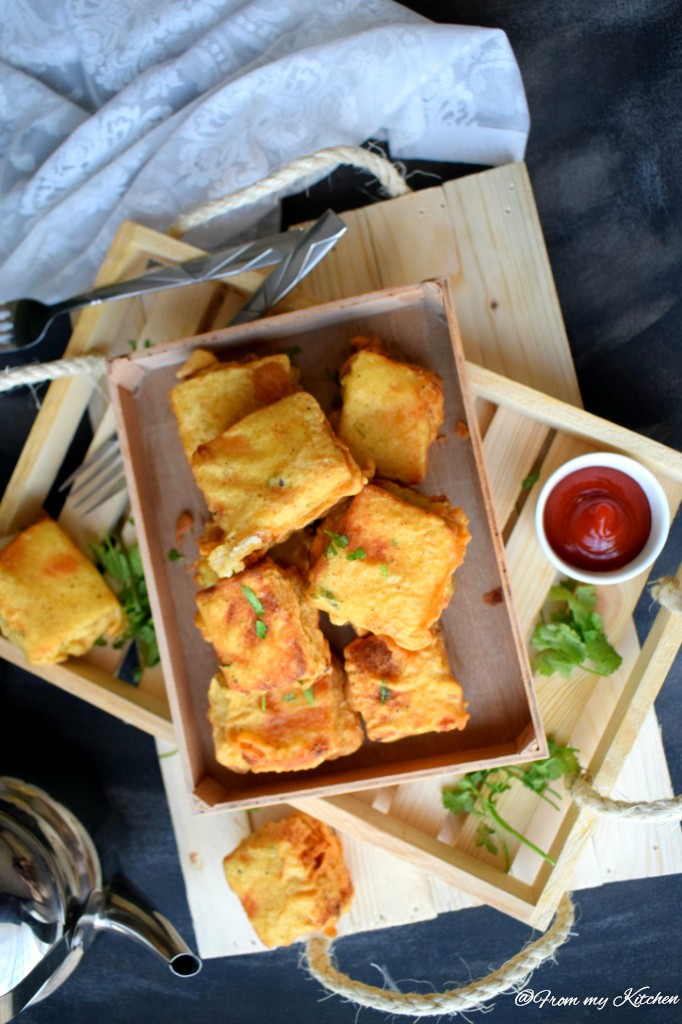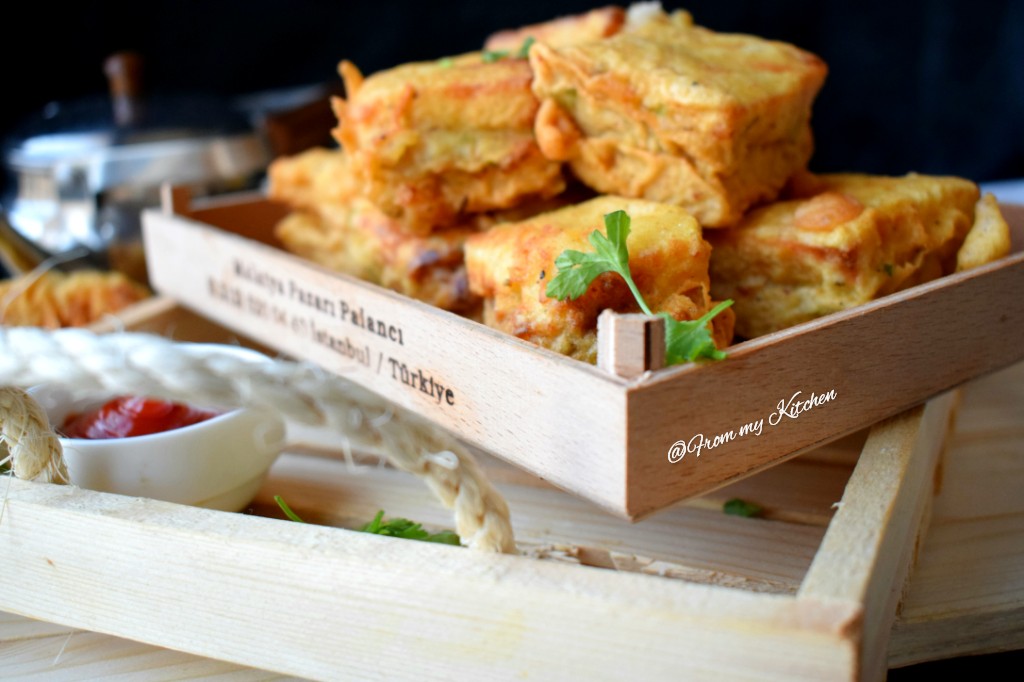 Happy Cooking!